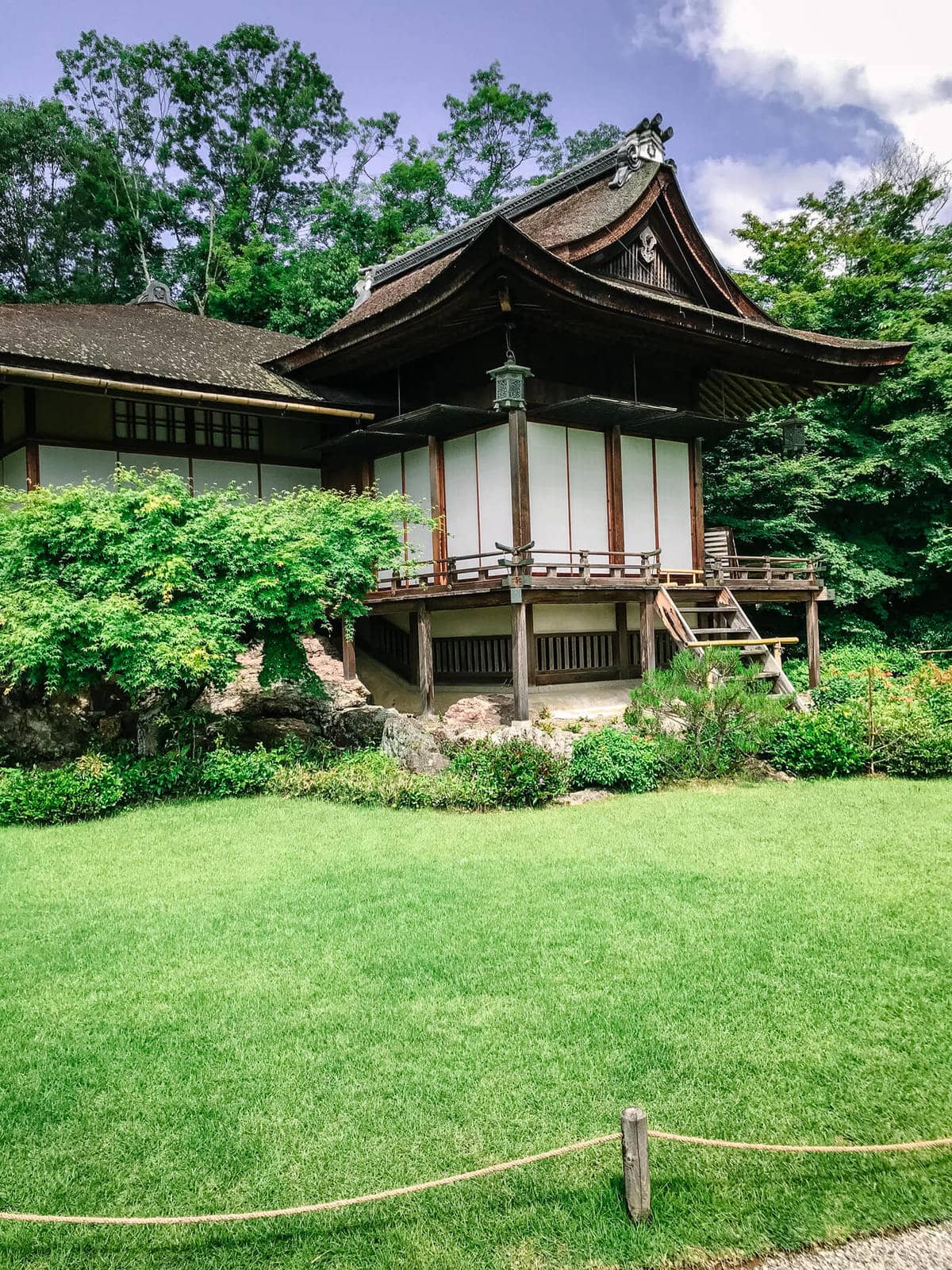 After we spent three days in Tokyo, had lunch, we headed to the train station to head to Kyoto.
Thanks to Bourdain, I knew I had to get an egg sandwich from Lawson's at some point during my trip. Luckily there was one at the train station and even though I was super full, I bought one anyway. I'm so glad I did because the train ride—while only three hours long—was still long enough for me to want a snack.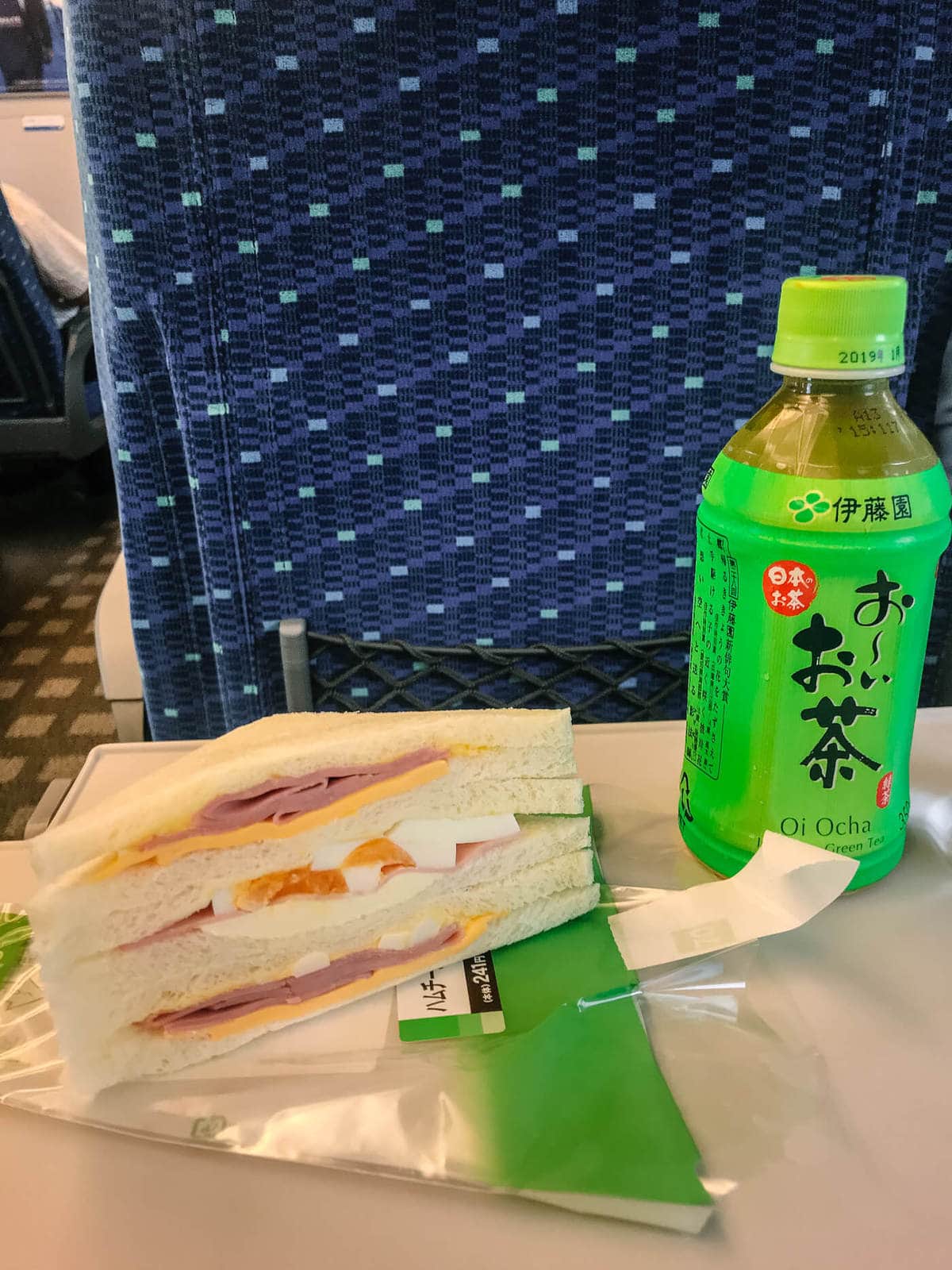 The sandwich is like every childhood dream come true. The white bread has the crusts cut off, is super soft and delicious. The train was easy breezy. We booked seats in the economy cabin and they were totally great. I hear the first class cabin isn't that much different, fyi.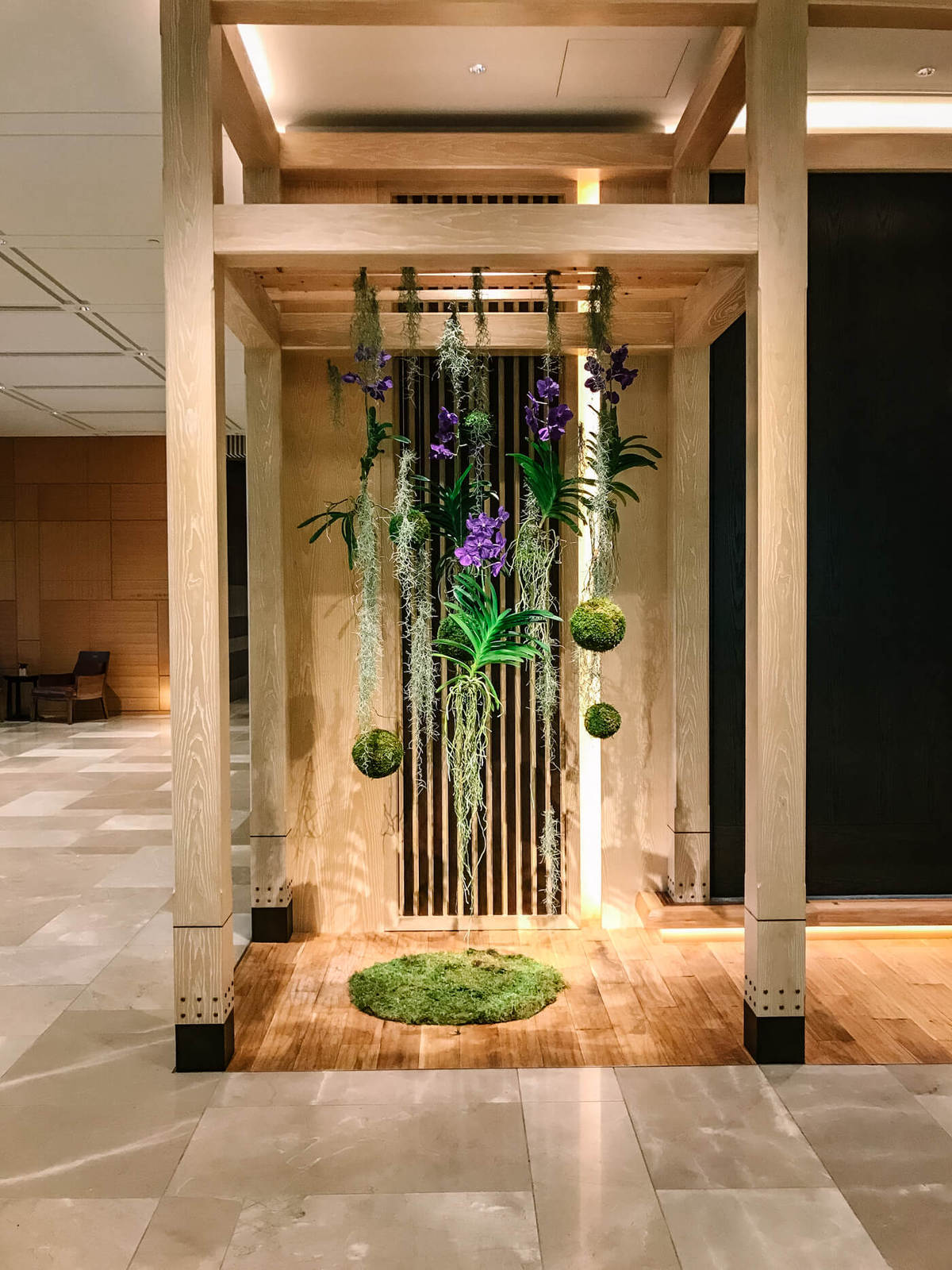 When we got to Kyoto we took a cab to our hotel. We stayed at The Four Seasons (again, booked on Chase points!!).
If we went back to Kyoto I don't think we'd stay there again—even if it was on points. It was kinda too fancy and in Kyoto we wanted something chiller and more centrally located. Our hotel came with breakfast which was nice to have. Josh got the Japanese breakfast a few mornings in a row and he LOVED it.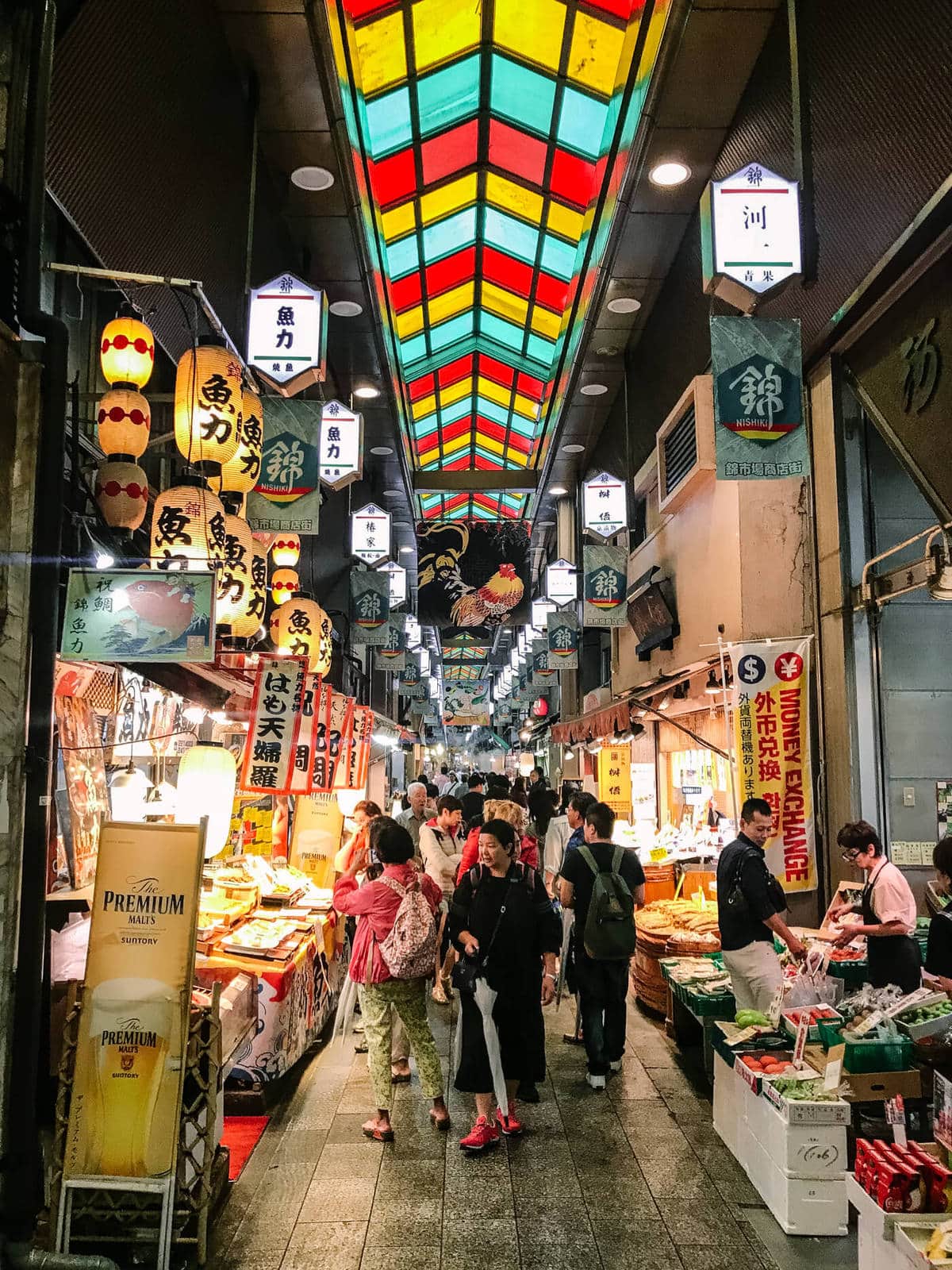 After breakfast we went to Nishiki Market—which I highly recommend—because the food is incredible. We tried lots of things. Some samples and some purchased. My favorite was this soybean tea—it was so delicious. And this tofu doughnut. I thought the texture was going to be mushy but it was so crispy and fluffy on the inside—SIQ!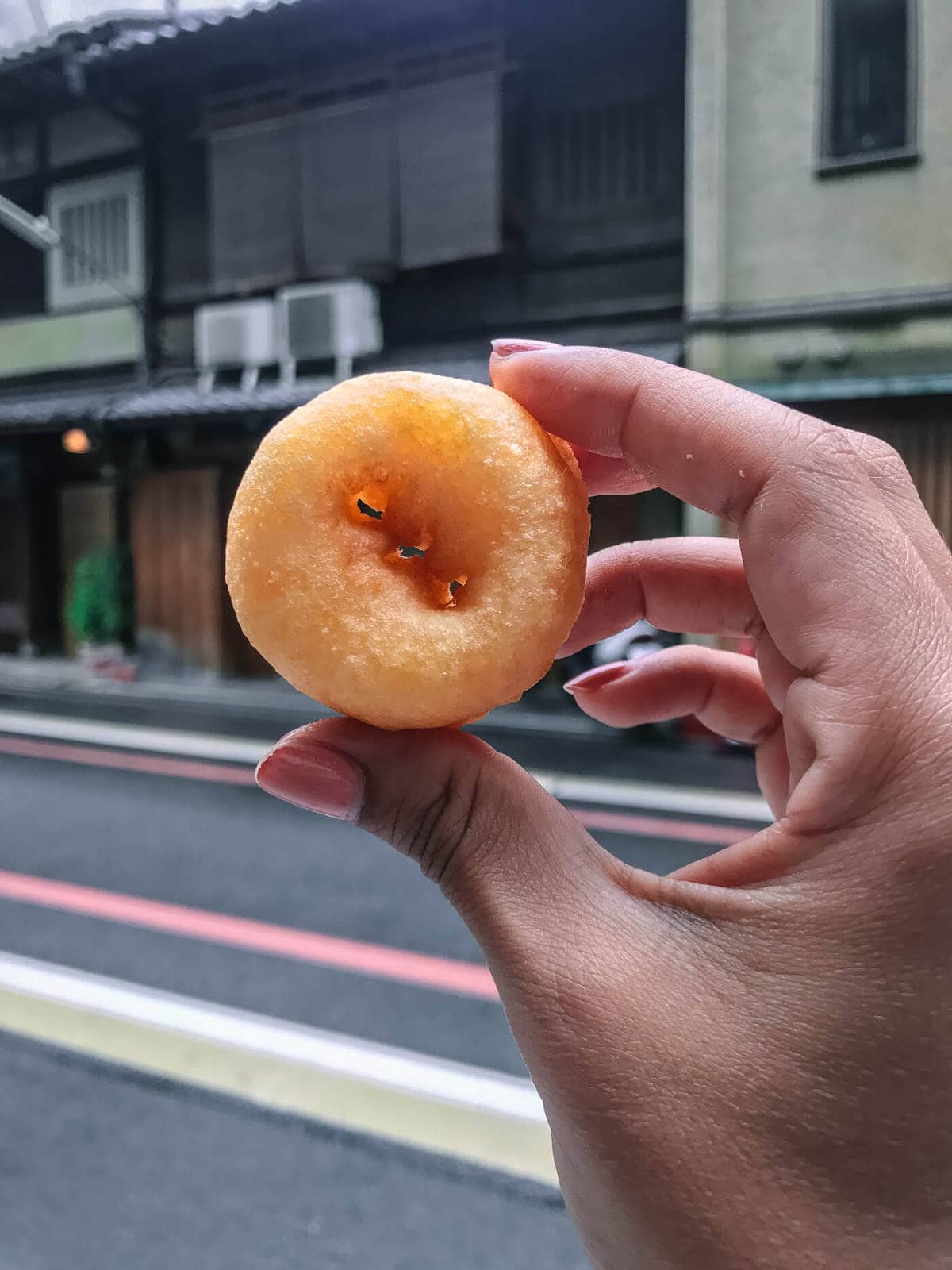 It was rainy that day so we walked around with umbrellas for a few hours. It was super nice, actually since it wasn't cold at all. We headed to Ippudo for some matcha tea. Kyoto is known for its tea so this is a must-stop.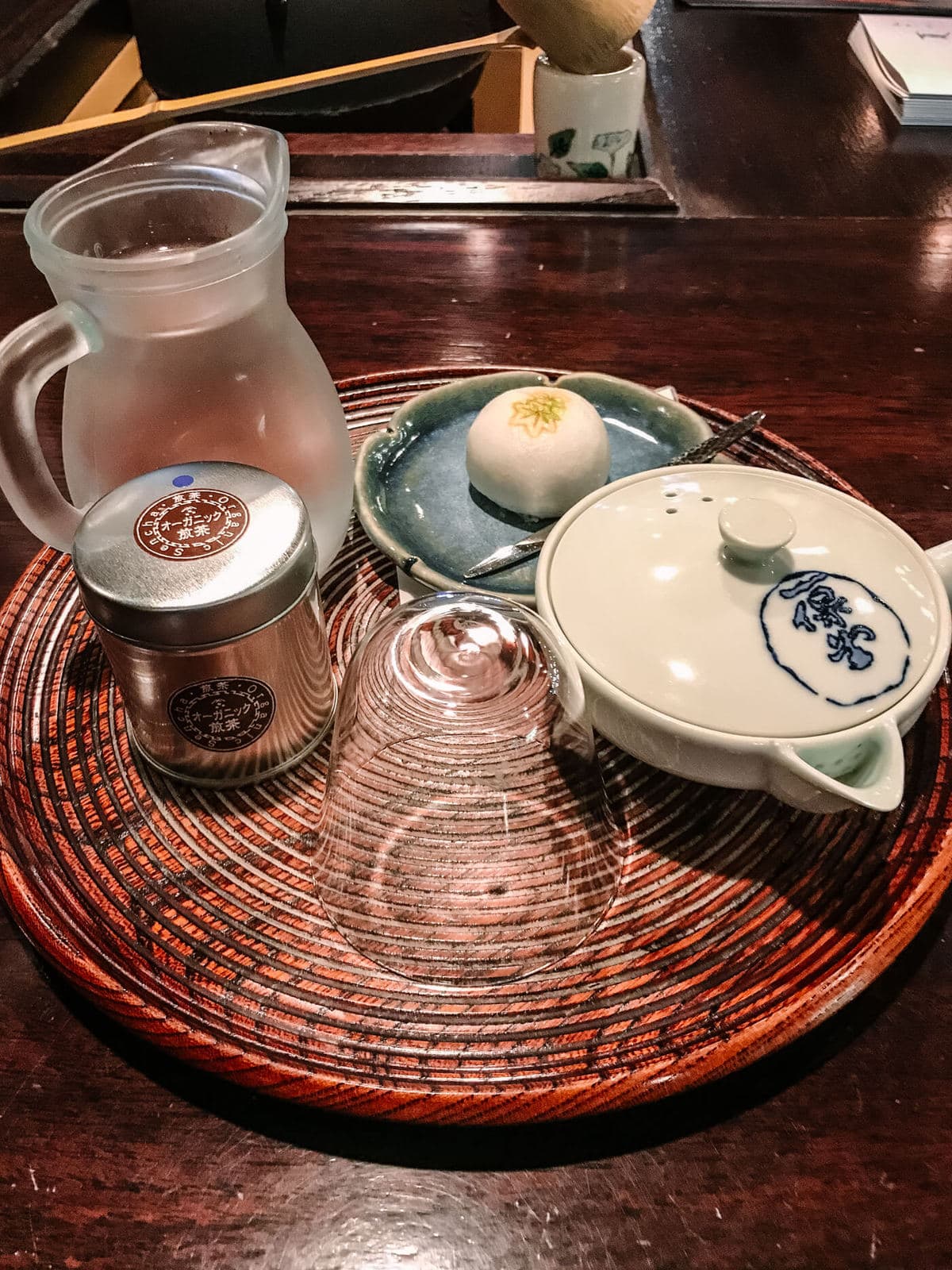 It was warm outside so I had a cold-brewed green tea. And of course I bought some souvenirs for some friends. This green tea had me WIRED so I was glad when the restaurant we were going to was a thirty minute walk away. GOTTA BURN OFF THAT CAFFEINE HIGH!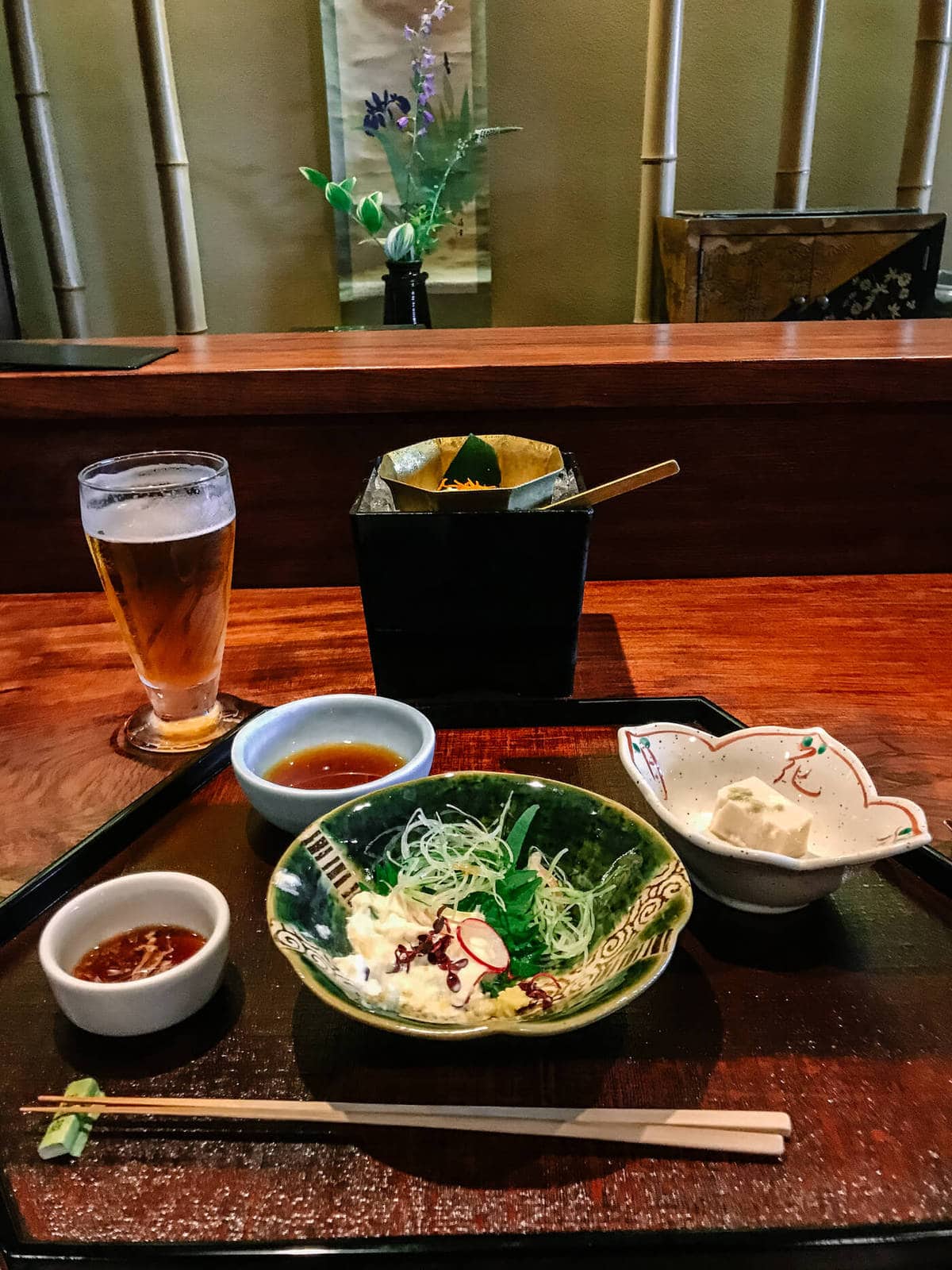 Kyoto is also known for its tofu so we went to this place Tousuiro and had a traditional tofu set for lunch.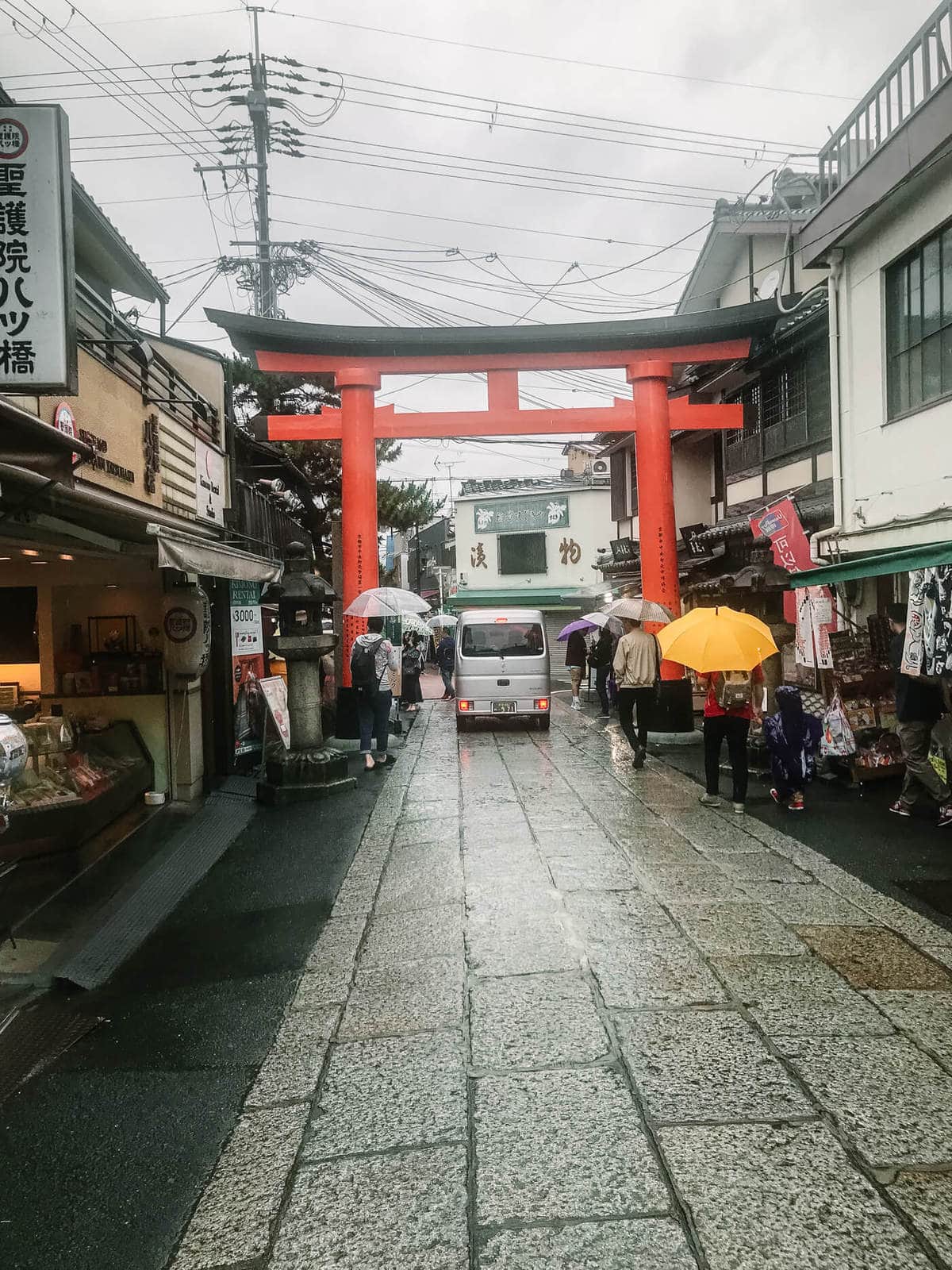 After lunch we went to Fushimi Inari Taisha temple and it was beautiful. SO MANY PEOPLE. If you want to avoid the crowds, I'd go super early in the morning, otherwise it's tough to avoid crowds.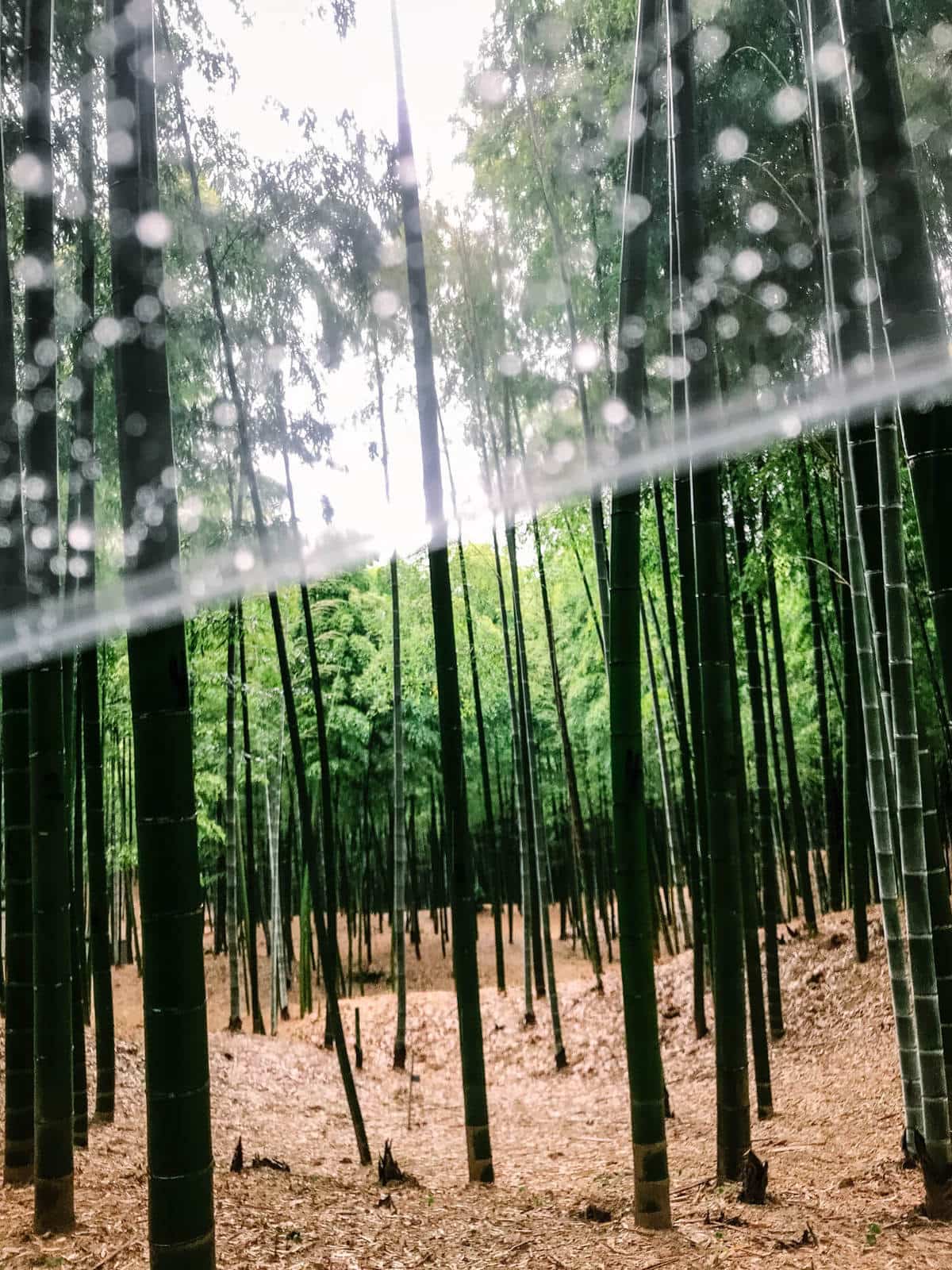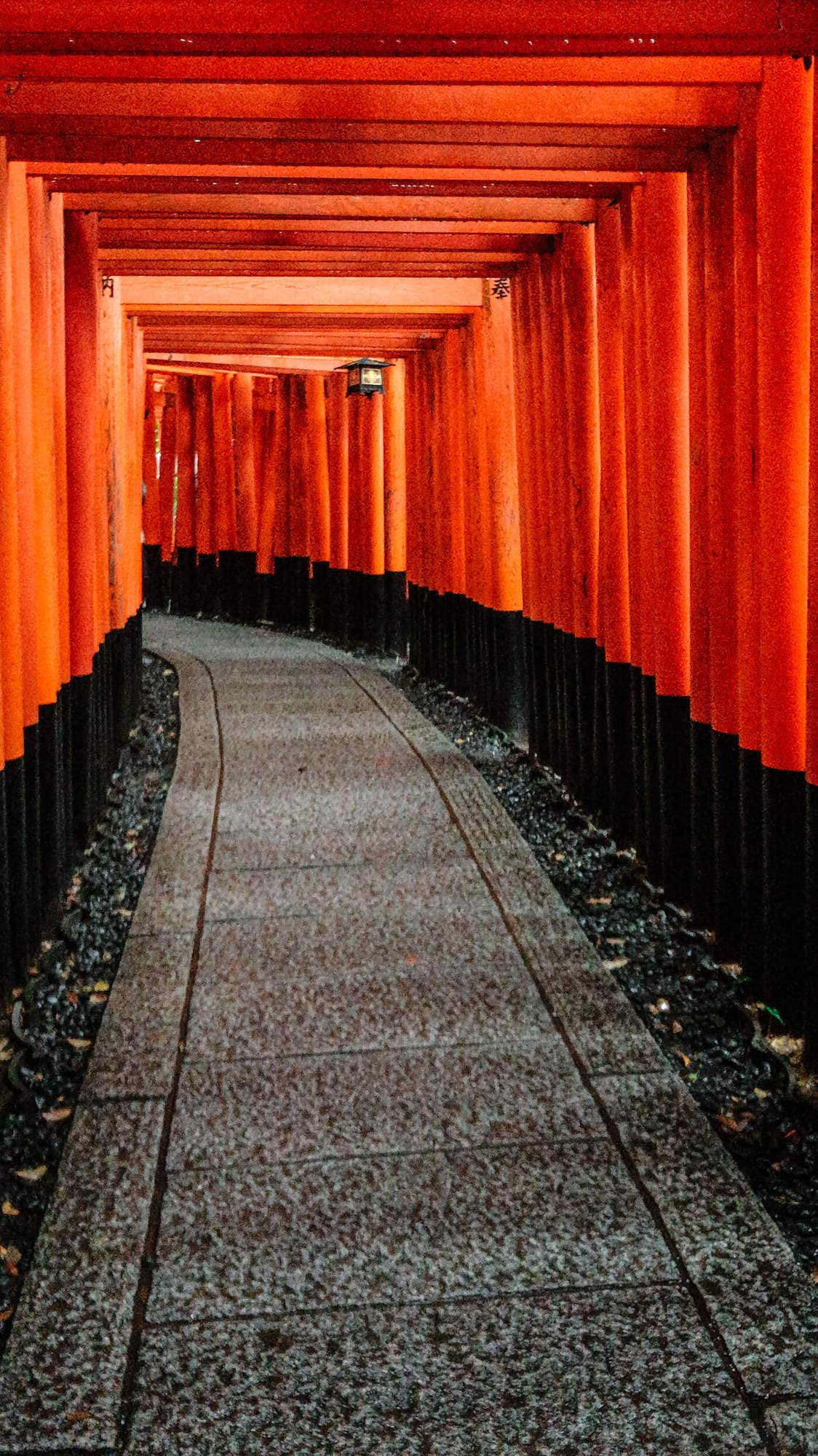 That day news broke that Kate Spade had committed suicide. I was so sad to hear that news. It made me think about a person in my life who has lost their way. I paid 200 yen and wished they would find their way home.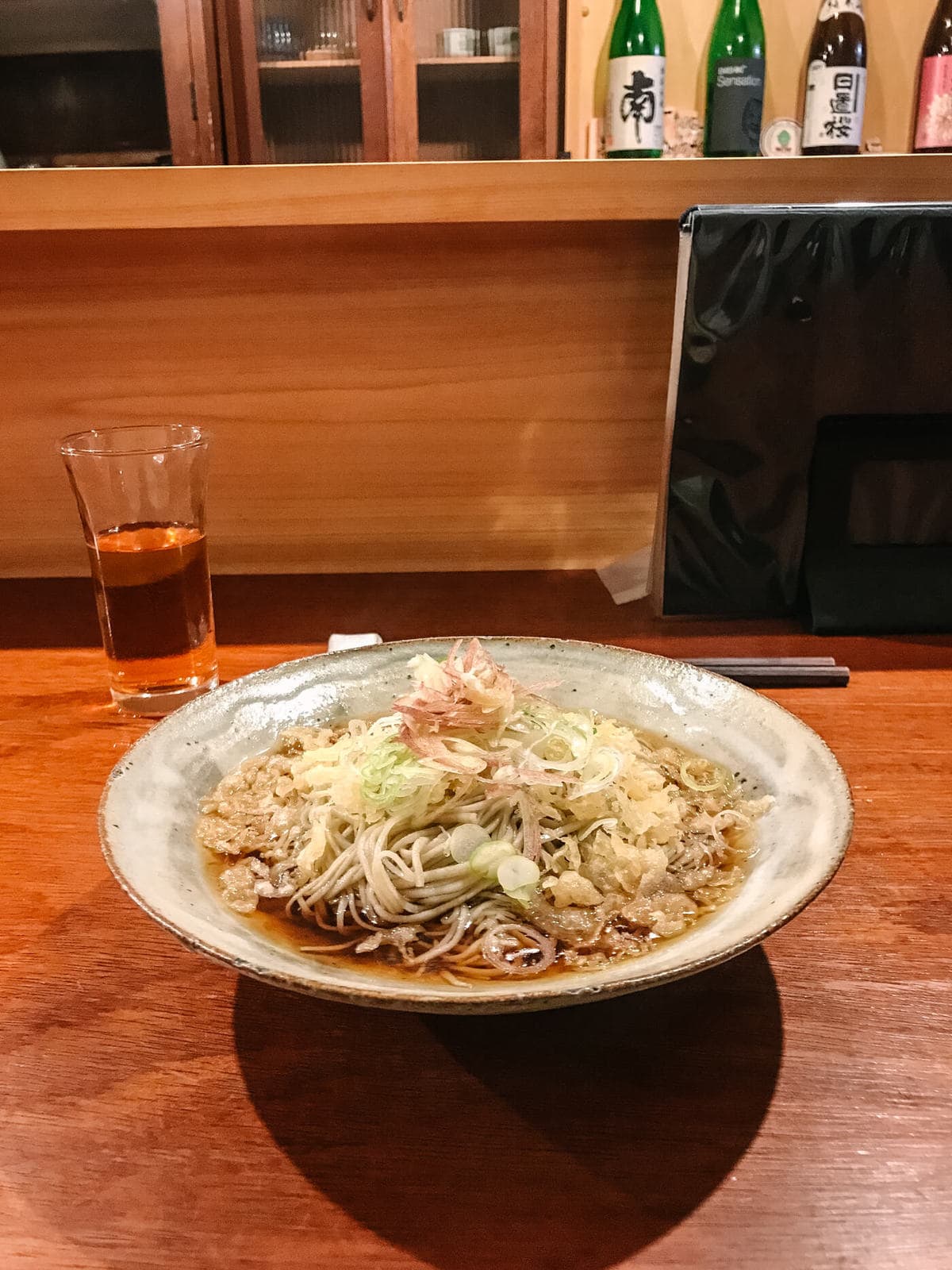 We went back to the hotel to rest and shower. This might've been my favorite dinner of the entire trip. Josh found this soba noodle place called Soba Roujina. They milled the buckwheat flour in the front room. The noodles had the most amazing texture, in a cold dashi broth topped with crispy tempura flakes—SO GOOD!
The next morning we had breakfast at the hotel and ventured out to the Arashiyama area of Kyoto. Our first stop was the bamboo forest. It was so beautiful. Again, TONS OF CROWDS. And we got their early but it didn't matter. It was ok. I can deal with some tourists for a bit.
We then walked around and ventured into this temple, Okochi-Sanso Villa that belonged to a Japanese film star in the 30s silent film star, Denjiro Okochi. He his estate consists of several houses, small temples, shrines and a little tea house. It was beautiful. And since it cost about $10 to get in, there weren't too many people.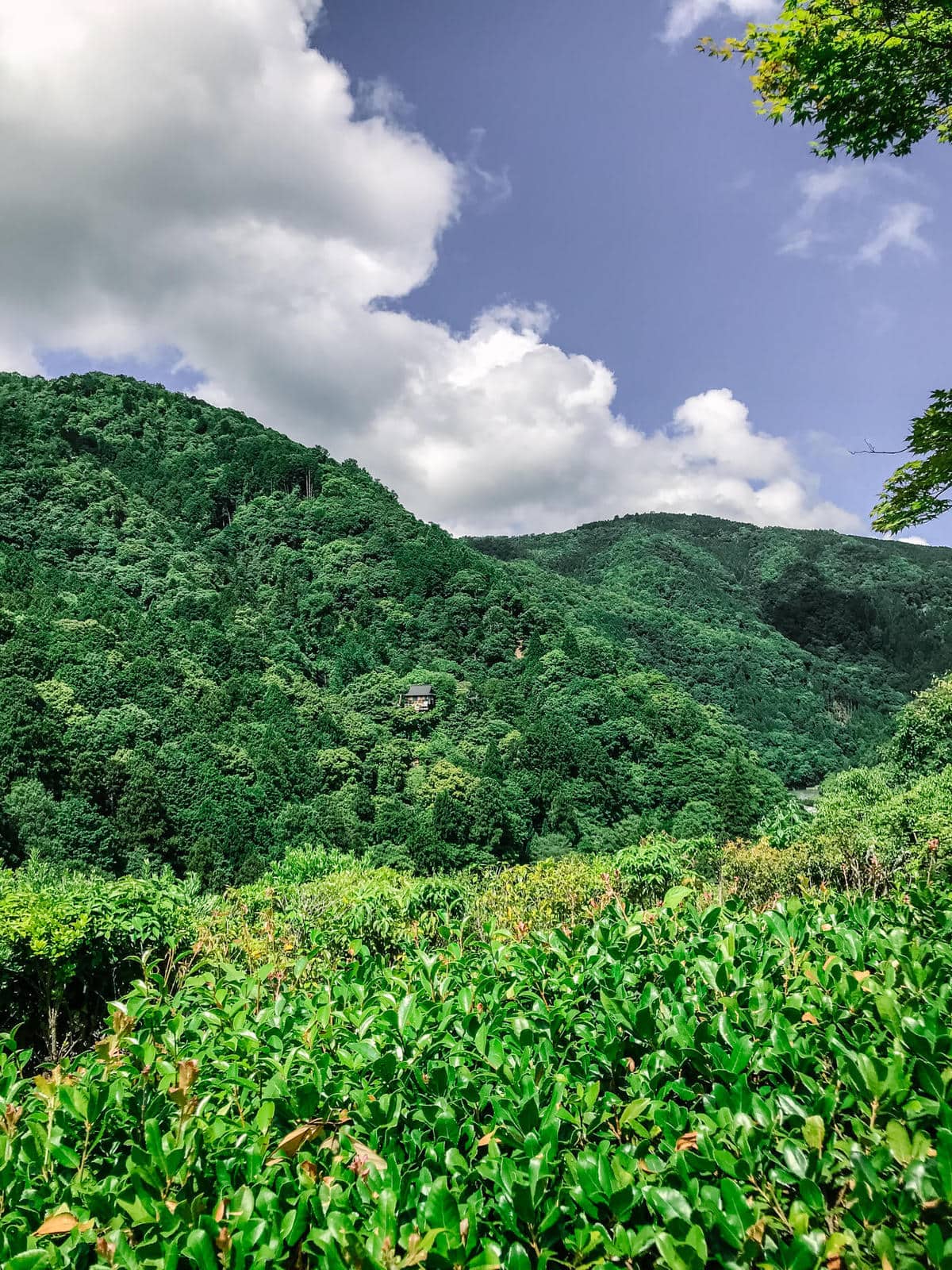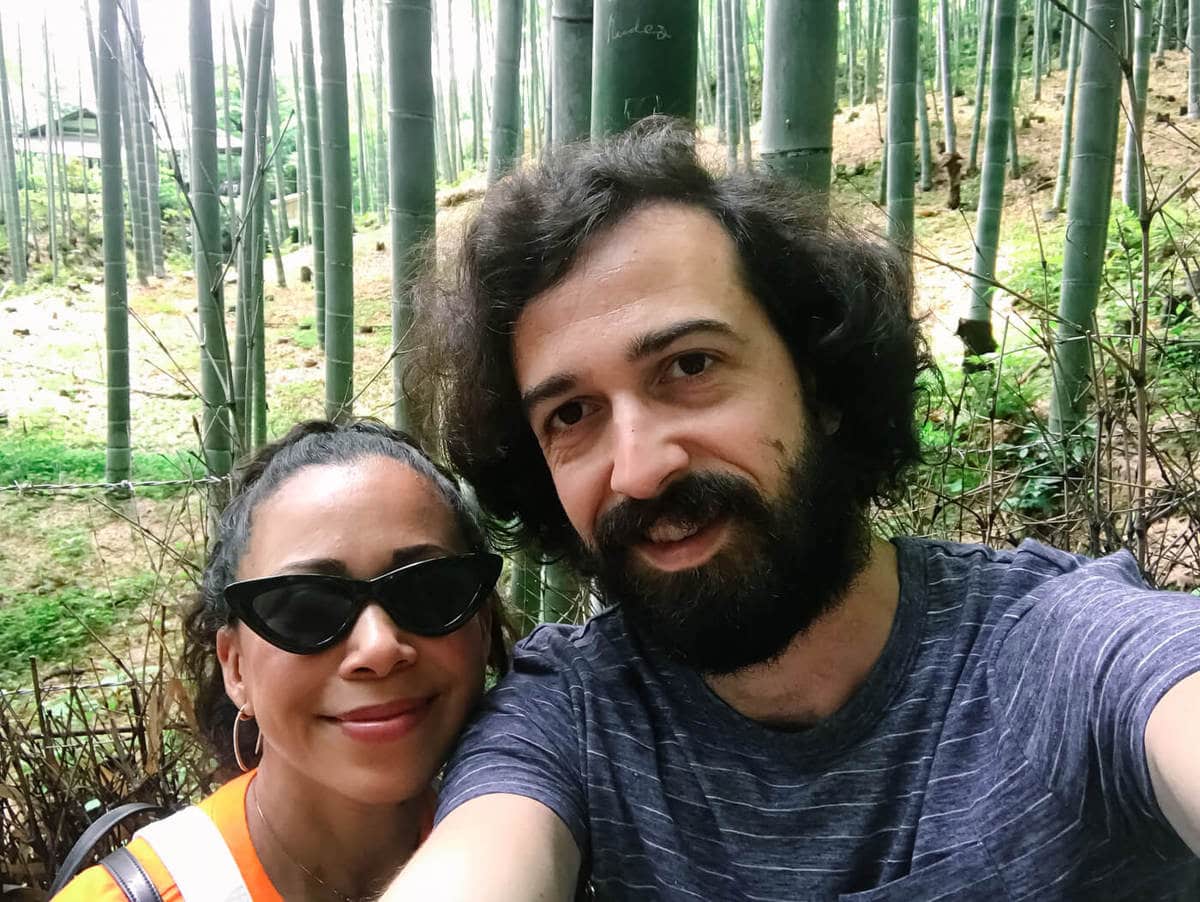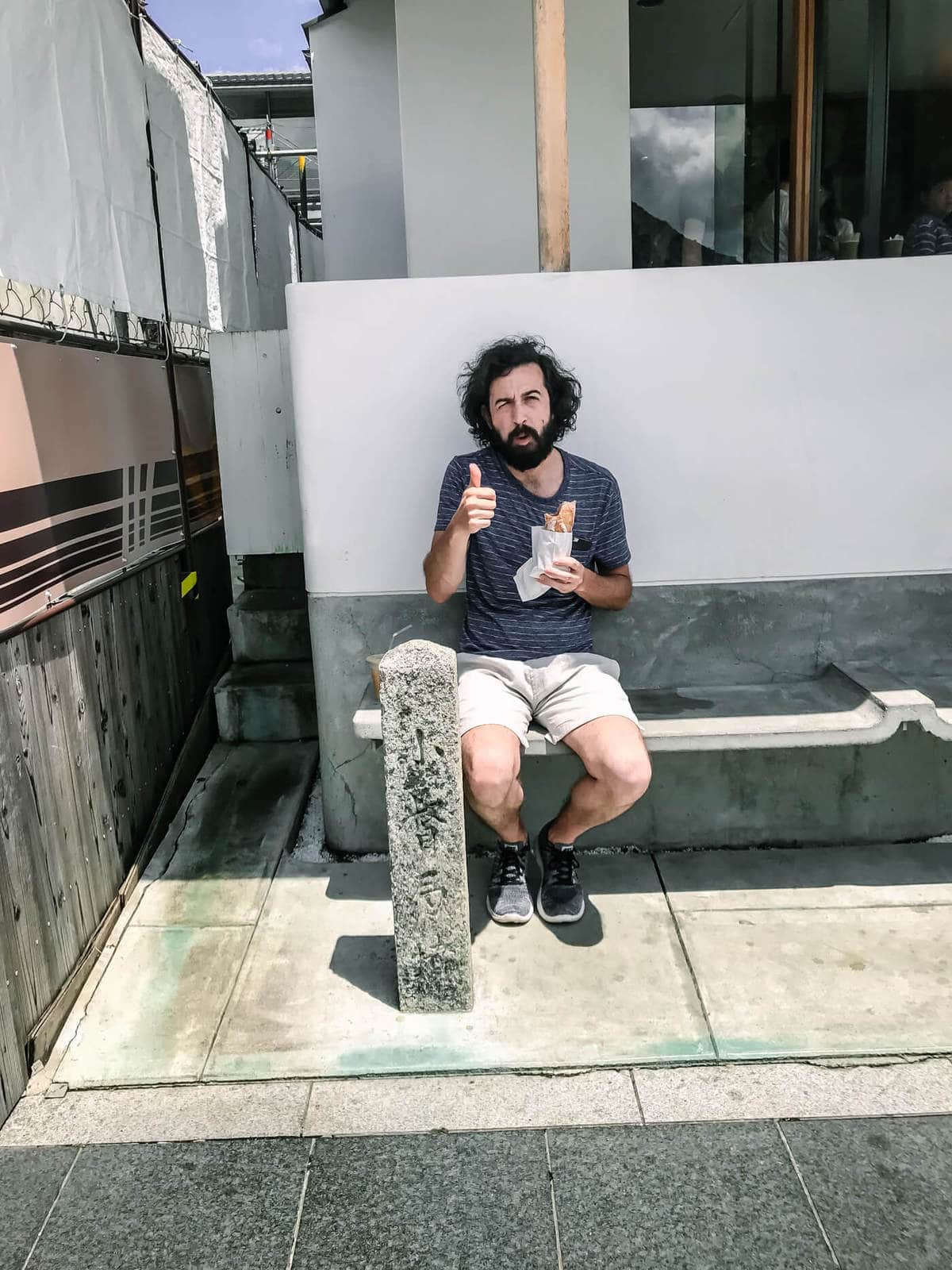 We went to Arabica after for a bit of a pick me up. We got some iced coffee and Josh got a baguette sandwich with ham and butter. He was happy.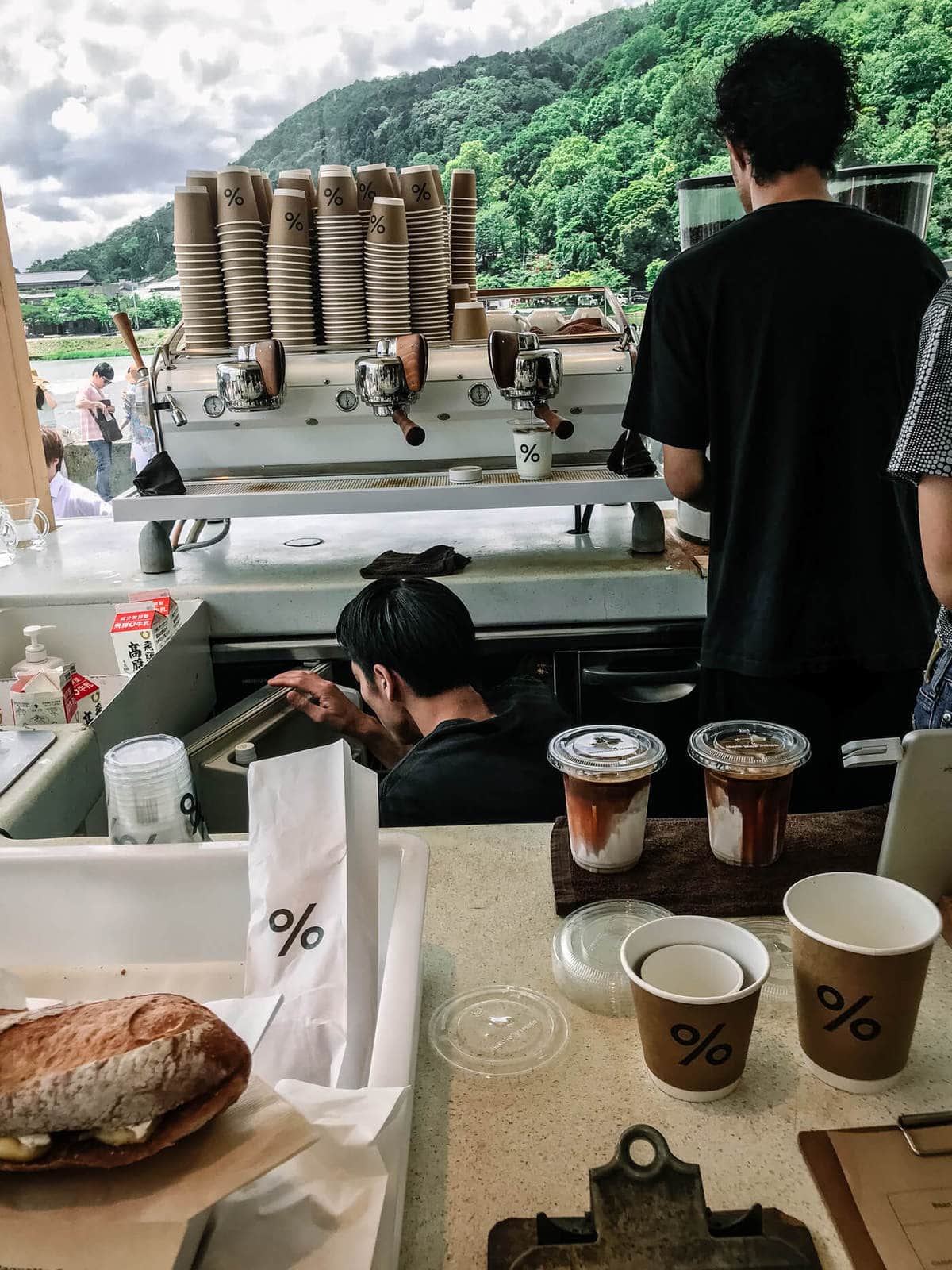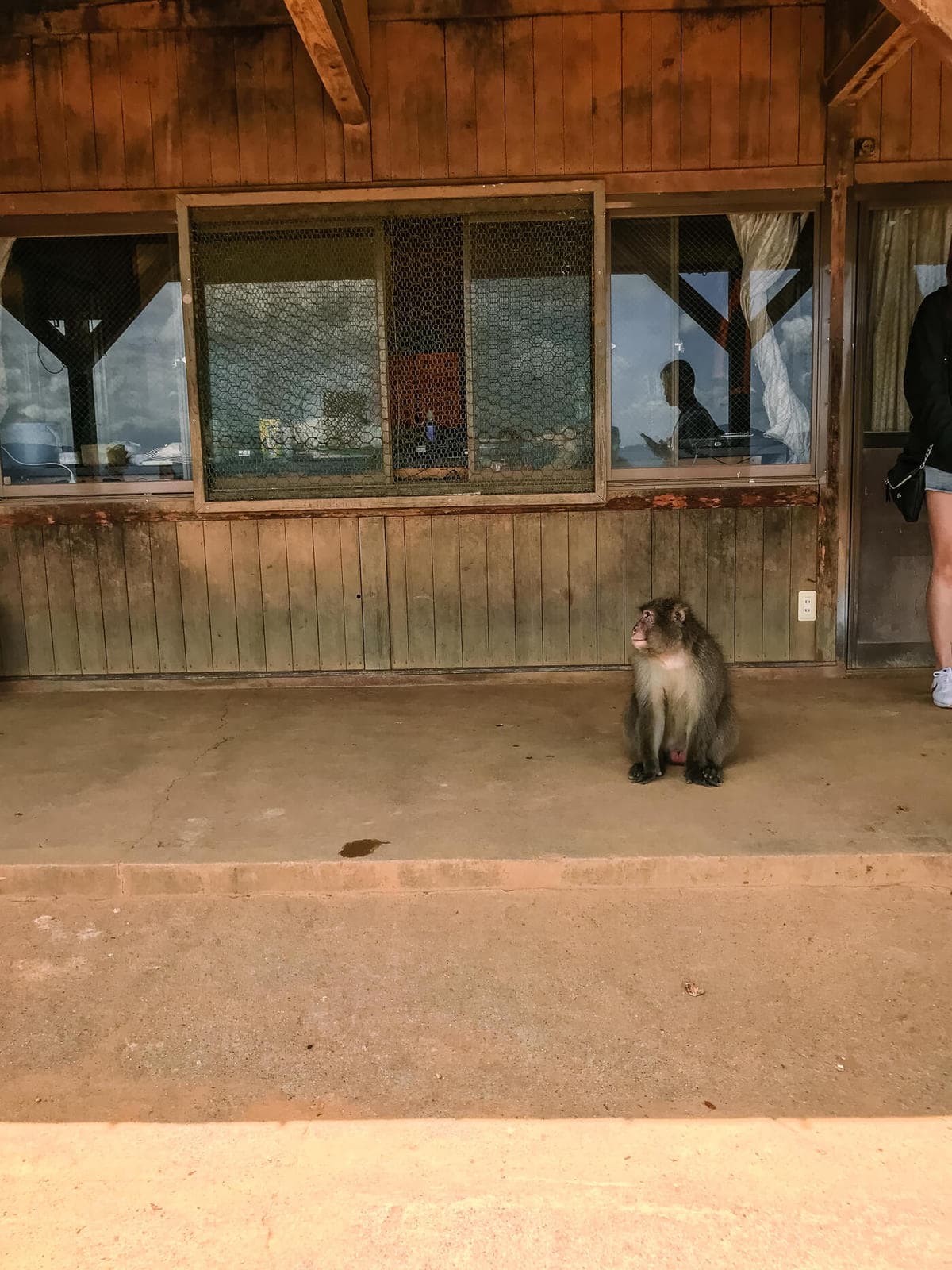 Since we knew we wouldn't be able to make it out to Nara to see the deer, Josh compromised and told me we could go and see the monkeys. There was a monkey park that I highly recommend (if you like animals). The monkeys were wild!
We got to feed them little pieces of apple and peanuts. I loved them so much; especially the baby monkeys.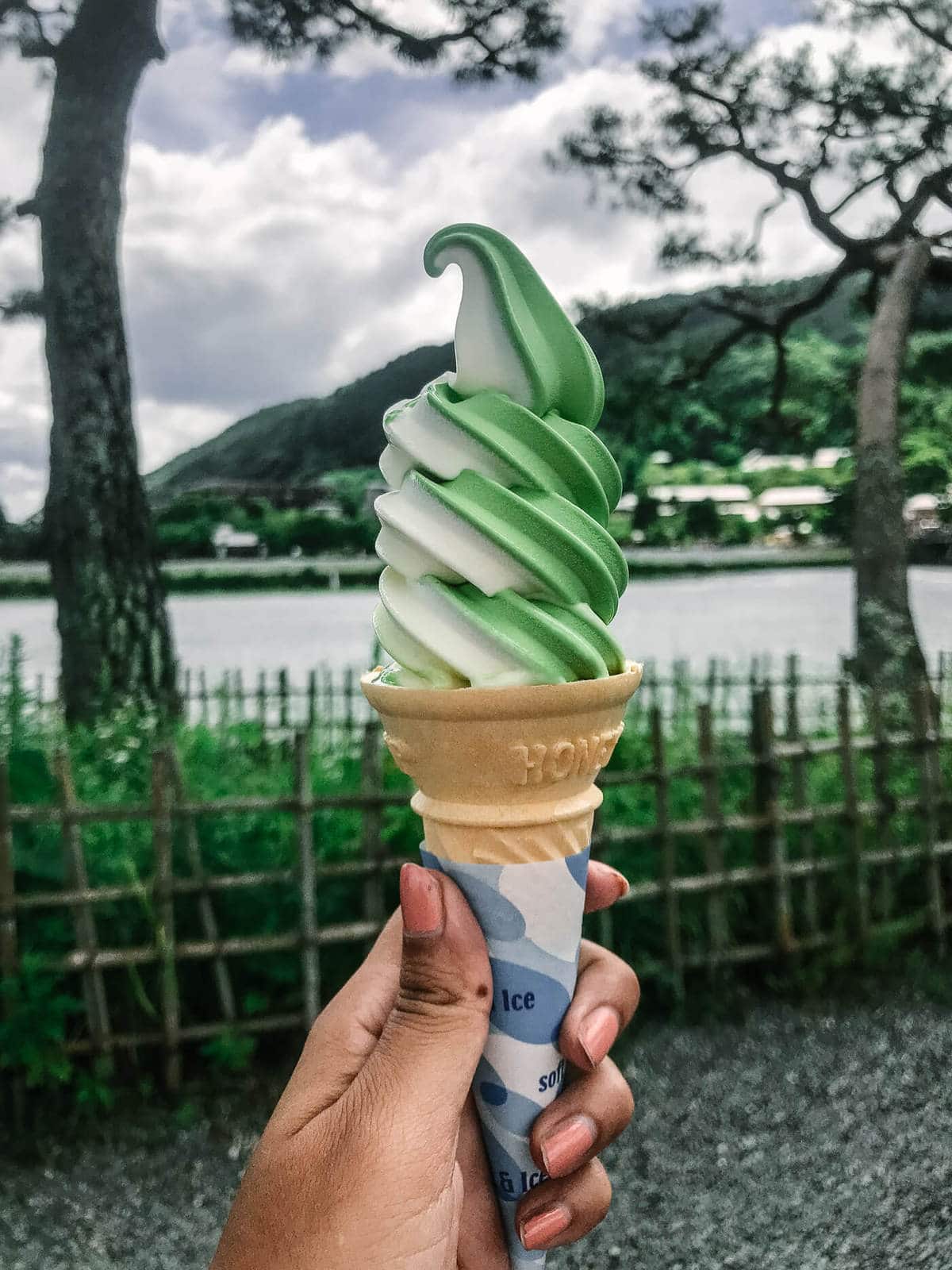 We headed back down near the train station and got some soft serve. We realized we didn't really have a lunch and we still wanted to get Josh a knife, so we headed back into the center of Kyoto.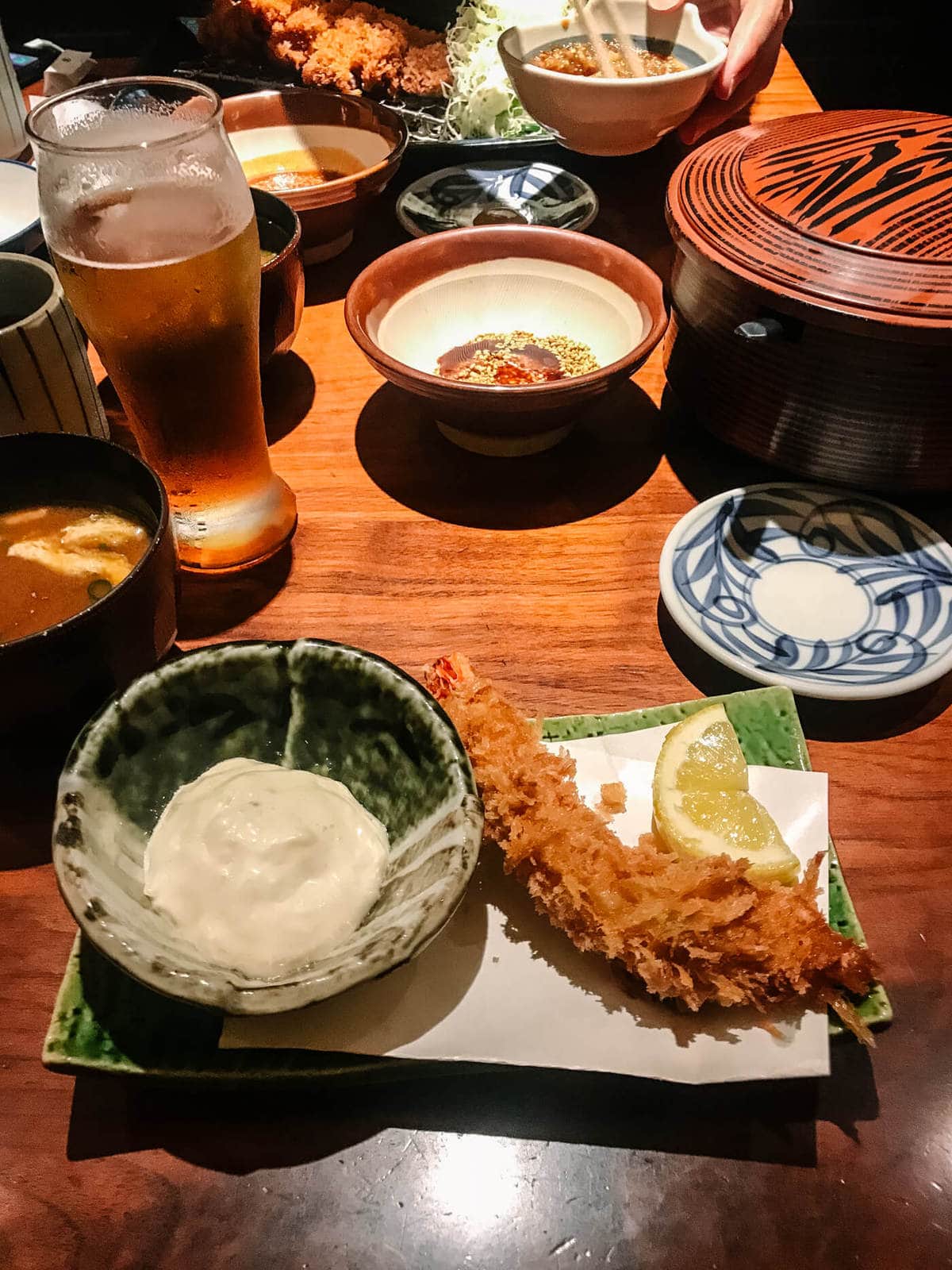 We had a tonkatsu lunch at Nadai Tonkatsu Katsukura lunch—SO GOOD. I got shrimp tonkatsu since I wasn't in the mood for meat that day. And it came with this delicious tartar sauce.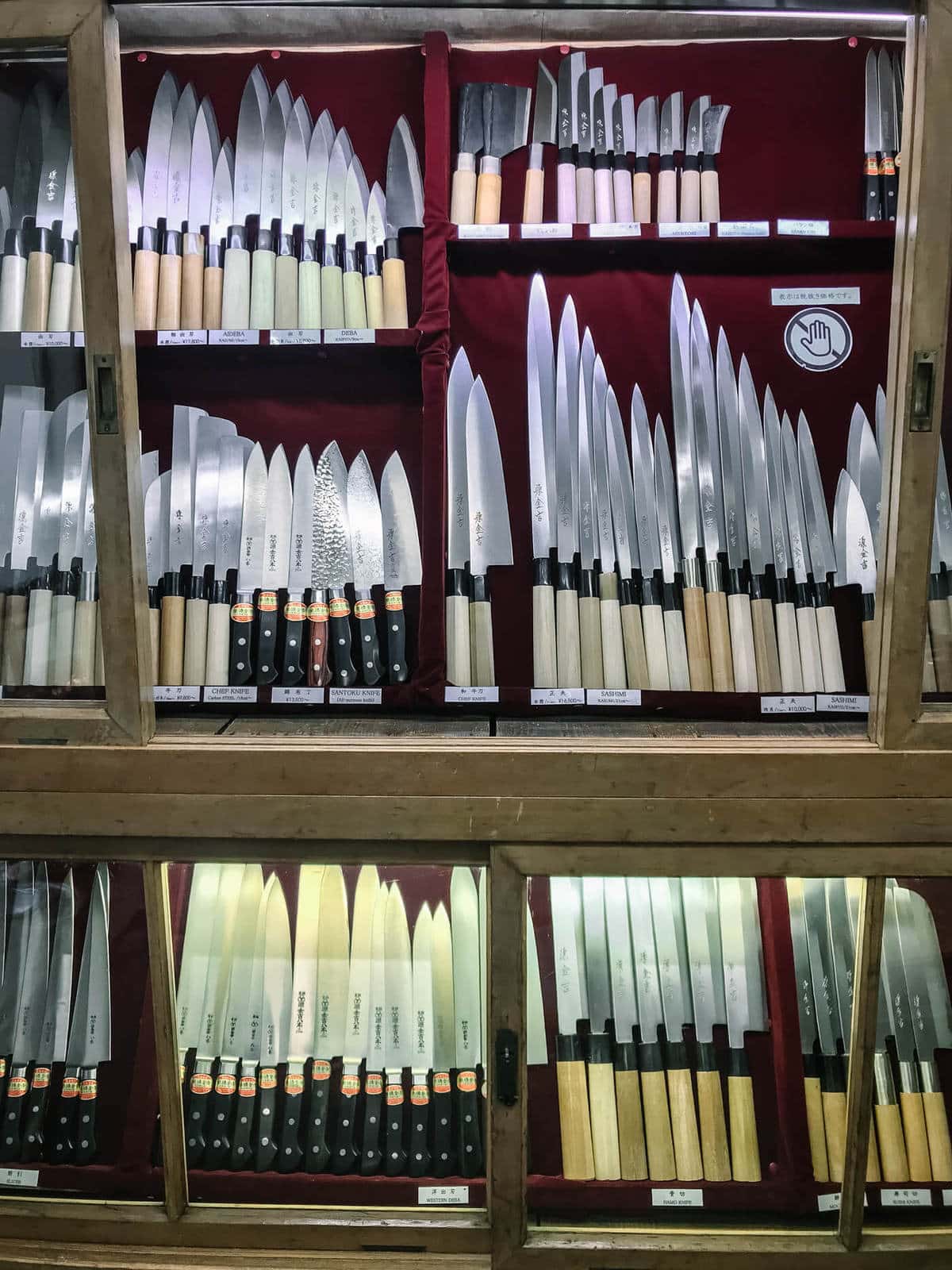 After lunch was knife shopping at Yagi Houchouten. We bought a good amount of stuff in this store and I can't recommend it enough. Josh bought a few knives and I got some cookie cutters. They shipped the knives and cookie cutters to us (shipping was really affordable) and we received them like two days after we got back!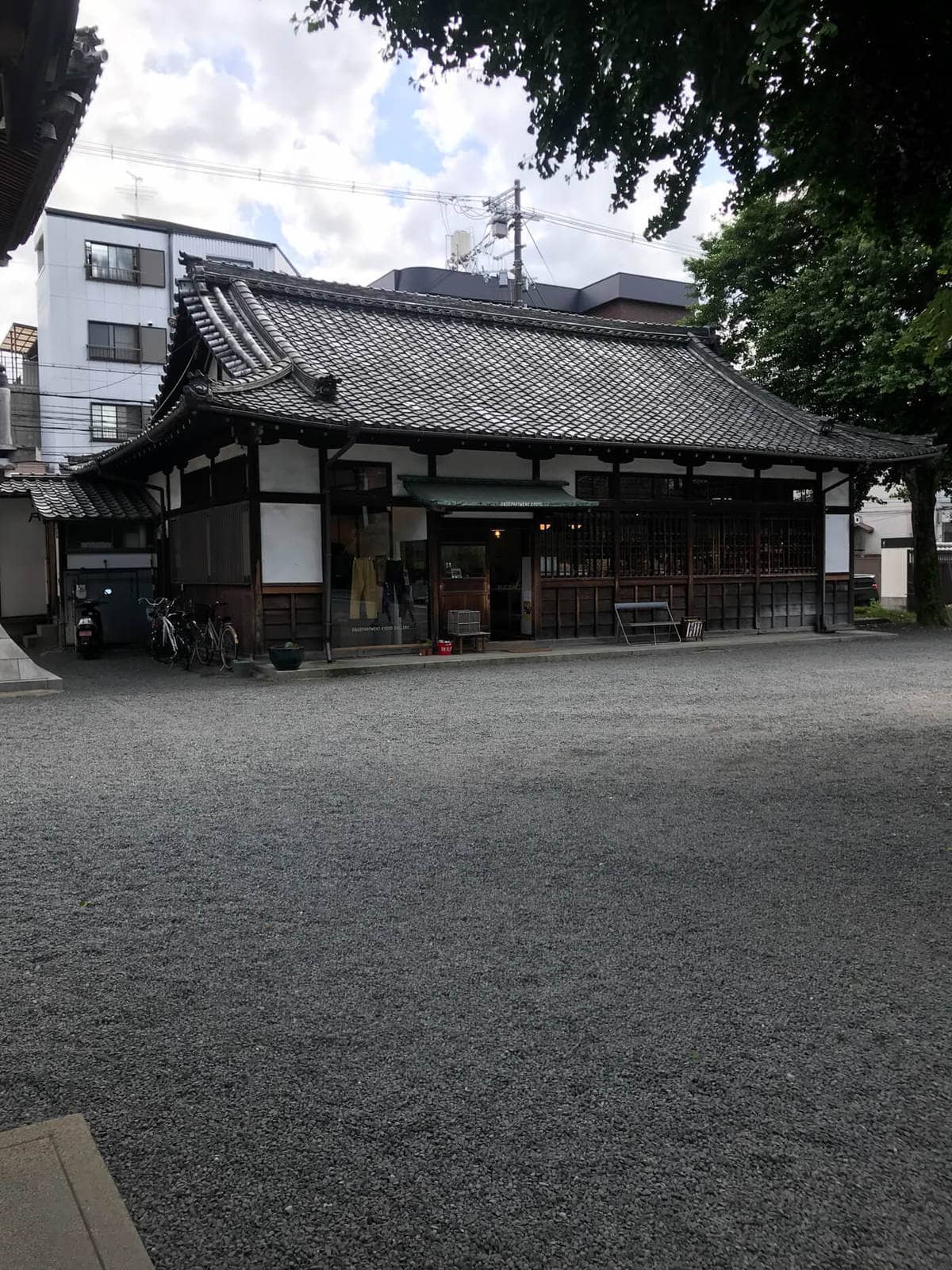 On our way back to the hotel we stopped by D&D Department Store (recommended by my friend Jeni). It was super cute. I bought some pearl earrings for my mom, a pearl necklace for myself and some other knick knacks.
We headed back to the hotel to chill and get ready for dinner.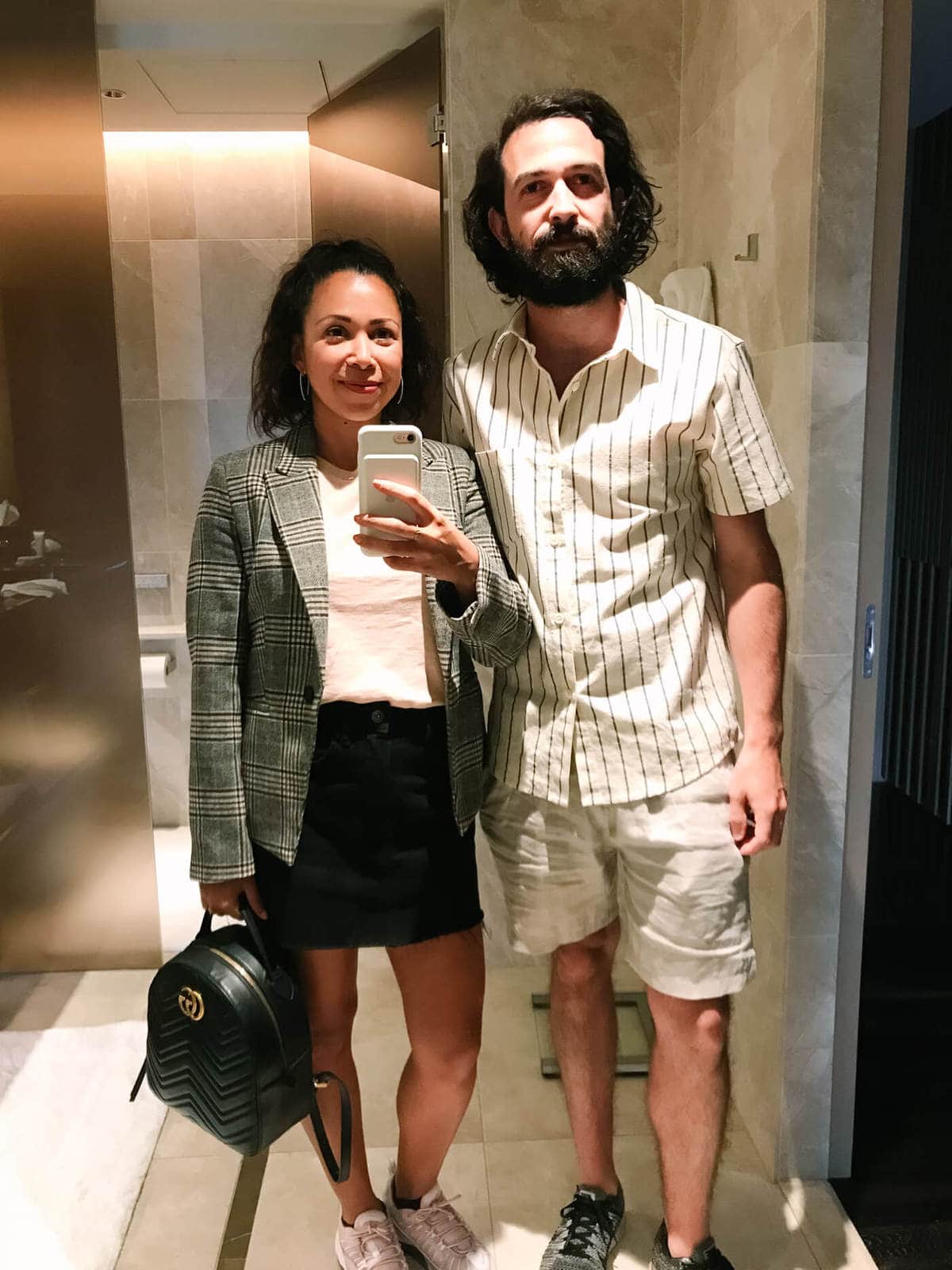 A few days before we headed to Kyoto, one of Josh's friends, Rie, recommended that we go to Monk. I guess I would describe it as chill vibes tasting menu that is farm-to-table using Japanese ingredients. It's very vegetable driven, with the meal ending with pizza! Highly recommend.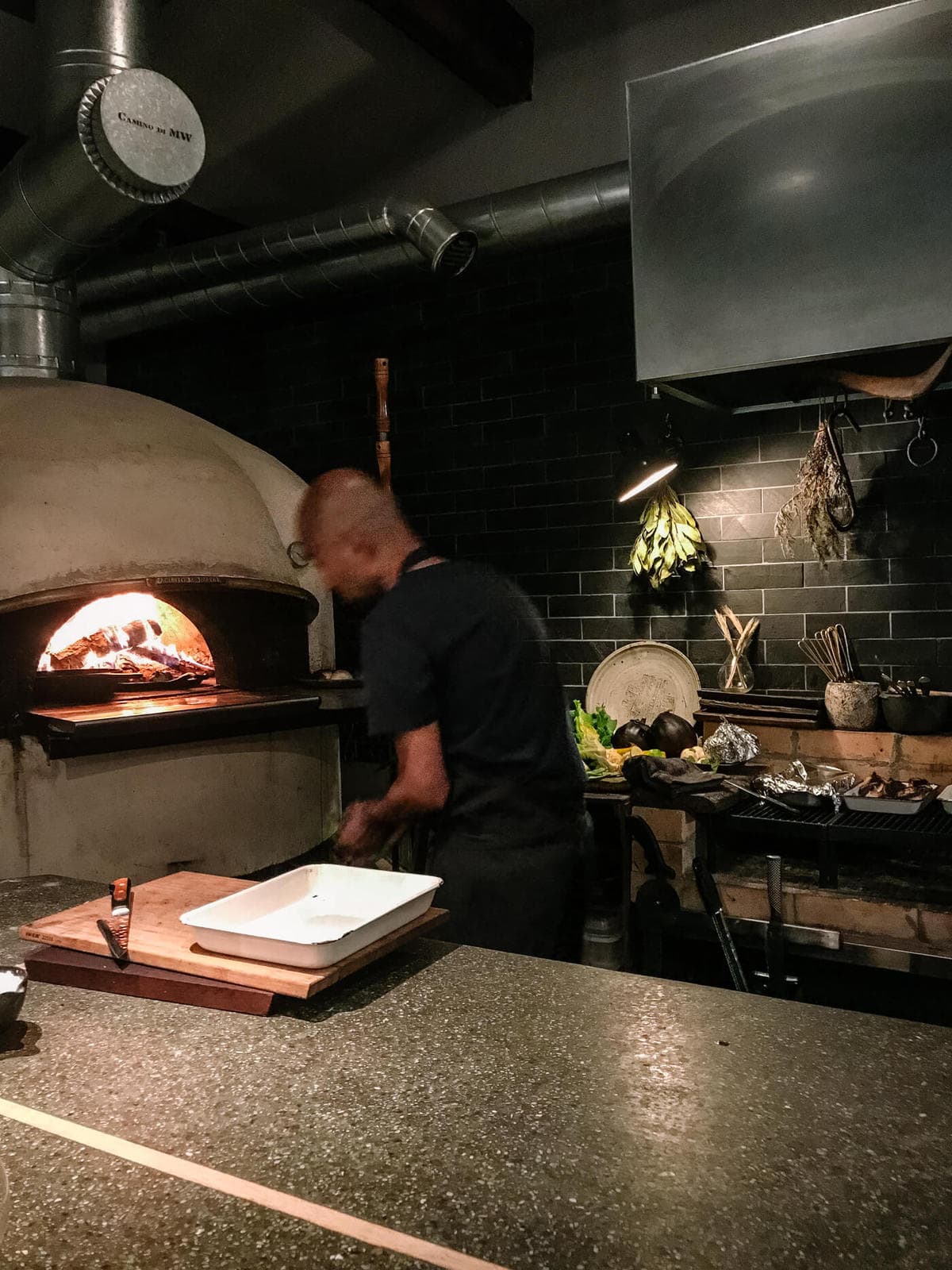 After dinner, we met up with our friends Dylan and Jeni who just happened to be in Kyoto at the same time we were. We met at a Szechuan restaurant called Taiho that also served insane natural wine. I was way too full to eat but Josh somehow found room to eat some dumplings and we all drank wine together. It was so fun!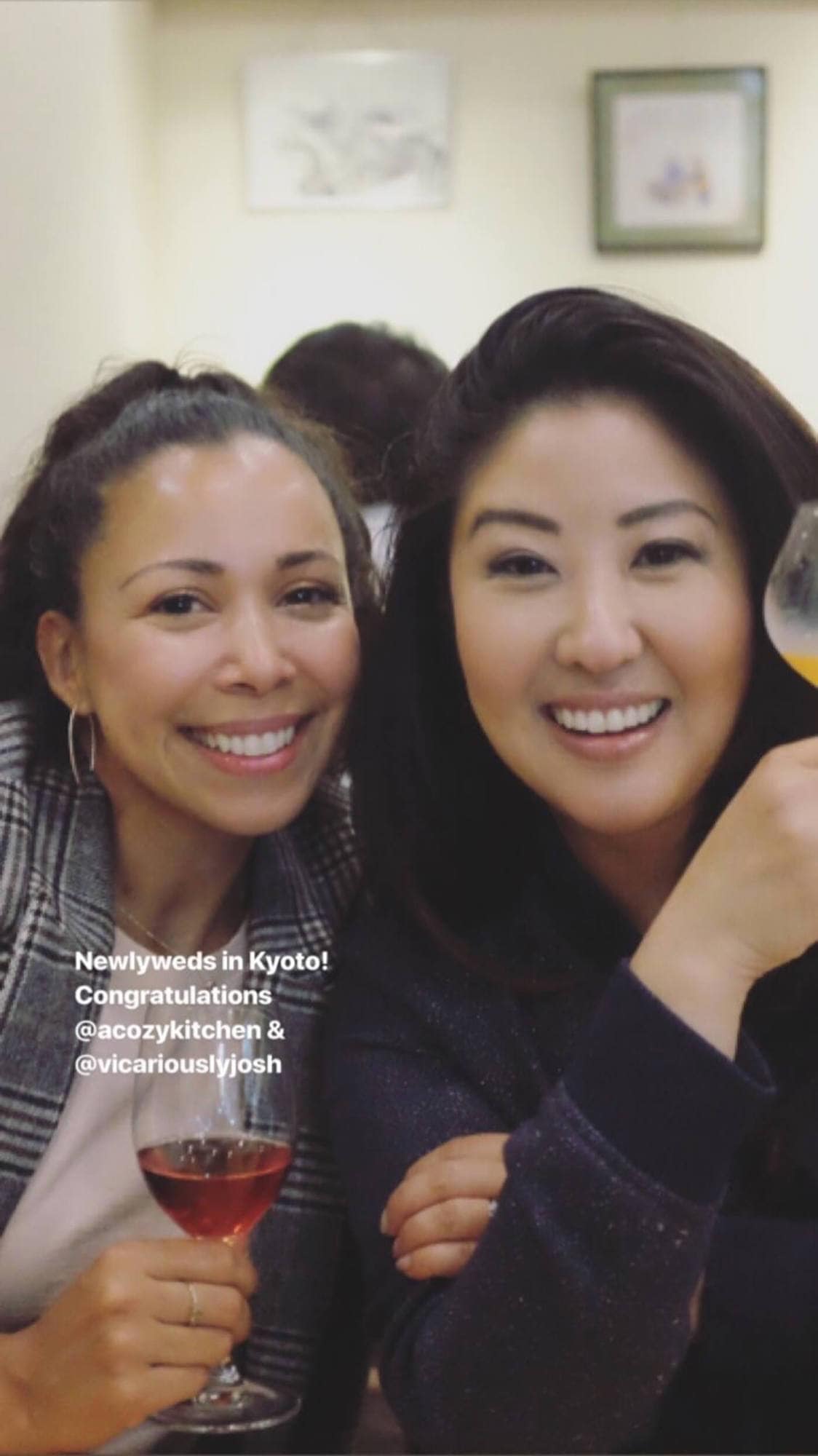 The next morning we took our time getting breakfast and our stuff together and then headed to the train station to head back to Tokyo for our last day.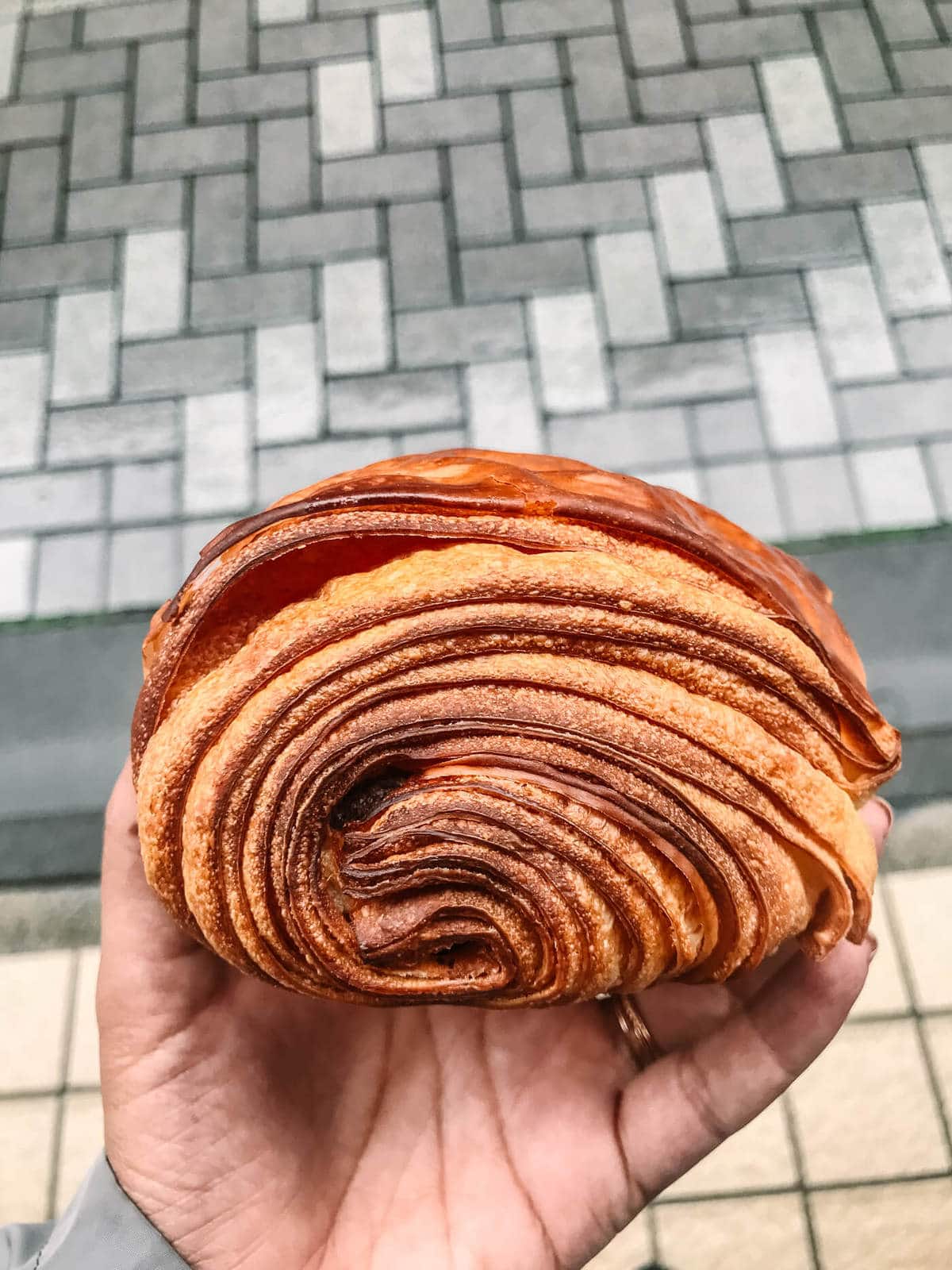 Kyoto was super beautiful. Can't wait to go back.
Here is a shorthand list of places we loved:
To Eat/Drink:
1. Ippudo
2. Nishiki Market
3. Lawson's
4. Arabica Coffee
5. Taiho (natural wine meets Japanese take on Szechuan food)
6. Monk
7. Nadai Tonkatsu Katsukura
To Shop:
1. Yagi Houchouten
2. D&D Department Store
To See:
1. Arashiyama Bamboo Forest
2. Monkey Park Iwatayama
3. Fushimi Inari Taisha