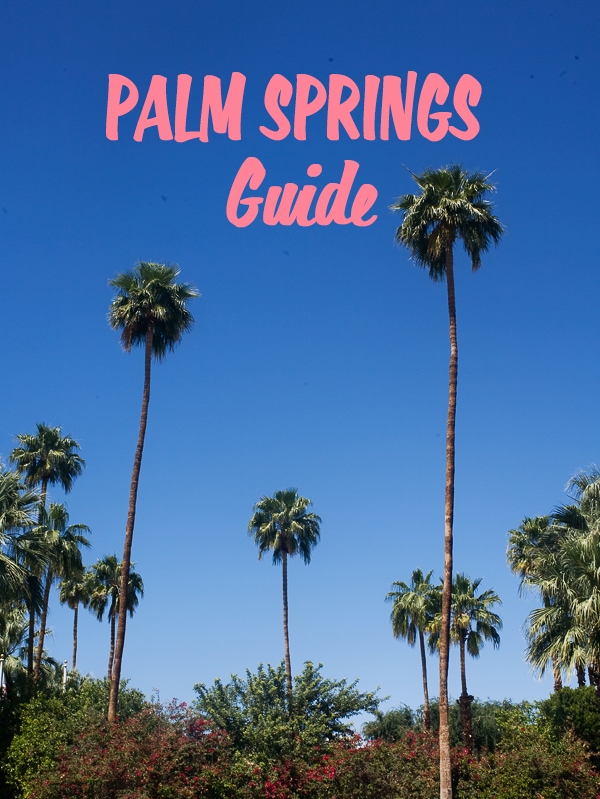 I spent this past weekend in one of my favorite cities, Palm Springs. It's about an hour and half-long drive east of Los Angeles, making it the most perfect weekend getaway to Angelenos. I really really love it out there, even in the summers when the temperatures soar above a hundred. In terms of aesthetics, it doesn't get more beautiful. It's a dreamy combination of mid-century meets Moroccan meets Spanish. Palm trees and bougainvilleas line the streets while old cars drive up and down quiet neighborhood roads. It's a special place.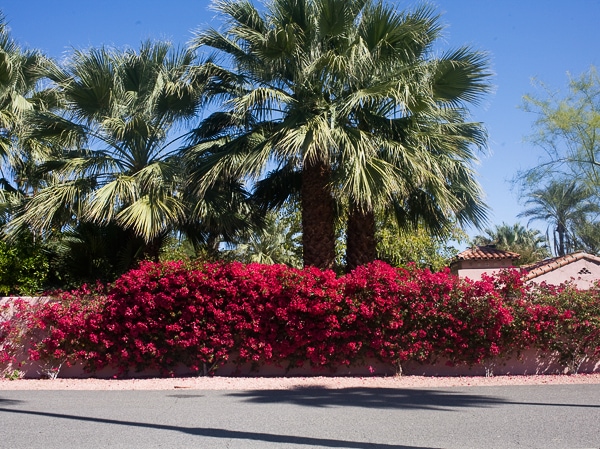 I know a lot of people (I'm not one of them) are headed to Palm Springs for Coachella. I thought it might be a good time to give you guys a guide, listing some of my favorite places in Palm Springs. This isn't entirely comprehensive; mainly because I spend the majority of my time sitting by the pool and shopping. If you go to Palm Springs you should focus on doing absolutely nothing. It's a good do-nothing vacation.
(P.S. My friend Claire from The Kitchy Kitchen posted her guide to Palm Springs just this past weekend. Check it out Part 1 and Part 2!)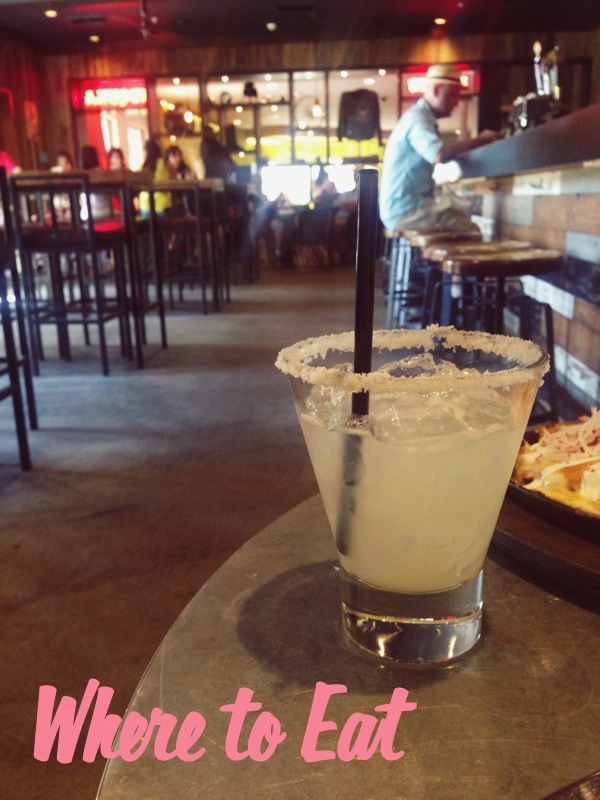 Where to Eat
For me, Palm Springs is mainly about sitting by the pool, drinking cocktails, reading and thrifting. I wouldn't necessarily consider it a food destination the way, say, New York or San Francisco are, but there are a few places I really love (and plenty that I have yet to visit).
Tyler's Burgers – Their burgers are delicious. The place is classic, charming, casual and in a sea of "fancy," very mediocre restaurants, it's a total stand-out.
El Jefe – Located in the Saguaro Hotel, super convenient to everything and overall pretty casual. It's the perfect place if you're looking for margaritas, some beer and good tacos, though the nachos are my fav.
P.S. There's nothing better than eating a s'mores while poolside.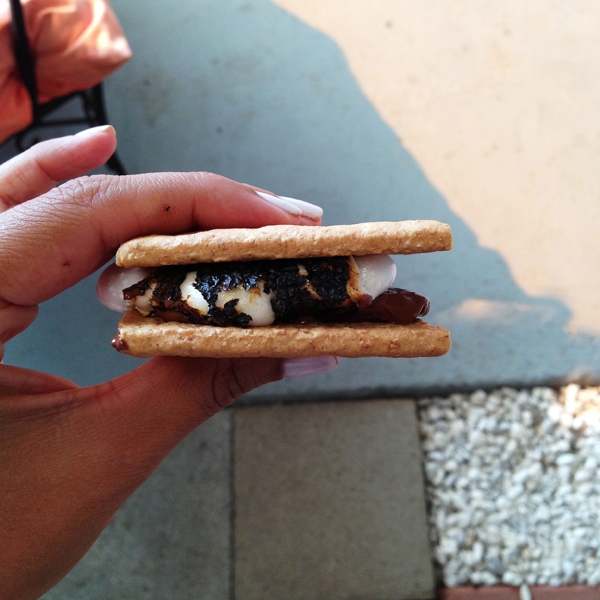 Norma's (at The Parker Hotel) – In terms of the food, I've had a few mixed experiences: rubbery pancakes one time and pretty solid eggs benedict another time, but if we're being honest, The Parker is mainly about the decor, the colors, the vibe. Everything is so freaking beautiful. However, prepare to pay for the prettiness (hello $18 pancakes!).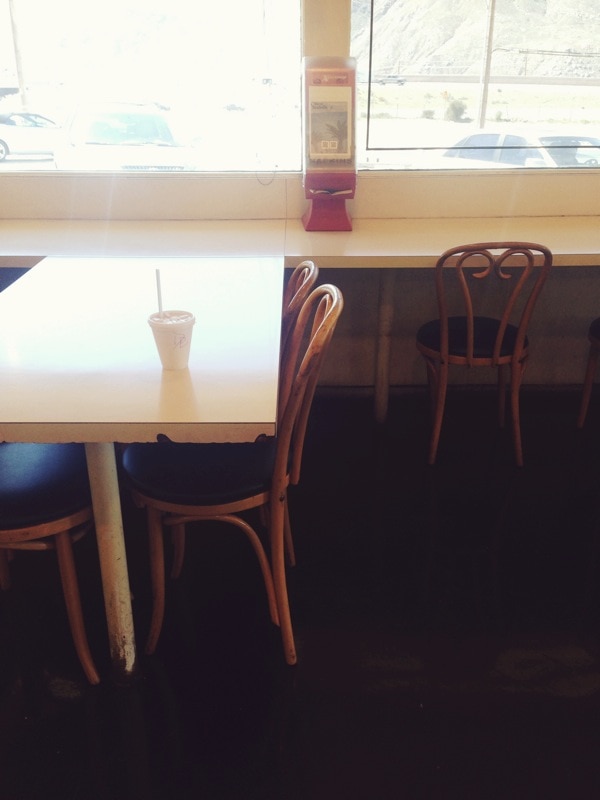 Tinto – Chef Jose Garces' restaurant, located right next to El Jefe in the Saguaro Hotel. If you're looking for a nice place to go, eat a few Spanish appetizers and sip on a few glasses of wine, come here!
Hadley Fruit Orchards – On the way out of Palm Springs, stopping for a Hadley date shake is kinda fun. The banana and date is the move. And order a small because they're just so dang sweet that you won't be able to finish a medium.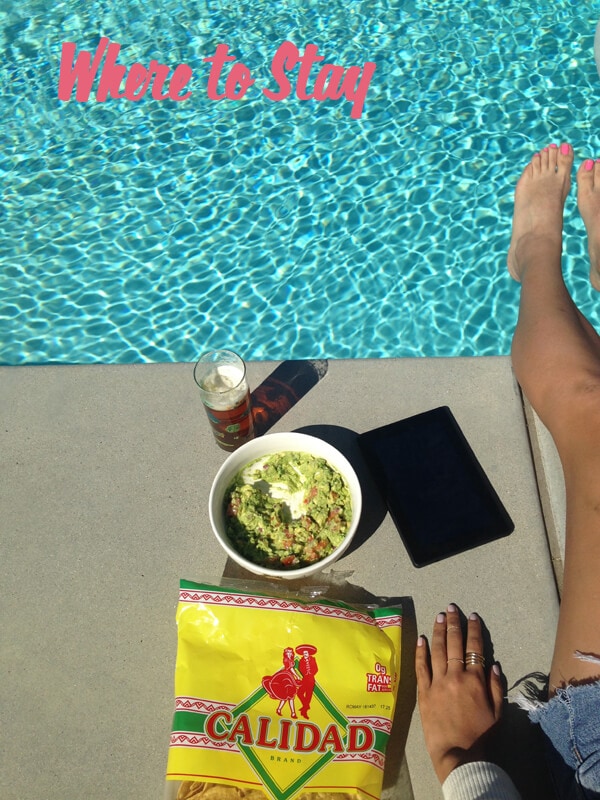 Where to Stay
My boyfriend's dad has a vacation house in Palm Springs so I'm super lucky in that I don't have to search for a place to stay. It makes going out there on a whim a reality, which is pretty awesome. In the past, I have stayed at a few hotels in Palm Springs and most of them are pretty lovely. If you're going with a group, however, I recommend renting a house (see above picture of homemade s'mores). The house rental options are pretty amazing and it's definitely the more affordable route.
The Parker – Jonathan Adler designed hotel that is so impeccably designed. You won't be able to walk through the lobby and not want to take at least five Instagram photos. It's hard! Their lemonade stand out back is dreamy, their pool is divine and beautiful peacocks roam the grounds. It's on the higher end of hotels, but I say if you can swing it, do!
The Ace Hotel – I love how the rooms at The Ace are decorated. It was one of the first boutique hotels to pop up in the area and I remember going for the first time and being to-die in love with it.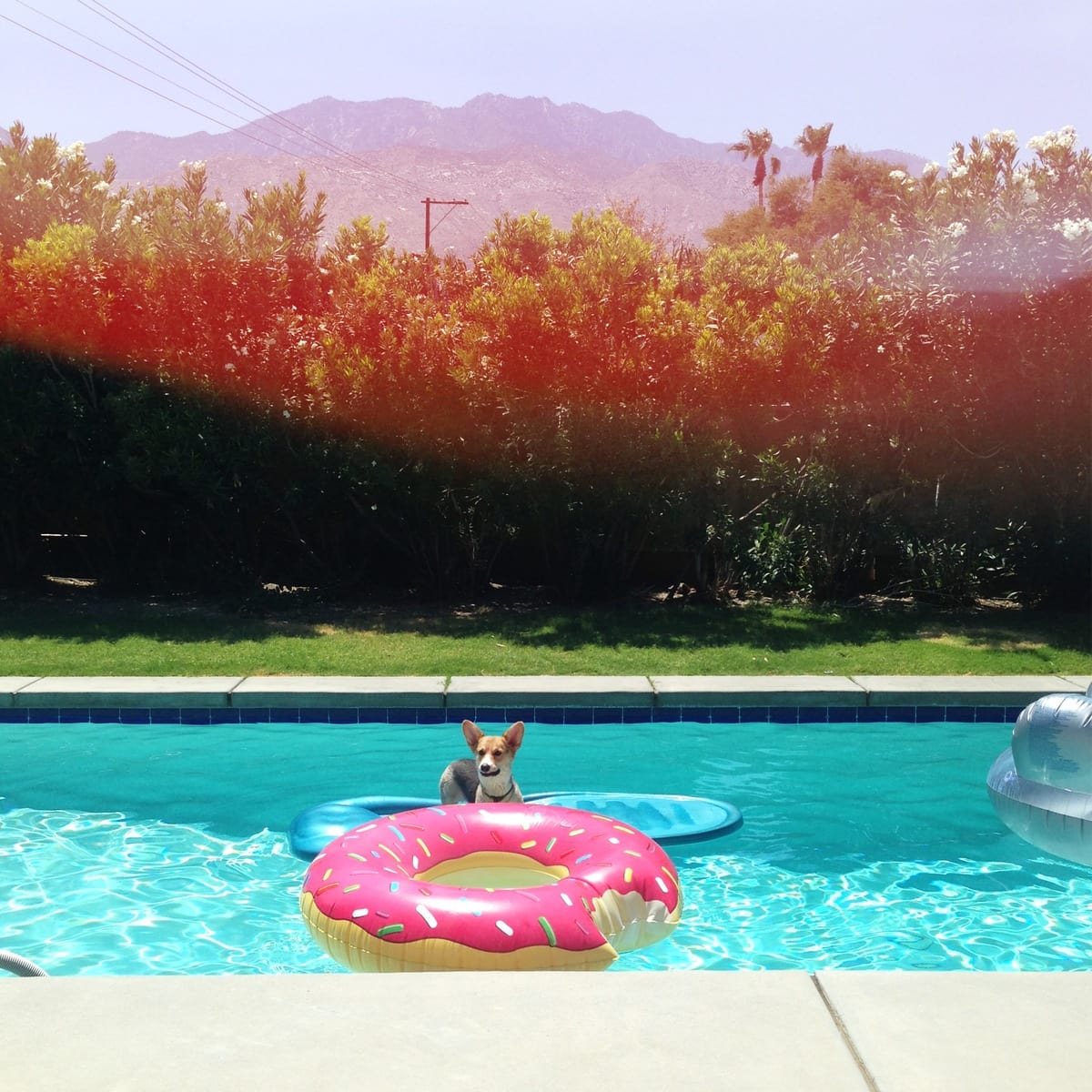 The Saguaro Hotel– I've stayed here a few times and the best part about it is that the beds are comfy and the prices are pretty affordable. The rooms inside are, well, bright. Very very bright.
Korakia Pensione – A gorgeous bed and breakfast that is definitely priced on the upper high end of hotels but man, it is so beautiful. While The Ace is party-central, the Korakia has a different vibe. This is the kind of place you book if you're looking for rest, relaxation and tasty spa water. Isn't spa water the best?!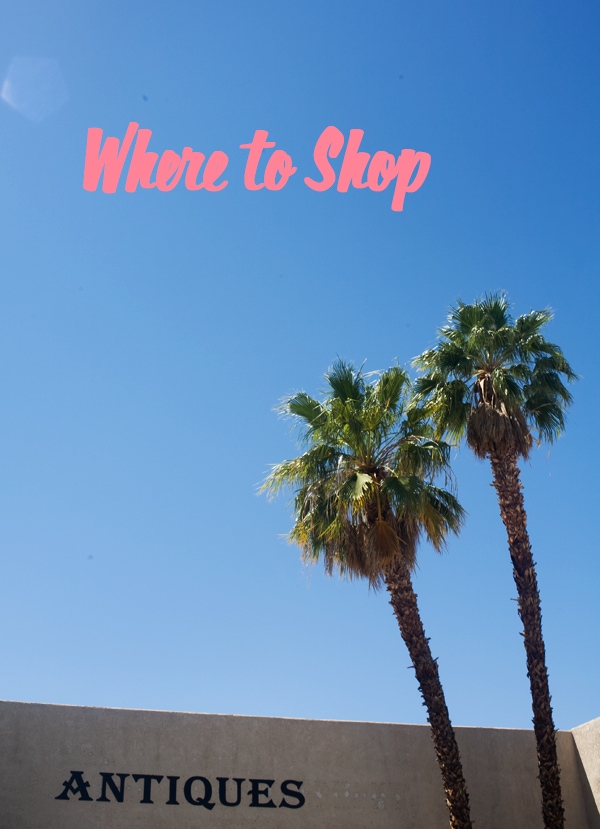 Where to Shop
Honestly, this is my favorite thing to do in Palm Springs; and this comes from someone who isn't a shopper. I sort of despise shopping, but in Palm Springs it feels different. I always get the sense like I'm on the verge of stumbling upon a treasure that's been long forgotten about. Here are the places where I treasure hunt:
Sunny Dunes Antique Mall – A large store filled to the brim with everything from furniture to housewares (lamps, plates, etc.). Most things you come across you won't find appealing but that's ok, because that's sort of the name of the game. There will be a few things, though, and it'll make it all worth it.
The Fine Art of Design – A beautifully curated store that will make you think you've stepped into Edith Head's costume shop. This isn't necessarily a place where you hunt for treasures; everything is a treasure. Owner, Nicholas Delgado, has done all the work for you. All of the clothes are breathtaking, in mint-condition and really fairly priced, especially considering it's high-end vintage.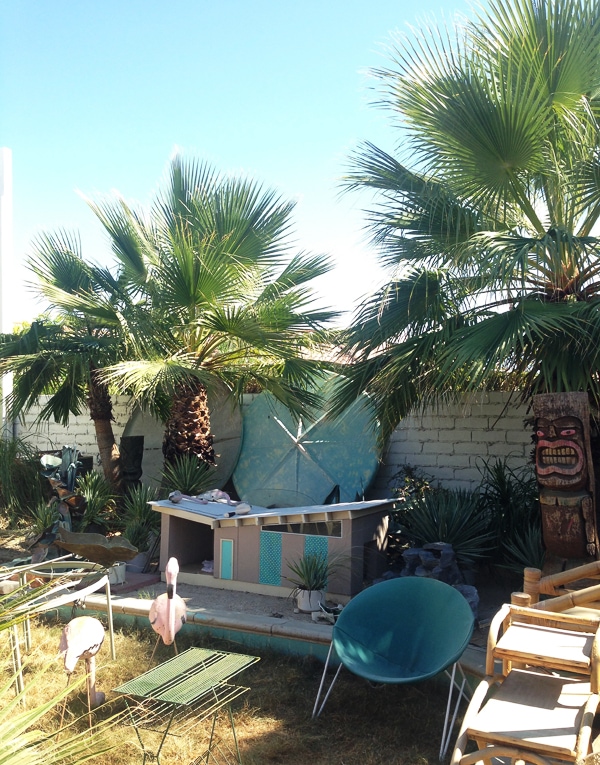 Dazzles – This one is new-to-me and was actually recommended to me by my friend Whitney (who found out about it from Claire). The picture above of that crazy mid-century dog house is from their "pool area." Located in an old motel, this places is packed refurbished furniture and tons of glassware.
Victoria's Attic – I always get lucky when I come to this antique mall. Most of the vintage-y looking props that I use on this blog come from Victoria's Attic. This place is fully stocked with cool plates, retro glassware and fun vintage kitchen gear.
Vintage Sunday Market – I went for the first time this past weekend and whoa, it's soooo good. I scored a beautiful Afghani hand-woven rug for a song. I was on a bit of a time crunch or else I would've purchased a gajillion other things. It's not overly crowded, vendors don't have tons of stuff you have to sift through and everything is fairly priced–you're bound to find some treasures!