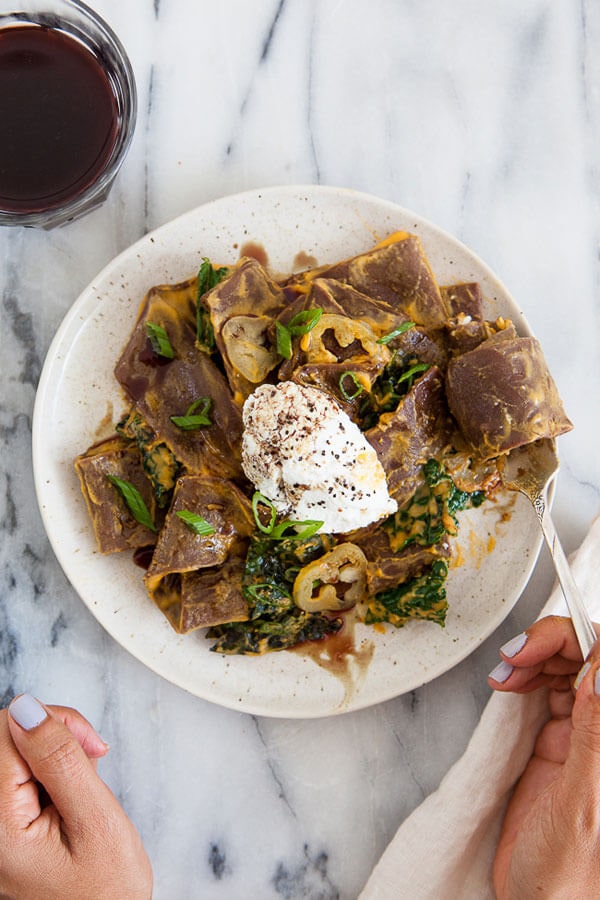 Let's make some pasta! I was pretty excited to learn how to make chocolate pasta. I came home with a few tricks that I'd like to share because I'm an over sharer and I like you.
I've made pasta in the past by just rolling the dough using a rolling pin, so I know it can be done, but your arm might fall off. A pasta maker makes life sooo much easier. I used this pasta maker. Is it great? Eh…I mean, it works. And it worked pretty great, actually. I got pasta! The bonus is that it's pretty inexpensive. Its longevity will be tested. we shall see! In a perfect world where I make homemade pasta on a weekly basis, I'd invest in this one.
The pasta begins with mixing caputo flour, cocoa powder and salt. I'd like to discuss flours for a second. Caputo flour is finer in grind compared to all-purpose. It's actually kind of similar to cake flour in its consistency, though its protein level (about 10-12%) is similar to all-purpose flour. And since it's made of durum wheat, it means you'll end up with a strong pasta that isn't very elastic-like. It's worth seeking out for this pasta, but if you can't find caputo flour, all-purpose will work.
A well is made in the center of the flour mixture and the eggs are added. This is my favorite part of making pasta.
It feels like building a sand castle. My goal was always to successfully make a moat but the sand always just absorbed the water--such a bummer. The flour doesn't absorb the eggs, they stay put.
The dough is mixed up. A little water is added, depending on what your weather is like that day, and then there's a bit more mixing action.
Pasta-making is definitely a feel as you go kind of thing.
The pasta at this point is like a rough ball. Knead it! Go to town! Work it out!
I found it easiest to cut the mound of dough into fourths. This way you're rolling out smaller pieces.
Before putting it through the machine, I rolled out each fourth of dough into a long, rectangular shape. If it's not perfect, no biggie. The machine will help with making it into an even length.
The pasta goes through the pasta maker and a few times until it's the perfect thinness. I started it at notch #2 and worked my way to notch #6.
I found it to be the perfect thickness at #6--not too thin, not too thick.
The pasta is cut into thick strips to make my favorite pappardelle shape.
The sauce is a delicious mix of pickled chiles, butternut squash, kale and fresh ricotta.
The pumpkin oil adds something special. I hope you take a lazy Saturday and make some pasta--it's a little labor-intensive but it's mostly fun and always worth it.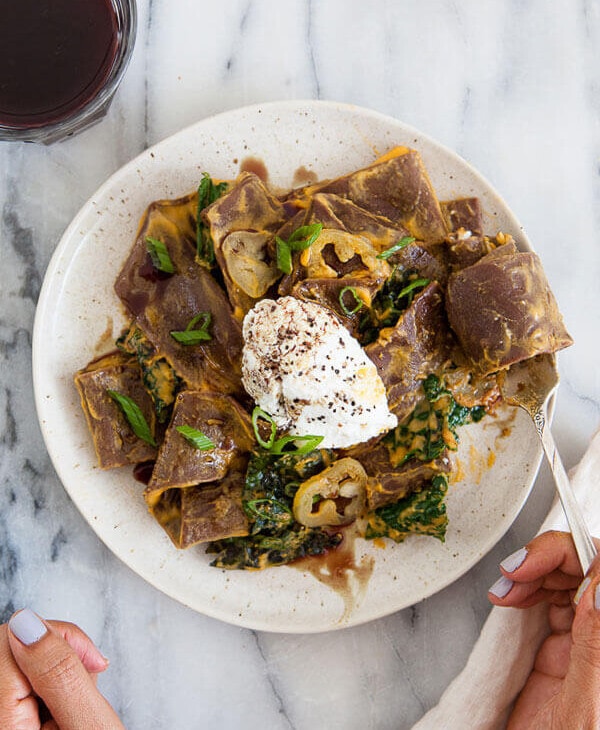 Print Recipe
Superba Snack Bar's Cocoa Pasta with Butternut Squash, Kale and Ricotta
Ingredients
Cocoa Pasta:
½

cup

cocoa powder

not Dutch-processed

3 ½

cup

caputo 00 flour

1

teaspoon

sea salt

6

large eggs

¼

cup

water

this measurement may vary
Butternut Squash Sauce:
Quick pickled chiles

2

fresno chile or California green chile

thinly sliced

½

cup

water

½

cup

red wine vinegar

3

tablespoons

white granulated sugar

1

garlic clove
Sauce:
1

2 pound butternut squash, halved and seeds scooped and discarded

Olive oil

1

teaspoon

minced garlic

about ½ garlic clove

¼

cup

heavy cream

2

tablespoons

unsalted butter

melted

Salt

4-6

kale leaves

stems removed

½

cup

fresh ricotta

divided

Black pepper

2

tablespoons

pumpkin oil

divided
Instructions
Cocoa Paste:
In a large bowl, mix together the cocoa powder, caputo flour and salt. Using your hands, make a well in the center of the flour. Crack each of the eggs into the center of the well. Mix the entire mixture together until the dough forms. If it's dry, you may need to add a bit of flour. This will depend on the humidity that day. I added about ¼ cup of water.

Flour the counter, liberally. Dump out the dough and knead the dough until smooth, about 10 minutes. Wrap the dough in plastic and allow it to rest on the counter for 30 minutes or transfer it to the fridge to rest overnight. *If you do let it rest overnight, be sure to remove it from the fridge 2 hours before rolling it out; if you don't, you're gonna be in for a workout - read: super cold dough = hard to roll.

Flour your rolling pin and lightly flour your counter. Cut the dough into thirds and roll out one of the thirds until it's about ¼-inch-thick. Set your pasta maker to "2". Pass the pasta through the maker. After each pass, set the maker up by one…"3", "4", "5" and then stop at "6". Cut the pasta sheet into 1-inch strips for pappardelle. Repeat the process with the remaining dough.
Butternut Squash Sauce:
Place the sliced chiles in a mason jar or small bowl. In a small saucepan, add the water, red wine vinegar, sugar and garlic clove. Heat over medium heat until the sugar dissolves and the liquid reaches a light boil. Pour the hot vinegar mixture over the sliced chile, allow them to cool to room temperature. So here's the deal: if you have time, allow the chiles to pickle overnight. This is ideal. But if you don't, start this step first so the chiles have the longest time possible to pickle before you serve the dish.

Preheat the oven to 400 degrees F. Rub the butternut squash with a teaspoon or two of olive oil and place the squash halves flesh-side down on a parchment-lined baking sheet. Transfer to the oven to roast for 20-30 minutes, until the squash is tender when poked with the tines of a fork.

Scoop out the butternut squash flesh and transfer to a blender or food processor. Add the minced garlic, pour in the heavy cream and melted butter. Blend until very smooth, about a minute. Add a few pinches of salt to taste and then set aside.

To a large pan, add two tablespoons of butter. Cook until the foam and bubbles subside and the butter turns brown in color and smells wonderful and nutty, about 2-3 minutes. Add the kale leaves and cook for 1 to 2 minutes. Pour in the butternut squash puree and heat until very warm.

Meanwhile, bring a liberally-salted pot of water to a boil. Cook the pasta for about 30 seconds to a minute, until al dente. Transfer the pasta to the skillet with the butternut squash sauce, along with a few chiles; toss the pasta until completely coated. Divide between plates. Top with a dollop of ricotta, a sprinkling of black pepper and a drizzle of pumpkin oil. Serve immediately.
Pretty photos by Jennifer Chong!