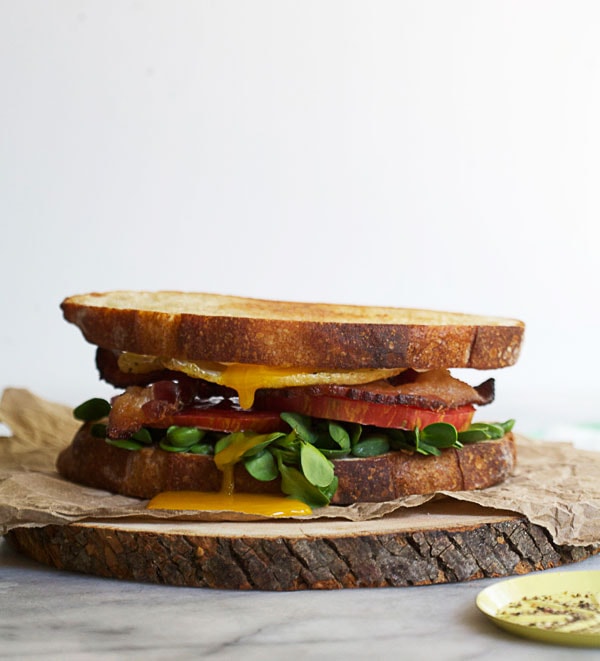 A few weeks ago I made a fancy-ass tuna melt and I loved every second of it. I'm tempted to make this a whole series. The idea would be I take something seemingly normal, typical, usually run-of-the-mill…and then I make it fancy.
I've always loved fancy things. I'm just now coming to terms with it and admitting it to myself/everyone. My parents would agree. I was always the kid wanting to order the most expensive thing on the menu. "Wait, why can't I order the lobster for two?! I don't like anything off the kids menu! Who wants pasta and cheese and butter?! I love lobster and steak and calamari."
This BLT is fancy with a capital-F. There are steps in making the easiest sandwich known to man, well, fancy. I have the steps. I have step-by-step pictures, too (sort of). I gotz everything on this bright, sunny Monday!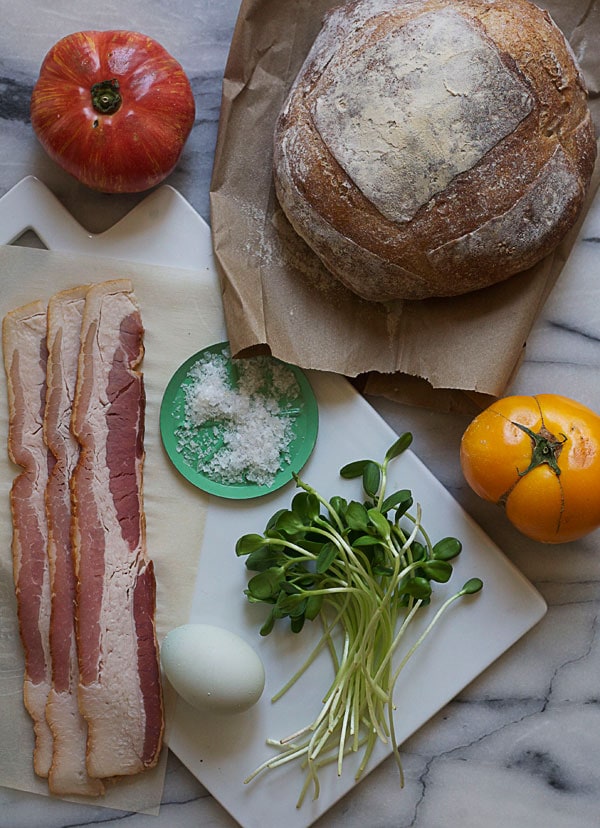 To make a fancy-ass BLT, this is what you'll need:
1. Good thick-cut bacon.
2. A sourdough boule. (Or other bread that is worthy.)
3. An heirloom tomato.
4. Sprouts. (I'm currently having a moment with sprouts. I love them in sandwiches. Such texture!)
5. An egg. A runny, bright-yolked egg.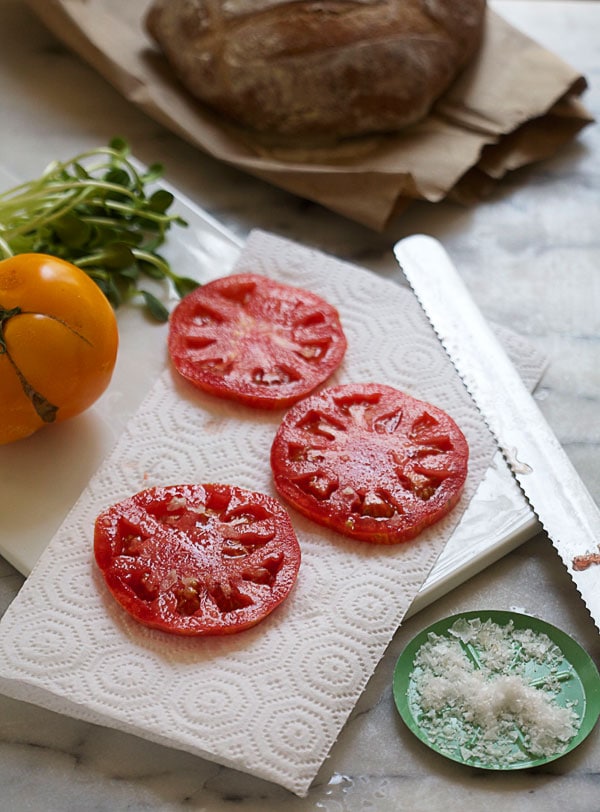 STEP 1:
Bake your bacon. No pan/splattering oil, etc. No nonsense. Drain it.
STEP 2:
Use interesting greens. In this case I used sunflower sprouts, which actually taste like sunflower seeds. They're amazing and their texture is crisp and awesome. You obviously don't have to use sunflower sprouts. I love butter lettuce, arugula, little gem or any other kind of sprout will work well, too.
STEP 3:
Slice your tomatoes. I find slicing tomatoes easiest using a serrated knife. I own this one and I like it just fine.
Tomatoes can make a sandwich a bit too soggy for my taste. To expel them of a little of their water, I like to sprinkle them with salt, lay them on a bed of paper towels and allow them to drain for 10 minutes or so. I learned this technique in Virginia one summer while making tomato sandwiches. It's tried and true.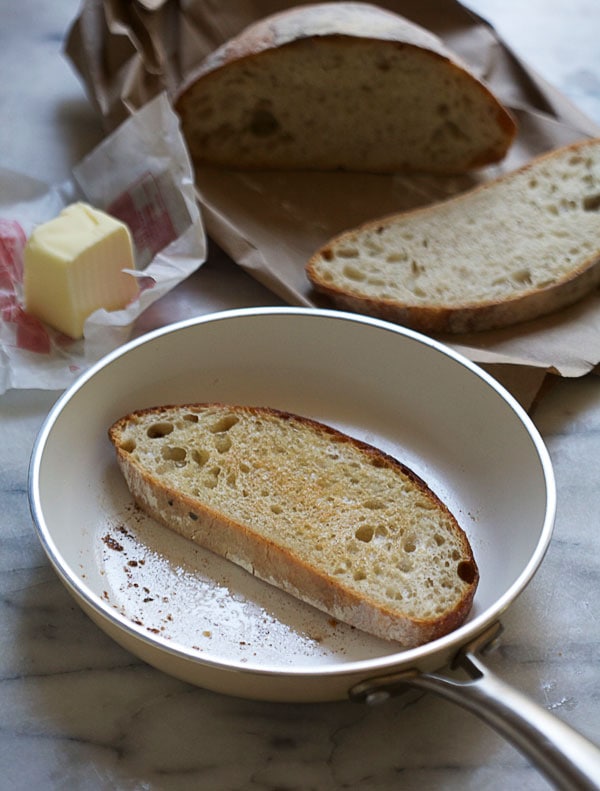 STEP 3:
Slice your bread and then toast it in butter. I love the buttery outside of a grilled cheese. So, nowadays I put a little butter in a pan and toast my bread on both sides until the edges are crisp and the center is just a teeny bit toasted. I still want it slightly soft.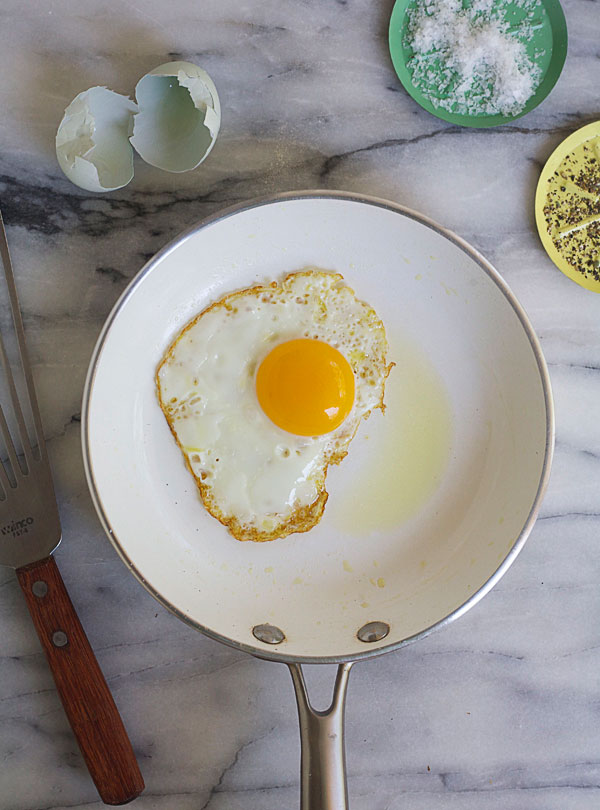 STEP 4:
Fry an egg. I use olive oil because I love the flavor and olive oil gets hot enough where the edges of the egg whites are crispy. I love a crispy fried egg. Is there anything prettier than a fried egg.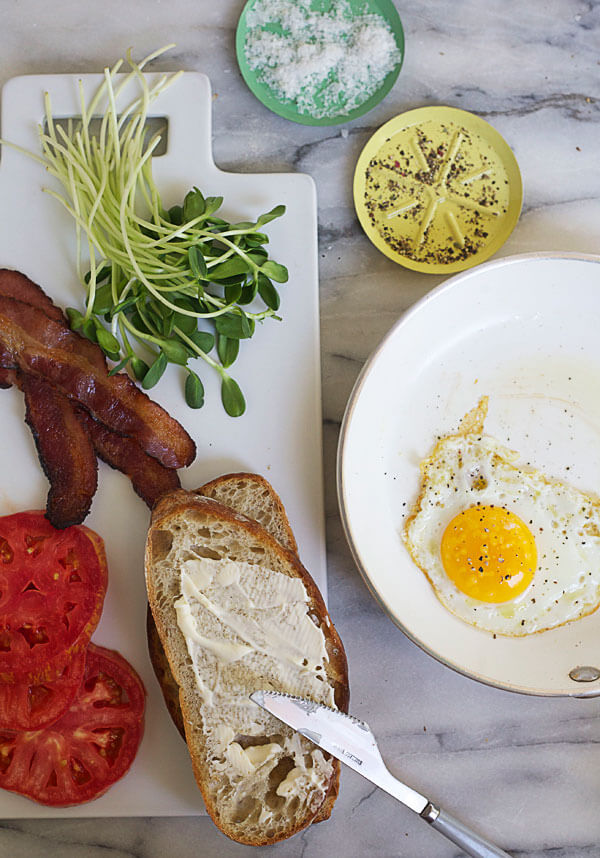 Step 5:
Assemble. I like mayonnaise (if you hate mayonnaise, I understand you). Greens first, then tomatoes, crispy bacon and then the egg.
Look at that yolk…
It's a glorious sandwich. Simple things done well are my favorite.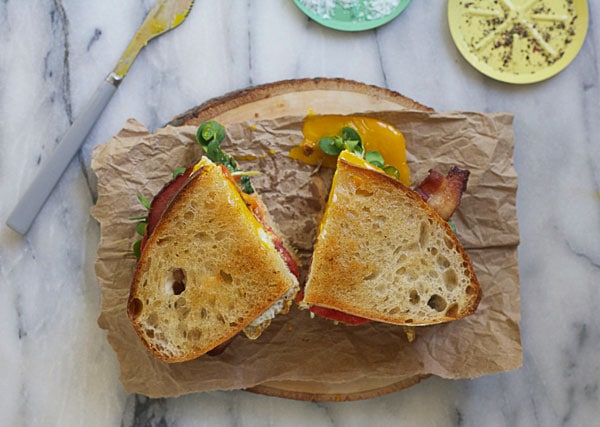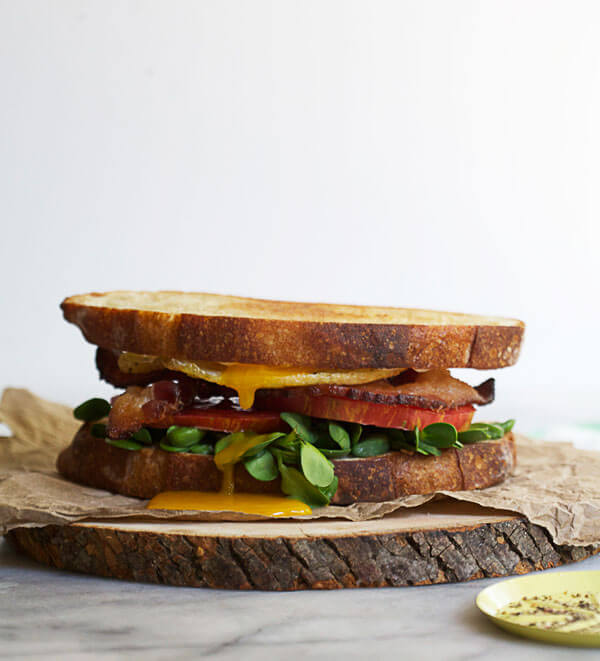 Print Recipe
How to Make a Fancy-Ass BLT
Ingredients
4

slices

thick-cut bacon

1

heirloom tomato

sliced

Salt

Handful sunflower sprouts

or greens of choice

1/2

tablespoon

unsalted butter

more as needed

Sourdough Boule

or bread of choice, sliced

2

large egg

Pepper

Mayonnaise
Instructions
Preheat the oven to 400 degrees F. Line a baking sheet with parchment paper. Lay the bacon side by side on the baking sheet and transfer to the oven. Bake for 15-20 minutes, until the bacon is browned and crispy. Transfer to a bed of paper towels to drain.

Slice an heirloom tomato; transfer slices to a bed of paper towels and sprinkle with salt. Let stand for 10 minutes.

To a non-stick skillet, melt the butter. Add the slices of bread (you may have to do these one at a time if your skillet isn't big enough), and toast on both sides for 1-2 minutes. Set aside.

Wipe the skillet clean with a paper towel and add a few tablespoons of olive oil. Place over medium-high heat. When the oil is hot add the egg. Fry on one side for 1-2 minutes. Sprinkle with salt and pepper. Repeat with the second egg.

To assemble sandwiches, add a few swipes of mayonnaise to each piece of bread. Add the sprouts to the bottom halves of bread, top with tomato slices, bacon and then fried eggs. Place the reserved halves of bread on top of the sandwich and press down slightly so the yolk breaks. Serve immediately.