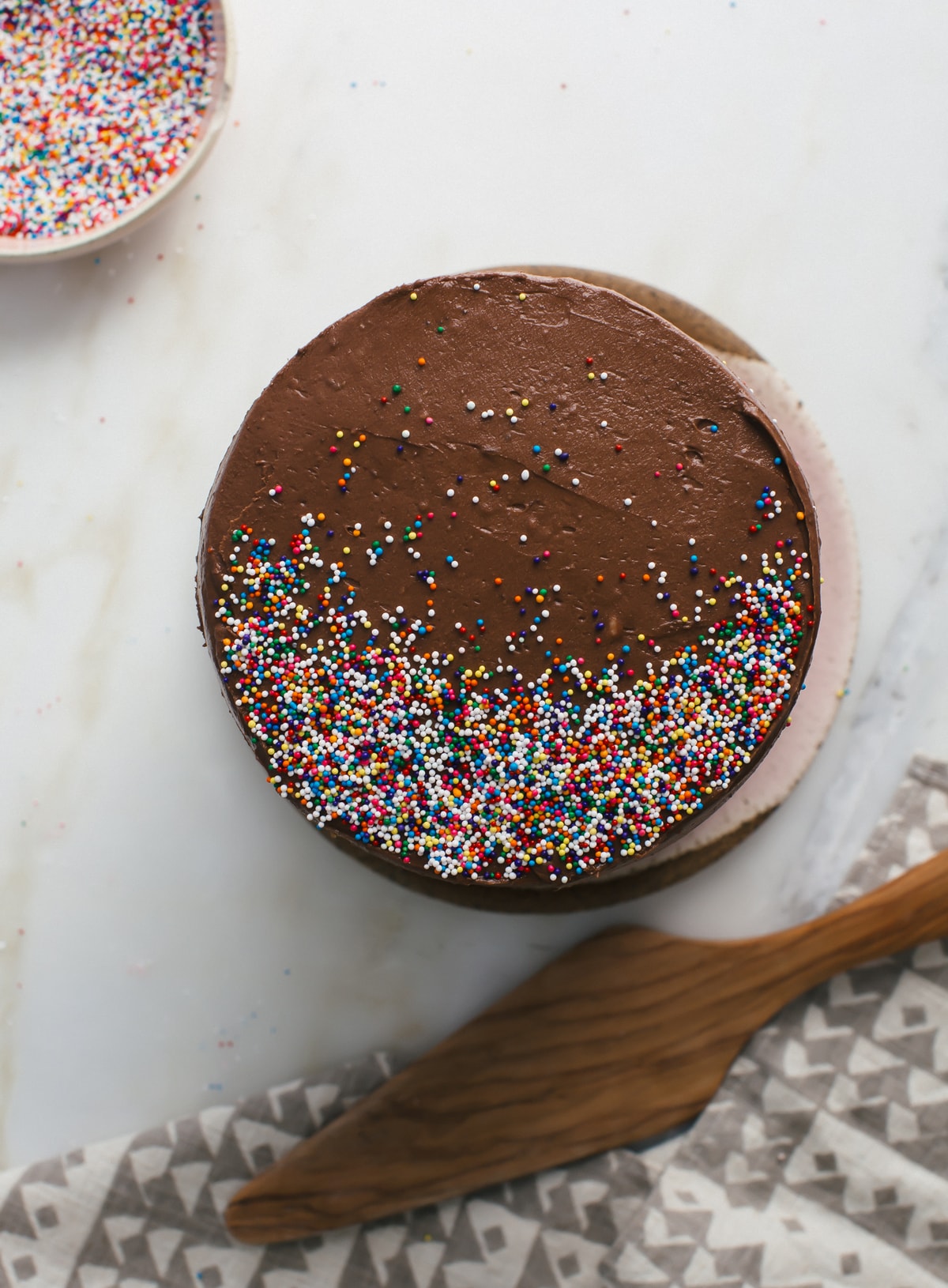 I know it's not your birthday but I made you a birthday cake. I'm guessing I probably have never wished you a happy birthday because there are a few of you and I'm not exactly sure when all of your birthdays are. And even if we were friends on Facebook, I never check it because it's filled with a bunch of people's kids from high school and random political rants that make my eyes roll back very far into my head, so FB isn't a reliable birthday reminder for me anymore. So….I figured I'd make you this cake and whenever your birthday shows up, you can just look at this post and know I'm wishing you a happy birthday!!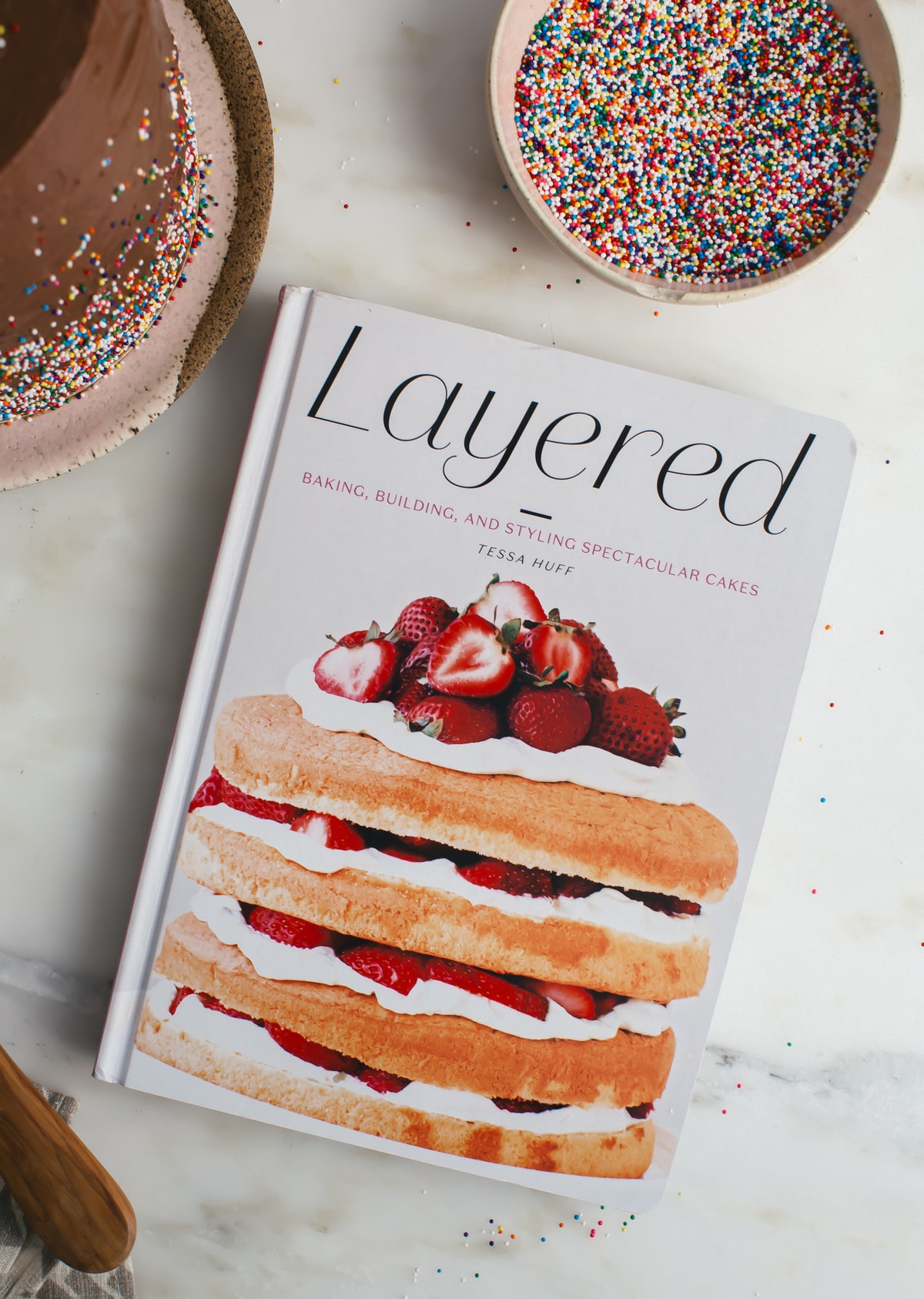 I love making people birthday cakes. If you follow me on snapchat (acozykitchen), you might've caught a glimpse of me making Josh's birthday cake. I wanted to show step by step how I was putting it together. And then I made the biggest mistake: I left the room. I came back and Amelia had somehow managed to get herself up onto the counter and eat half of it! Yes, nearly half. It was actually very similar to the cake you see pictured: a yellow cake with chocolate frosting (luckily i hadn't frosted it yet when she consumed a big chunk of it).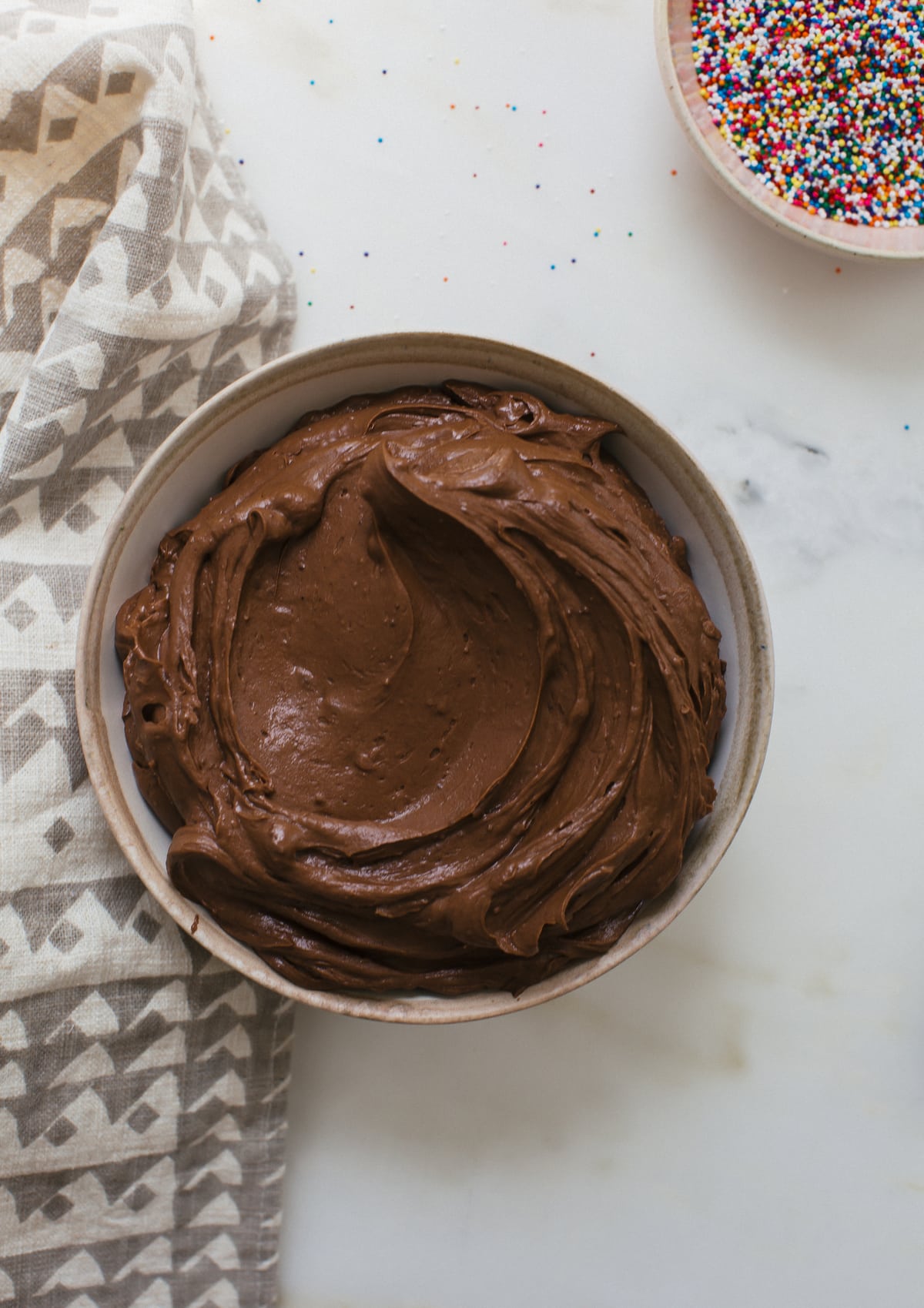 When Tessa's beautiful book showed up in the mail, Layered, I was immediately drawn to this classic. I figured I needed to give it another go, with Amelia far far away from it.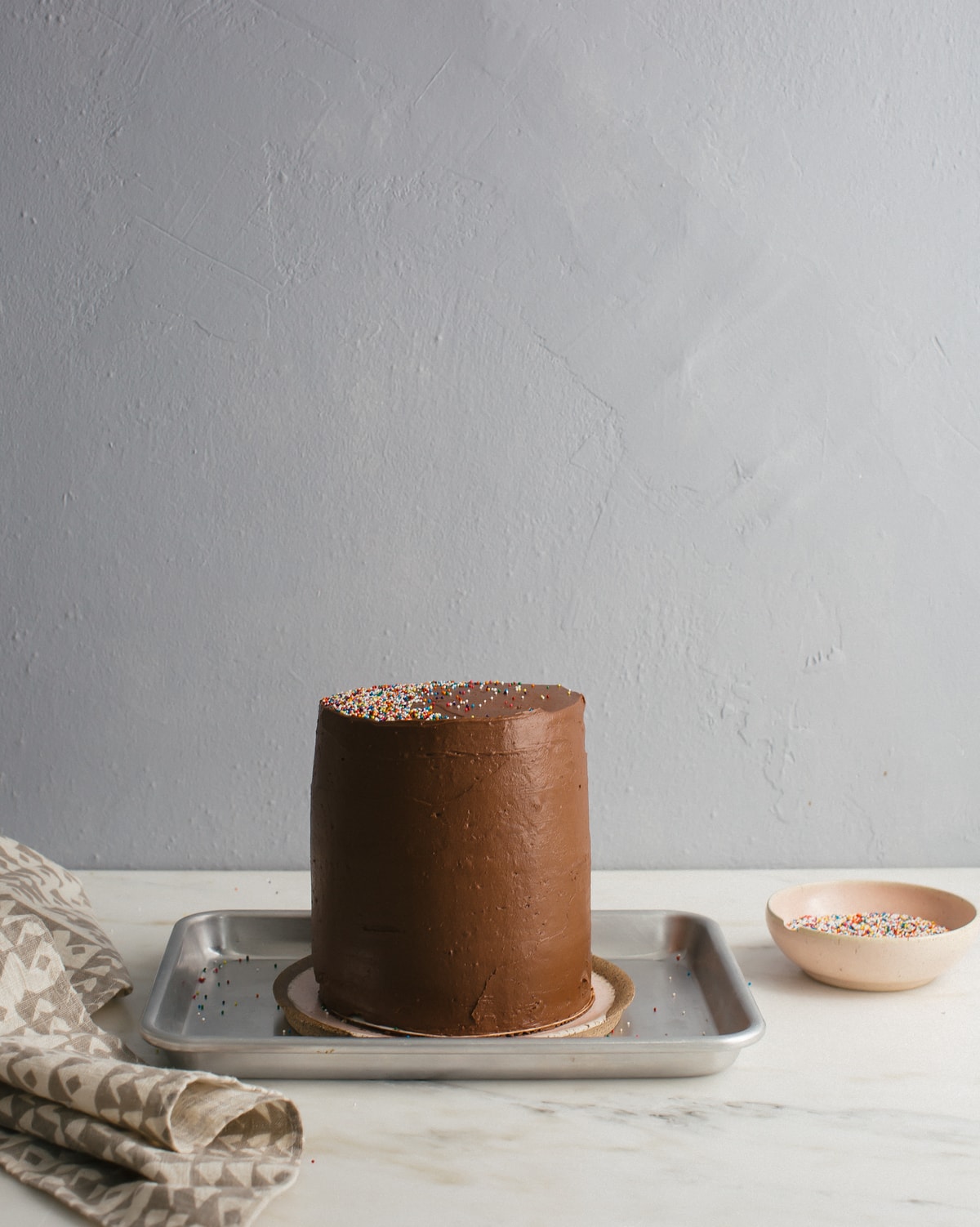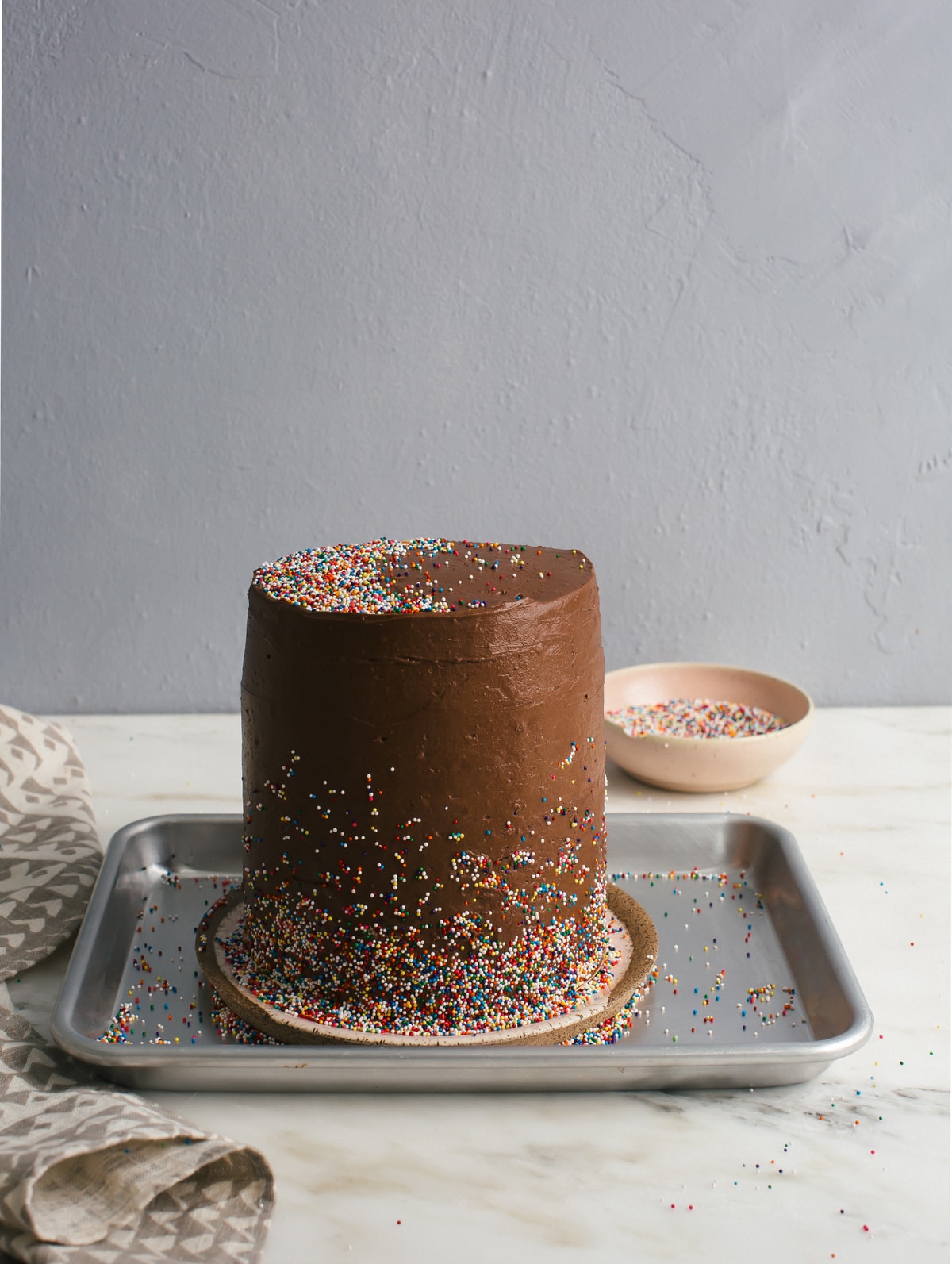 If you're ever a little nervous about making a cake and assembling it, this book helps with everything. It's filled to the brim with really good step-by-step photos, aiding you in everything from doing a rustic decorating job to doing an ombre frosting job. It's fun and beautiful and every single cake recipe looks SO good.
This cake was really delicious and the frosting was so fudge-y and rich and decadent. I personally love drinking a tall glass of milk with a slice of cake and with this cake, it is almost a requirement.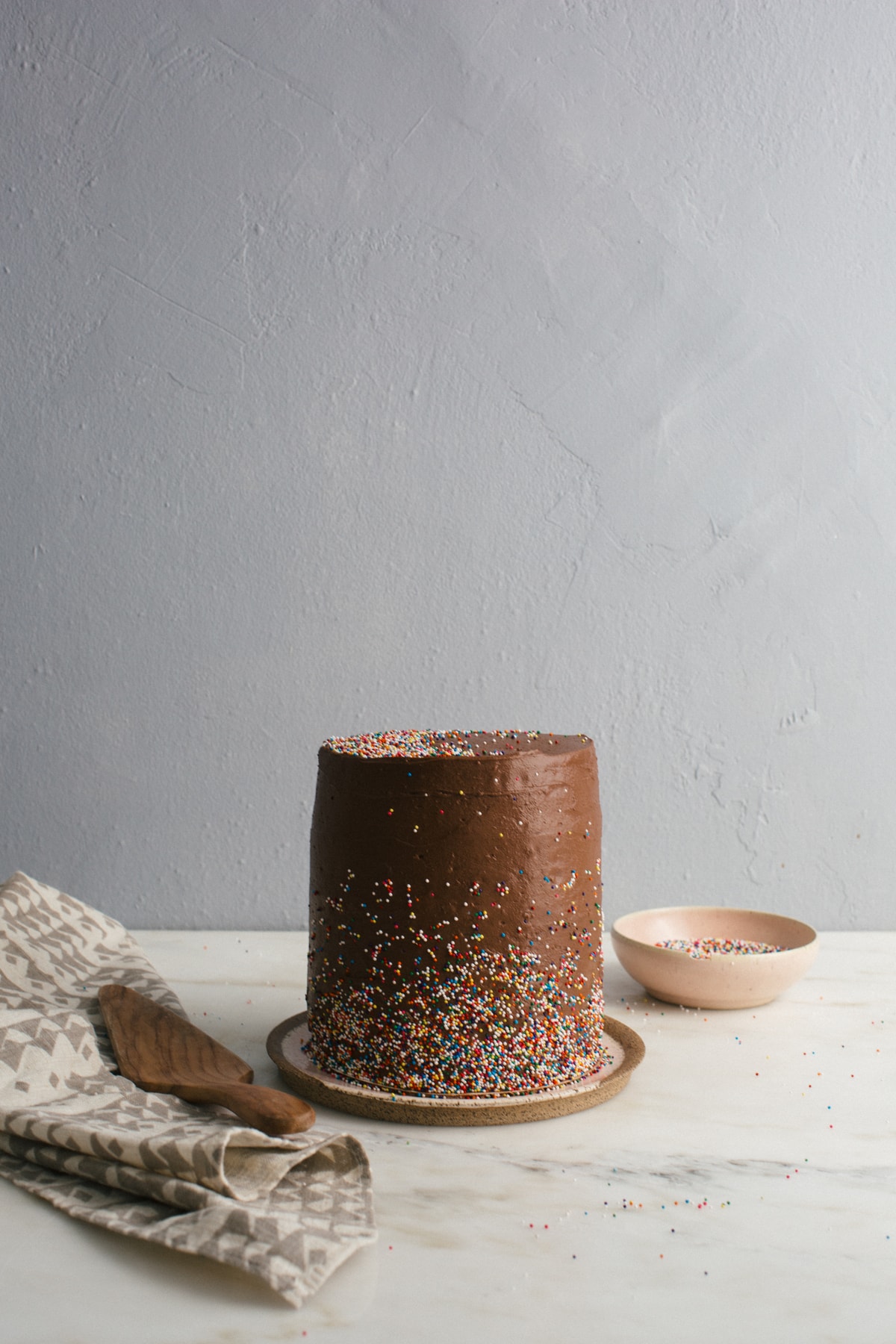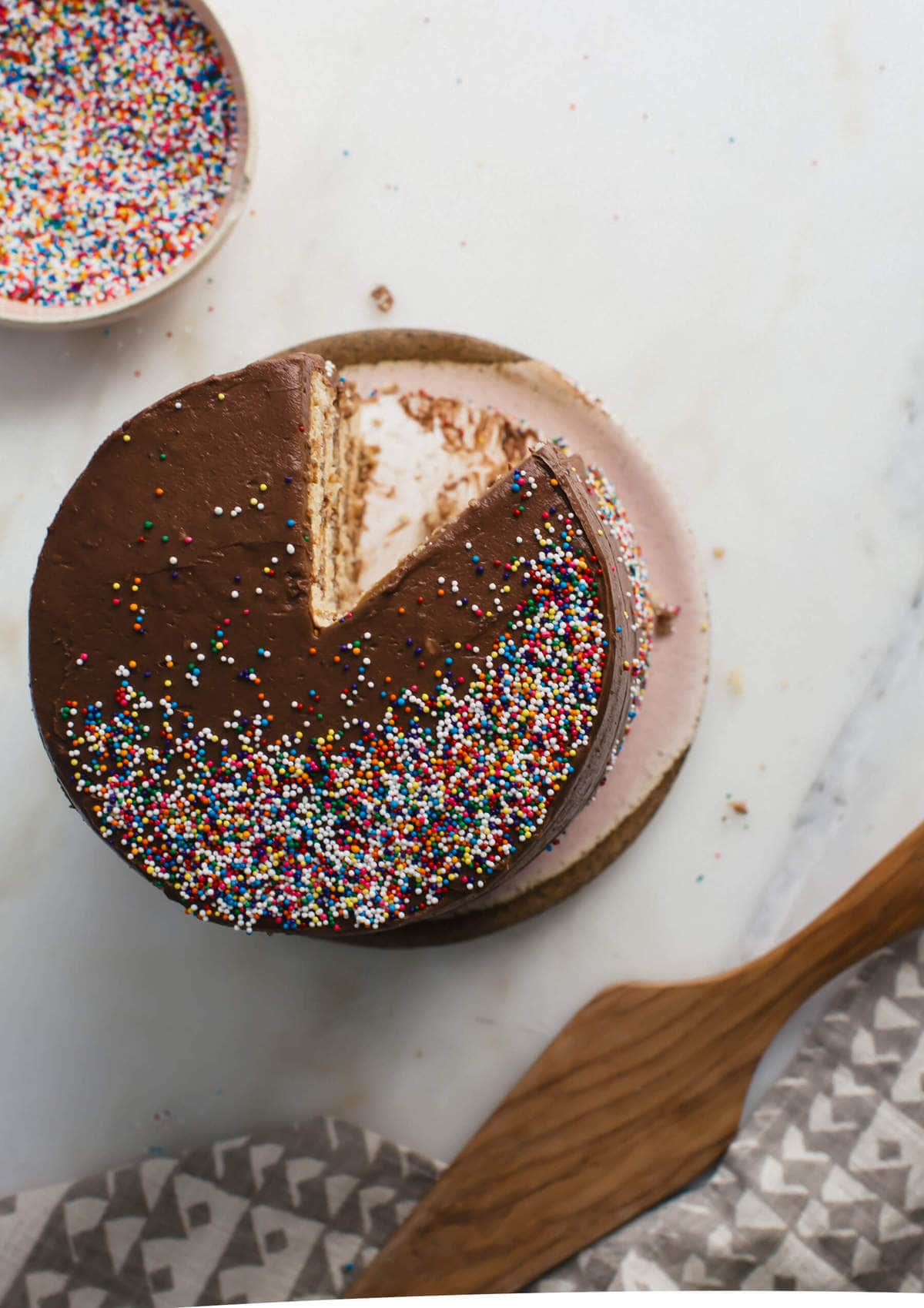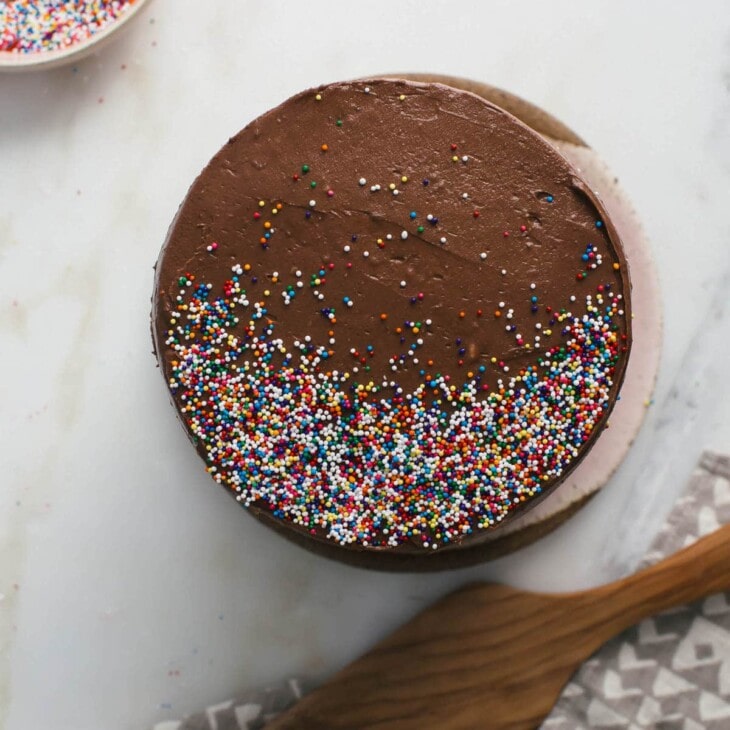 Print Recipe
Birthday Cake
Serving Size:
(6-inch, 4 layer) cake or 1 (8-inch, 4 layer) cake
Ingredients
Yellow Butter Cake:
Butter or nonstick cooking spray

for the pans

3 1/4

cups

425g cake flour, plus more for pans

1

tablespoon

baking powder

3/4

teaspoon

salt

1

cup

225g unsalted butter, at room temperature

2

cups

400g granulated sugar

2

tablespoons

vanilla bean paste

I mixed 1 vanilla bean into my sugar

6

large egg yolks

1 1/2

cups

360ml whole milk
Fudge Frosting:
1 1/2

cups

340 g unsalted butter, at room temperature

5 1/2

cups

600g confectioner's sugar, sifted

1/2

cup

50g unsweetened cocoa powder

1 1/2

teaspoons

pure vanilla extract

1/2

teaspoon

salt

1/4

cup

heavy cream or whole milk

8

ounces

225g semisweet chocolate, melted and cooled
Instructions
To make the yellow butter cake: Preheat the oven to 350 degrees F. Grease and flour two 8-inch cake pans or, in my case, four 6-inch cake pans.

Sift together the flour, baking powder, and salt and set aside.

In the bowl of a stand mixer fitted with the paddle attachment, beat the butter on medium speed until smooth. Add the sugar and mix on medium-high until the butter is light and fluffy, 3 to 5 minutes. Stop the mixer and scrape down the bowl.

Turn the mixer to medium-low and add the vanilla and egg yolks, one at a time. Stop the mixer and scrape down the bowl.

Turn the mixer to low and add the flower mixture in three batches, alternating with the milk, beginning and ending with the flour mixture. Mix on medium for no more than 30 seconds after the last streaks of the ingredients are combined.

Evenly divide the batter between the prepared pans. Bake for 25 to 28 minutes, or until a toothpick inserted into the center of the cakes comes out clean. Let them cool on a wire rack for 10 to 15 minutes before removing the cakes from their pan.

To make the frosting: In the bowl of a stand mixer fitted with the paddle attachment, beat the butter until smooth and creamy. With the mixer on low, gradually add the confections' sugar, cocoa powder, vanilla, and salt. Pour in the cream and mix until incorporated. Turn the mixer to high and mix until the frosting is light and fluffy. Stop the mixer and scrape down the bowl. Add the chocolate and mix until smooth.

To assemble the cakes: Once the cakes have completely cooled, carefully halve them horizontally to create four even layers (if you were like me and used four cake pans, you can skip this step). Level the cakes and choose which layer will be the bottom. Place it on a plate of serving dish. Spread about 1/2 cup of the fudge frosting with an offset spatula. Place the next layer of cake on top and repeat. Frost with the remaining fudge frosting.

Smooth out the sides and top as best as you can. Transfer the cake to baking sheet. To create the sprinkle fade, as I like to call it, add a bunch of sprinkles to the bottom edge. You'll definitely have to press the sprinkles into the side of the cake a bit. I added more and more until it was a heavy concentration, adding less and less up the sides. I did the same to the top. Slice it and serve it up with a few glass of cold milk.
Recipe from Tessa's new book, Layered!!!