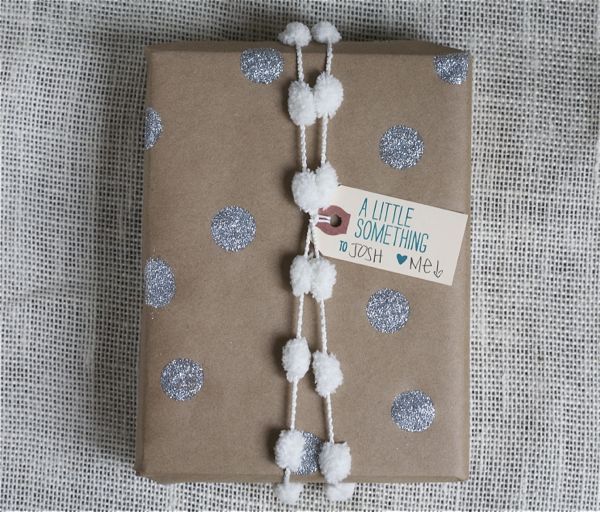 Food break! Pardon me while I stop making appetizers, baking cookies and thinking about pie. Glitter is having its very deserved holiday moment in my world and I'd like to share.
This is actually a natural progression. You see, if you know me, you know that I'm passionate about three things: food, corgis and glitter. I'm a simple person, really.
Glitter has the ability to make anything look a tad-bit more exciting. In this particular scenario, glitter helps very boring and brown craft paper transform into super cute and fun (and inexpensive!) wrapping paper.
For this glitter adventure, you'll need: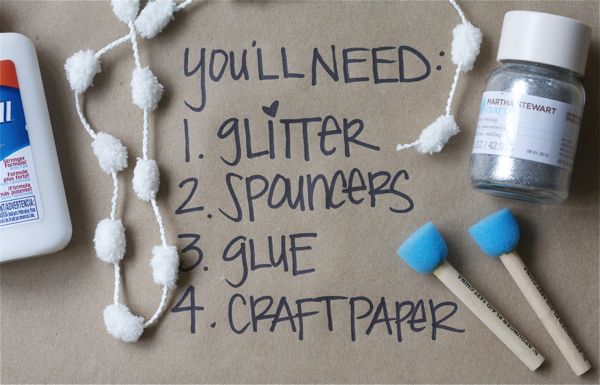 You can find all of these things at your local craft store, or you can order each of them online. Links for all of the items are at the bottom of this lil' ol' blog post.
1. To start, you want to cut a piece of craft paper that is size-appropriate to the present you'll be wrapping it with.
Next, you want to fill the glue container's cap with glue. Dip the spouncer in the glue and stamp your craft paper with it, being sure to space out the "polka dots" evenly.
I'd recommend stamping no more than 5-6 at a time, or else the glue will dry before you get a chance to top it with glitter. Just do it in batches!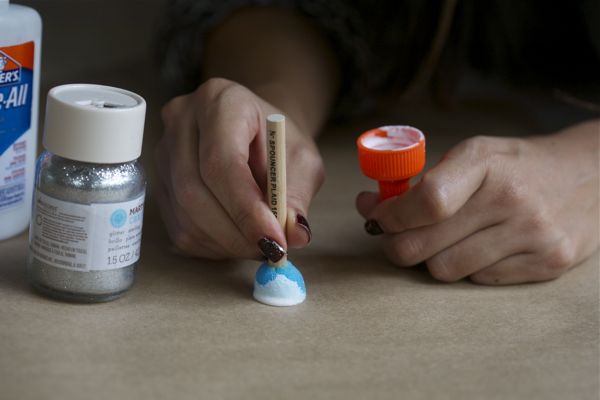 2. Take your glitter, whichever color you like, in this case I used Martha Stewart's Sterling, and top each glue polka dot with a liberal amount of glitter.
Also if you don't like glitter (how dare you!), you can totally do this with solid color paint. I'm thinking neon pink polka dots with brown craft paper would look really cute.
3. You'll want to allow the glitter/glue to dry before you gently take it and dump the excess glitter in the trash (or keep a tin of glitter reserve so you can reuse it).
We all LOVE before and after photos, right? Well, here ya go: dirty with lots of excess glitter on the left, and all cleaned up and ready to go on the right.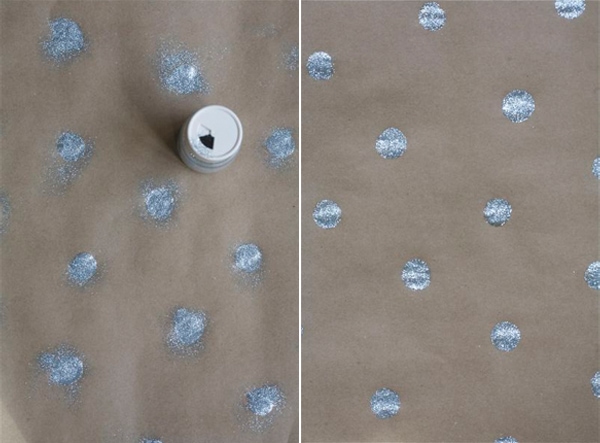 A couple of tips along the way:
1. The spouncers are reusable so make sure you wash off the glue post use. They're good things to have around because seriously who knows when you might need a spouncer. Am I right?
2. After you dust off the excess glitter, little of glitter will still be all over. I took a dry and clean spouncer and just brushed away the glitter even more so. It totally worked.
And warning: If you do this DIY, you will walk around the rest of the day with little specks of glitter on your face. I urge you to embrace it. You look cute.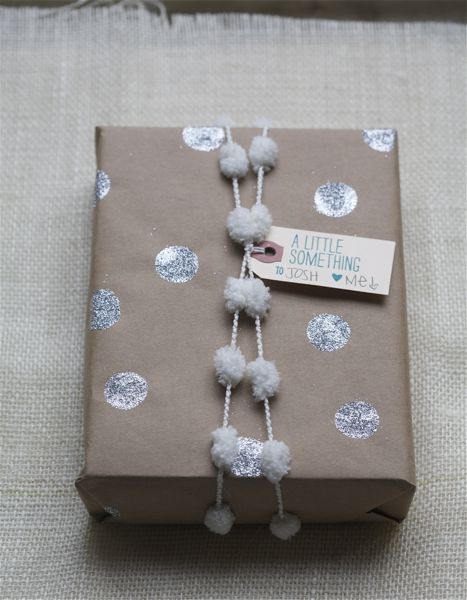 After the glitter/glue combination dried, I wrapped the present in the polka dot wrapping paper. Next, I tied a long piece of pom-pom yarn around it and smacked a name tag on it. You can do this too, or you can use any sort of ribbon/bow combination that you like.
Being crafty is fun! Tomorrow: cookies. Or soup. Or grilled cheese. TBD.
Resources:
1. Martha Stewart Glitter, Color: Sterling
2. Elmer's Glue
3. Spouncers
4. Brown Craft Paper or Postal Wrapping Paper
5. Pom-Pom Yarn