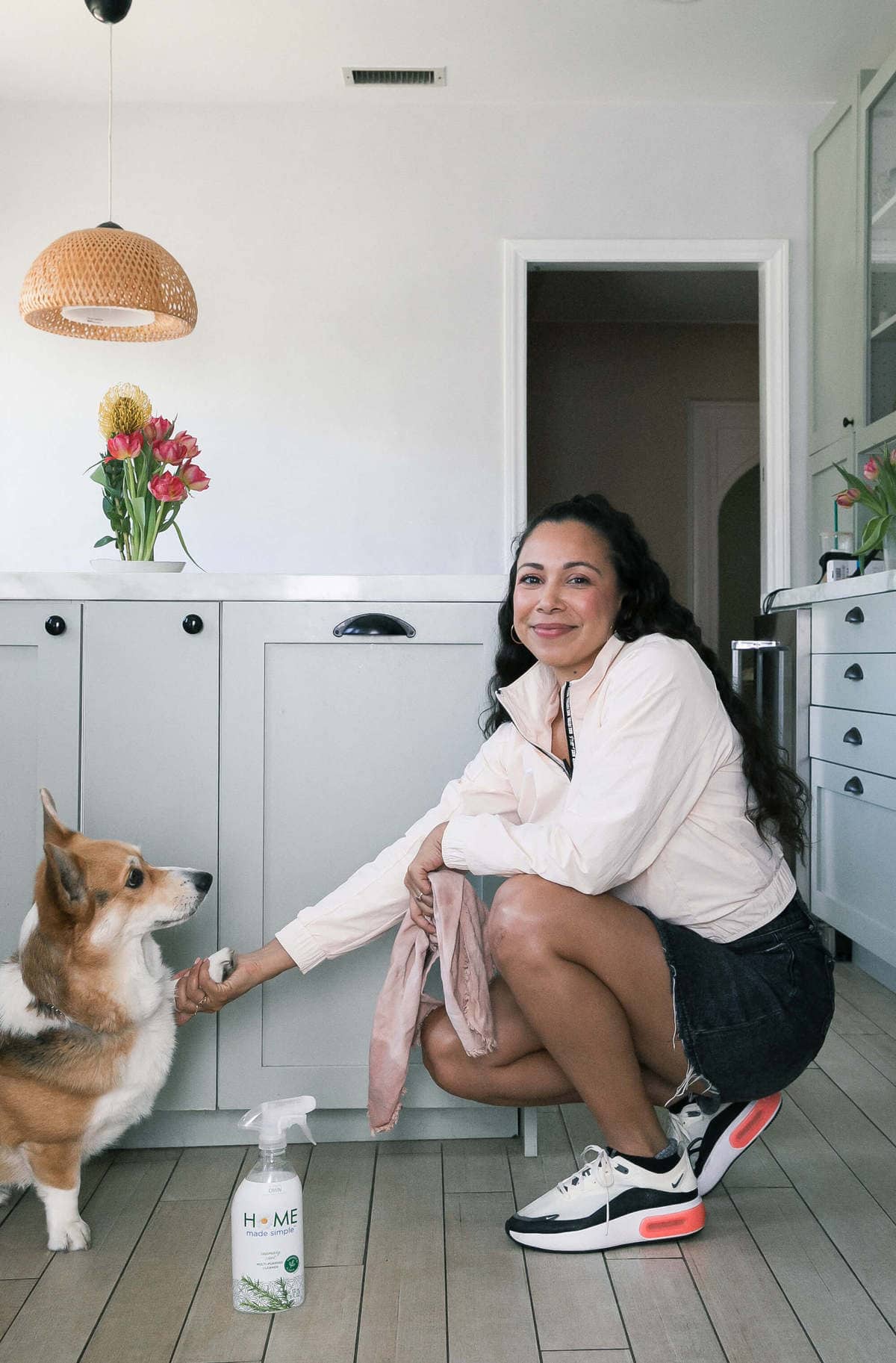 I was going to write a whole blog post about how I spring clean in the kitchen but the truth of the matter is that I destroy this kitchen nearly every single day. So really, I clean daily. Constantly. It really doesn't stop.
What's unfortunate for me is that I also hate messes. HATE. I blame this on growing up with a very organized and clean mother. Our house was always immaculately clean because of her. And I took after her (though I'm not nearly as good at it). In order for me to think and be creative, I have to begin with a clean slate every single day.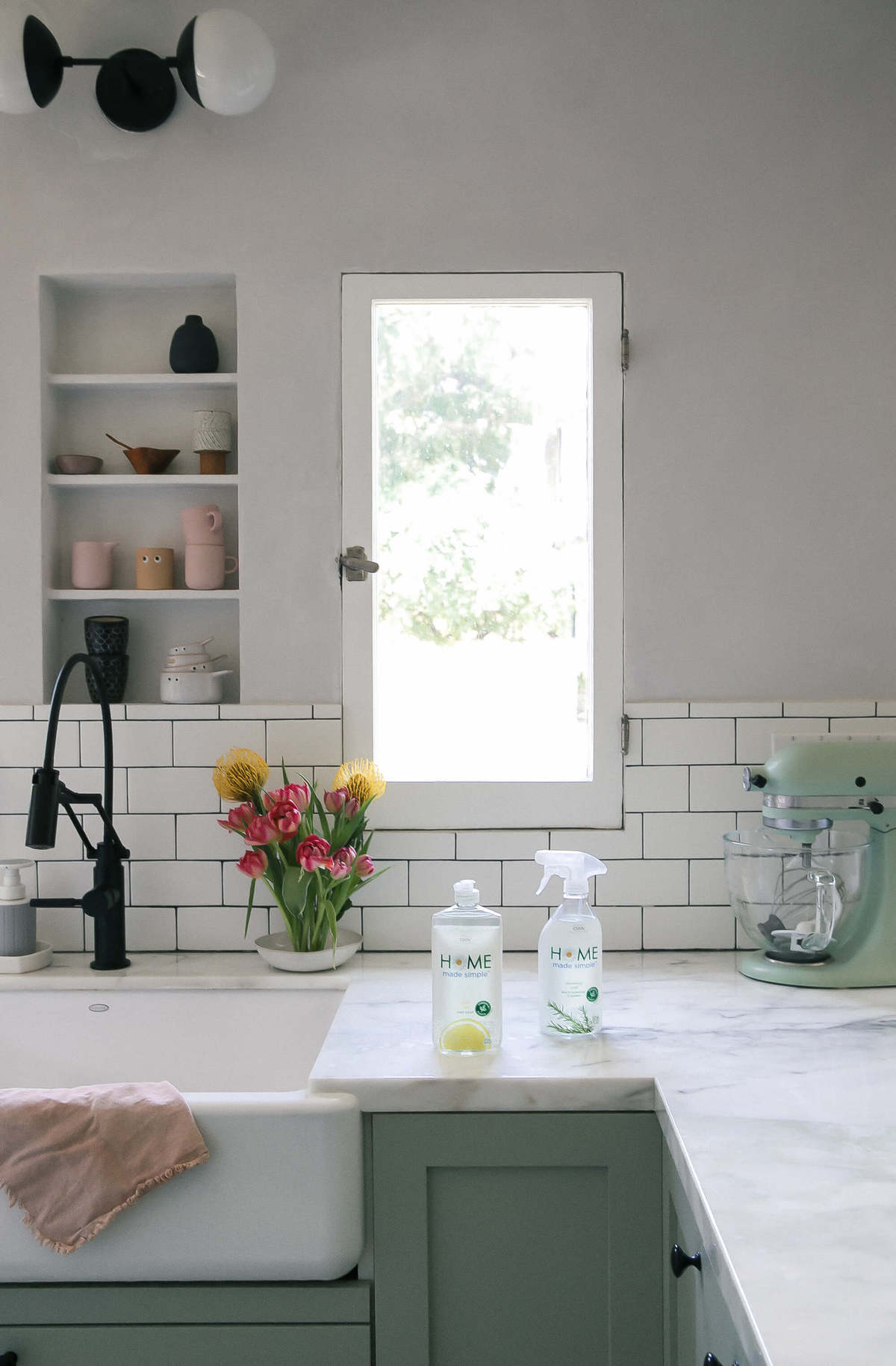 This means that I clean the kitchen up and down at the end of the day. It gives me peace! For this post, I teamed up with Home Made Simple, which is a plant-based naturally-inspired line of cleaning products.
These cleaning products have zero phosphates, parabens, gluten and dyes, meaning that these products are not only effective but super safe for all of us, including Amelia. I always worry about what I'm cleaning the floor with since she's always lying in a corner somewhere taking a nap.
I also need cleaning products to work! These absolutely get everything super clean.
Here's how I clean at the end of the day.
Actually before we dive into "clean kitchen shots," here are some shots of my kitchen mid-destruction.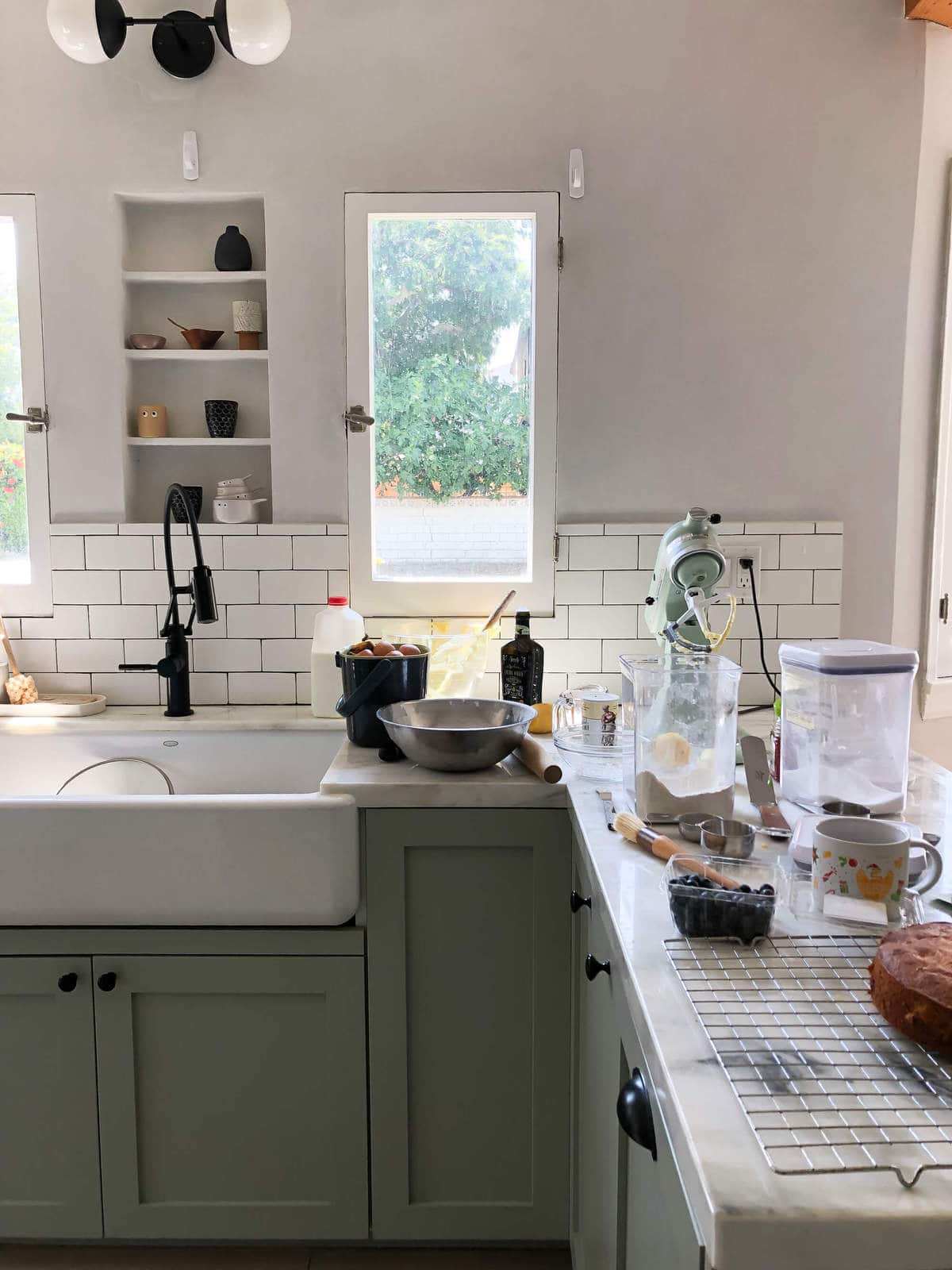 That whole mantra "clean as you go" is not applicable to food blogging because I'm racing against the clock with sunlight so i really stopped trying to do that years ago. I just let the mess happen and know I'll clean it up later.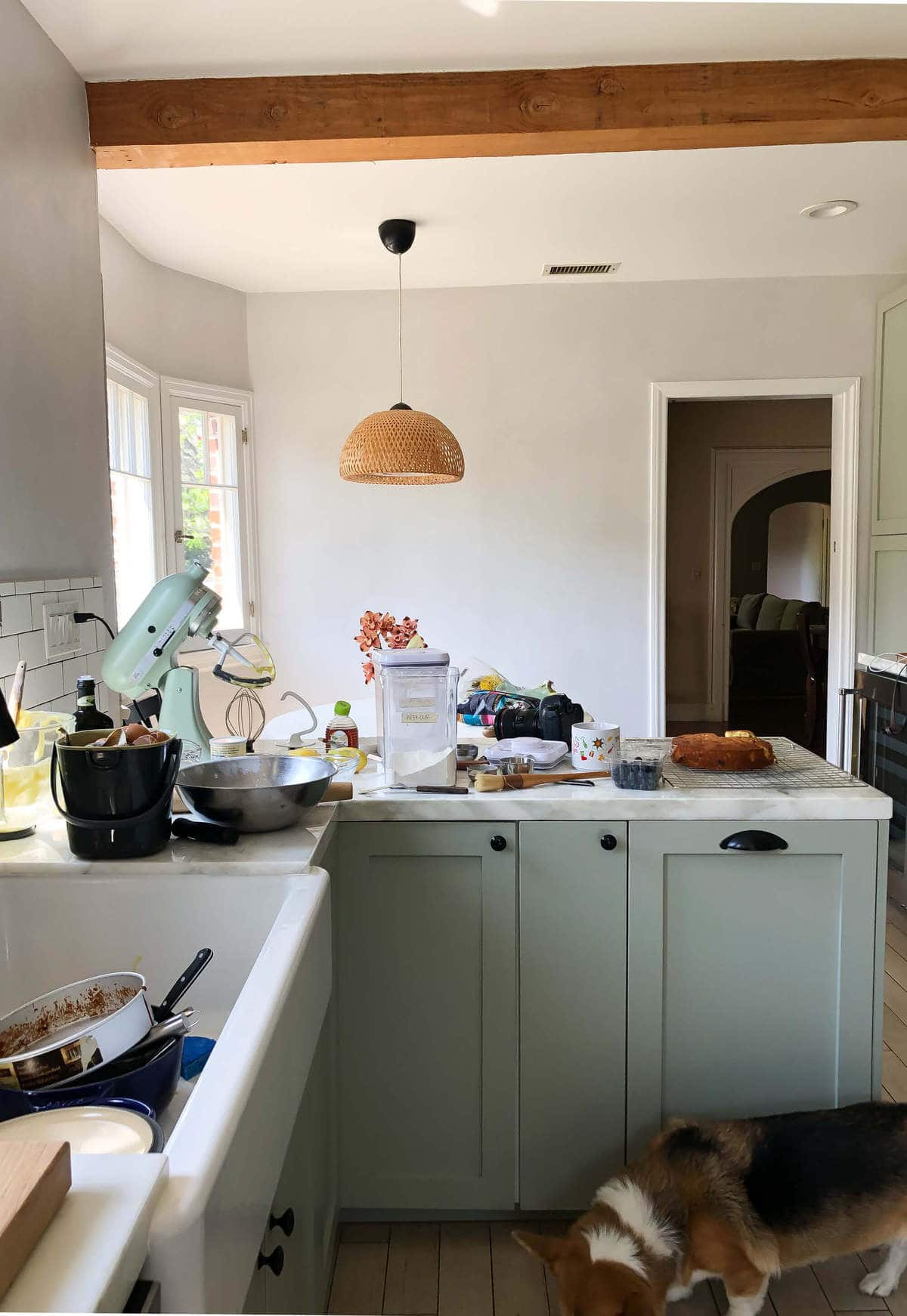 First Step: Put things away that are clean and ingredients that are just out and about on the counter. This may seem obvious but doing this first really makes way for what needs to be cleaned.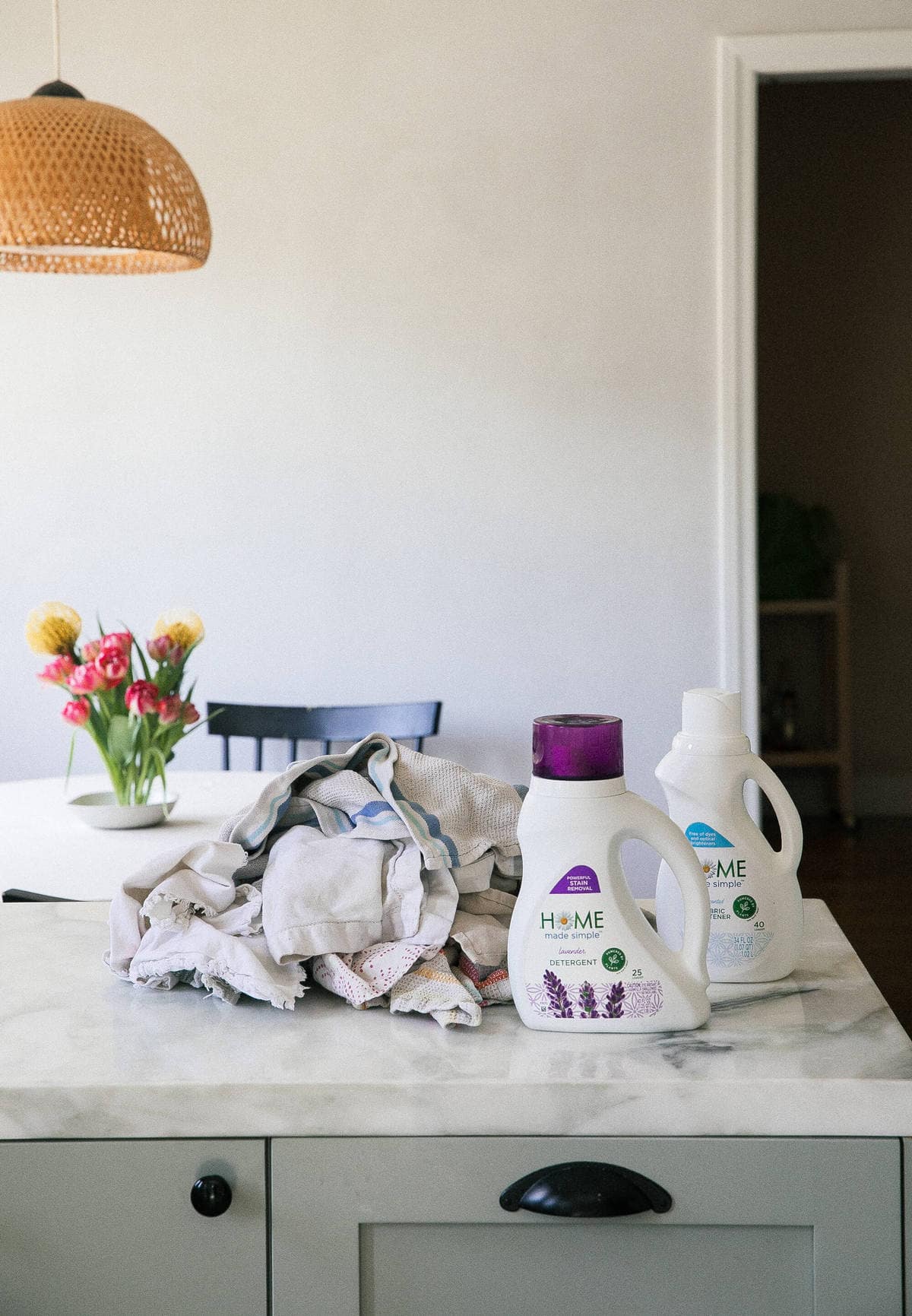 Second Step: Fill up the sink and get washing. I'm super lucky to have a dishwasher which makes my life exponentially easier. I used to not have one and phew, life was a bit tough.
For this step, I used Home Made Simple's Liquid Dish Soap in the Lemon Scent. It smells nice and fresh and was great at cutting through butter and grease. I usually stick as much as I can in the dish washer and anything fragile and handmade, I hand wash.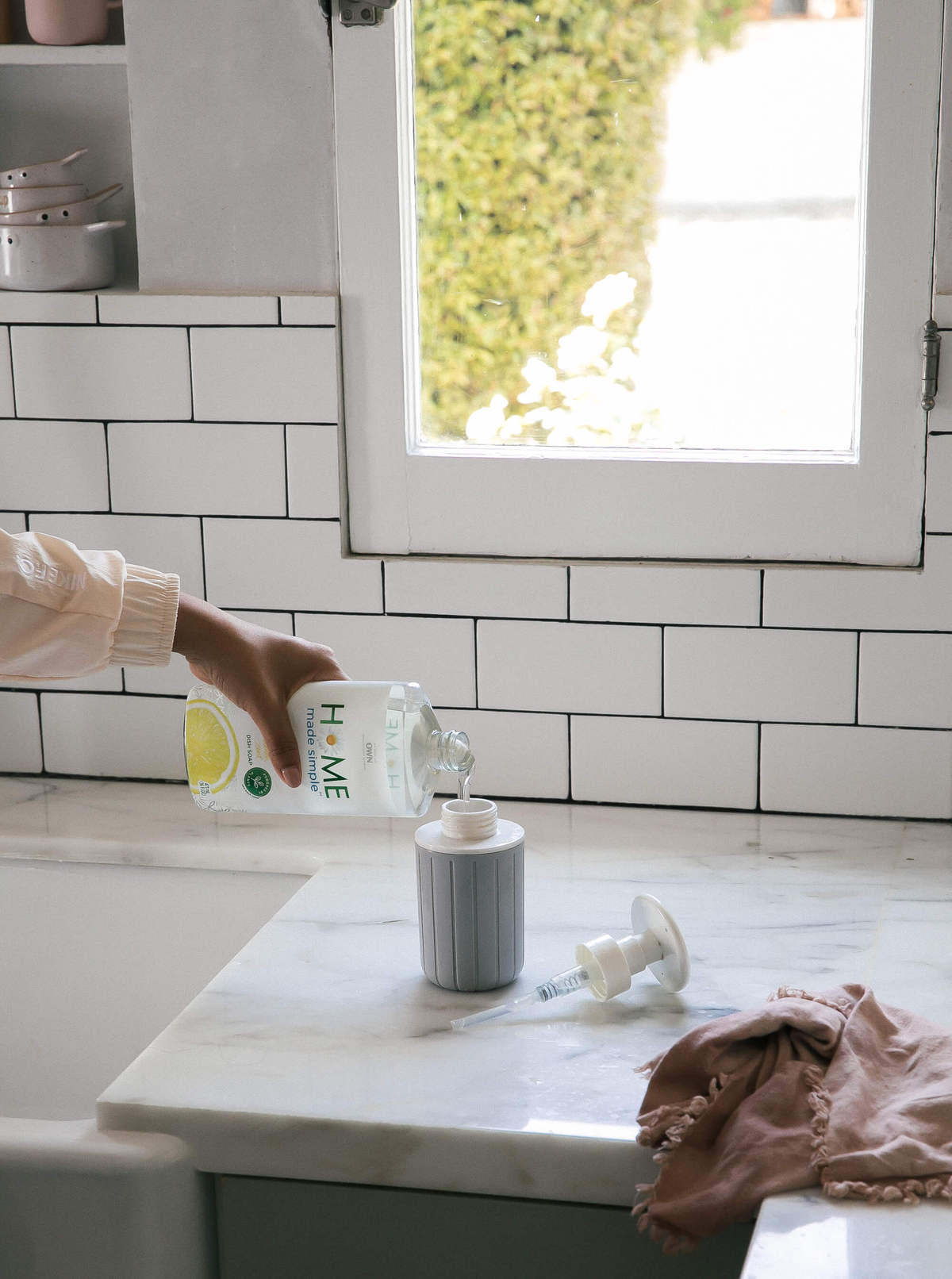 Third Step: I don't use a ton of paper towels in my kitchen but I do use a TON of kitchen towels in a day. So I usually gather those up and make a little laundry pile. Luckily I have a ton of kitchen towels so I don't need to wash daily.
For this step, I used Home Made Simple's Liquid Laundry Detergent in the Lavender scent and the Fabric Softener which is unscented and gentle on skin. Let me tell you, their laundry detergent smells SO good. I was delighted at how lovely it was. I washed a load of my workout clothes with it and all day I was like, "dang, I smell good!"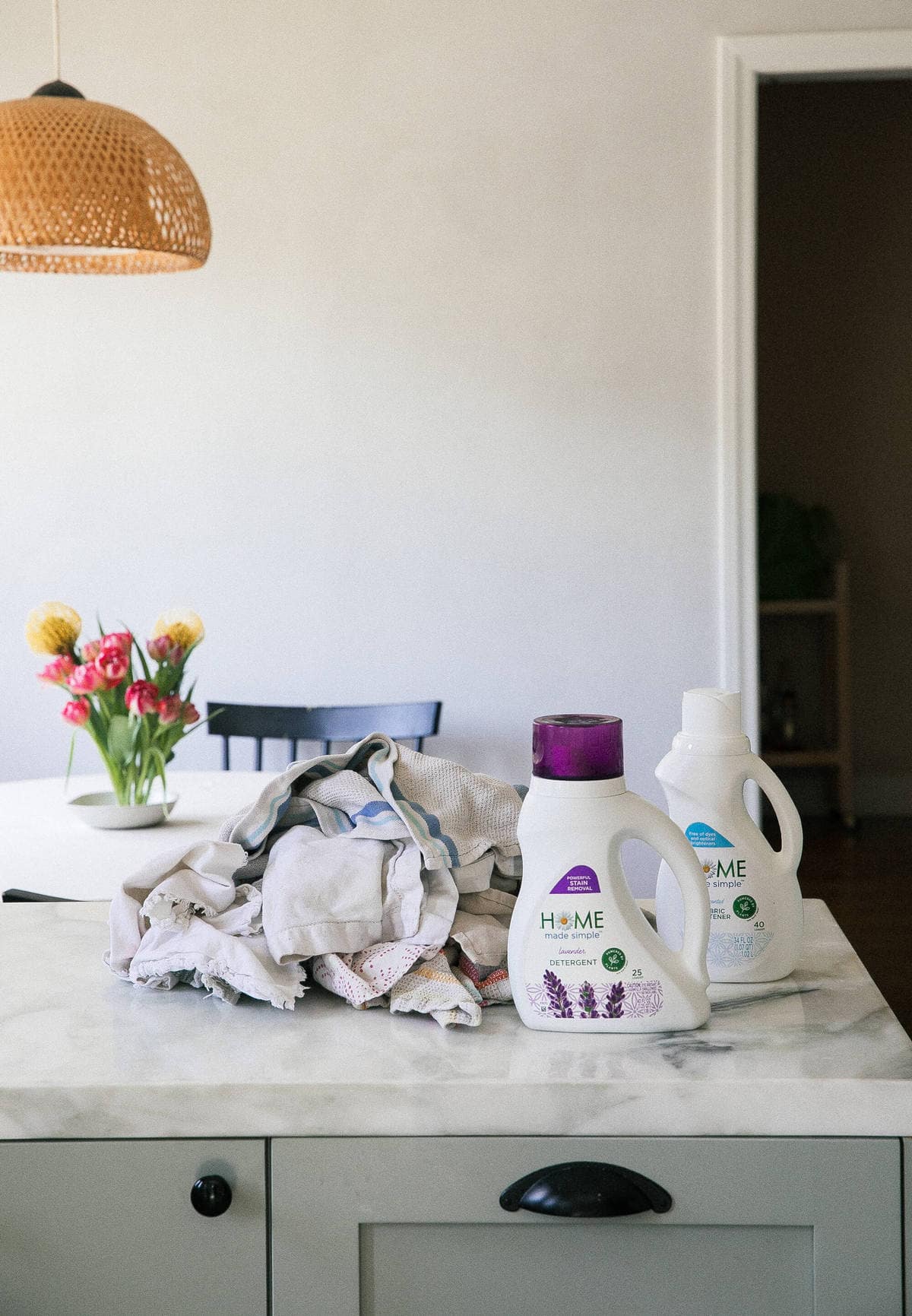 Fourth Step: I wipe down any splashes or griminess on the backsplash. I usually find crusty buttercream, splashes of tomato sauce and other fun stuff.
For this step, I used Home Made Simple's Multi-Purpose Cleaner, Rosemary Scent. Grime, goodbye!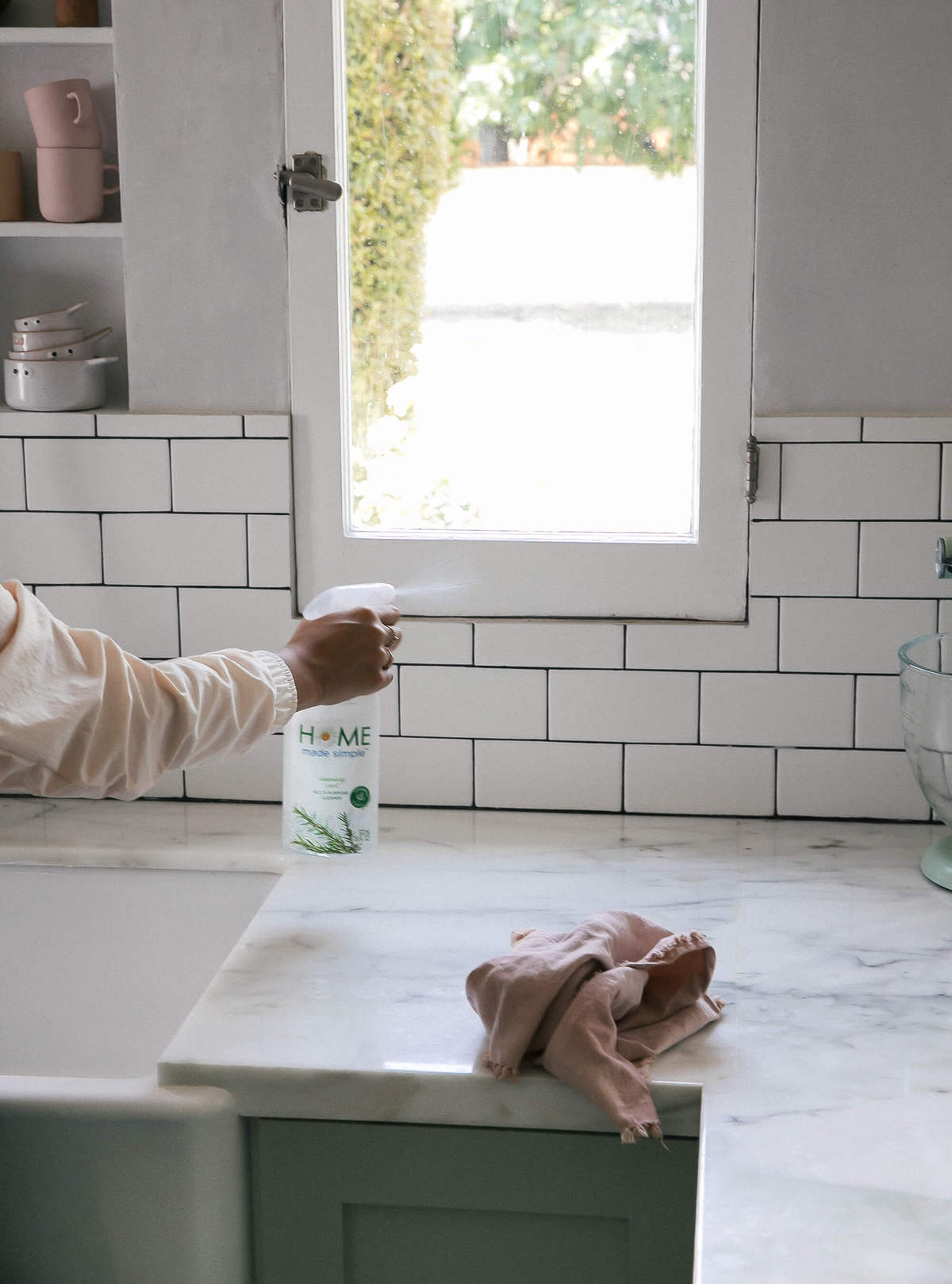 Fifth Step: I fill up my soap dispenser and replenish anything that needs it, this includes new garbage bag, empty the recycling, etc.
Sixth Step: This is the final step that is the only thing that truly makes the kitchen feel clean: mopping the floors. I used to skip it, thinking, well, I'm gonna dirty them tomorrow but no more! I feel so much better if I do a quick mop.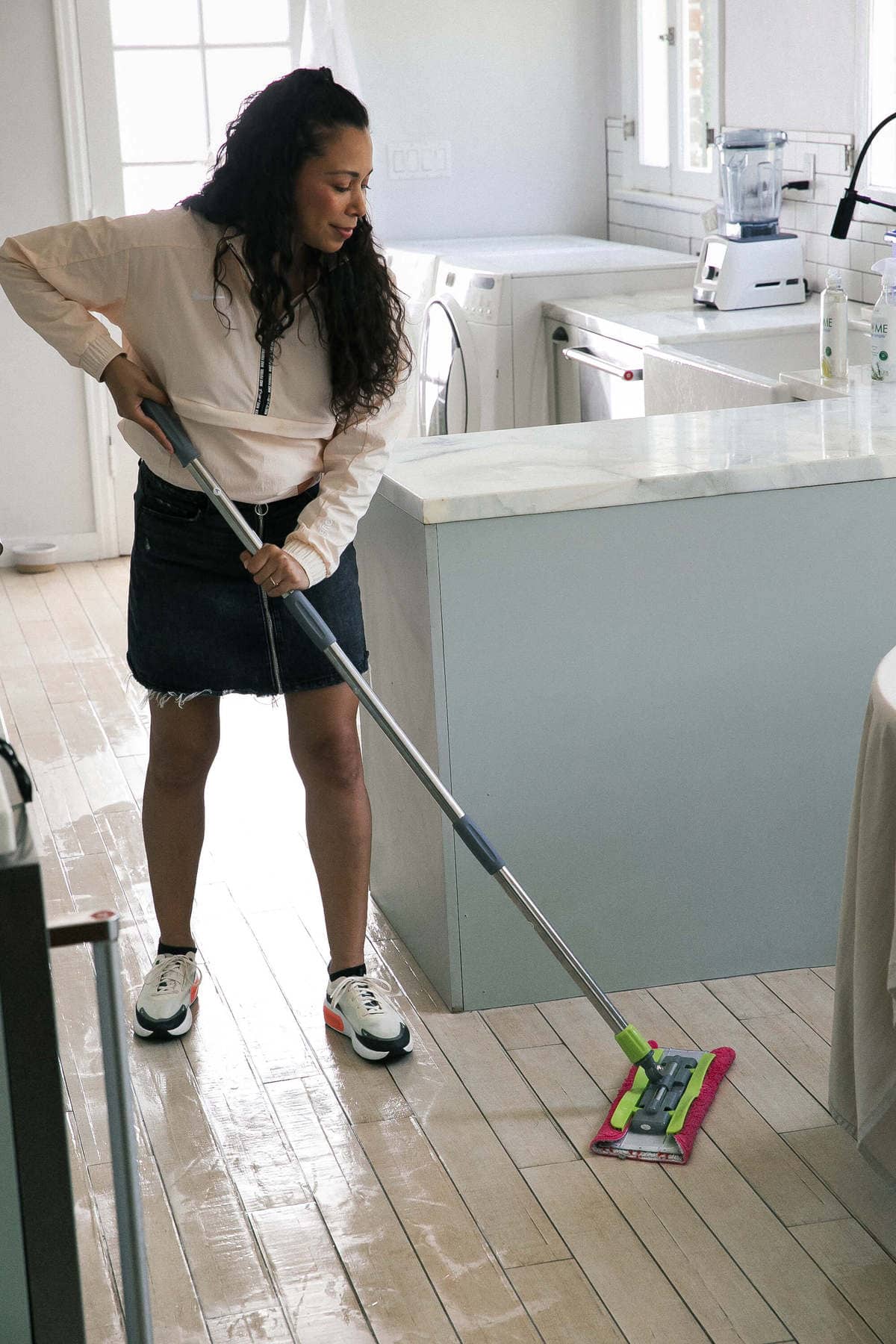 Some things I don't do at the end of a blog day: clean the stove-top, clean the hood, cabinets, window sills, windows and more. I do those on big clean days, which I try and do once a month. You can't do everything! 😃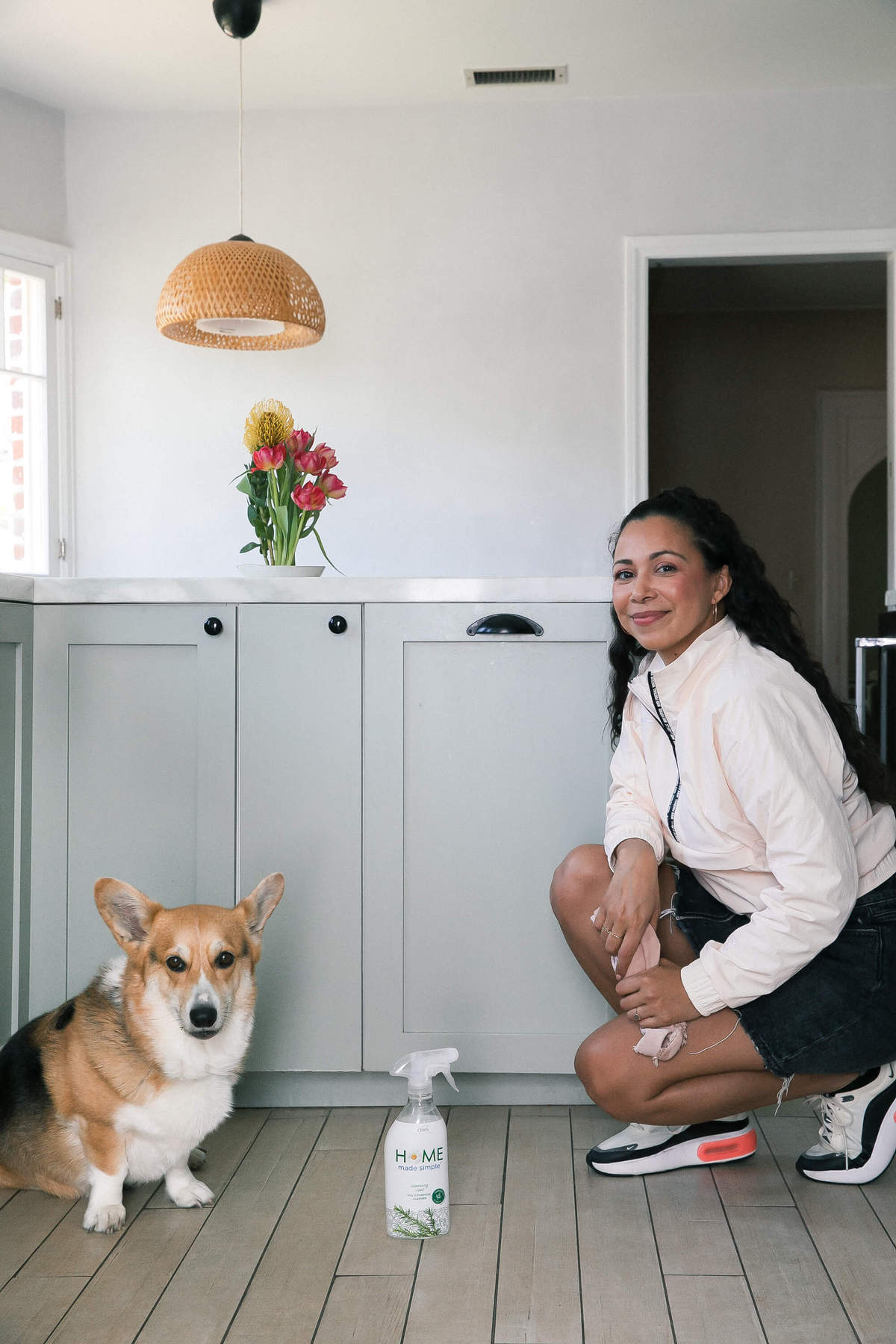 (This post is sponsored by Home Made Simple. Thank you for supporting the sponsors that keep A Cozy Kitchen cozy. Home Made Simple is available now at Walmart in store and online.)