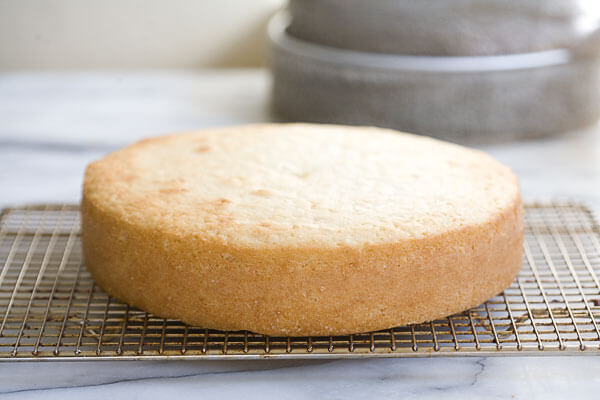 I'm not sure there will ever come a day when baking isn't magical to me. I still get giddy when I turn on the oven light, peek through the glass to see biscuits doubling in size. Or when a waif of baking banana bread skips through the house and under my little nose. Baking is my magic.
I love the trust and faith we must have in a recipe, in the ratio and in the ingredients. We trust that those ingredients will interact, react and transform into something so beautifully delicious.
Having just whispered all those sweet words of nothing, I'll admit I'm not really a cake-maker-type girl. I'm not sure if a single layered-cake even lives on this blog. I'm pretty sure it has everything to do with me being an impatient person and thinking cake decorating is a little tedious. But when I want cake inspo, I turn to Sara from Matchbox Kitchen. She makes some insanely pretty cakes. One thing I LOVE about her cakes is how they're all perfectly cylinder. The tops are completely flat. Flat cake tops are all the rage in the cake world.
Cake layers usually dome on us, rising right in the center and then cracking. I think doming on a quick bread is beautiful. I love it. My friend and baker, Hourie, wouldn't think to serve a quick bread that didn't dome. Cakes are different, though. But not to worry because baking flat cake layers couldn't be easier!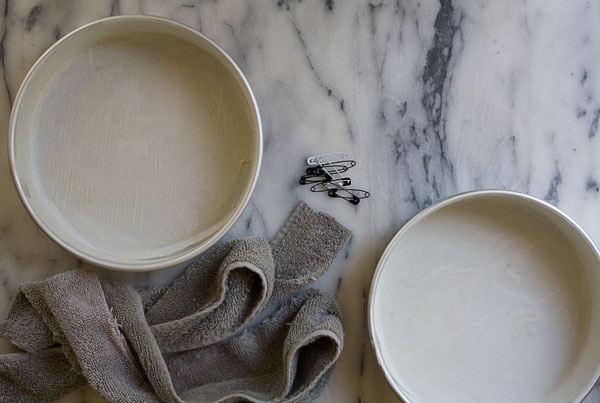 Just like my last how-to, I'm a little insecure about this post. Do you know this already? Is this obvious?
You could take a serrated knife or this cake slicer thing (that looks like a gigantic cheese slicer) and lop off the top of the cake. I've done this before. But sort of annoying.
OR you could buy these even baking strips that go around your cake pans. But sort of a waste of money, especially since this method uses an old towel and a few safety pins.
To start, you want to cut strips that fit the sides of your cake pan.
Fun side note: Use an old CLEAN towel, not an old dirty towel. I almost ended up using one that I used to clean the bathroom with. I can't imagine cleaning solutions on towel strips and in the oven with your cake is a good combo.
Next, you want to dampen the towel strips and wring out any excess water.
Wrap them around the cake pans and secure them tightly with a few safety pins.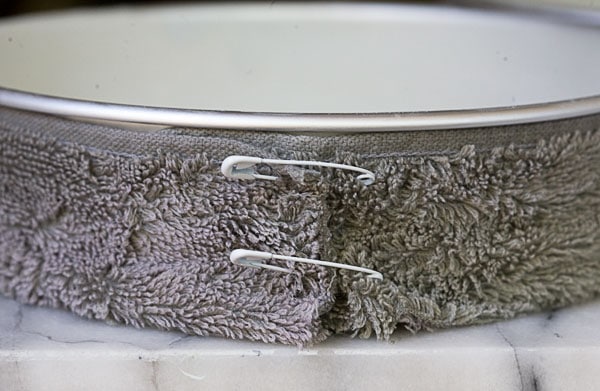 Repeat that whole process with the second cake pan.
Oh and be sure to butter your cake pans, line the bottoms with a round of parchment and dust them with flour. So important.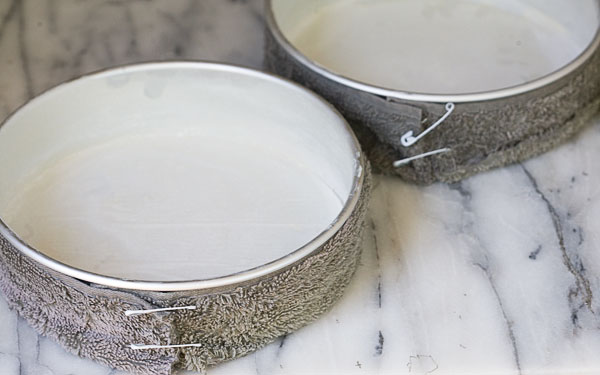 Add the cake batter to the pans and smack them down on the counter a few times. This will eliminate any air bubbles.
Put it in the oven and bake away.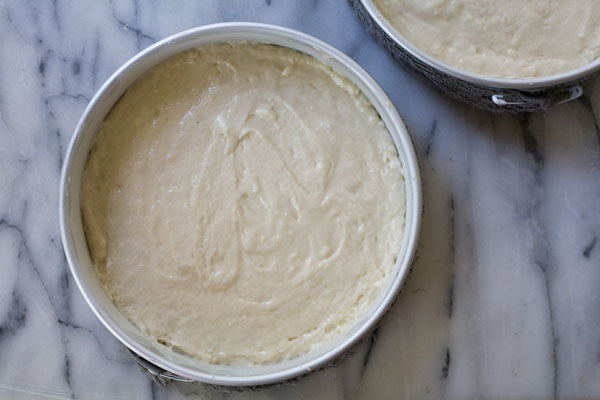 What's happening here is that the moisture from towel is helping the cake bake more evenly, resulting in an even rise and a cake with a flat top.
When they come out, they'll be perfectly flat. Ta-daaaaa!!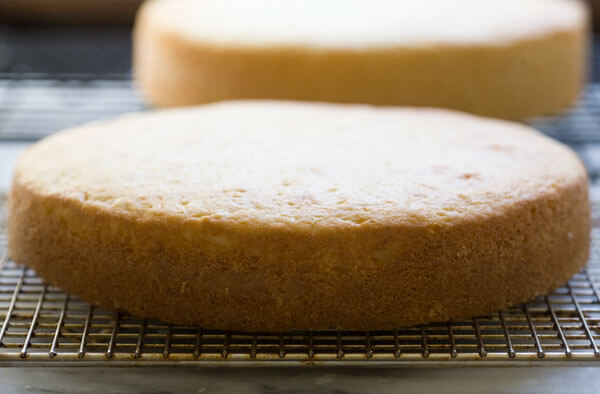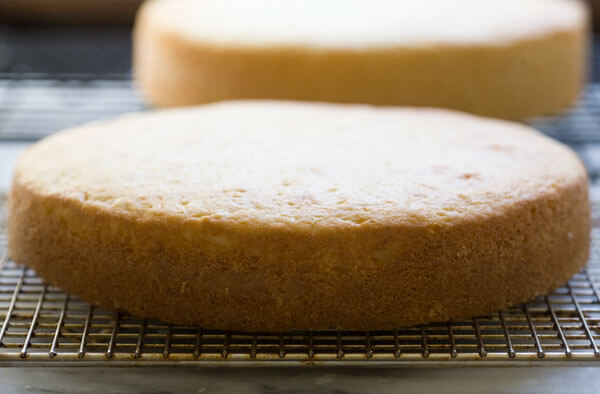 Print Recipe
How to Bake Flat Cake Layers
Bake perfectly flat cake layers with an old towel!
Ingredients
1

old towel (but fluffy)

4

safety pins

1

batch of cake batter
Instructions
Cut 3-inch wide strips that fit all the way around your cake pans. Make sure they fit around the cake pans!

Soak the strips in water and squeeze out about half of the water from them. I like them to be very damp.

Secure the wet towel strips around your prepared cake pans, pinning them using the safety pins. You'll want them to fit tightly.

Add the cake batter to the pans and transfer to the oven and bake according to your recipe.