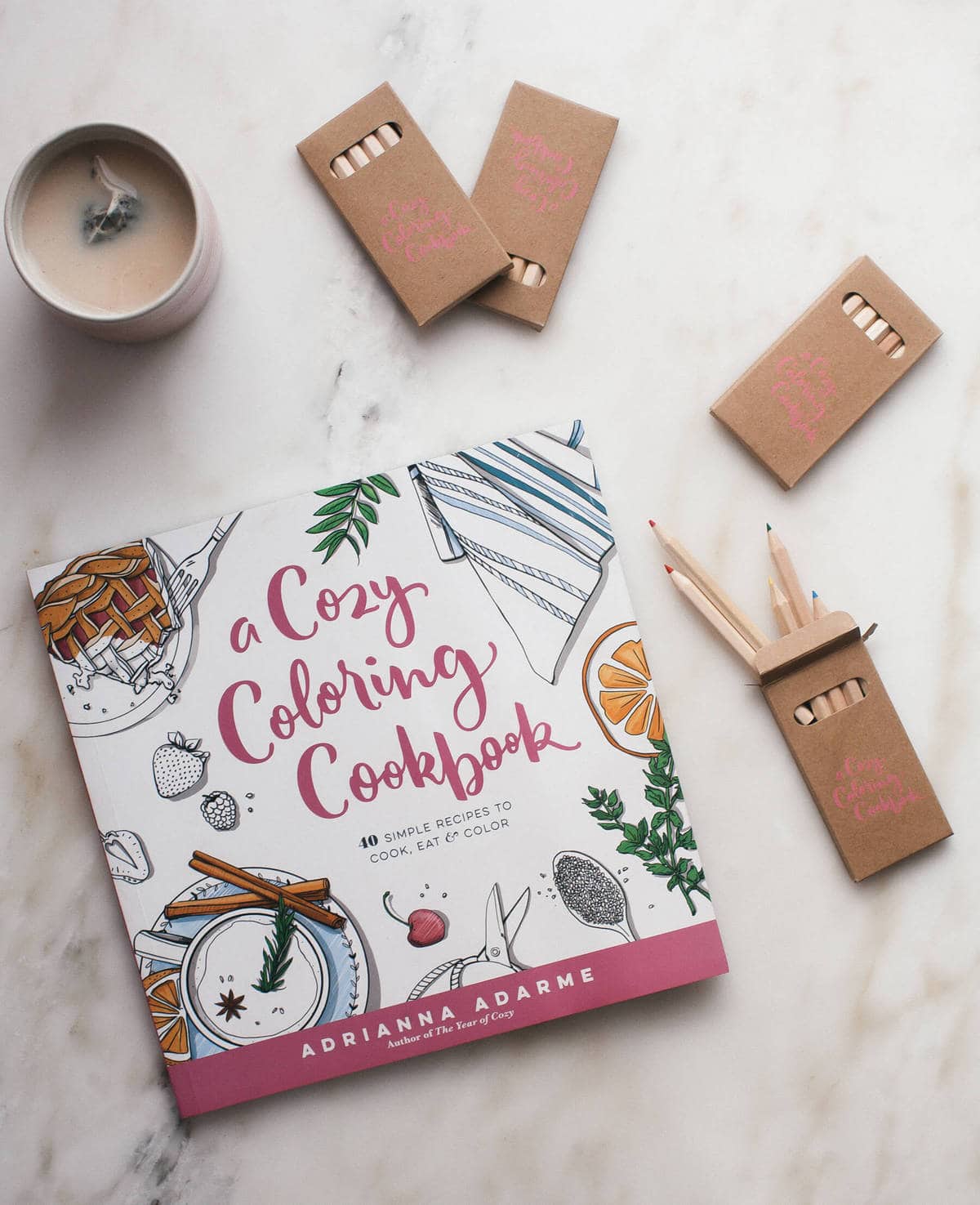 Can I tell you something? Making this coloring cookbook was A LOT harder than I expected. Mainly because I am not an illustrator nor have I ever worked with one until this book.
Amber Day-—who is so amazingly talented—-drew every illustration in this book. I want to talk about the process because I found it interesting and surprising and a lot of the time I felt like a fish out of water.
RECIPE DEVELOPMENT: 
When I first started the project, I wanted the recipes to be really, really easy. My publisher and I agreed that the recipes should be simple—-achievable by anyone and easy enough such that cooks could spend the time coloring, too.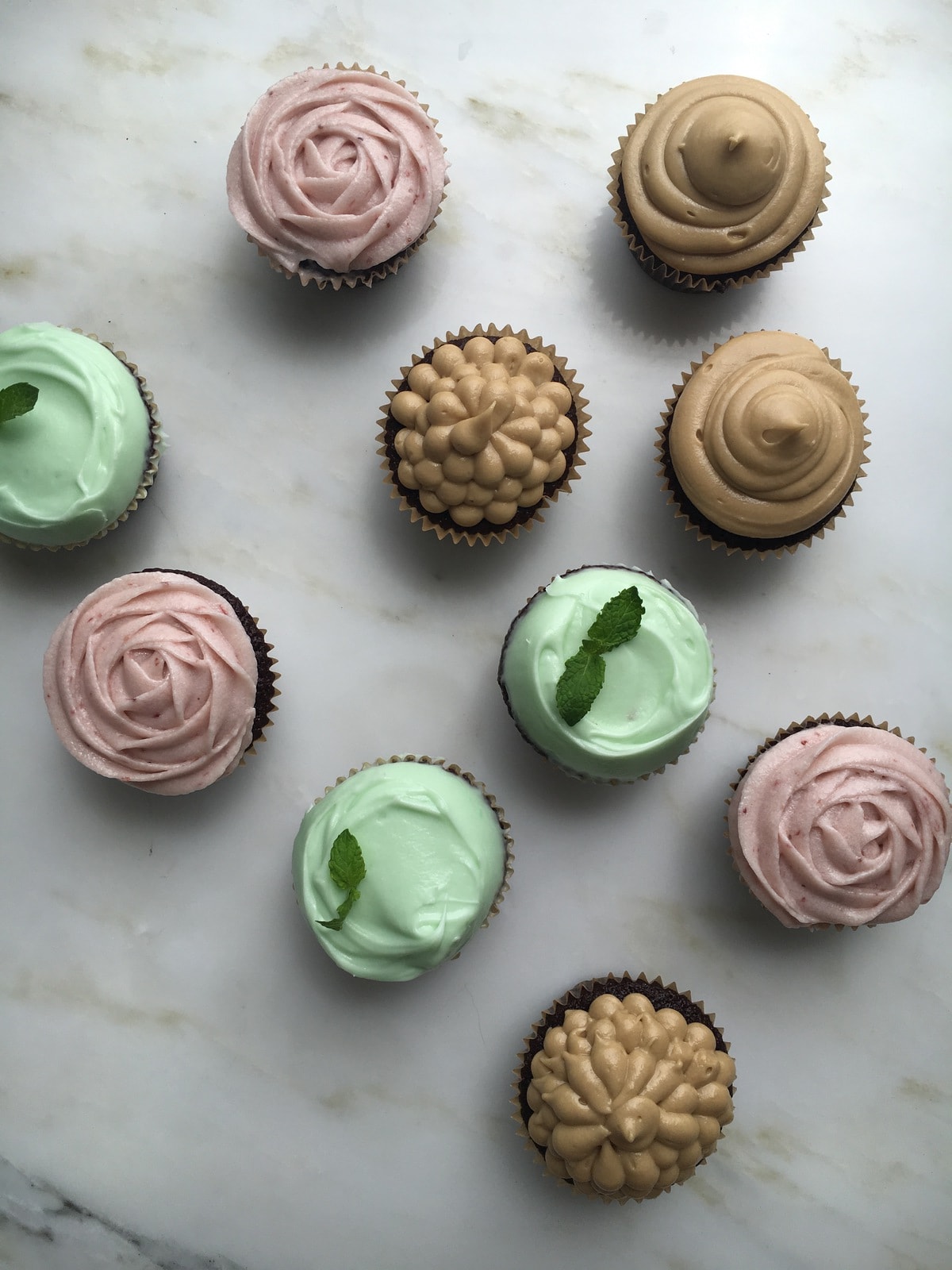 I ventured off into my wormhole to come up with a list of recipes that I would test and shoot (just for color and appearance reference), and then Amber would draw them.
What I didn't realize is that so many of the things that I love to make are brown: light brown, medium brown, dark brown. All the browns! And/or they're white.
Sometimes something will be brown with white glaze or frosting on it. Think about it. Chai Scones? Brown. Cinnamon Rolls? White and brown. Pie? Mostly brown. Quick bread. Brown, brown, brown, brown-—which, in coloring world, equals BORING.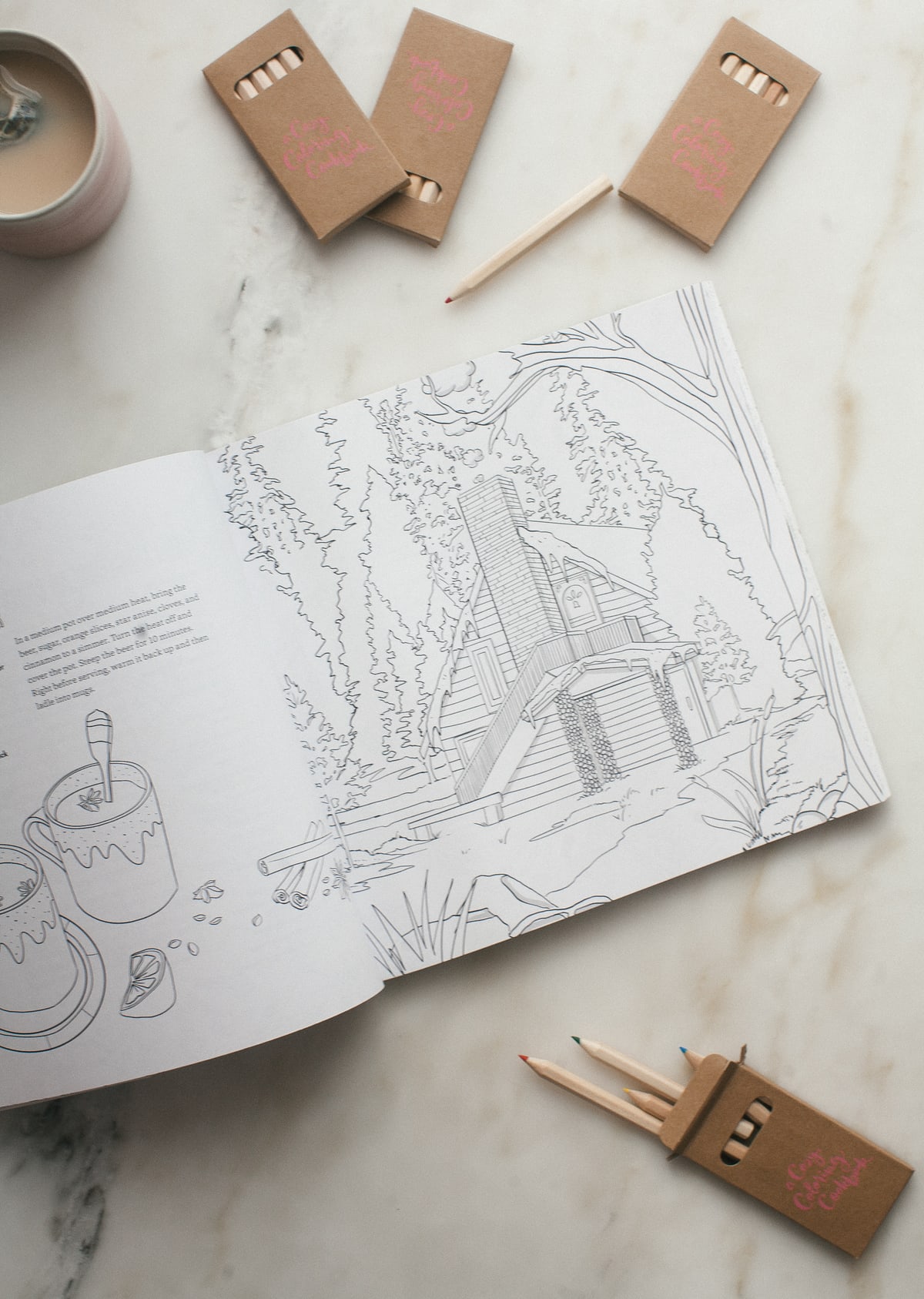 There is nothing worse than boring. Bad is better than boring.
I didn't think that would be that much fun to color if it was just brown recipe after brown recipe so I had to think about food in terms of color. What would be the most fun to color (and eat)?
Regular buttercream frosting on a chocolate cake became pomegranate frosting and black and white cookies became matcha and black cookies.
It was super strange to think about food with color at the forefront of my brain. I don't think it's an exercise I've ever experienced before. Super challenging for me actually, not gonna lie.
ILLUSTRATIONS:
Amber and I both thought that taking my photos and having her illustrate them in a similar style would be great. "Let's make photo-realistic illustrations," we thought.
While, yes, some of the illustrations are based off of my photos, we found it to be kind of not that…fun?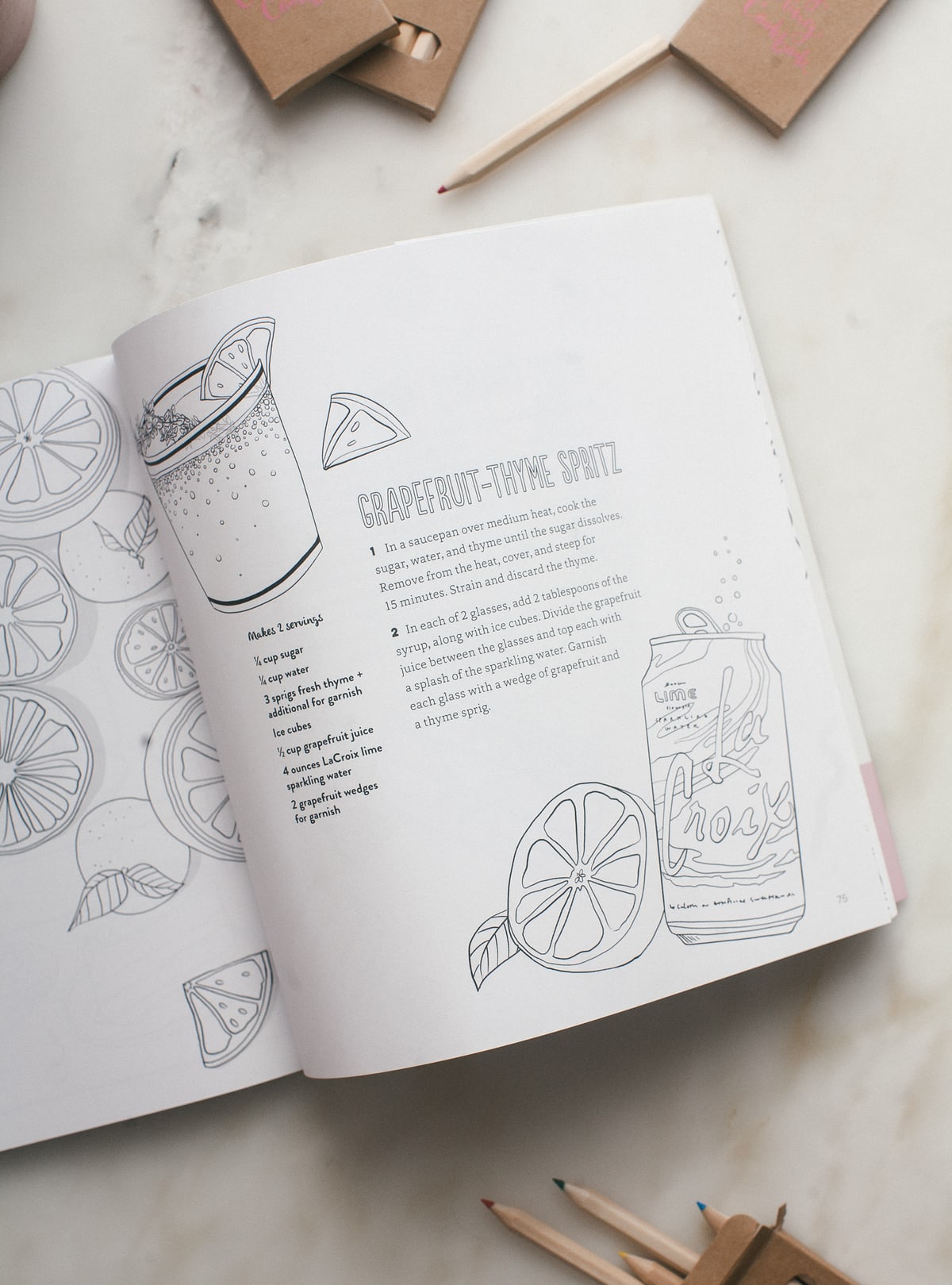 Amber took some liberties, which you can with illustrations, so now we have sprinkles falling from the sky, berries bursting out of a cocktail and ingredients flying into a blender for avocado dressing.
We wanted to make the illustrations FUN and WILD and a little weird.
The illustrations ended up being SO different than what we'd imagined. But I think they're so much more interesting than just preciously propped overhead shots.
We also wanted to include some types of illustrations that exist in all sorts of coloring books, like patterns and kaleidoscopes. We wanted there to be a lot of variety in terms of intricate, will-take-you-a-long-time-to-color illustrations with a few sprinkled in there that would maybe only take an hour.
The goal was also to have every illustration and set-up slightly different.
We wanted the illustrations to have variety.
Inevitably there are some recipes that are white and brown (read: coconut tres leches) so we got around that by illustrating the steps. We did this with a few of the illustrations and I think it worked out super cute.
FORMATTING THE RECIPES
Initially the recipes were supposed to be almost like non-recipes but I didn't stick to that because that is not my forte haha. I want to give ratios and I also love to bake, which can't really be done without a list of ingredients and directions.
So, we ended up typing all the recipes up and it just made everything feel cleaner and more cohesive. Amber drew illustrations around the recipes, depending on what the negative space was like on each page.
THE COVER 
The cover for The Year of Cozy was the inspiration, as well as a few others (I love this coloring book cover and this one).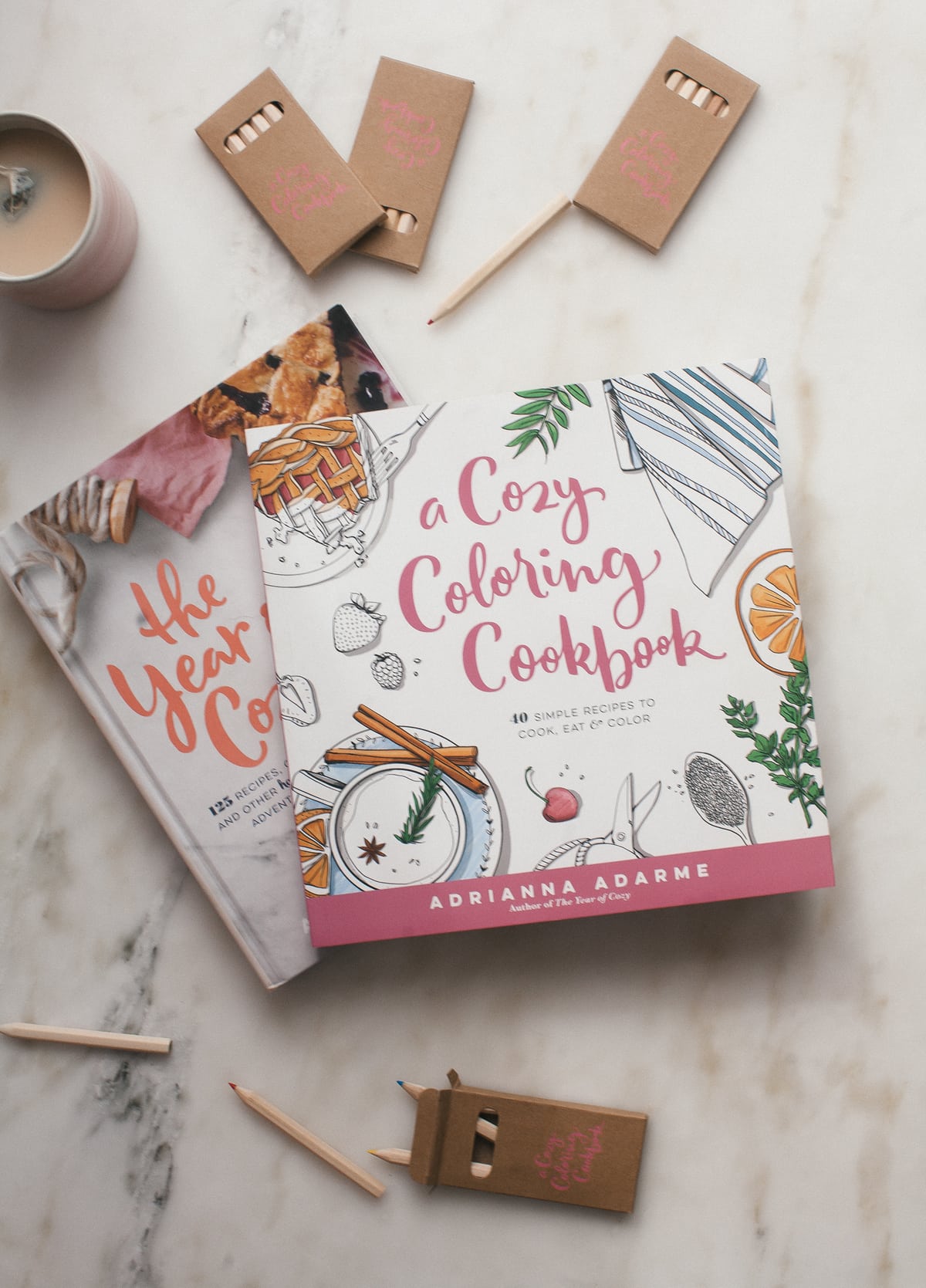 The problem with me is that I hate clutter haha. I know a lot of coloring books are all about intricate patterns and teeny things to color. I struggled with this idea because I like things to be simple. I favor minimalism over a bunch of stuff. But coloring books need to be full! I agreed with that.
Here is a super early iteration of the cover.
And then we had to color it and have Casey Lignon do the lettering.
And there you go! That's da book-making process.
PARTY!
If you live in LA, please come! There will be coloring, snacks, dranks, ME and lots of chill time. It's at Light Lab in Atwater village, if you haven't been, it's so beautiful. It should be loads of fun.
To RSVP, please click here. The event is free!