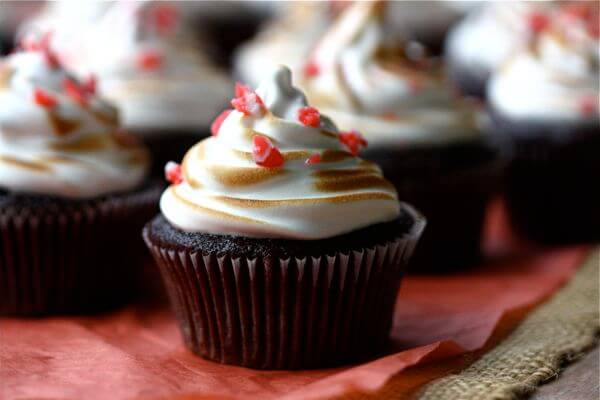 I'm a big fan of layers. This is the very reason why Fall and Winter make me leap for joy.
These seasons give me the ability to wear a tank top, a t-shirt, a button up, and a jacket (and maybe a scarf)…all while not perspiring. Perspiring sucks. So does shivering, I guess; but at least I sorta get an ab workout when I shiver. AM I RIGHT?!
I dig food layers, too. These cupcakes? Crazy food layering going on here. Maybe you can't see all the food layers yet. It's okay. I'm gonna outline them for you.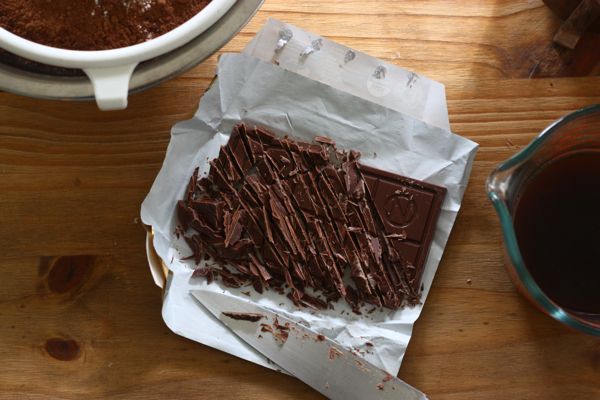 P.S. This recipe is basically these Ding Dongs just reworked. Same elements, different look. Nifty, eh?!
1st layer: The chocolatey chocolate cupcake. The part that gets me super psyched is how the directions call for melting good quality chocolate into a cup of strongly-brewed coffee.
This recipe was written for my soul.
(Side note I'm-not-getting-paid-to-say: I bought Newman's Own Orangic Chocolate because they were out of Green and Black, and I might be my new fav. Rich with good texture.)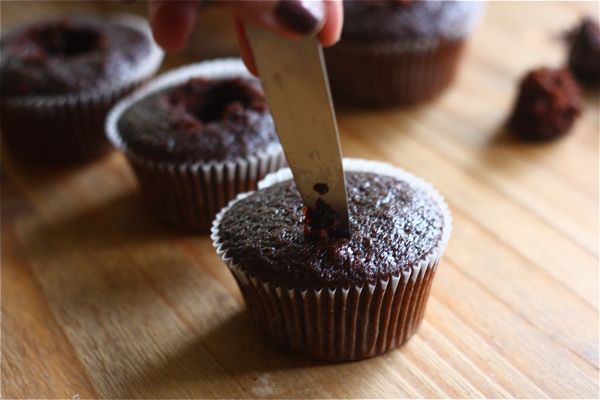 2nd layer: The chocolate ganache center.
And this one doesn't require any piping or anything. Just cut out the center and spoon the chocolate into the center.
Easy delicous assembly. What a treat!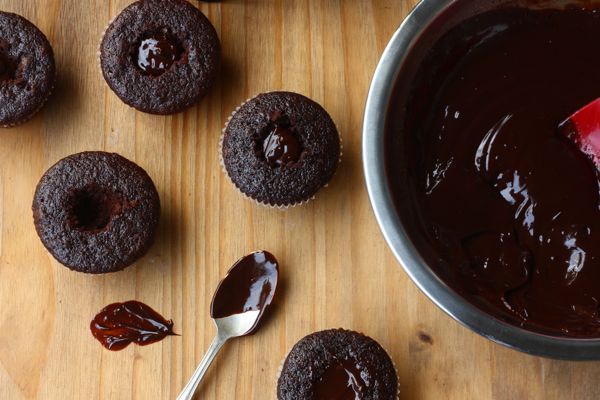 3rd layer: Toasted marshmallow frosting. Hi. It's fluffy.
Who doesn't love fluffy frosting? No one. It feels like a sweet pillow melting in your mouth. Just glorious.
In a last minute decision, I decided to a little hand torch to it to make the frosting all toasted. Good move.
You can also do this by putting the cupcakes under a broiler (while NOT walking away).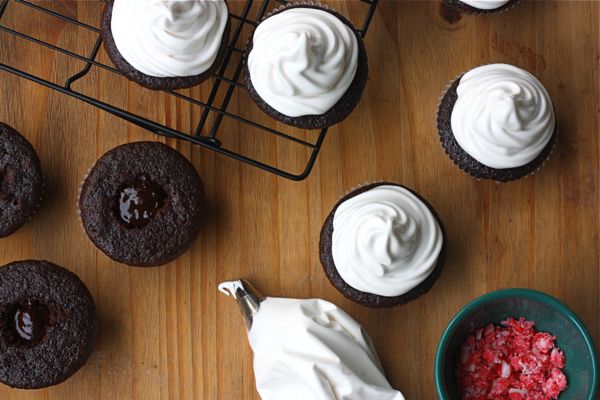 4th (and last) layer: Crushed candy canes. The crushing of them will be therapeutic. Promise.
(Sidenote: It took me three stores to find normal red and white candy canes. All the drug stores think it's a GENIUS idea to have the annoying looking colorful ones. I want tradition, Candy Cane Makers; I don't want my candy canes trendy!! No one does!!)
Get your layerin' on this weekend! It's a good look.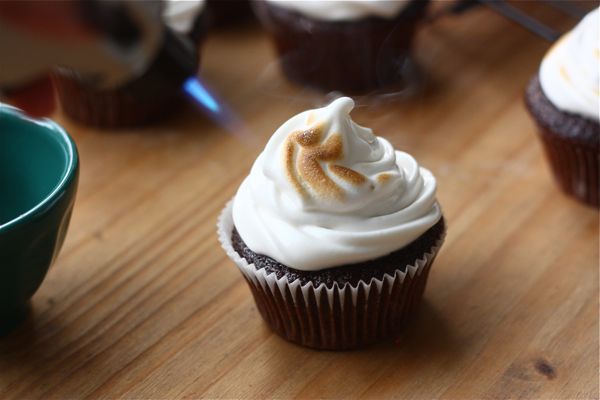 Hot Chocolate Cupcakes
Chocolate Cupcakes:
2 ounces fine-quality semisweet chocolate
1 cups hot brewed coffee
2 cups sugar
1 2/3 cups flour
1 cups unsweetened cocoa powder (not Dutch process)
1 1/3 tsp baking soda
1/2 tsp baking powder
1 tsp salt
2 eggs
1/2 cup vegetable oil
1 cup well-shaken buttermilk
1/2 tsp vanilla
2 candy canes (for topping)
1. Preheat oven to 300°F. And line two cupcake tins with liners.
2. Finely chop chocolate and in a bowl combine with hot coffee. Let mixture stand, stirring occasionally, until chocolate is melted and mixture is smooth.
3. Into a large bowl sift together sugar, flour, cocoa powder, baking soda, baking powder, and salt. In another large bowl with an electric mixer beat eggs until thickened slightly and lemon colored. Slowly add oil, buttermilk, vanilla, and melted chocolate mixture to eggs, beating until combined well. Add sugar mixture and beat on medium speed until just combined well.
4. Divide batter between cupcake tins, filling them up between half way to 3/4 of the way. Bake for 20-25 minutes, and until a skewer inserted in the center comes out clean.
5. Cool cupcakes in cupcake tins on racks until completely cool.
Seven Minute Frosting:
1 cup plus 2 tablespoons sugar
3 large egg whites
1/4 teaspoon cream of tartar
1/8 teaspoon salt
1/2 tablespoon pure vanilla extract
1. In large metal bowl, whisk together 1/4 cup water, sugar, egg whites, cream of tartar, and salt. Set bowl over pan of barely simmering water and mix with handheld electric mixer at low speed. Gradually increase speed to high, beating until mixture holds stiff peaks, about 5 minutes.
2. Transfer bowl from pan to folded kitchen towel on counter and continue beating until mixture is cool and billowy, about 2 minutes more. Beat in vanilla. (Frosting can be made 4 hours ahead and chilled, covered.)
Ganache:
1/2 cup heavy cream
1/2 tablespoon unsalted butter
6 oz semi-sweet chocolate chips
1. Heat the heavy cream and the butter in a 3-quart saucepan over medium high heat. Bring to a boil.
2. Place the semisweet chocolate in a 3-quart stainless steel bowl. Pour the boiling cream over the chocolate and allow to stand for 5 minutes. Stir until smooth.
Assembly:
1. Smash candy canes–using the bottom of a pan–into bits. Using a paring knife (or an apple corer), cut out a 1-inch circle out of the center of the cupcakes. Fill with a half teaspoon of chocolate ganache.
2. With a 1-inch star tip, pipe on frosting in a circular motion. Holding the torch about 6-7 inches away from the frosting, toast the tops of the cupcakes slowly, being sure to not light the cupcake liners (I did this!) on fire. Sprinkle crushed candy canes on top of each of the cupcakes. DONE!!!
Seven-Minute Frosting recipe tweaked from Epicurious
Chocolate Cake recipe from Smitten Kitchen
Yields about 20 cupcakes