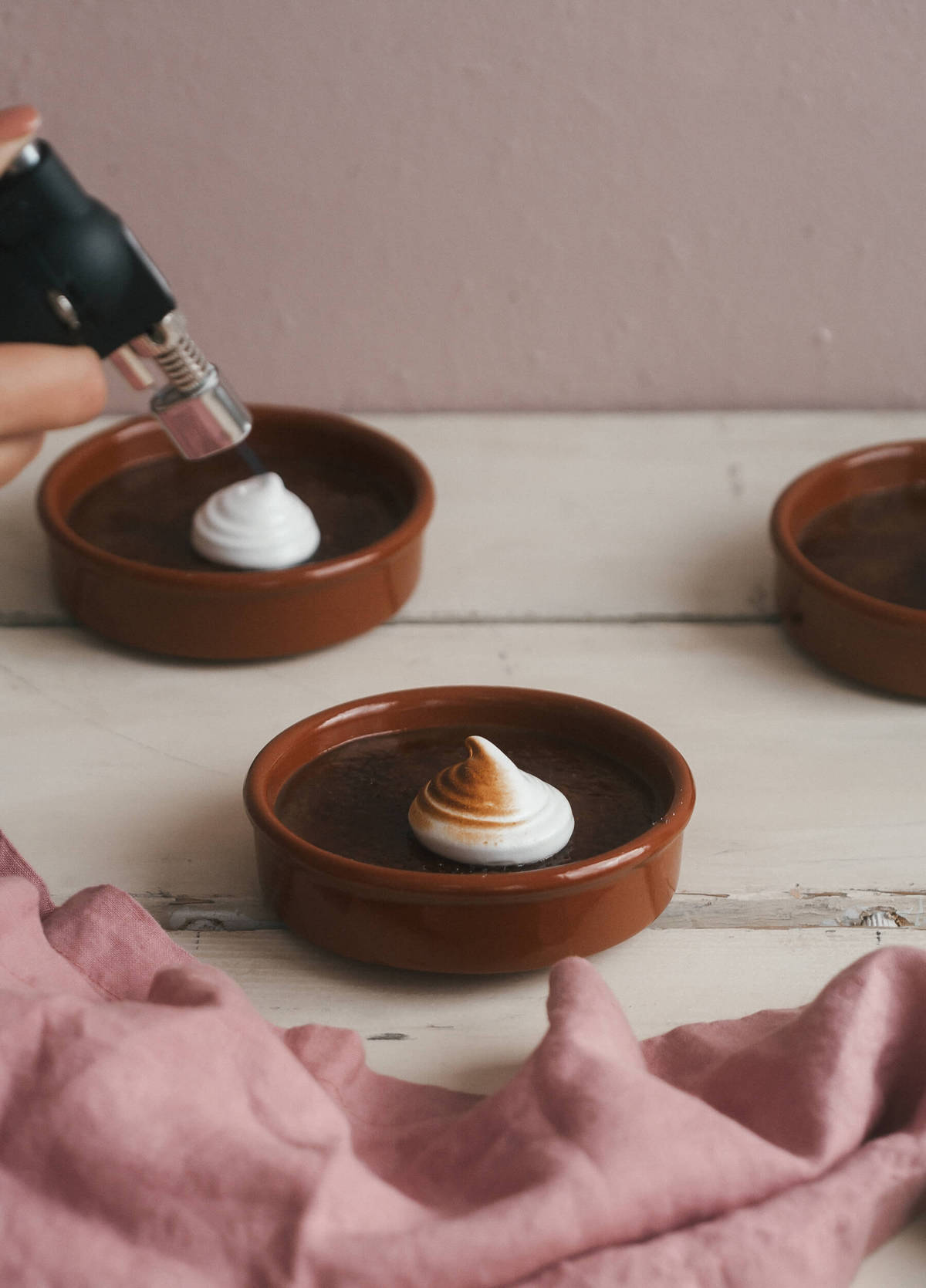 Every family has Christmas traditions. I love hearing about other families' traditions because they vary so much.
The one tradition my mom always kept alive and well was Peruvian-style homemade hot chocolate on Christmas Eve. In Peru, homemade hot chocolate is cooked over the stove, with Peruvian chocolate chopped into tiny bits and then mixed into milk with cinnamon and cloves; it's rich and delicious.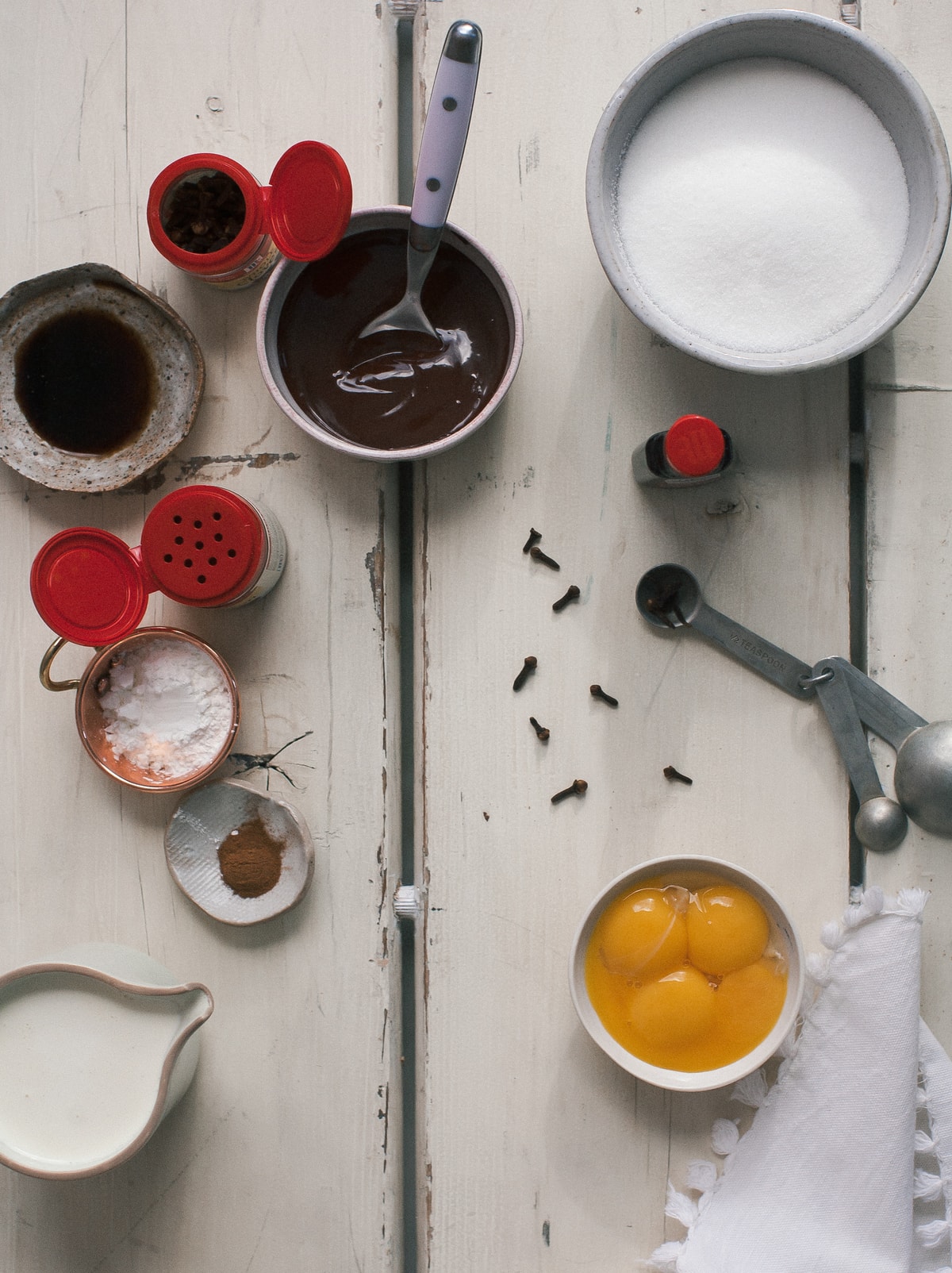 Traditionally it's had right before everyone heads to midnight mass. When we were teeny-tiny, the hot chocolate would come right before bed since at that time we believed that Santa would come down our non-existent chimney and bring us gifts. My dad would tell us he'd sneak in through a window which sort of scared me but whatever.
It was the one time a year when we had dairy because my parents jumped on the non-dairy train so early. We were one of those houses with rice and almond milk only.
This is a mash-up of another dessert my mom LOVED to make; it's not Peruvian, though they do make it all over South America. Crema catalana is a Spanish dessert that is SO good. It's a lot like creme brûlée with the big difference being that it's not baked—it's simply cooked over the stove-top then chilled in the fridge.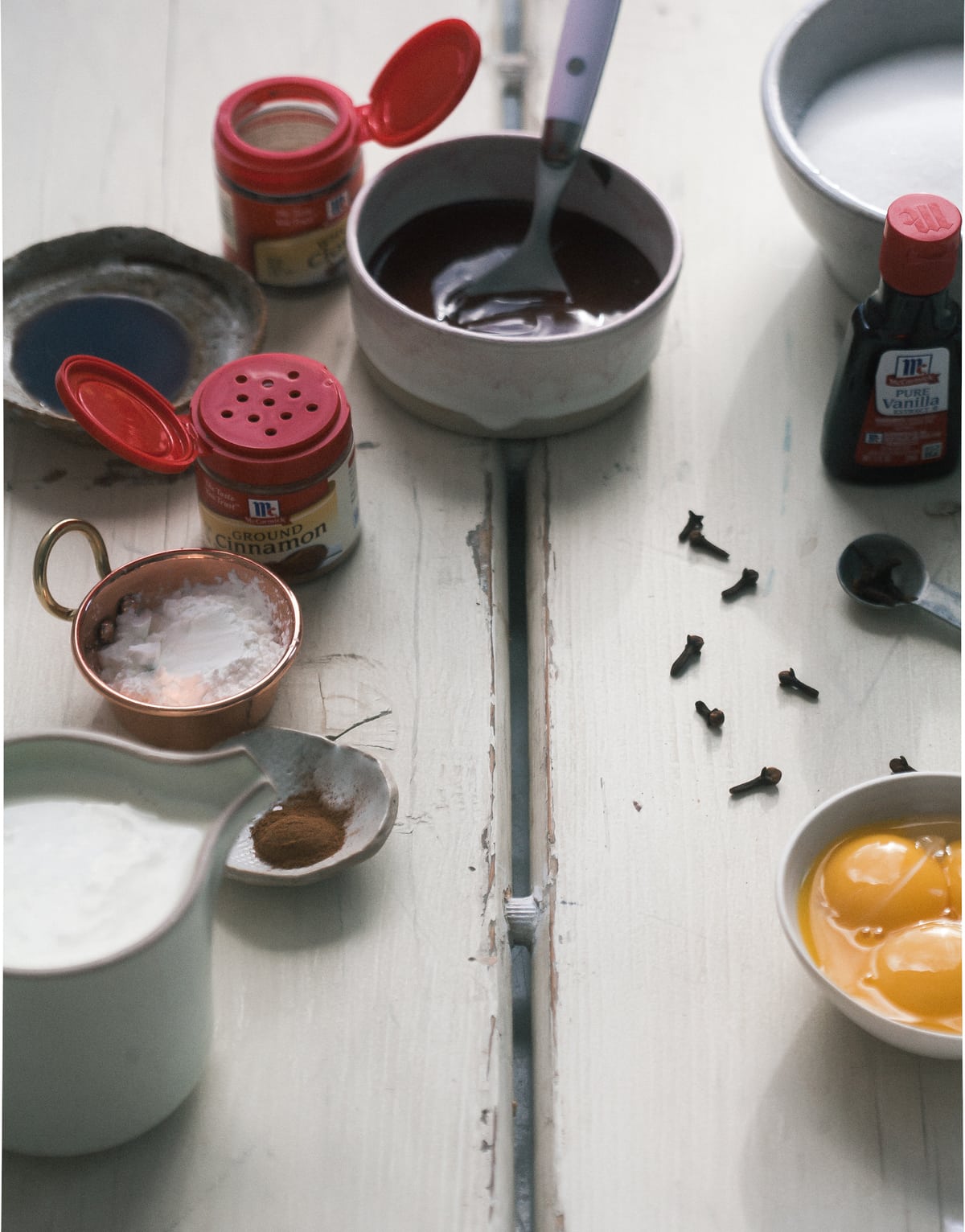 For this post, I teamed up with McCormick spices to add all the goodness to this dessert. It uses McCormick ground cinnamon, whole cloves and vanilla extract.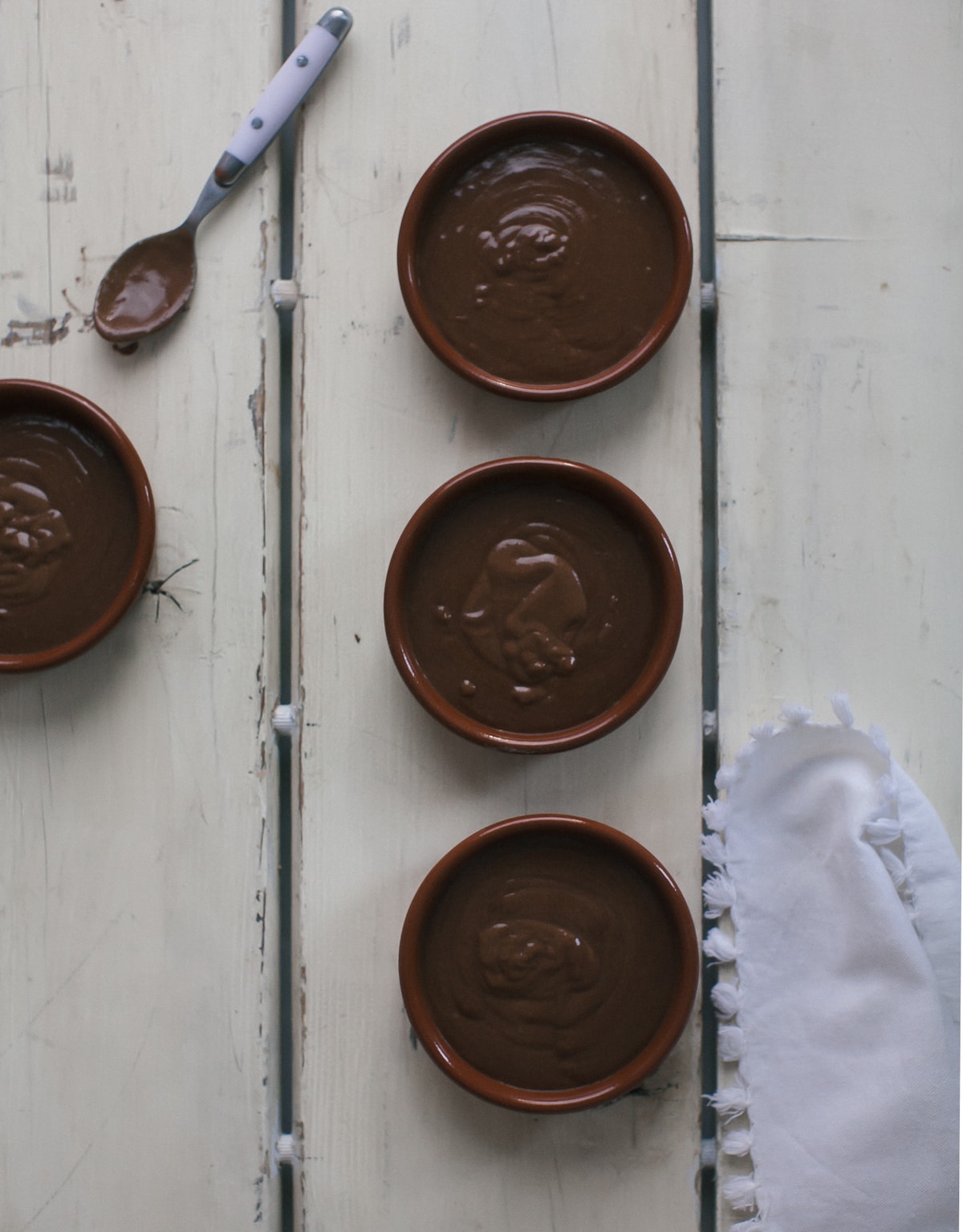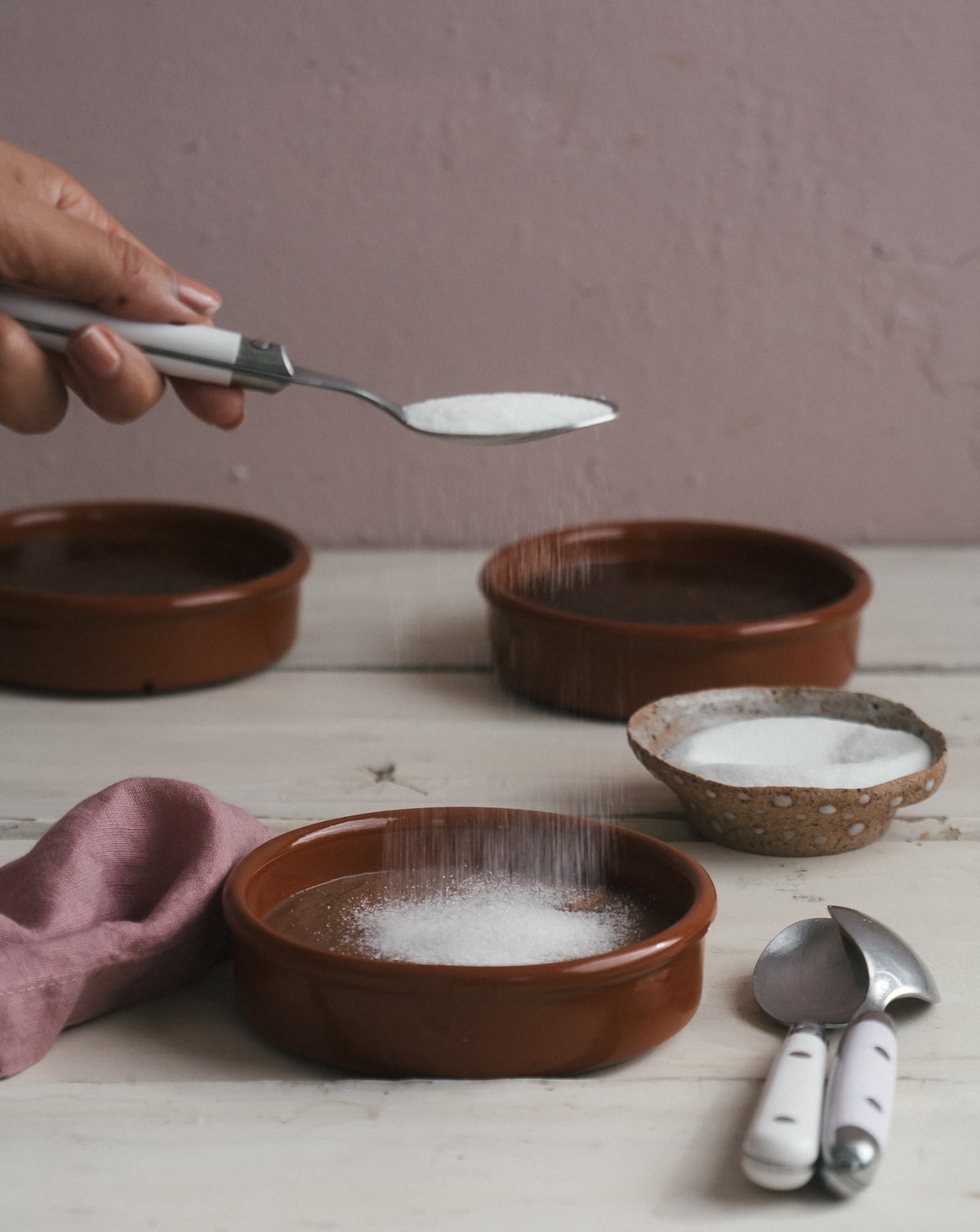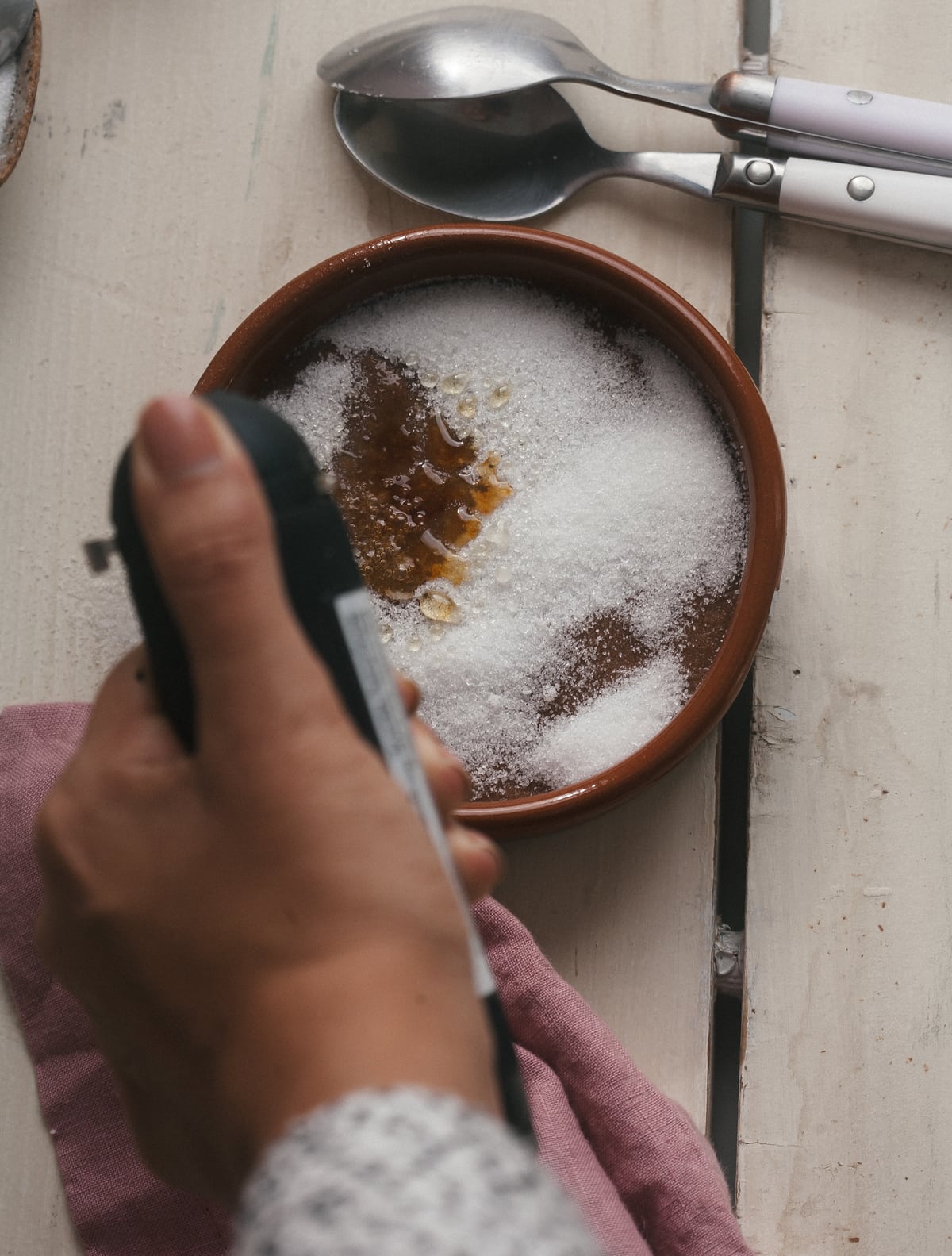 The flavors of cinnamon and cloves and chocolate take me back to being a lil' kid again. These kinds of flavors and smells always take me back; they taste like Christmas!
Since I already was on the hot chocolate train, I figured I'd whip up some marshmallow frosting and add dollops to the top and torch it all up. It was so good. It tasted like the best Christmas ever.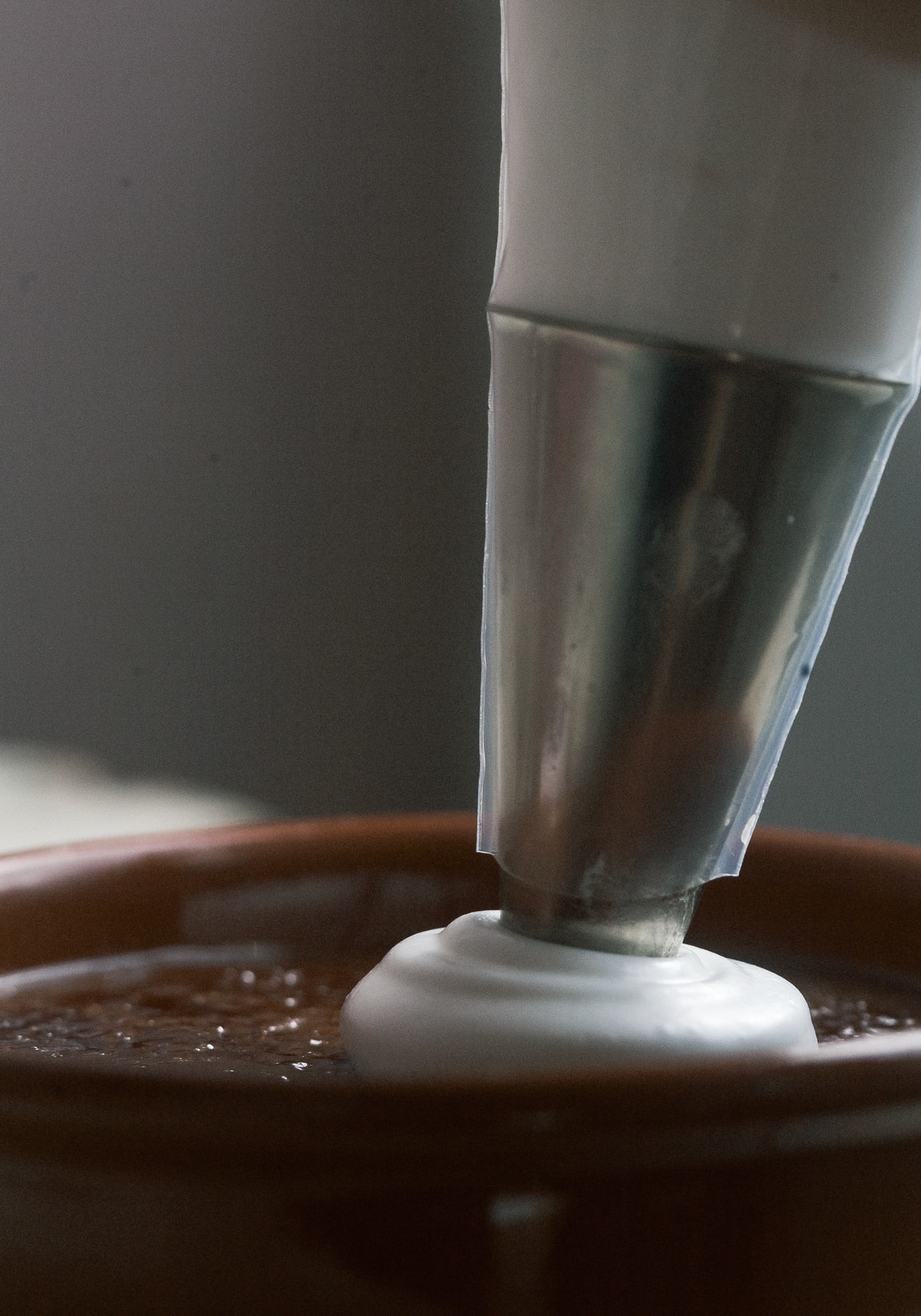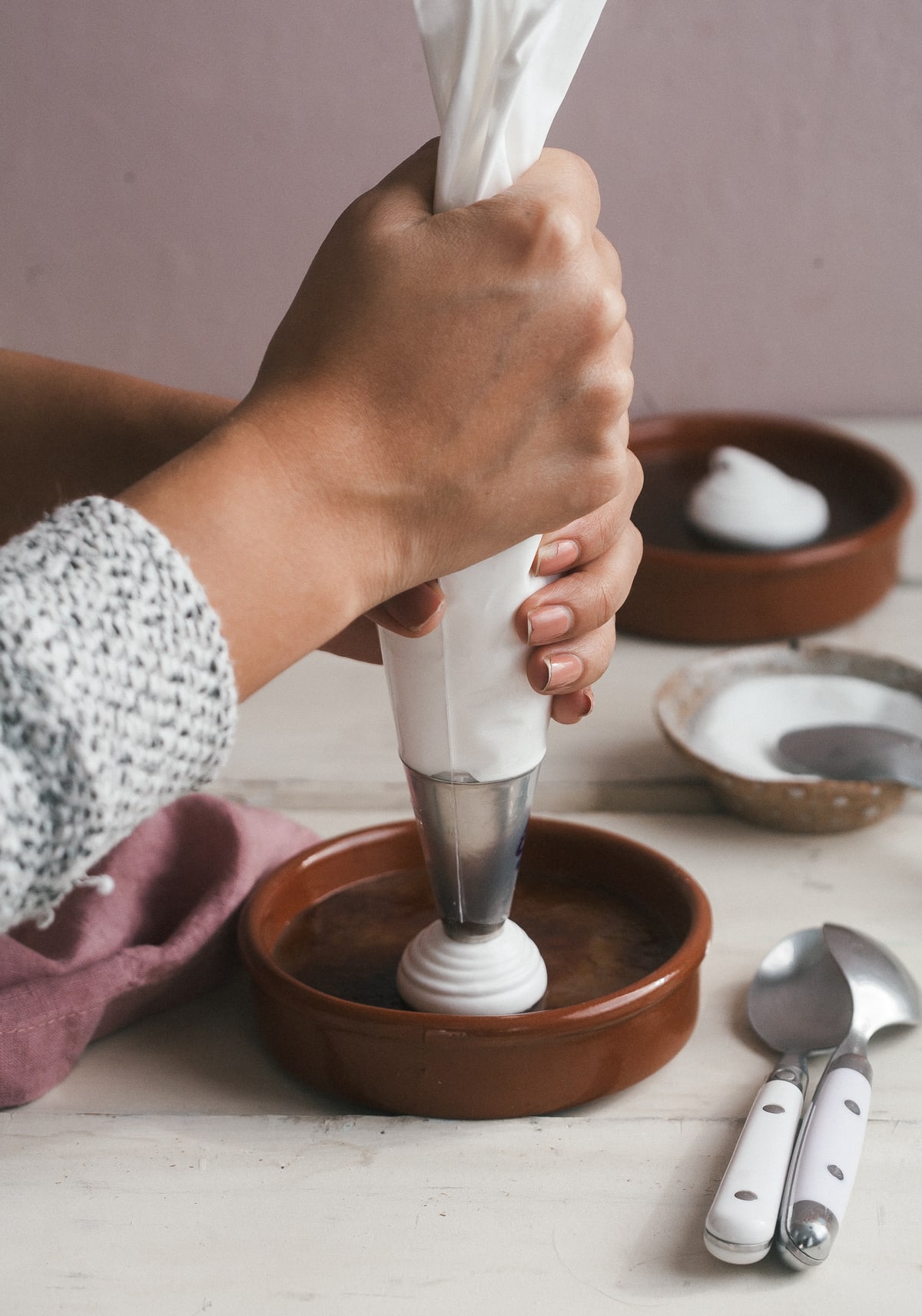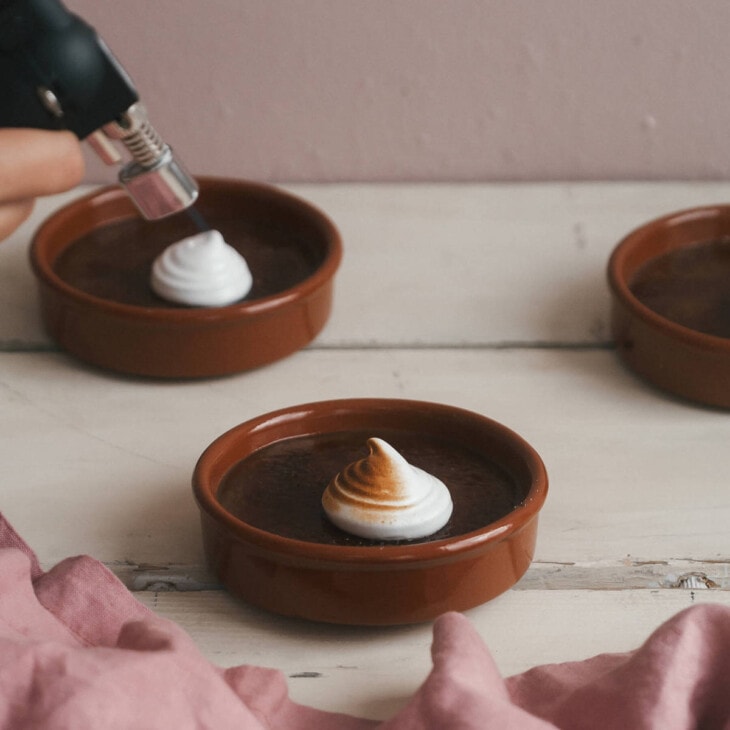 Print Recipe
Hot Chocolate Catalan
Ingredients
Hot Chocolate Crema: 
1

cup

whole milk

1

cup

heavy cream

4

McCormick whole cloves

1/4

teaspoon

McCormick ground cinnamon

3

ounces

semi sweet chocolate or dark chocolate chips, melted

4

large egg yolks 

1

cup

white granulated sugar

2

tablespoons

corn starch

1

teaspoon

McCormick pure vanilla extract
Marshmallow Topping: 
1

tablespoon

water

1/3

cup

white granulated sugar

1

large egg white

Pinch

of salt

Pinch

of McCormick cream of tartar
Instructions
Do a little prep by getting your ramekins ready. You'll most likely need 4o to 6, depending on size. Also, place a sieve or strainer over a medium bowl (we'll use this later).

In a medium saucepan, combine the milk and heavy cream, McCormick ground cinnamon and McCormick whole cloves. Bring to a simmer and immediately take off heat and cover, allowing to steep for 15 minutes. 

In a medium bowl, whisk together the yolks, sugar and corn starch until they're pale and fluffy, about 3 minutes (you can also do this in a stand-up mixer).

Remove the cover from the saucepan and pour in the melted chocolate; whisk until combined. Bring the mixture back up to a simmer and then add a few spoonfuls of the milk mixture to the egg yolks (you can eyeball this) and whisk. (This will temper the egg yolks to avoid overcooking!) Add the entire egg yolk mixture to the milk mixture and bring it to a simmer, whisking the entire time, until thickened, about 5 to 6 minutes.  

Pour the chocolate mixture through the sieve and into the bowl. This will catchy any eggy or cornstarch-y bits. Discard any solids and then mix in the McCormick vanilla into the chocolate mixture. Divide amongst the 4 to 6 ramekins. Smooth out the tops with the back of a spoon and top with a small sheet of plastic wrap (this will avoid a skin from forming on the top). Allow to come to room temperature, about 10 minutes, before transferring to the fridge to set for 3 hours, ideally overnight. 

To make the marshmallow topping: In the bowl of a stand-up mixer, set over a pot filled with a few inches of water, add the water, sugar, egg white, salt and cream of tartar. Heat, whisking every so often, until very warm and until the sugar has dissolved. Transfer to the stand-up mixer and then beat until glossy and medium peaks form, about 5 minutes. The side of the bowl will also have cooled to room temperature. Transfer to a piping bag with a large tip. 

To assemble the catalans: When the catalans are done chilling, remove from the fridge, add about 1 teaspoon of sugar to the top of each one. Using a torch, caramelize the sugar on top until bubbly and golden brown. Add a dollop of marshmallow frosting to each one and then torch that, too! I only did a little portion of it. Enjoy immediately.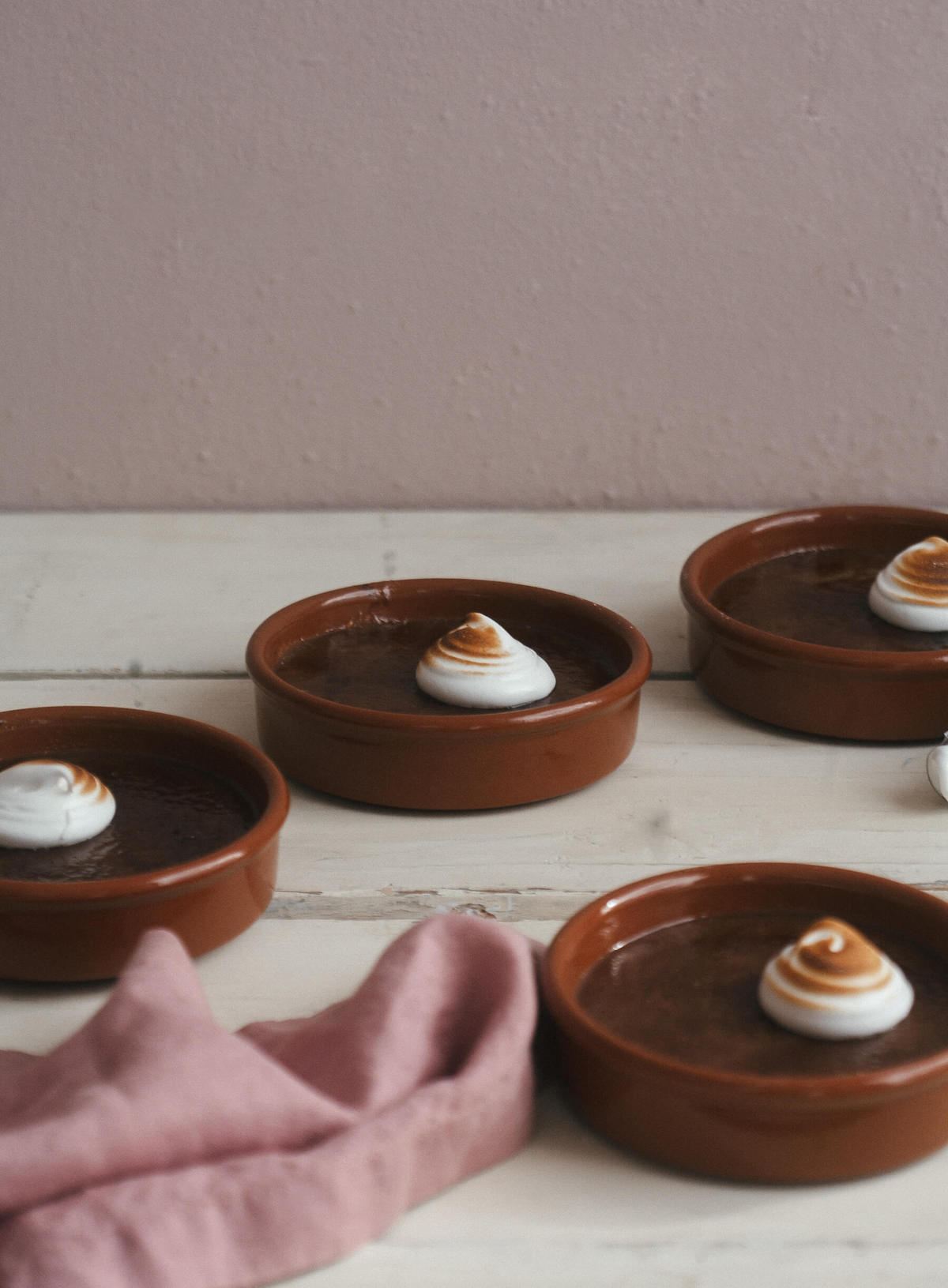 In partnership with McCormick To explore more Holiday recipes using McCormick spices and extracts, click here!