Horchata Cake
64
Dec 13, 2016, Updated Nov 30, 2020
Disclosure: This post may contain affiliate links, which means I may earn a commission if you click on the link and make a purchase.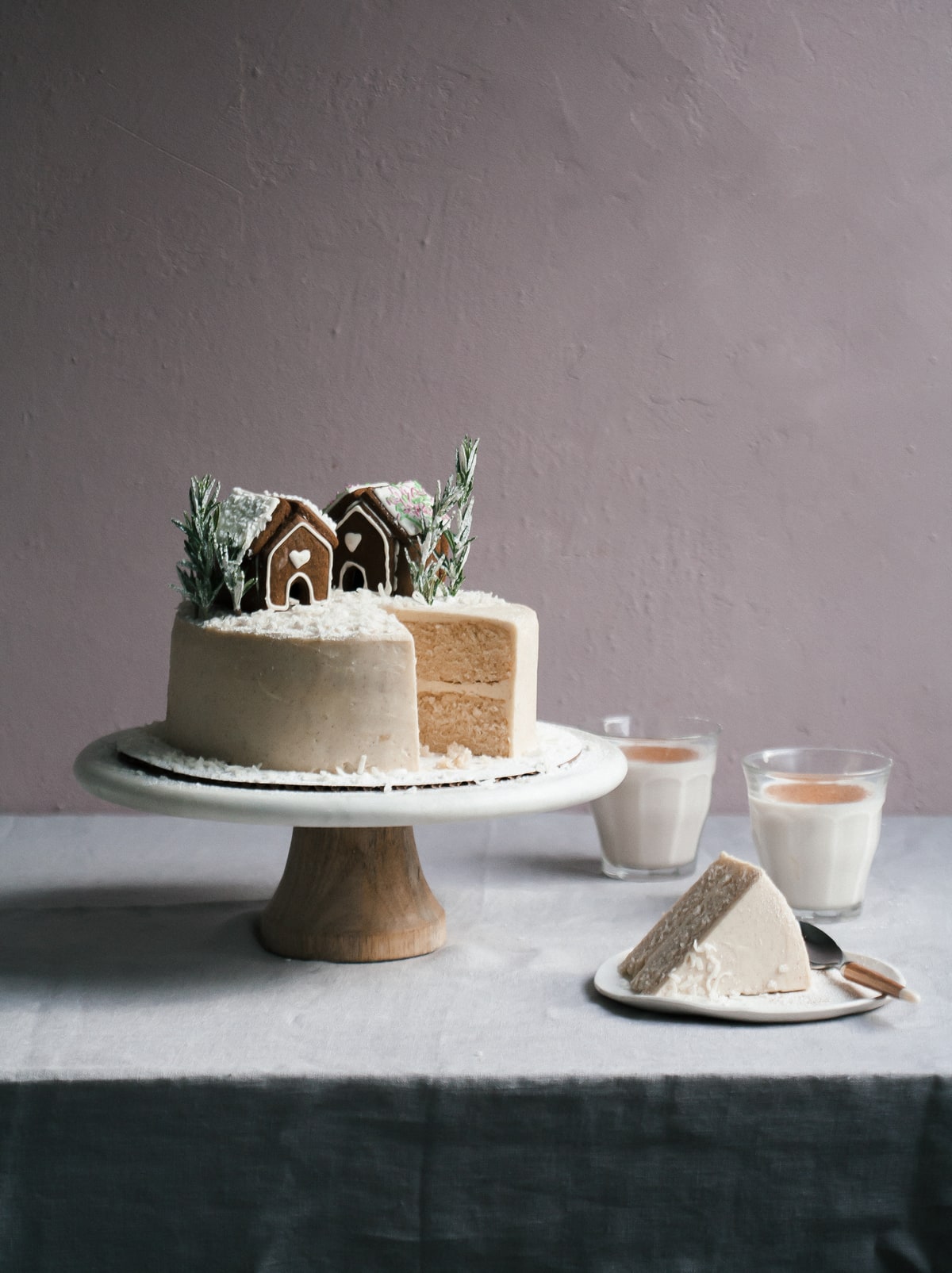 These past few days have been quite leisure. The emails have slowed. The deadlines have been met and everyone seems to be winding down for the holiday season. I am completely ready.
I have been chilling in sweats and watching episodes of The View and The Great Holiday Baking Show while I bake the day away.
I've already kinda made enough content for the month of December so these past few days have just been things I've wanted to bake. And this horchata cake was on that list!
I thought about it long and hard because the big question has always been: How do I get it taste like horchata…?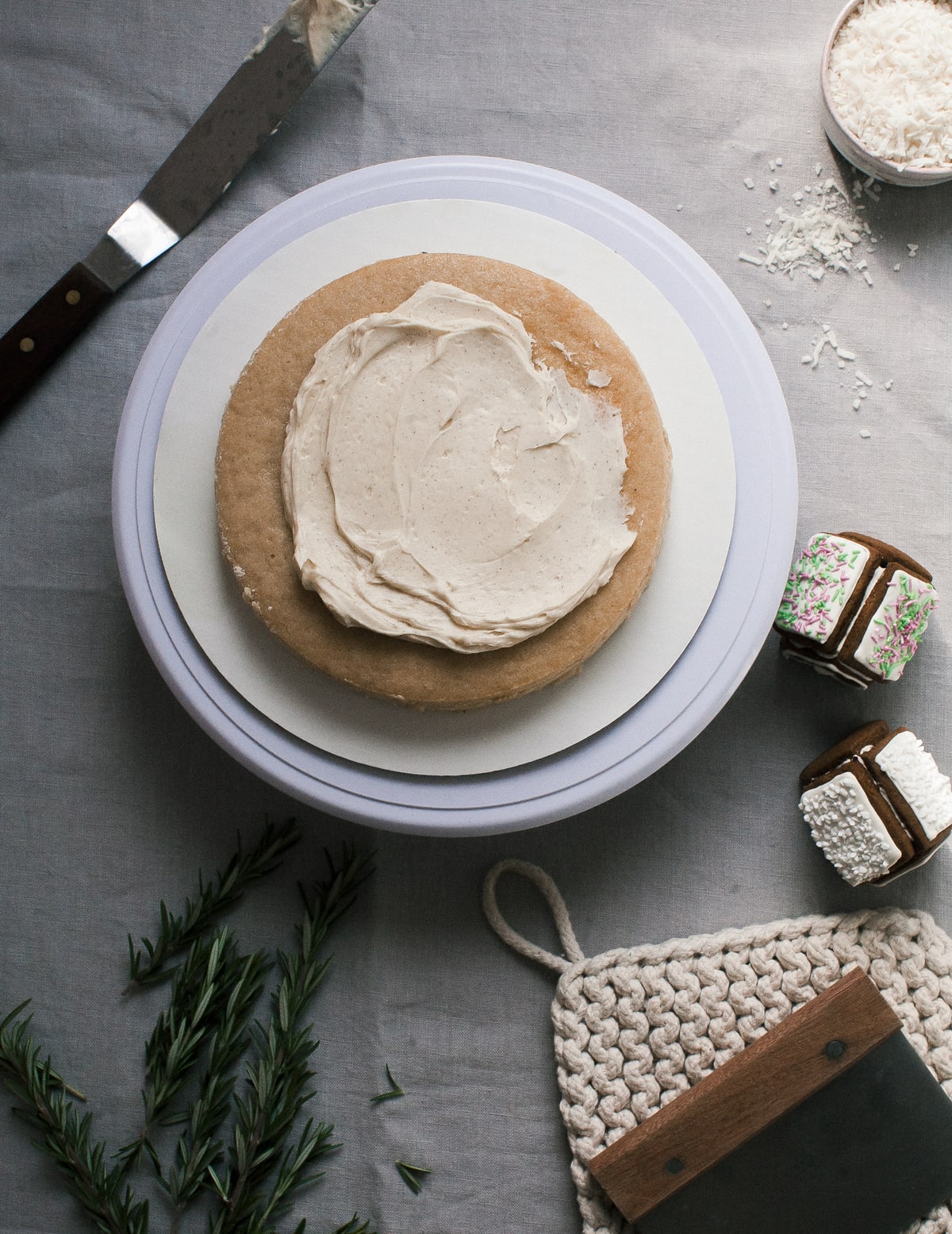 Initially I made horchata and incorporated it into the cake batter and you know what? It wasn't worth the extra step. I couldn't taste it. And I liked the cake with regular milk better. The texture is better.
SO, instead I added some cinnamon to the cake batter and added some almond meal to give it a bit of texture. It worked out great!
I then concentrated my efforts on the frosting.
I went to Guisados (if you live in LA, you're probably/ hopefully very familiar!) to get some of their horchata.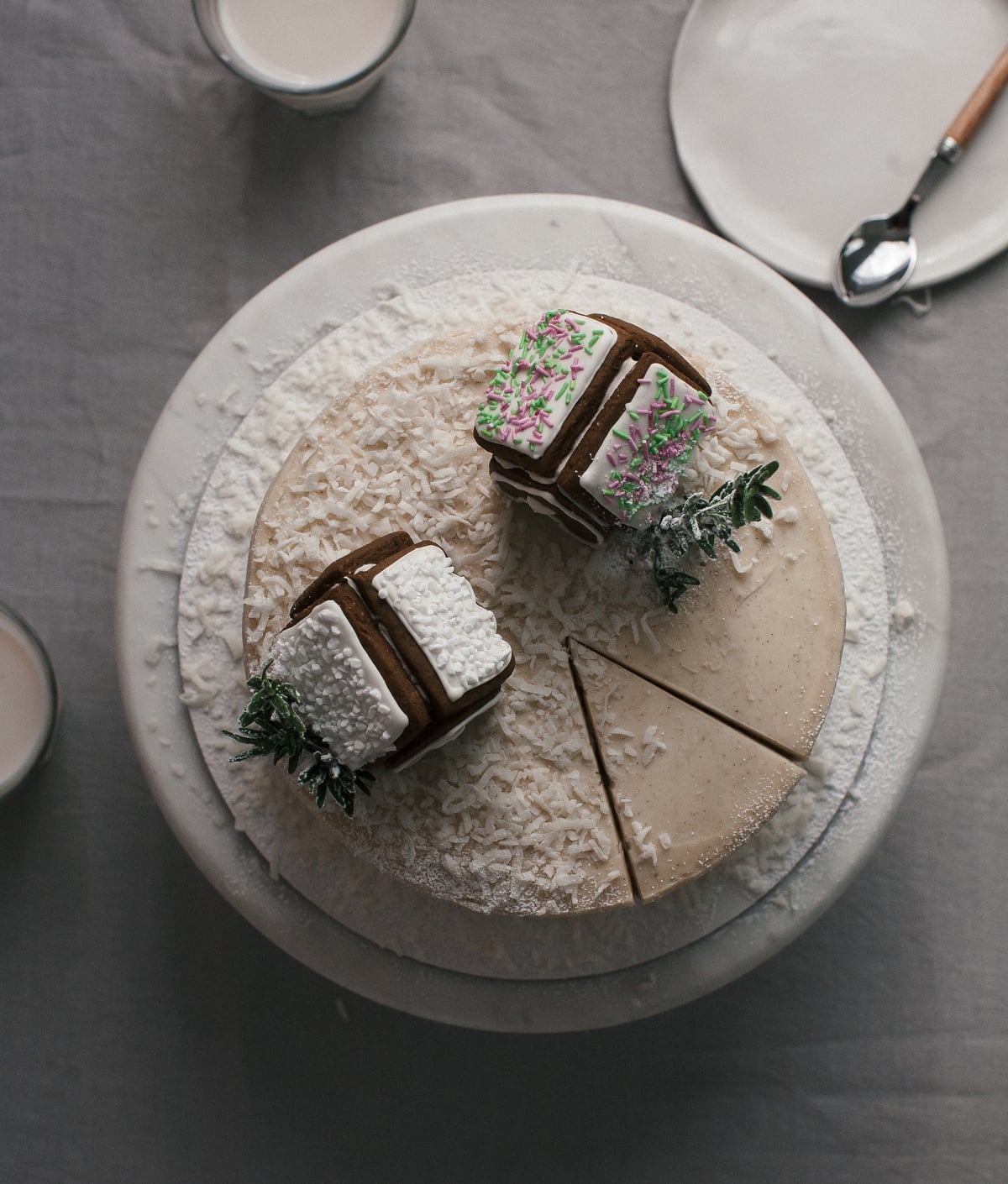 I cooked it down, skimmed off the milk skin (also known as nata in Spanish, which you are either an ardent fan of or think it's totally vile; I'm in the latter group) and then added that to the frosting. BAM! Tastes like horchata.
If you use homemade horchata (I often time use this easy, straight-forward recipe), I suggest adding equal parts whole milk to it so it will cook down properly. If you go to a restaurant and buy horchata, it will most likely be made from a powdered mix that has rice flour, cinnamon and then they'll add milk to that. This is what you want! It works great.
I topped the cake with mini gingerbread houses and made trees out of rosemary dusted in powdered sugar BC Christmas.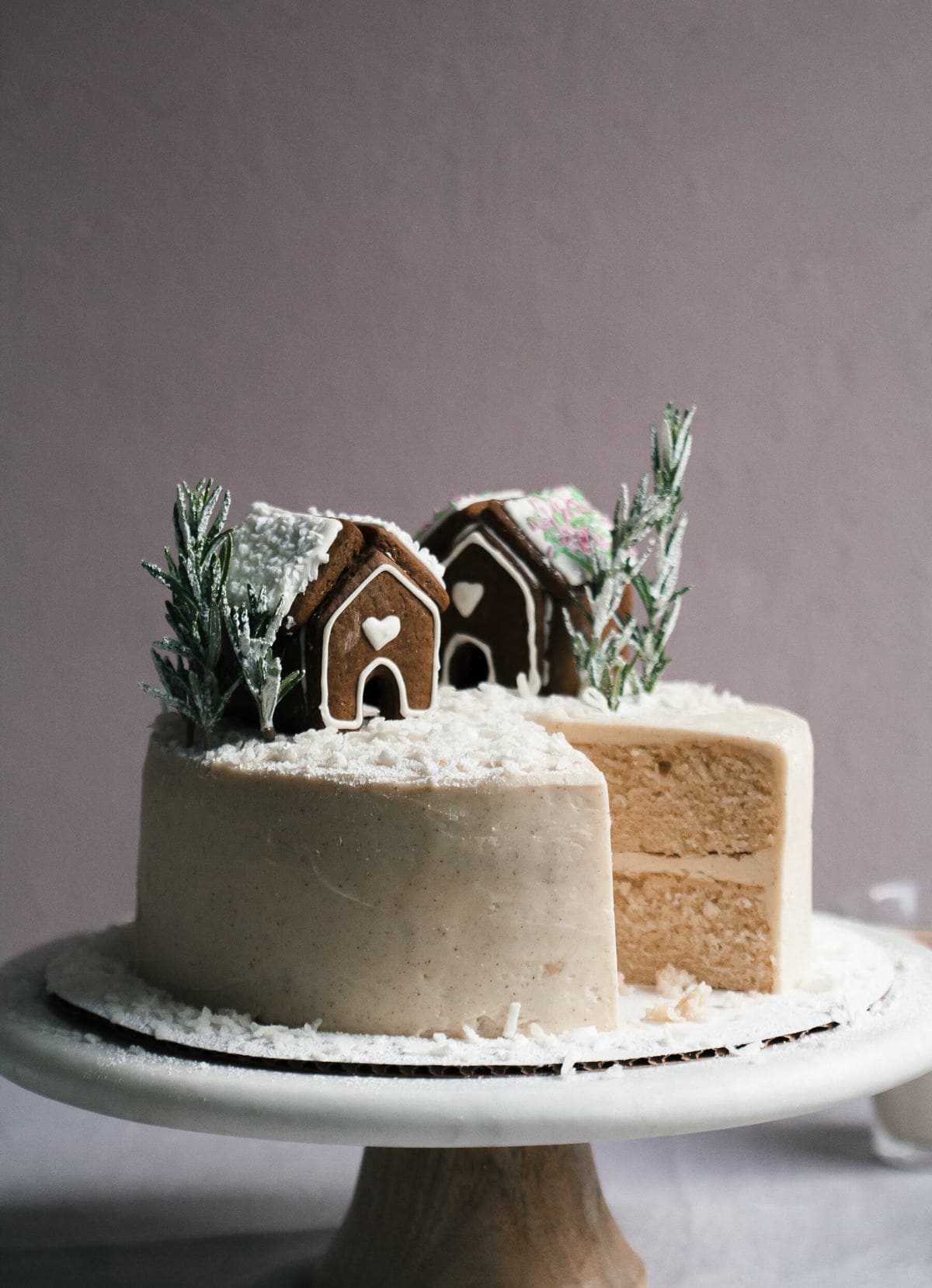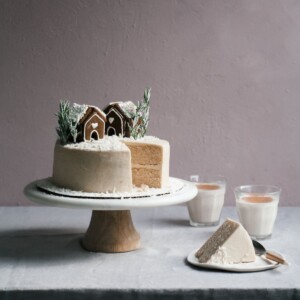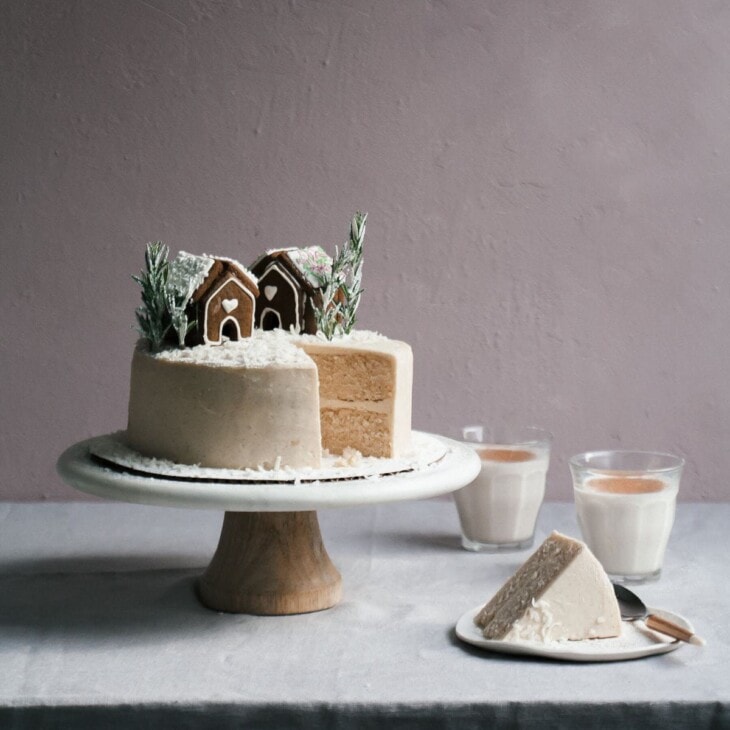 This Horchata Cake is a layer cake paired with frosting that is spiked with cinnamon, spices and has a wonderful almond flavor just like authentic horchata.
Ingredients
Cake:
2

cups

cake flour

,

plus more for dusting pans

1/4

cup

almond meal

,

sifted (any big bits of almond meal can be discarded)

1 1/2

cups

white granulated sugar

1

tablespoon

plus 1 teaspoon, baking powder

1

teaspoon

ground cinnamon

1

teaspoon

kosher

3/4

cups

unsalted butter

,

at room temperature and cubed

1

cup

whole milk

5

large

egg whites

,

will equal to a scant 3/4 cup

1

teaspoon

vanilla bean paste or 2 teaspoons vanilla extract
Frosting:
2/3

cup

homemade horchata or restaurant-bought horchata cooked down to 4 tablespoons

1 1/2

cups

unsalted butter

,

at room temperature

4

cups

powdered sugar

,

sifted

Pinch

kosher salt

1/2

teaspoon

ground cinnamon

1

teaspoon

vanilla extract or 1/2 teaspoon vanilla bean paste
Instructions
To make the cake layers:
Preheat the oven to 350 degrees F. Flour, grease and line the bottoms of two 8-inch cake pans with parchment. Set aside.

In the bowl of a stand-up mixer, with the paddle attachment, combine the cake flour, almond meal, sugar, baking powder, cinnamon and salt. At a slow speed, add the cubed butter and mix until it resembles soft crumbs. In a bowl or measuring cup, whisk together the milk, egg whites and vanilla. Add about 1/2 of the milk/egg white mixture and continue beating for about 30 seconds. Add the remaining 1/2 of the milk/egg white mixture and beat for an additional 30 seconds or so, scrape down the sides and give it one last mix.

Divide the batter evenly between the two prepared cake pans. Using a rubber spatula, spread the batter to pan walls, smooth the tops and give the pans a gentle bang on the kitchen counter. Arrange pans at least 3 inches from the oven walls and 3 inches apart (this will help with proper cake circulation, yes this is a thing). Bake until thin skewer or toothpick inserted in the center comes out clean, 20 to 23 minutes. (If you're using nine-inch cake pans, the cake might take around 25 minutes to bake, just keep that in mind.)

Let cakes rest in pans for 3 minutes. Loosen from sides of pans with a knife, if necessary, and invert onto wire racks. Reinvert onto additional wire racks. Let cool completely,
To make the frosting:
Add the horchata to a small saucepan set over medium heat. Bring to a simmer and then immediately turn the heat down to low. Cook for about 10 minutes, until it measures out to be about 4 tablespoons. Remove the milk skin that may have formed on the surface of the milk and discard (this is a normal thing to happen).t Set the horchata aside and allow to come to room temperature.

In the bowl of a stand-up mixer, add the butter. Sift in the powdered sugar and then add the salt, cinnamon and vanilla. Beat until smooth, about 1 minute. Next, pour in 2 tablespoons of the cooked down horchata and mix until fully incorporated. Add a tablespoon more if desired. Frost cake as desired.
Nutrition
Serving:
7
g
|
Calories:
230
kcal
Nutrition information is automatically calculated, so should only be used as an approximation.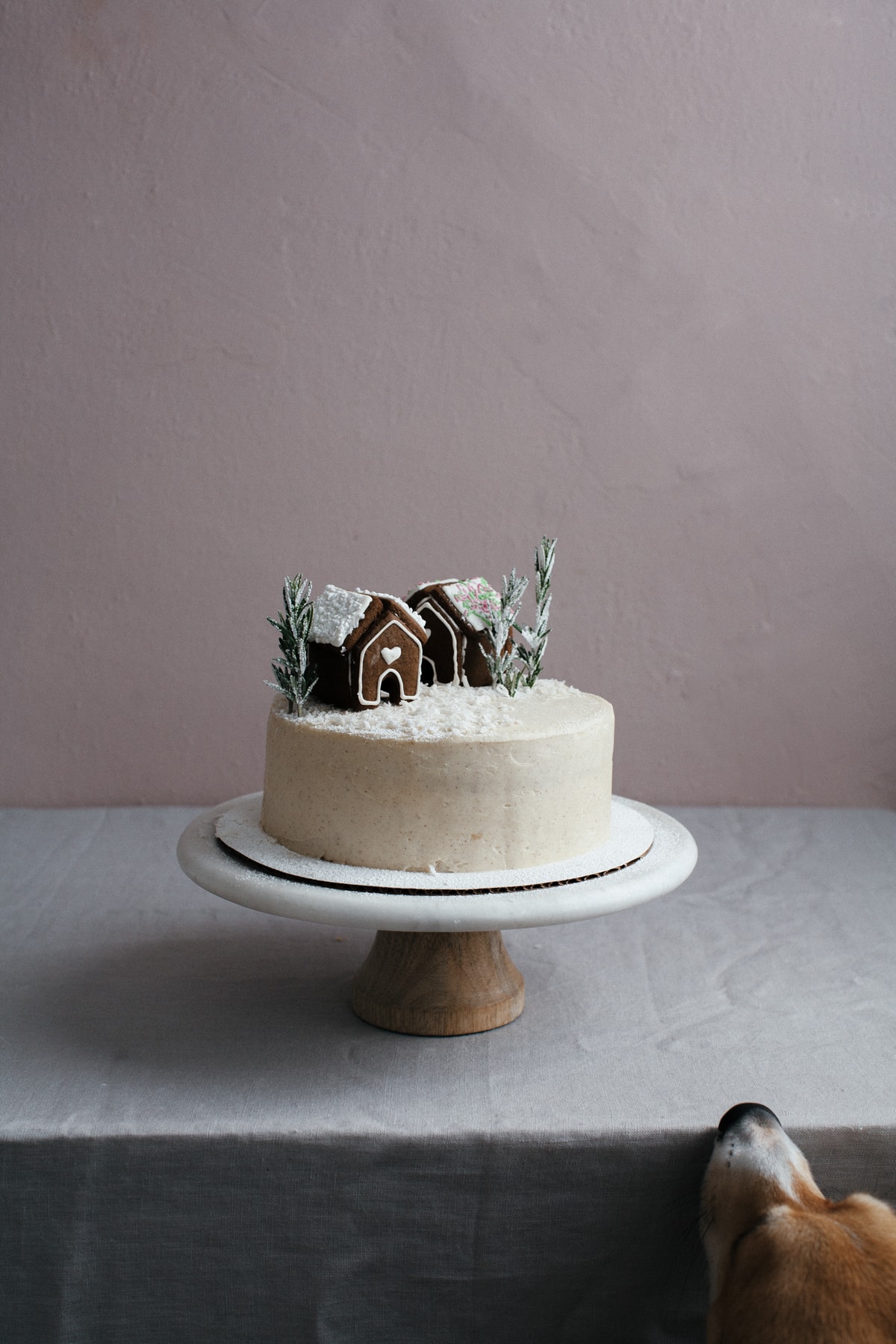 SHES A BAD DOG!