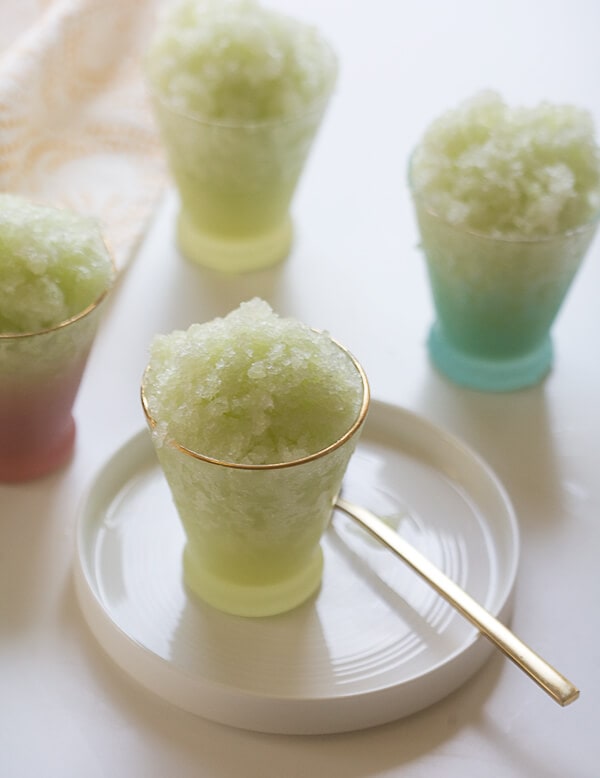 When I was a kid, softball practice might've been my favorite extracurricular activity ever. It mostly had to do with my love of gossiping with my friends, smacking a ball from time to time and using the $4 I begged from my mom to buy as much candy as possible before she picked me up.
I grew up in a household where everything awesome wasn't allowed. No candy, no game consoles (this was such a big deal when I was a kid) and no junk food. This meant that when I went to the outside world I went ballistic. I made sure to play as many video games as I could and eat as much sugar as humanely possible. The concession stand was my heaven and a must-buy every time was a lemon-y Italian icy. Why this very American concession stand sold Italian icys, I'll never know but I remember it being so ridiculously sweet and tasting faintly like fake-lemon. "Chemical lemon" is how I like to remember it.
Luckily I grew up and found real recipes for clean, fresh-tasting granitas, much like this one from Yummy Supper.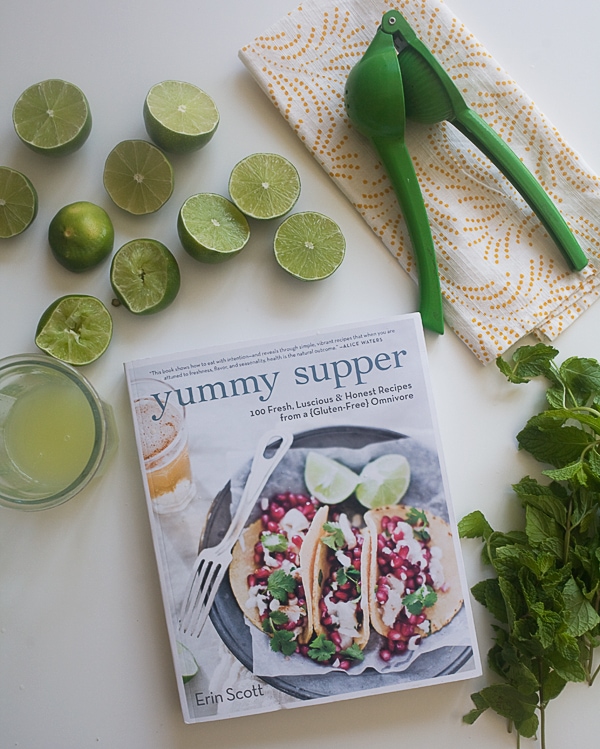 Erin writes one of my favorite blogs on the internets. It's full of beautiful photography, a friendly voice, someone who you'd hope would be your neighbor and friend, the type of friend who would share her best recipes with you. When I first visited Erin's blog I didn't even realize it was gluten-free.
The dishes that you'll find in her book are ones that are naturally gluten-free; combining fresh food in smart and delicious ways. This dessert is no different. It's refreshing, simple and ideal for the August heat.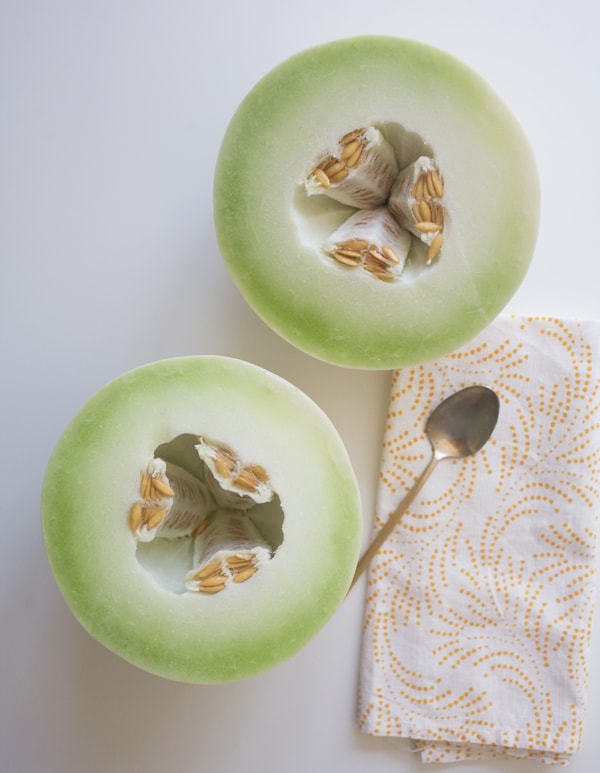 Today I'm giving away three copies of Yummy Supper! To enter do the following:
1. Leave a comment below answering the following question:
"What was the name of your first crush?"
Mine: Jake. I met him at the softball field and didn't dare to ever speak to him!
Three winners will be chosen at random on Monday, August 25th at noon PST.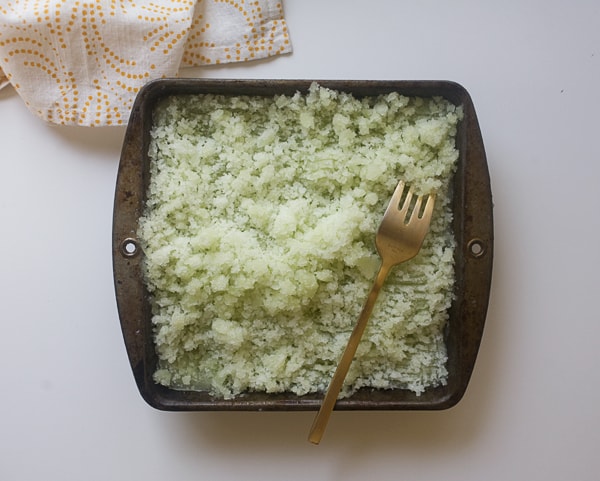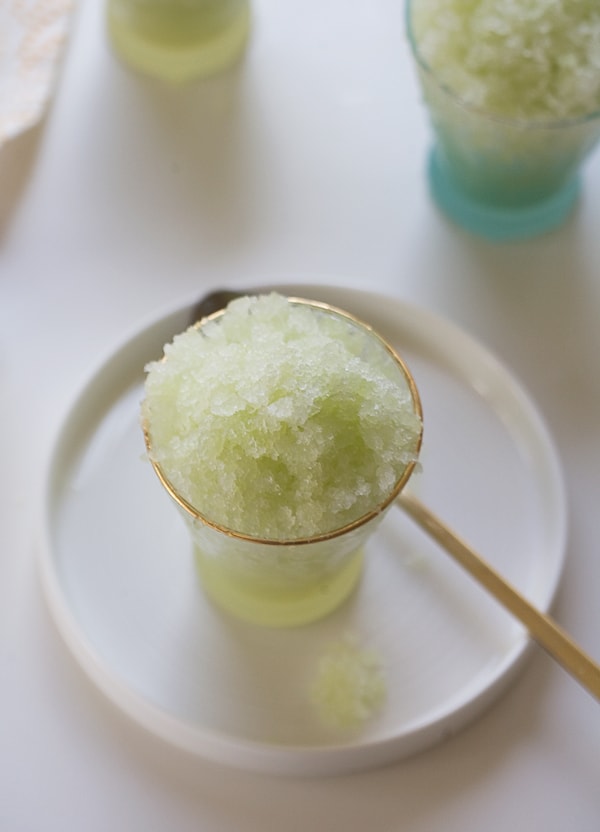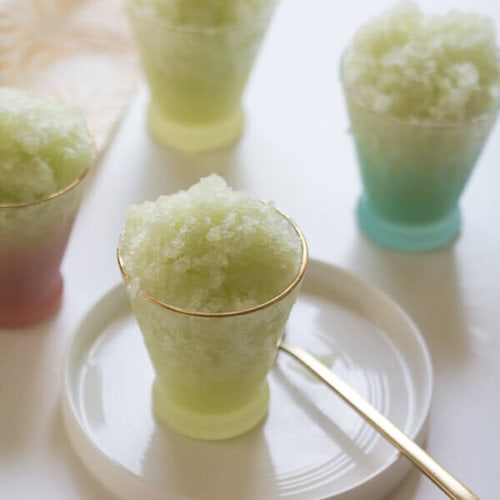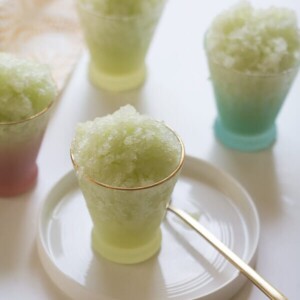 Ingredients
1

cup

water

12

fresh mint leaves or lemon verbena leaves

1

medium honeydew melon

1/2

cup

freshly squeezed lime juice

1

cup

superfine sugar
Directions
Bring the water to a boil and pour it over the lemon verbena or mint leaves in a bowl. Cover and let steep for 20 to 30 minutes, then discard the leaves.

Cut the melon open and scrape out the seeds, but don't discard the tender, pale flesh surrounding the seeds--it's so sweet and tasty. Remove the rinds and cut the melon into chunks. You want about 4 cups chopped melon.

Using a standing blender or food processor, blend the verbena infusion, melon chunks, lime juice and sugar. (I like to do a couple of batches in my blender.) Pour the puree into a large bowl and give it a stir. Taste the pale green deliciousness and feel free to add a little more agave or sugar if your melon isn't super sweet, keeping in mind that sweetness diminishes with freezing. Your puree can be made up to 24 hours before you want to freeze it. I usually let it chill in the fridge overnight.

Pour the puree into a shallow baking dish. Cover and freeze for 45 minutes to 1 hour. Remove the dish from the freezer and stir with a fork to break up any frozen bits. Make sure to scrape the edges of the pan--this is where freezing begins. Continue to freeze in 45-minute intervals, interspersed with scraping and freezing again. After a few hours of freezing and scraping your granita should be ready to eat. (If you forget to stir and the granita solidifies, don't worry; you can use a fork to scrape frozen granita and the texture will still be fantastic.)

The granita keeps in the freezer for 2 weeks.