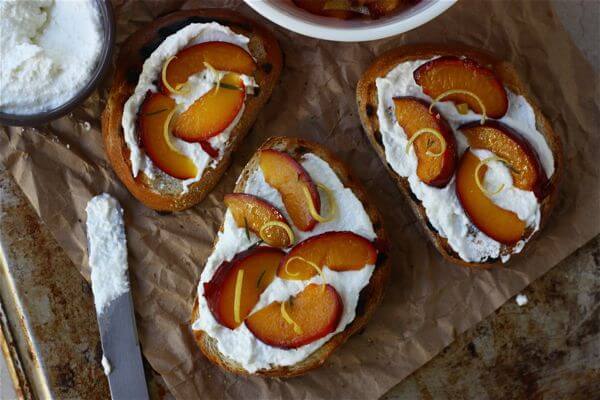 The world of people is (sorta) broken up into two types: the snackers and the meal-eaters. You know what I'm talking about. Like, they don't eat three meals a day like normal people, instead they just snack all day long and maybe have a one full meal sprinkled somewhere in between a ton of snacks.
They'll start the day with coffee and a few pieces of turkey bacon and then around 11am they'll have a few handfuls of granola or maybe a small bowl of oatmeal. At 1pm they might have some tea and too many Cheez-its. They might even feel Cheez-it-full. (That's totally a thing.) And then when 3pm rolls around they'll have their afternoon coffee and some sort of coffee cake/scone situation. They might have a full dinner that night…or not. They might just decide to snack some more.
I used to think those people were psychos. I was strictly a meal person, no snacks! Ever! And then something happened. I dunno if it was the whole small plate trend that's everywhere or what, but now I'm totally a snack person. I'm super into the whole idea of eating a little bit of lots of things. More variety. More exploration. Makes for a more exciting life, I think.
Snacks are very cool.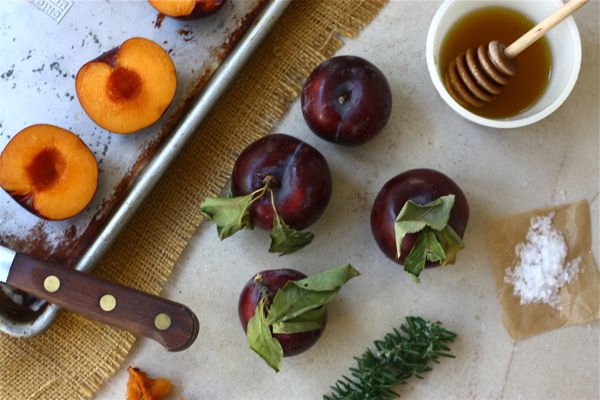 This honey roasted plum situation just made its way into my favorite snack category.
Plums begin by being casually drizzled with a combination of extra-virgin olive oil and honey. There's a few dashes of salt and a sprig of fresh rosemary.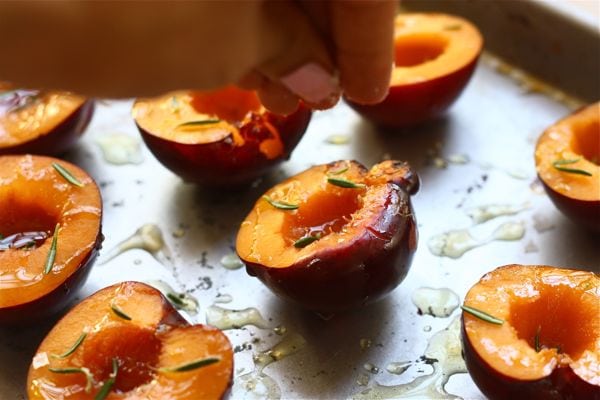 The plums bake in the oven for about 15 minutes, until they're just tender and juicy.
Seek out good quality ricotta. Good ricotta is good. Bad, super cheap ricotta is inedible. Get good bread, too. Life is too short to eat terrible bread.
The ricotta is thickly spread on olive oil grilled bread. The warm plums are arranged on top and then lastly, the lemon zest. Oh the lemon zest! So important.
I used a vegetable peeler to slice the zest into big wedges. I then took a sharp knife and sliced it super thin.
You could call this an appetizer. Or a snack. Your choice. Snack person? Or meal person? Tell me!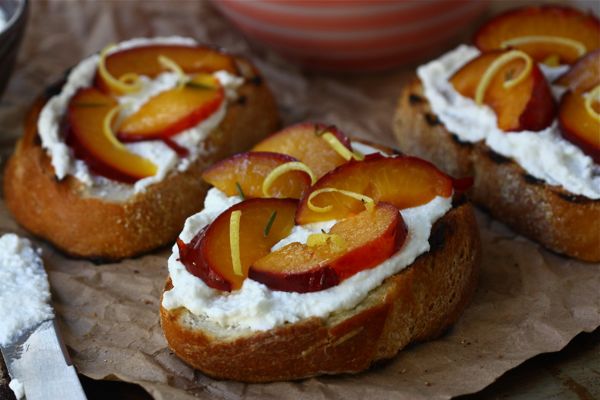 Honey Roasted Plums Ricotta Crostini
6 plums
2 tablespoons honey
2 tablespooons extra-virgin olive oil, plus 1 teaspoon
1 sprig of fresh rosemary
Salt
½ cup ricotta
8 slices of good quality bread
½ lemon's zest, thinly sliced
1. Preheat oven to 400 degrees. Slice plums in half and extract the seeds. Place the plums cut side up on a baking sheet. In a small bowl, mix together the honey and olive oil until combined. Pour over plums casually. Sprinkle rosemary and a few pinches of salt on the plums. Transfer them to the oven and bake until they're slightly tender and release some juice, about 15 minutes.
2. Meanwhile, heat a grill pan over moderately high heat. Brush the pan with olive oil and grill bread until toasted on both sides. Allow the plums to cool slightly and cut them into ¼-inch slices. Scoop a tablespoon of ricotta onto each piece of bread, spreading it evenly. Top with a few slices of sliced lemon zest.
Inspired by Martha Stewart
Yields 8 crostinis