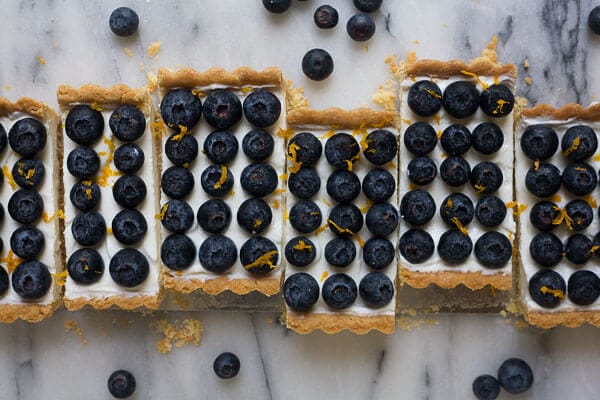 I don't consider myself an anti-social person but I despise talking on the phone. When my phone rings it's like this thing goes off inside of me and I'm like. "AHH! Someone's calling!" I usually press ignore. And then feel guilty about it. Except when it's my mom. But that's because I actually like talking to her for 2 hours about nothing – who else will listen to my rants, melt-downs, gossip?
I've been without a car for the last 24-hours (it's in the shop – normal maintenance) and it's forced me to explore delivery options. And man, the best thing ever invented is the whole online-delivery-option. No phone call required! No screaming over the phone trying to spell your name and address! No talking to people on the phone–it's great. Life is good.
I ate 3/4 of a whole pizza to myself with a Mexican coke and a slice of this tart for dessert. Delivery cheap pizza with a fancy tart. The best Tuesday night ever.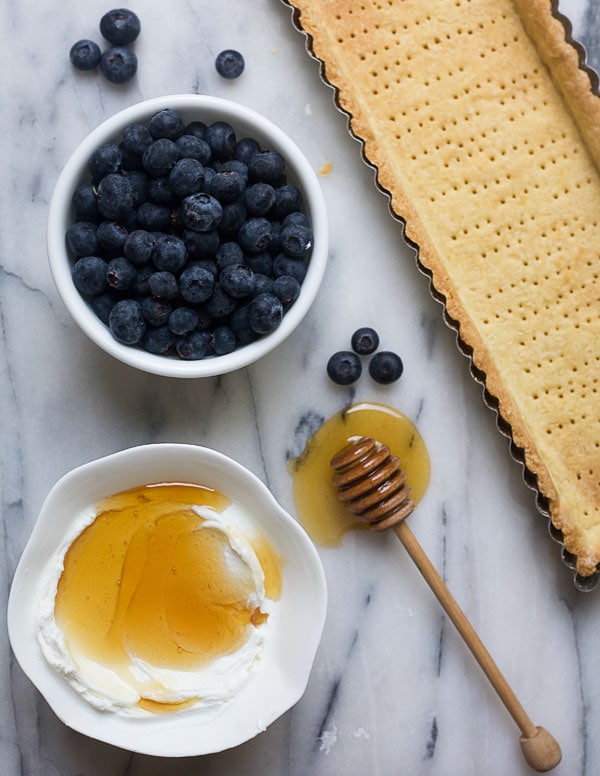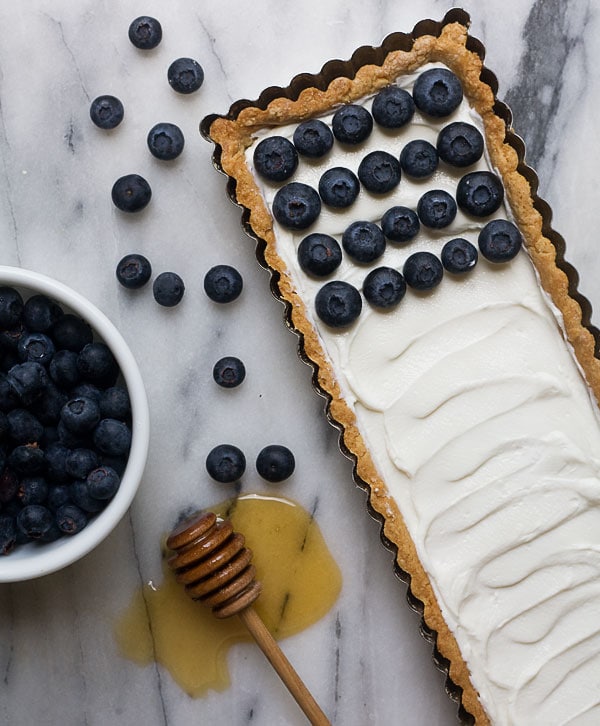 This tart is perfect for lazy summer days. It's one part work and one part no work at all. The only thing that's baked is the crust! The rest is assembly.
I've made variations of this crust a few different times, interchanging the almond flour for hazelnut flour and oat flour–it's a gem of a recipe. It's very similar to a shortbread cookie with almond and slightest bit of cardamom note. It's not overpowering. It's that thing where you'll have to think what that wonderful hint of flavor you're tasting is.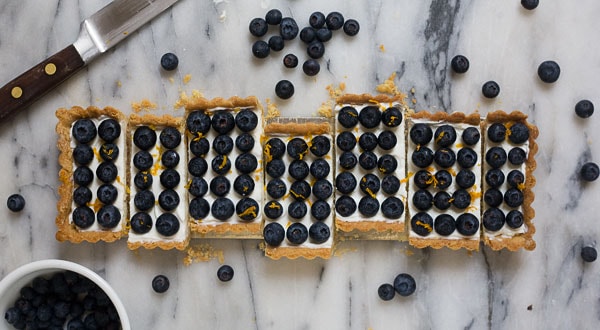 Lebneh is basically just strained yogurt. It results in a thicker, more rich consistency, which is wonderful for a tart like this (non-strained yogurt would be too watery).
Honey sweets the lebneh just right. I used a delicious wildflower honey from Ojai, California. I'd recommend seeking out a good-tasting, special honey for this tart. Blueberries are assembled in an OCD manner for ultimate cuteness. Really it's not required, the tart will taste delicious regardless.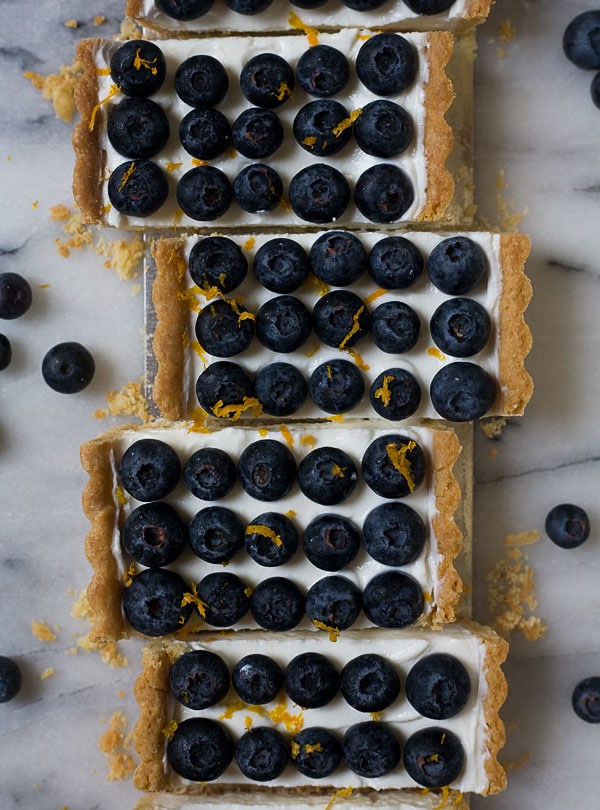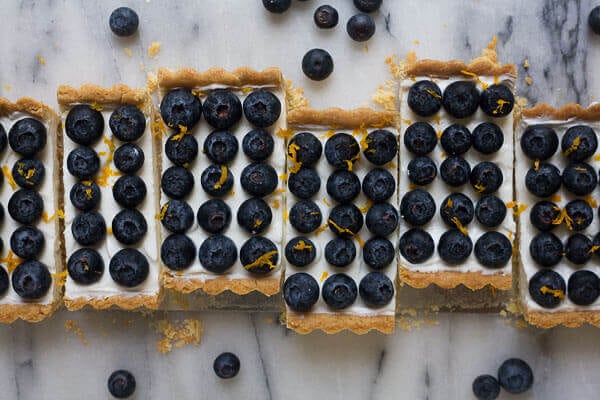 Print Recipe
Lebneh Honey Blueberry Tart with an Almond Cardamom Crust
Ingredients
Lebneh:
2

cups

full-fat or Greek yogurt
Almond crust:
2 1/2

cups

all-purpose flour

plus more for dusting

3/4

cup

almond meal or almond flour

1/2

teaspoons

fine-grain sea salt

1/4

teaspoon

ground cardamom

14

tablespoons

1 3/4 sticks chilled unsalted butter, cut into small pieces

1/2

cup

confectioners' sugar

1

large egg

1

large egg yolk
Filling:
3

tablespoons

of good-quality honey

I used wildflower

Pinch

of fine-grain sea salt

2

cups

fresh blueberries

1

naval or valencia orange
Instructions
Lebneh (Time: 24-48 hours):
Line a strainer or sieve with a few layers of cheese cloth. Suspend the strainer over a bowl (my strainer has hooks on the end so it works pretty well), being sure it doesn't rest at the bottom of the bowl (you don't want the lebneh to be sitting in the whey). Cover the yogurt and bowl with plastic wrap and transfer it to the refrigerator to drain for at least 24 hours (a few days is awesome too, it'll just result in thicker lebneh). After it's drained, discard the whey and set the lebneh aside.
Almond crust:
In a bowl, whisk together the all-purpose flour, almond flour, cardamom and salt.

In the bowl of an electric mixer fitted with the paddle attachment, combine the butter and confectioners' sugar. Mix on medium-low speed until well combined, about 4 minutes.

Mix in the egg and then the yolk, allowing each to be incorporated before adding the next. In two additions, add the flour mixture, scraping down the sides of the bowl after each addition.

Turn out the dough onto a clean lightly floured work surface. Divide it in half, shape into flattened disks, and wrap each one in plastic wrap. Refrigerate for at least 1 hour, or overnight. (The dough can be frozen for up to 1 month; thaw it overnight in the refrigerator before using.)

Preheat your oven to 350 degrees F. Liberally flour your work surface and rolling pin. Remove one of the discs from the refrigerator and place on the counter. If the crust is too cold to roll out, allow it to come to room temperature, slightly, for about 10 minutes. Roll the crust out, being sure to turn it every so often so it doesn't stick to the counter (this dough is a bit sticky), and adding more flour for dusting, when needed. Roll the dough onto the rolling pin and transfer it to a 14 x 4-inch tart pan (alternatively you could use a 9-inch tart pan). If the dough falls apart a bit, not to worry. Take the scraps and press it into the dough, sealing any cracks or holes, and then trimming the overhang. Using a fork, score the bottom of the tart crust. Transfer it to the freezer to chill for 15 minutes. Line the tart with foil or parchment paper and fill with pie weights or pennies. Transfer to the oven to bake for 15 minutes. Remove the foil and pie weights and bake for an additional 15 minutes, or until tart crust is lightly golden brown. Allow to cool to room temperature.
To assemble the tart:
In a medium bowl, mix together the lebneh, honey and sea salt. Mix until thoroughly combined. (At first the mixture will appear striated with the honey but it'll eventually come together - keep mixing!) Pour the lebneh mixture into the tart crust and spread evenly. Arrange the blueberries to your liking - I went with the four blueberries per row. There's no wrong way!

Just before serving, microplane orange zest over the entire tart.
Almond Sable Tart crust adapted from Karen Demasco (her book is a winner!)
Note: the dough recipe yields two crusts. You can double the filling ingredients so you end up with two-tarts OR you can freeze the other disc of dough for future use. I chose the latter.