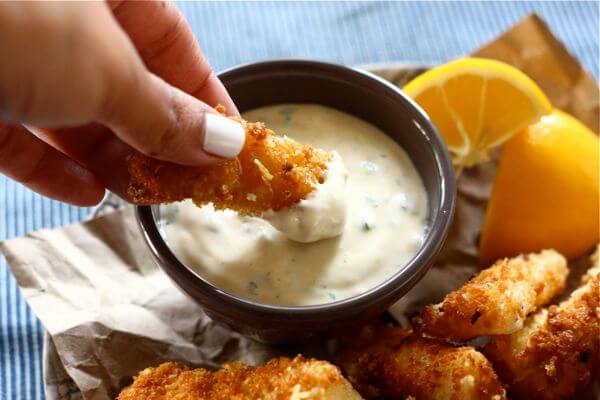 Last week I had a straight hour where all I thought about were fish sticks. I'm pretty sure it had everything to do with me avoiding work, coupled with the Los Angeles weather being an absurd 80 degrees in the dead of winter; nonetheless, it was all I could think about.
The weirdest part about this fixation was that growing up cafeteria fish sticks were the last thing I ever wanted on my lunch tray. Even at the ripe age of seven, my brain knew they were not to be trusted.
I mean, just up until last week I was under the not-so-cute impression that fish sticks were made like chicken nuggets: ground up, reformed to a "stick shape"and coated to hide the scariness. I know this sorta doesn't make sense, but this is what I thought.
Turns out, I was dead wrong. So glad I was wrong. Aren't you glad!? This means we can still guiltlessly enjoy them.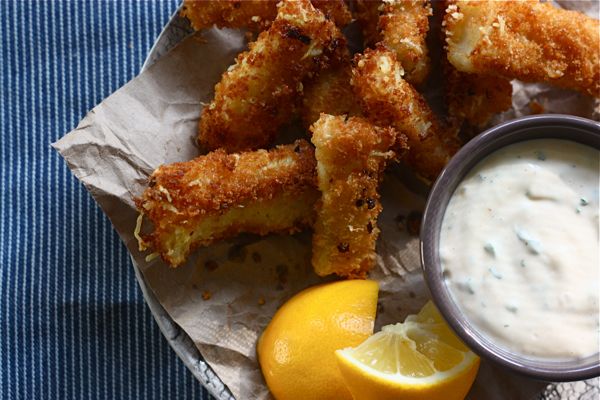 Turns out they're made really normal like.
Fish. Bread crumbs. Fry. That's it.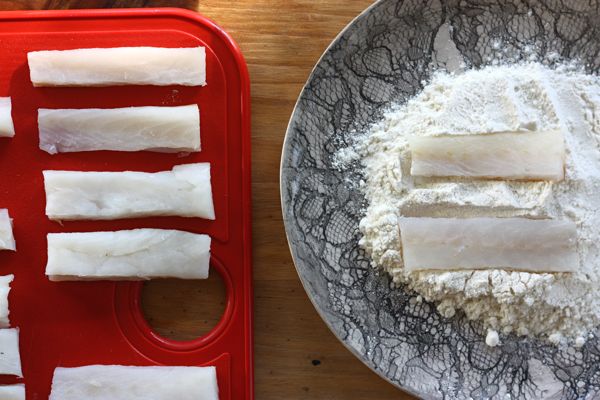 I took a good quality fish. Cod was on sale! Though, halibut or tilapia would work, too. Basically you need some white fish. White fish. That's it.
I cut the fillets down the center into thirds. I ended up with three long, super skinny fillets. I then cut those into 4-inch sticks. That's it! I trimmed some of the edges to make them a better stick-like shape. You can do this too or just leave them be. Whatevs.
Cracked a few eggs in a bowl. Mixed some Parmesan with a few handfuls of panko crumbs. Seasoned it. And dipped. And then fried. That's it!
If you're not into the whole hot oil thing, no biggie! I got you.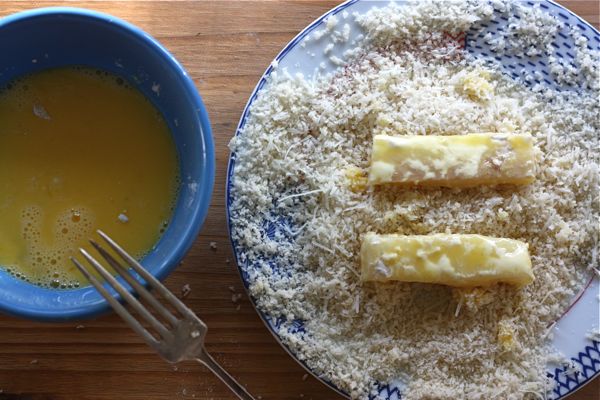 I actually baked the ones you see below. (Note! These are pre-bake!) The only difference from the fried and the baked is that the baked will give you paler fish sticks. They won't be nearly as crispy or golden brown. But they're still delicious. And healthier….so you decide.
If you need me, I'll be eating the remainder of these fish sticks whilst listening to this pretty song imagining I'm on some vintage wooden sail boat off the coast of Maine. Heat waves do this to me.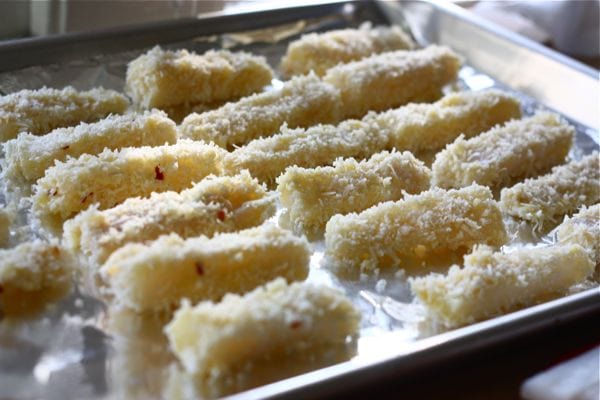 Homemade Fish Sticks (with Spicy Tartar Sauce)
1 pound of cod fillets (Halibut or Tilapia would work too)
1 cup all-purpose flour
3 large eggs
1 1/2 cup panko bread crumbs
1/2 cup Parmesan cheese, finely grated
1 teaspoon crushed red pepper
1 teaspoon kosher salt
1. Rinse the cod and thoroughly pat dry with paper towels. To cut the fish into "sticks," slice the fillets into thirds, lengthwise. You'll end up with three long strips. Cut those strips into 4-inch pieces. I ended up with about 20 (4-inch by 1-inch) fish sticks. Note: I trimmed those 4-inch pieces' scraggly edges. You can do this too, or just leave it be. Your call.
2. Add the all-purpose flour to a medium bowl. In another medium bowl, crack in the eggs and beat. On a plate, combine the panko bread crumbs, Parmesan, crushed red pepper and salt.
3. Roll the cod pieces in the flour, shaking off any excess. Drop the cod pieces in the beaten egg and then lastly, roll them around in the panko mixture. Transfer the pieces to a baking sheet. At this point you could either place them in an oven to bake or in some hot oil to fry.
4. To bake: Preheat oven to 450F. Place fish sticks on parchment and bake for 15-20 minutes and until edges are slightly golden brown. (They won't be as golden brown as in the pictures above, but nonetheless, they'll be delicious!)
5. To fry (my favorite way!): Preheat oven to warm. Place 1 cup of oil in a 10-inch cast iron skillet and heat, over medium-high, to 350F. (If you don't have a thermometer, no bigs. Add a small piece of bread crumb to the hot oil. If it sizzles and starts to brown, you're good.) Using tongs, gently add fish sticks to hot oil, cooking on each side for 1-3 minutes, or until golden brown. Transfer to paper towels to drain and then place in oven to keep warm while you finish the rest of the fish sticks.
Spicy Tartar Sauce
1/2 cup mayonnaise
1/4 cup finely chopped jalapeño
1/2 teaspoon fresh parsley, chopped
1 teaspoon lemon juice
1 teaspoon Dijon mustard
1/2 teaspoon Worcestershire sauce
1/2 teaspoon Sriracha
1. In a small bowl, mix all ingredients together and add more Sriracha if you like.