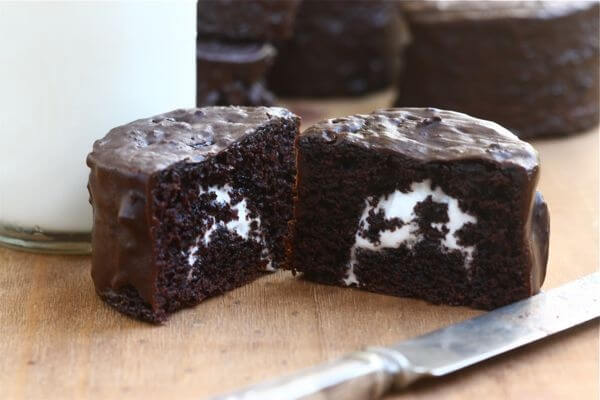 Hi! I have a weekend project for you: Ding Dongs. Yeah, it's like that.
Nothing complicated about them...maybe a little time consuming...maybe just a tad. Nothing too major, though.
Can I walk you through it? Let's do this together. #teamwork2011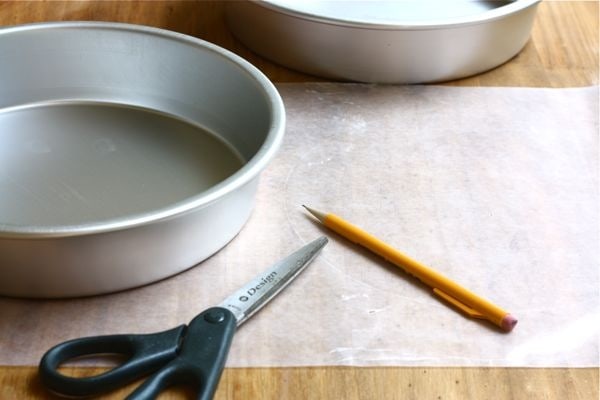 You'll need some wax paper and a pencil. And some scissors. I like feeling crafty in the kitchen. You'll want to place them on the bottom of the cake pans (and grease them) since this batter is a little sticky.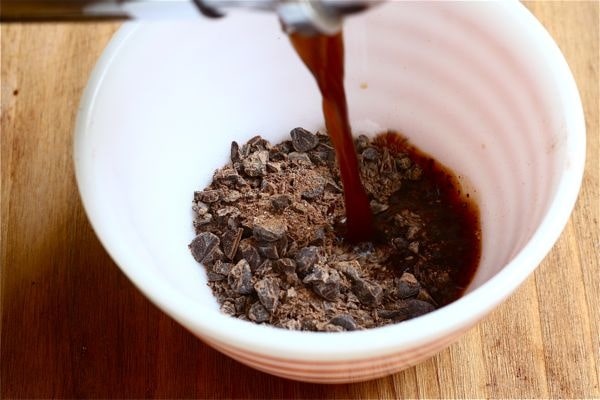 Brew some strong, hot coffee and pour it over chocolate. The chocolate will melt and basically make an amazing mocha situation. This is good.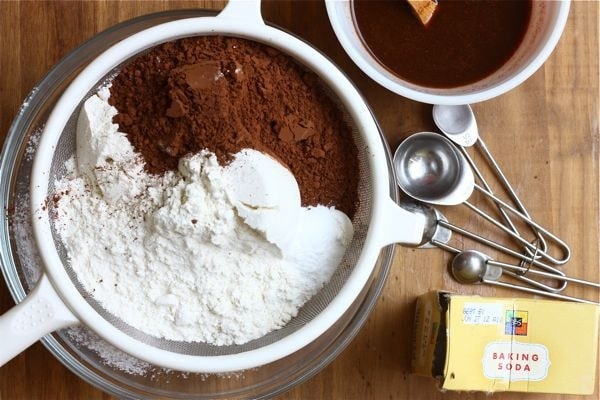 Per usual, there's the typical flour, cocoa, dry ingredients sifting that's necessary. Then there's the wet mixture thing and you have to combine the two. Easy peasy. Bake them and you'll be met with two gorgeous looking cakes: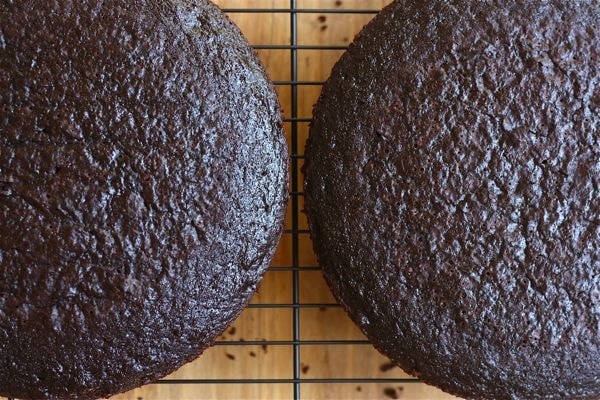 While the cakes are cooling, you'll want to make the ganache and 7-minute marshmallow filling. Both easy. Messy but easy.
This is when the fun begins! Take a biscuit cutter and cut out as many circles as you can. You can use the scraps for cake pops.
P.S. You can actually freeze them for later since you'll have ding dongs, and in my opinion they kind of taste better than cake pops.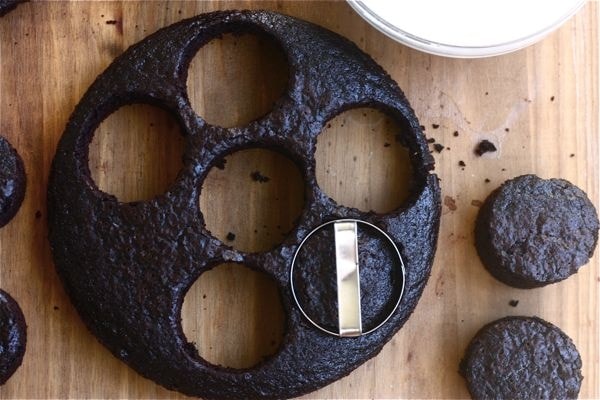 Flip the cake cut-out over, and taking a knife (or smaller cutter), cut out a smaller hole in the center. Set the cut out aside. Fill the center with the marshmallow frosting...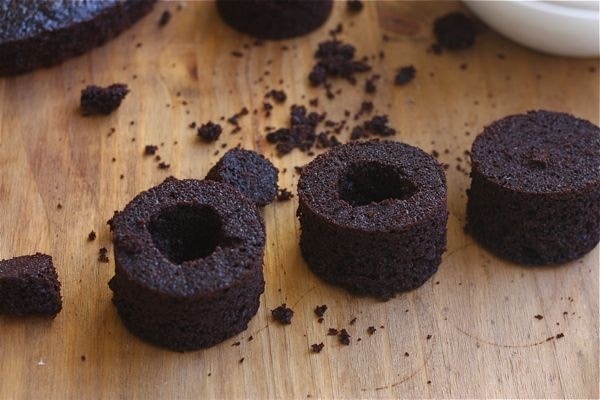 And replace the hole. See!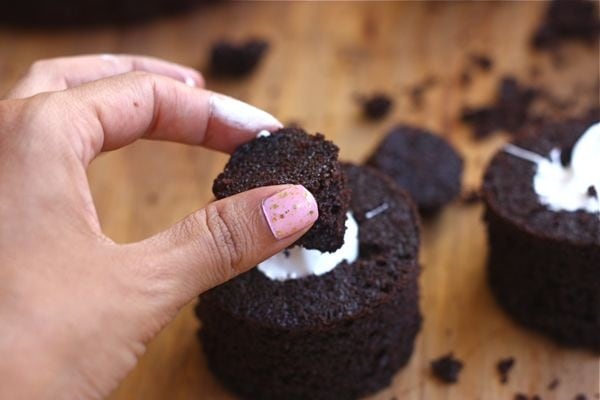 Gently turn it over, and using a pastry brush, lay on the ganache. I placed mine on a baking sheet (lined with parchment) and stuck it in the fridge to set.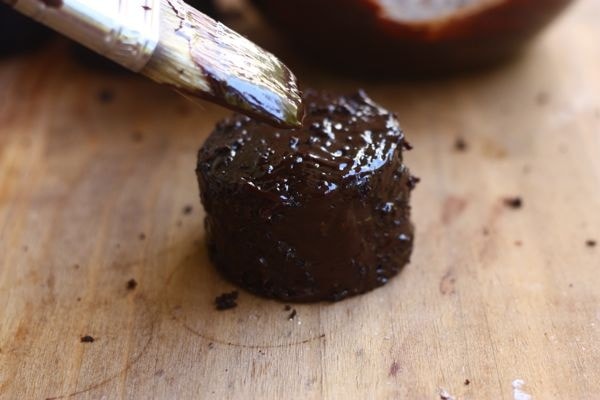 Since this lacks all the chemicals, they'll be messy when you eat them. But that's the good part, right?
xo
Adrianna

Homemade Ding Dongs
Cake recipe slightly adapted from Smitten Kitchen
Yields 15 ding dongs
2 ounces of fine-quality semisweet chocolate
1 cup of hot brewed coffee
2 cups of white granulated sugar
1 ⅔ cups of all-purpose flour
1 cups unsweetened cocoa powder (not Dutch process)
1 ⅓ teaspoons of baking soda
½ teaspoon of baking powder
1 teaspoon of table salt
2 large eggs
½ cup vegetable oil
1 cup well-shaken buttermilk
½ teaspoons pure vanilla extract
1. Preheat oven to 300°F. and grease pans. Line the bottoms of 2 10-inch round cake pans with wax paper and grease paper. If you don't have 10-inch cake pans, you can make 2 9-inch cake pans and a dozen cupcakes.
2. Finely chop chocolate and transfer to a bowl. Pour hot coffee over chocolate and let the mixture stand, stirring occasionally, until chocolate is melted and mixture is smooth.
3. Into a large bowl, sift together sugar, flour, cocoa powder, baking soda, baking powder, and salt. In another large bowl, with an electric mixer, beat eggs until thickened slightly and lemon colored. Slowly add oil, buttermilk, vanilla, and melted chocolate mixture to eggs, beating until combined well. Add sugar mixture and beat on medium speed until just combined well.
4. Divide batter between pans and bake in the middle of oven until a tester inserted in center comes out clean, about 1 hour.
5. Cool layers completely in pans on racks. Run a thin knife around edges of pans and invert layers onto racks. Carefully remove wax paper and cool layers completely. Cake layers may be made 1 day ahead and kept, wrapped well in plastic wrap, at room temperature.
Seven Minute Frosting
Recipe from Epicurious
1 cup plus 2 tablespoons sugar
3 large egg whites
¼ teaspoon cream of tartar
⅛ teaspoon salt
1 tablespoon pure vanilla extract
In large metal bowl, whisk together ⅓ cup water, sugar, egg whites, cream of tartar, and salt. Set bowl over pan of barely simmering water and mix with handheld electric mixer at low speed. Gradually increase speed to high, beating until mixture holds stiff peaks, about 5 minutes.
Transfer bowl from pan to folded kitchen towel on counter and continue beating until mixture is cool and billowy, about 2 minutes more. Beat in vanilla. (Frosting can be made 4 hours ahead and chilled, covered.)
Ganache
14 oz semisweet chocolate, chopped into ½-ounce pieces
1 cup heavy cream
1 tablespoon of unsalted butter
1. Place the chocolate chips in a stainless steel bowl.
2. In a small saucepan, bring the cream to a boil. Once it reaches a boil, take it off the heat, and pour the heavy cream over the chocolate. Allow the mixture to stand for 5 minutes and then stir it until completely smooth.
Assembly
Once the cake layers have cooled completely, use a small round cookie cutter to cut small circles of cake out of the layers. Enjoy the scraps or save them for cake balls.
Using the cone method, scoop out a small portion of cake from each circle. Fill with 7-minute frosting and replace top of cake.
Using a pastry brush or spoon, cover individual cakes with ganache. Allow ganache to completely set up before serving.