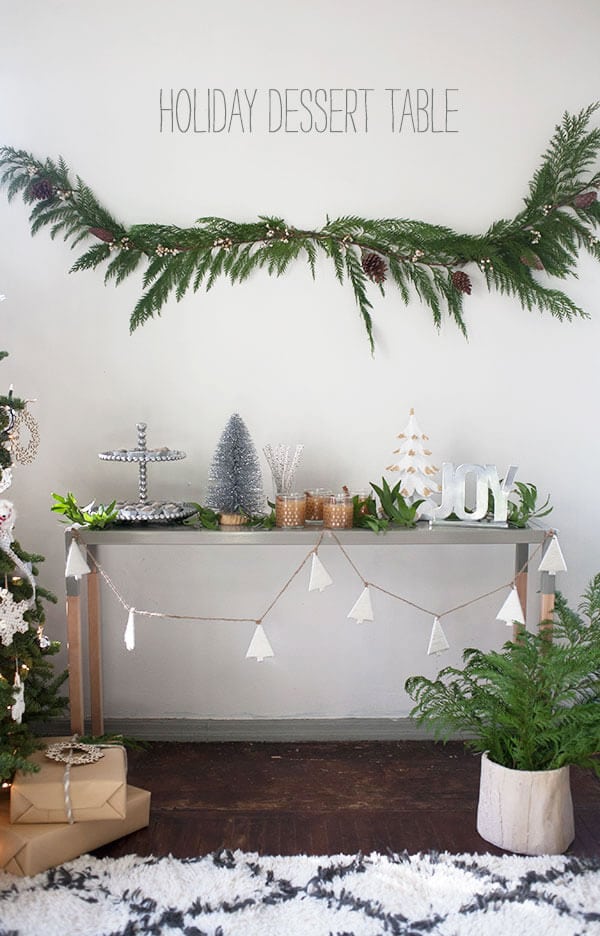 I do things at the holidays I don't always do during the year: I (attempt) to decorate every corner of my apartment; I bake any chance I get; and I put antler ears on Amelia and force her to take pictures with me. Basically, what I'm saying is that I embrace the season and try and make the most of it. A big part of taking advantage of the season is creating things, arranging things, and making my home look as pretty and magical as possible.
Today I teamed up with Target to show you a pretty and fuss-free dessert table. Treat-making is my favorite thing to do but I do know that during the holidays it's tough to tackle a gigantic project for a party (I tackled a buche de noel on Saturday, more on that later!), so I wanted to give you something super easy: Cappuccino Truffles! The best part about this recipe is the fact that it requires a lot of downtime, allowing you to turn your attention to making the dessert table look as cute as possible. I wanted the dessert table to feel cozy (I know, surprising), neutral and natural, and rely on gold and silver to bring some sparkle.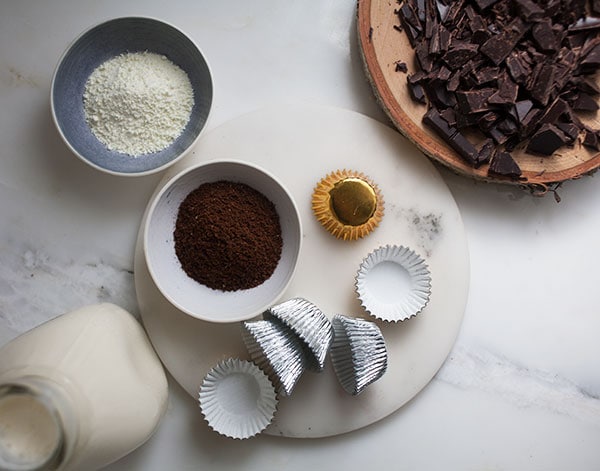 The recipe starts with heating cream and pouring it over chopped chocolate, after a little stir action, it goes in the fridge to chill.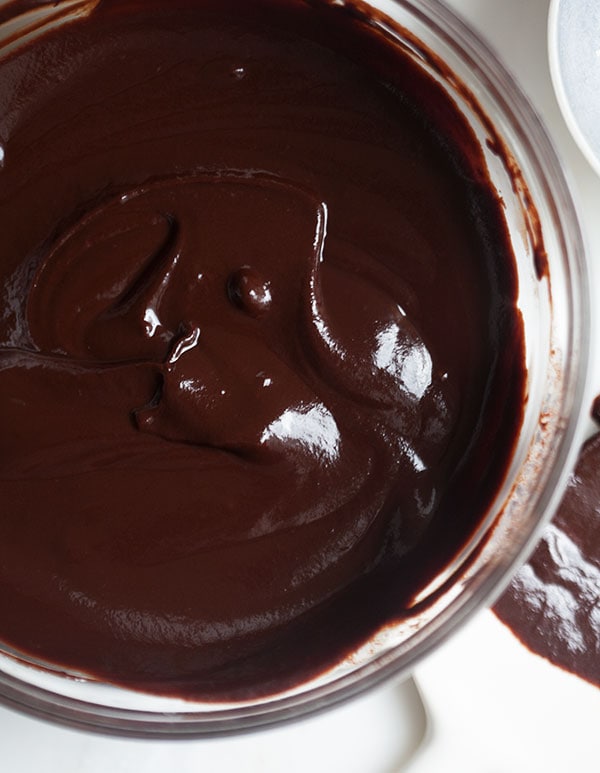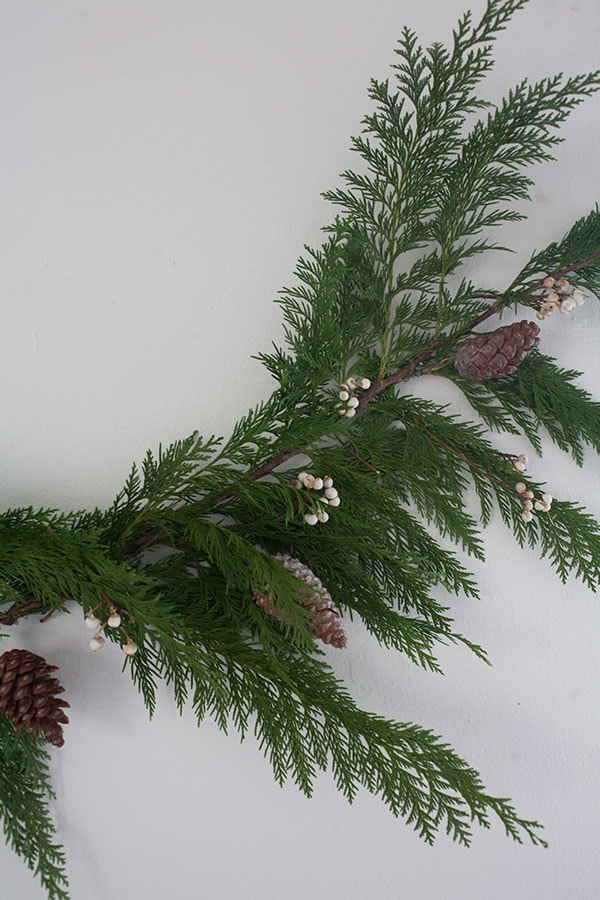 During this time, I hung this cute tree garland around the table. I also hung this wall garland I made a few days prior that consisted of some cedar, pine cones and tallow branches. All you need a bit of floral wire and a few nails! Super easy.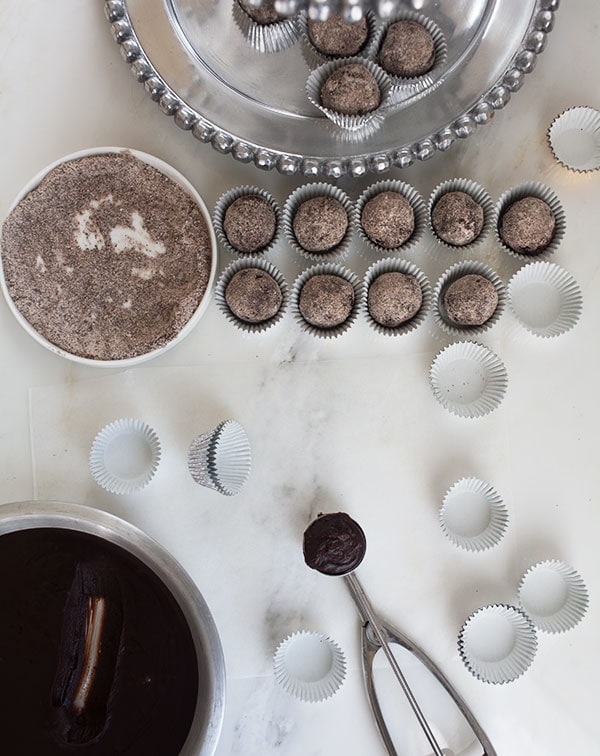 While the truffles were chilling once more, I placed a few leaves of bay laurel on the table and added a this pretty gold and white tree and silver JOY sign.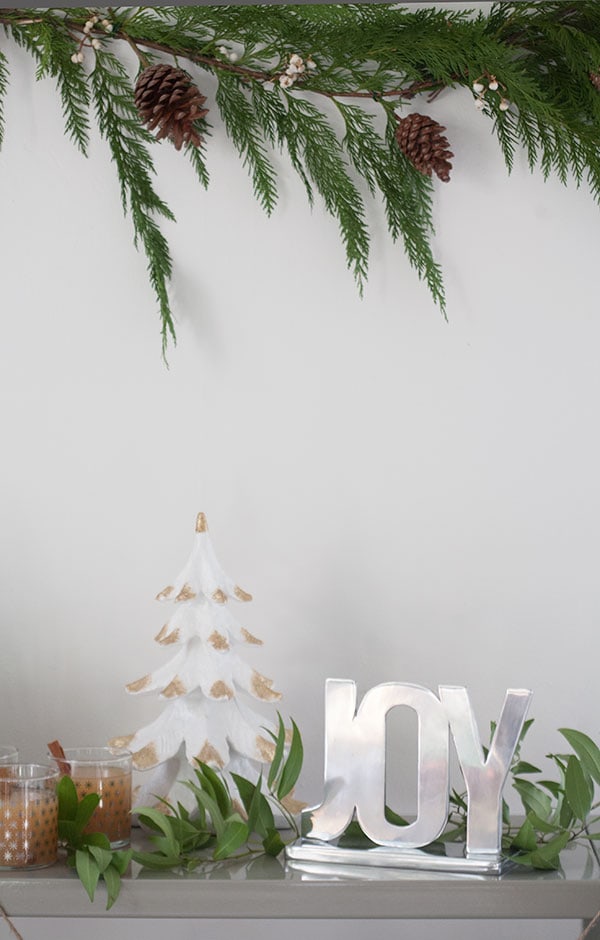 After I rolled the truffles in their sweet cappuccino coating, I stacked them on this tiered silver dessert stand.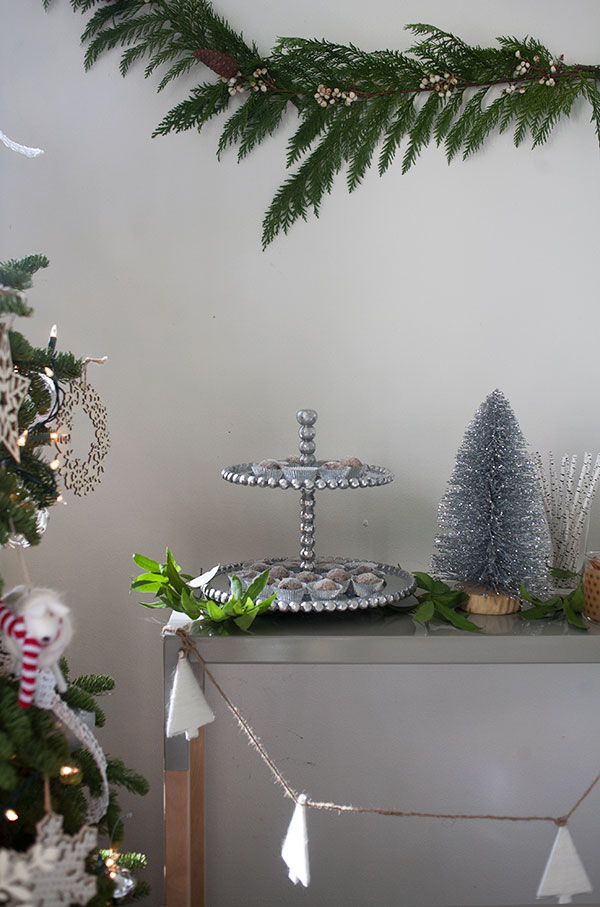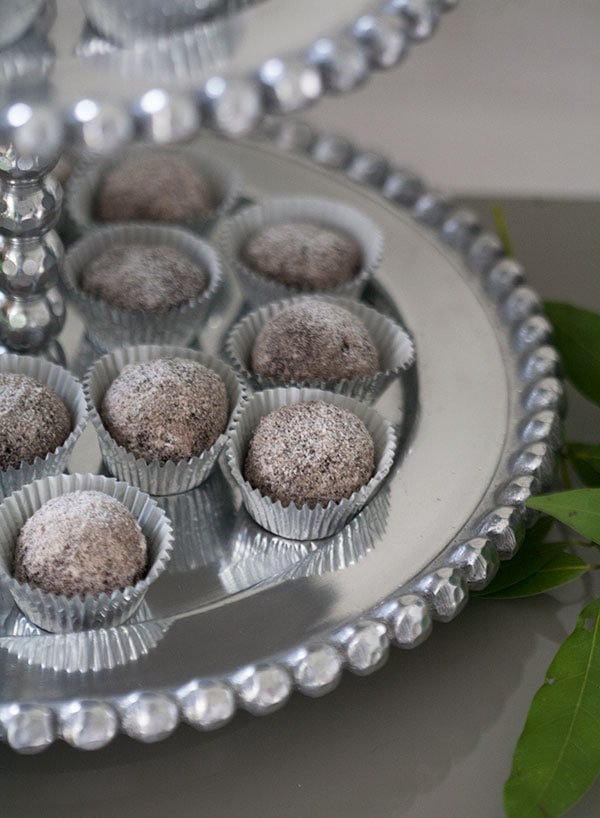 Lastly, I filled up these snowflake-patterned glasses with warm apple cider sangria. And added another tabletop silver tree just to balance out the rest of the table in terms of height and color scheme.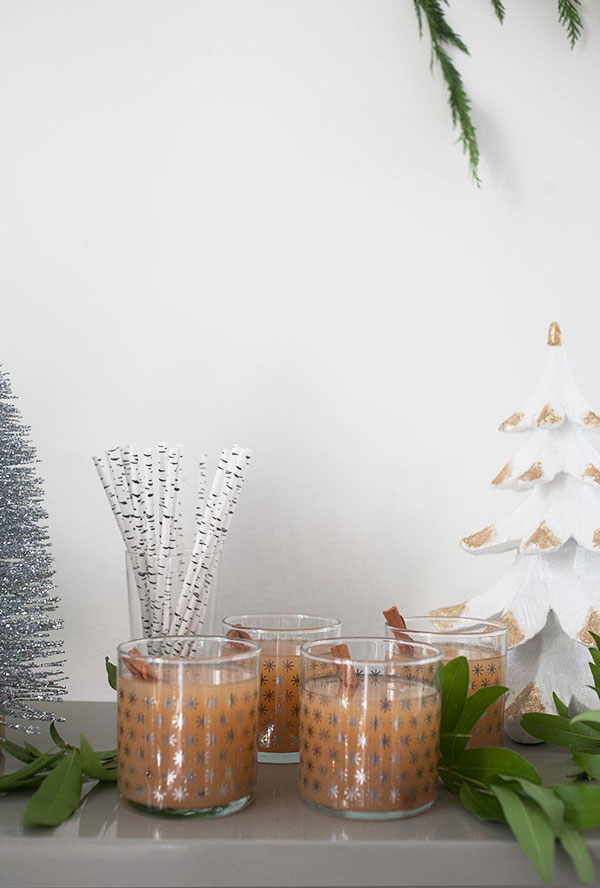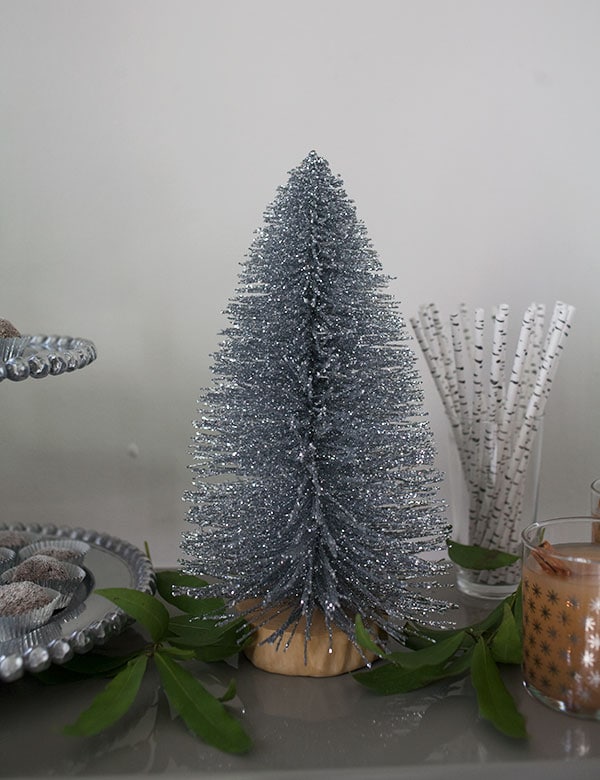 I hope you're inspired to make some treats and make your space cute and cozy. 'Tis the season!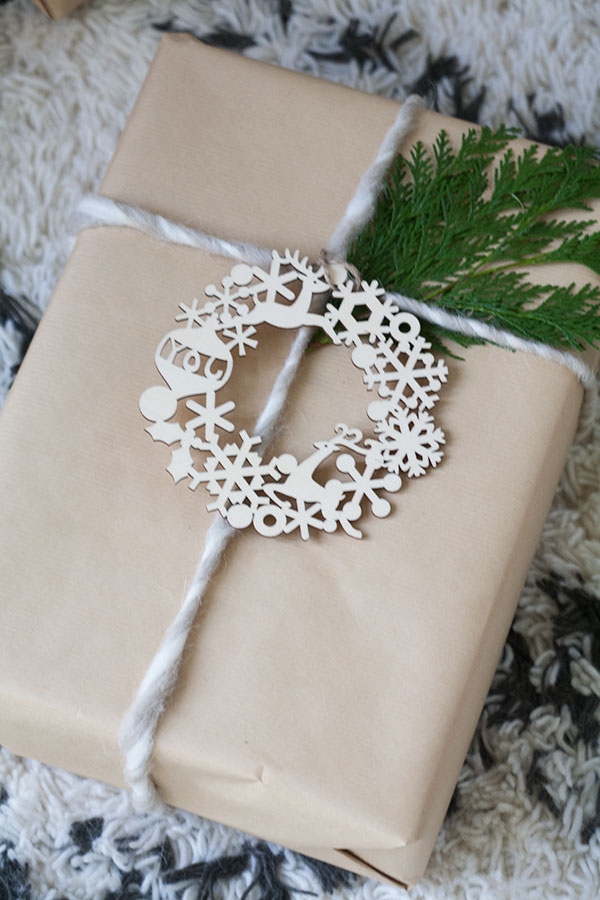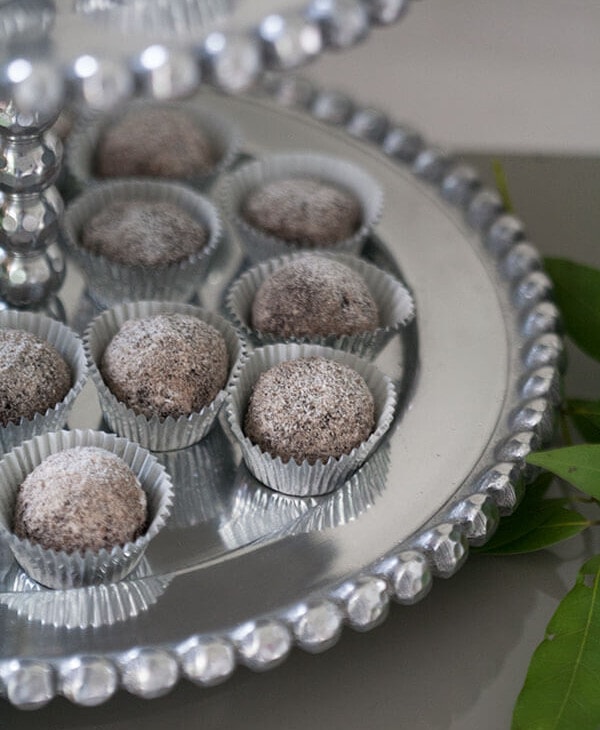 Print Recipe
Cappuccino Truffles
Ingredients
1

cup

heavy cream

16

ounces

bitter-sweet chocolate

chopped (chips are also fine!) 

1/4

cup

coffee granules

finely ground 

1/4

cup

instant milk powder

1

tablespoon

powdered sugar

plus more for garnish

Pinch

salt
Instructions
In a small saucepan, heat heavy cream until it reaches a light simmer. Pour the hot heavy cream over the chocolate and allow to stand for 2 to 3 minutes. Stir until smooth. Pour the chocolate into a shallow dish, such as a 9-inch pie dish, and transfer to the fridge to chill for 1 hour and 30 minutes. 

Meanwhile, in a food processor, add the coffee, milk powder, salt and powdered sugar. Pulse until finely ground and mixed. Transfer to a shallow bowl and set aside. 

Using a #20 ice cream scoop (or a melon baller), scoop out mounds of the chocolate mixture onto a piece of parchment or wax paper (they'll look a bit like wonky circles—don't worry!). Transfer to the fridge to chill for an additional hour. Remove from the fridge and using your hands, roll the mounds of chocolate to form a circle (don't worry if they're not perfect circles) and then immediately transfer to the fridge to chill for an additional 15 minutes. Roll the chocolate balls in the coffee mixture and place in mini cupcake liners. Keep refrigerated until you're ready to serve, at which time, allow to stand at room temperature for about 30 minutes, just to take off a bit of its chill. Garnish, if you like, with a teeny dusting of powdered sugar. 
This post is sponsored by Target. Shop Home Décor for modern luxury made easy.