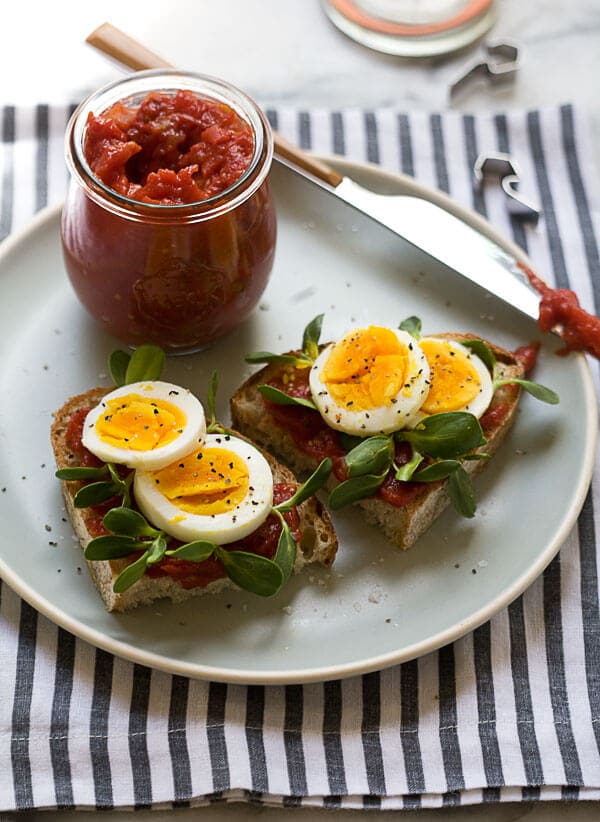 There's a grocery store that rhymes with Schmole Foods and they actually sell heirloom tomatoes in the dead of winter. (Or at least in California they do.) Heirloom tomatoes in winter go for about $9 a pound, which means that if you tried to make this jam in January, it'd cost you a bajillion dollars. A BAJILLION!
I'm not one to typically take expensive fruit or tomatoes and cook them down and make jam. I always feel like it's a bit of a waste to use fancy produce to make jam or jelly. Eat 'em raw, put them in a salad, toss them with pasta. You know, stuff like that. Not jam. "Seconds," as they call them, however, are kind of perfect for jam. They're the rejects. Jam is perfect for rejects. Jam is forgiving and actually appreciates overly ripe produce that's on the verge on being tossed. Pies are kinda perfect for rejects, too.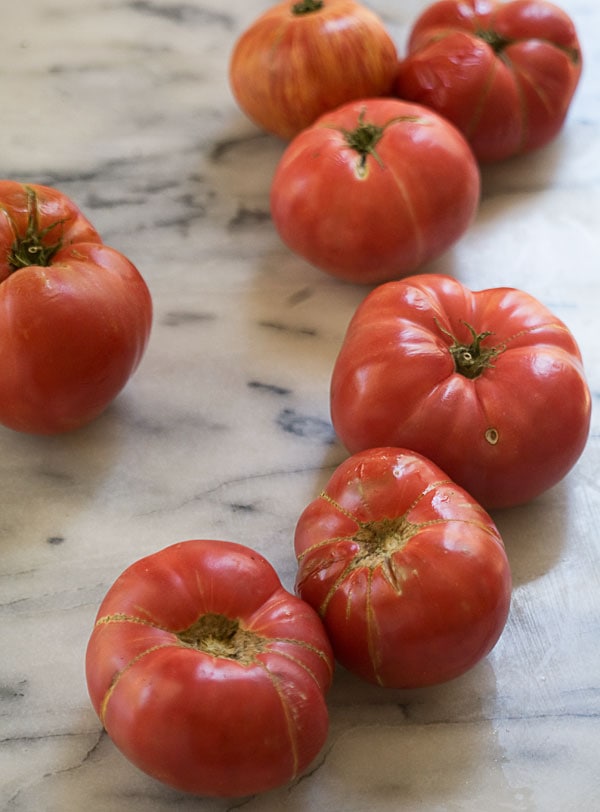 I was at the farmer's market and they had a stand that was selling super soft a.k.a. reject heirloom tomatoes for only $1 a pound! They were bruised, super soft and some were leaking. (Leaking is a gross word. Like moist or something.) My eyes got all big and my heart started to flutter because I'd been wanting to make tomato jam for like EVER! Josh made a teeny batch for toast a few weeks ago and I've been thinking about it ever since.
This tomato jam couldn't be easier. You cut up some tomatoes, mix it with brown sugar and red wine vinegar and a pinch of salt, a lil' dried thyme AND boom! an hour later…jam. It's simple and dreamy and exactly what I want to eat on toast with an egg on top.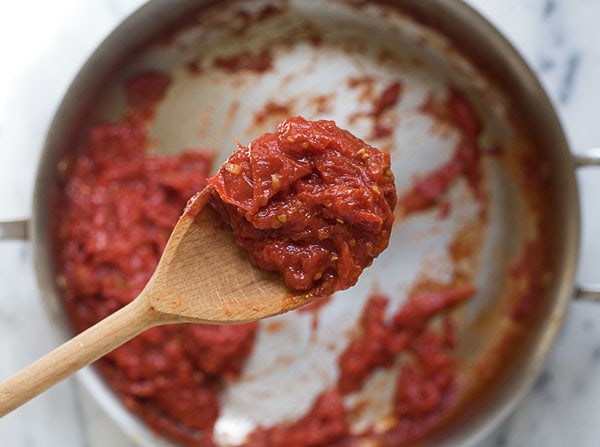 If I was a real, true grown-up, I'd go back next week and buy a bunch of tomatoes so I have tomato jam for Holiday gifts. Everyone wants flavors of summer in winter.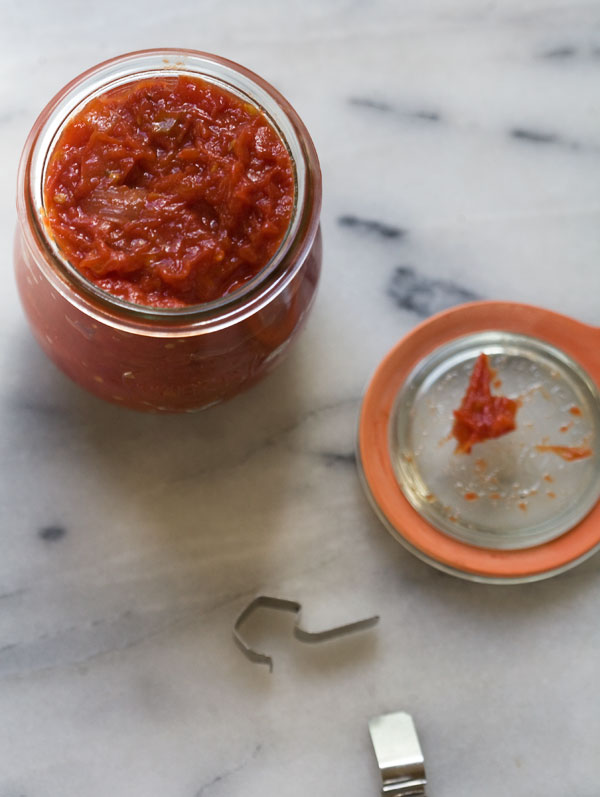 If real life were Pinterest I'd totally do this, but it's not. Instead, next week I'm taking Amelia to go have an instinct test to see if she's capable of herding sheep. YES! You heard correctly, next week I'm driving to Malibu and a sheep owner is going to teach her to herd sheep. There will be pictures. Don't you worry.
But for now, jam. Tomato jam.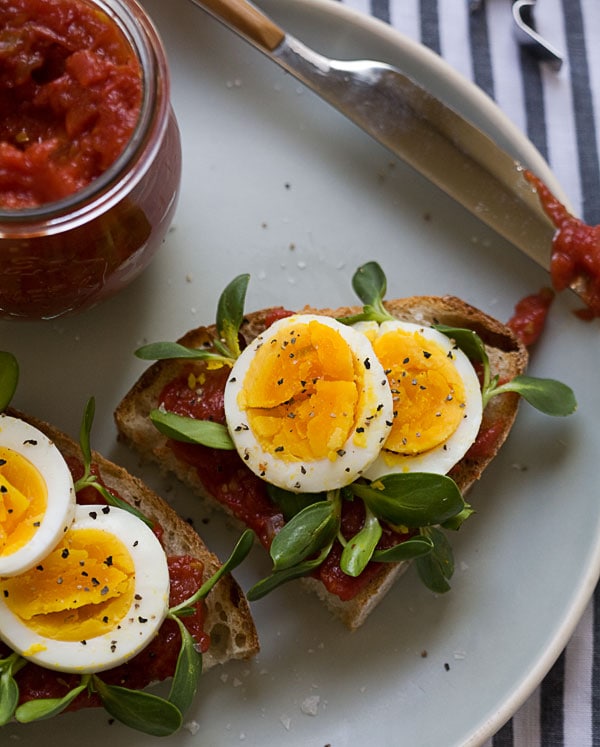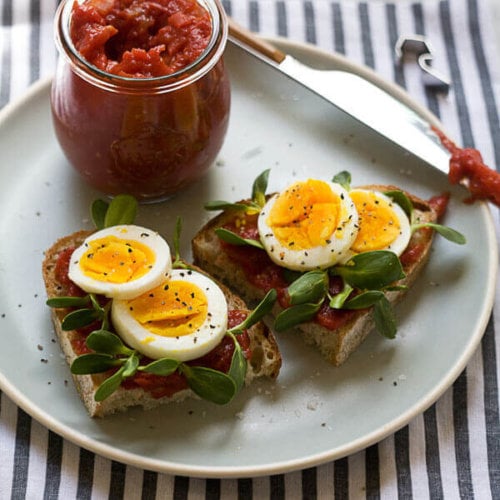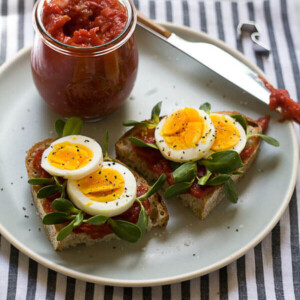 Ingredients
3

pounds

red heirloom tomatoes

2

tablespoons

light brown sugar

Pinch

of salt

2

tablespoons

red wine vinegar

1

teaspoon

dried thyme leaves
Directions
Hull and cut the tomatoes into a rough dice. If you're using heirloom tomatoes, be sure to cut off any tough, brown spots that might be on their skin. Transfer the chopped tomatoes to a non-reactive medium pot, along with the brown sugar, salt and red wine vinegar. Place the uncovered pot over medium heat and bring the mixture to a simmer; cook for 30 minutes. At the 30 minute-mark add the dried thyme and mix. Cook for an additional 25 to 30 more minutes and until the mixture is thick. If you're using more or less tomatoes, the cook time will definitely vary.

Allow to cool to room temperature. Transfer to a jar and store in the refrigerator. Tomato jam will be good for two weeks without canning.