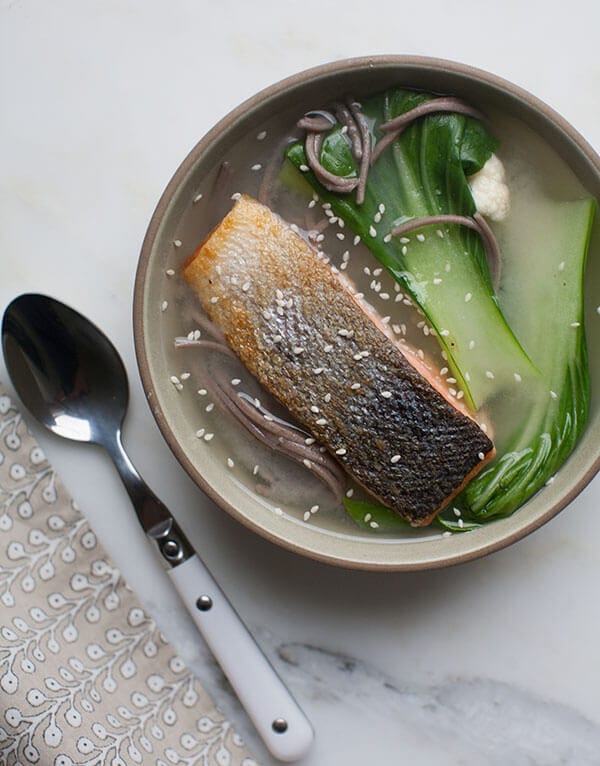 My eyeballs sting and my feet sort of ache from standing all day but it's ok because a rendition of this bowl is in front of me and Broad City is on the TV. Have you watched?
I watched Girls for the first few seasons but there was always something I didn't like. I couldn't really put my finger on it until I started watching Broad City, which I like a million times more, and then it dawned on me: I wouldn't be friends with any of the women in Girls. Not one of them. They all complain about their lives and it's annoying and boring and gets old. But Abi and Ilana, THEM MY GIRLS! I wanna hang out with them all day long.
Moving onto this bowl, it's a single person's dinner, though it could easily be doubled if you're into that sort of thing.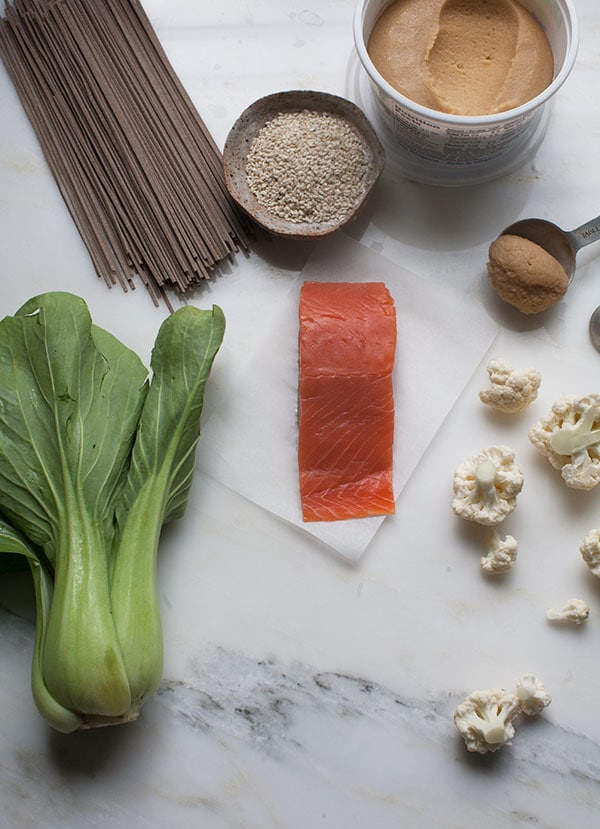 It's a super fast dinner; probably will take you under 20 minutes to get it together. Pictured you see it with a bit of baby bok choy and some leftover florets from yesterday's recipe, but really add what you like or have. Dandelion greens, mustard greens, Swiss chard, maybe some mushrooms…you know, add what you like.
Technically, proper miso soup begins with kombu, but I didn't have any and for some reason the Asian grocery store near me was closed when I went to go get it but I didn't really miss it, if I'm being honest. If you have it, start the broth with it! If not, no bigs. I always have miso paste in my fridge and since I'm a bit of a freak about having good quality miso paste, I go for this kind.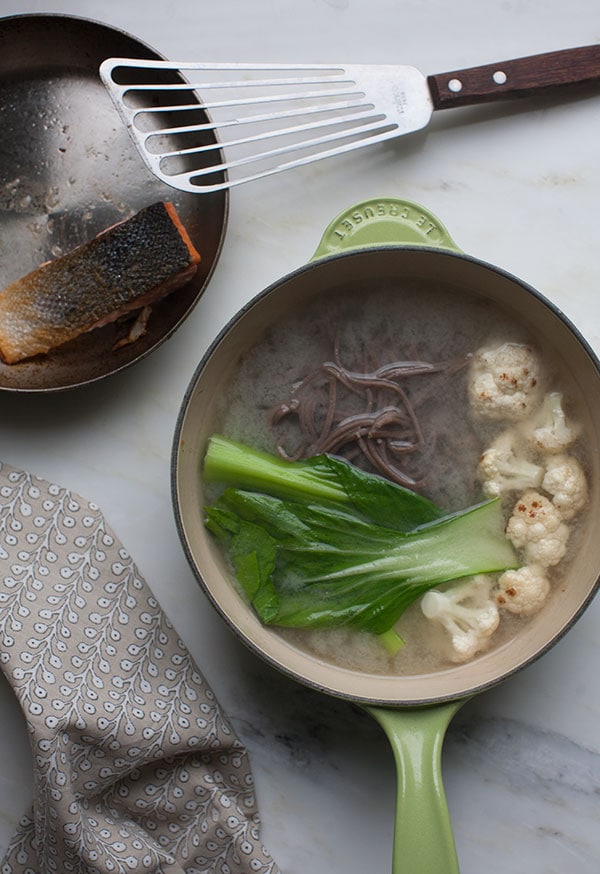 If you have miso in your fridge it means this soup and salad dressings and lots of other things are literally minutes away—it's a good fridge staple!
Now, if you haven't watched Broad City, you have work to do. This is permission to go procrastinate at work and watch TV!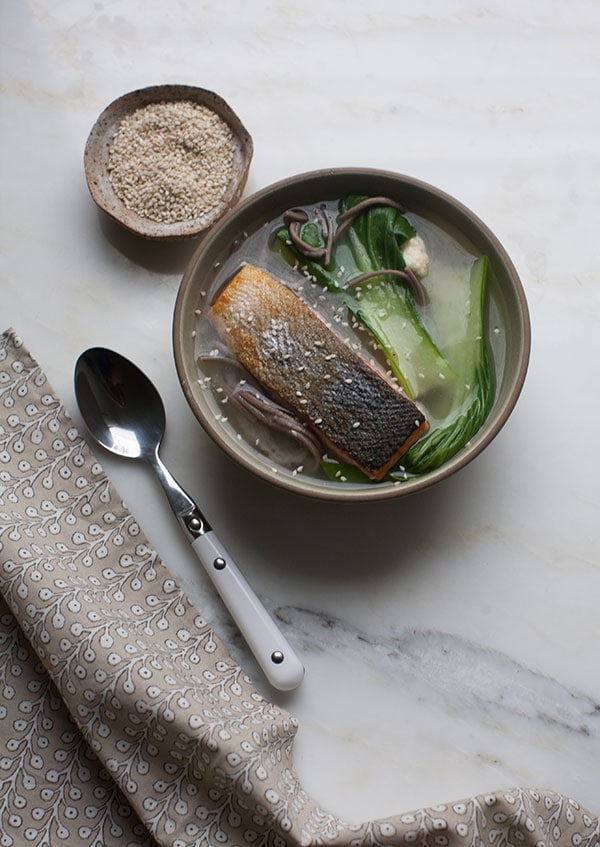 Print Recipe
Healthy Dinner for One: Salmon Soba Noodle Miso Bowl
Ingredients
Salt

1

ounce

dried soba noodles

1

tablespoon

white miso paste

3

cups

filtered water

2

teaspoons

mirin

optional

4 to 5

cauliflower florets

or whatever else you have in your fridge

3

ounce

filet of wild caught salmon*

1/2

baby bok choy

ends trimmed

Sesame seeds
Instructions
Bring a medium pot of salted water, set over medium heat, to a moderate boil. Add the soba noodles and cook for about 4 to 5 minutes (the package always says like 10 minutes and that is WAY too long, so give it a taste at the 4-minute mark to make sure it's all good). Remove when it's very al dente since we'll be cooking it again at the end. Drain and set aside.

In the same empty medium pot (no need to wash it out, too lazy!) you cooked the soba noodles, add the miso paste and water. Turn the heat to medium and give it a stir until the miso paste has dissolved, about 5 minutes. Add about 1/2 teaspoon of salt and mirin. Mix and give it a taste; adjust the salt according to taste. Turn the heat to low and set aside.

Preheat the oven to 300 degrees F. Sprinkle the salmon on both sides with a few pinches of salt. Heat the olive oil in a small sauté pan set over medium-high heat. When the oil is glistening, add the cauliflower florets and cook for 2 to 3 minutes. Remove and set aside. Add a teaspoon or two more of oil to the pan. When the oil was hot, add the salmon skin-side down; cook for 2 to 3 minutes. Flip the salmon to the other side and transfer to the oven to cook for an additional 5 minutes.

Meanwhile, add the bok choy, reserved soba noodles and cauliflower to the miso mixture, cook for an additional 2 minutes, until the bok choy turns a bit soft and the color goes bright green. Ladle into a bowl and top with the salmon. Sprinkle with a bit of sesame seeds and that's it—dinner!
Notes
A lot of the times, salmon still has its pin bones in. To remove, run your finger along the center, you should feel them! Take a clean pair of kitchen tweezers and pull them out, one by one. With a gentle tug they should come out pretty easily. You could also ask the fishmonger to remove them for you.