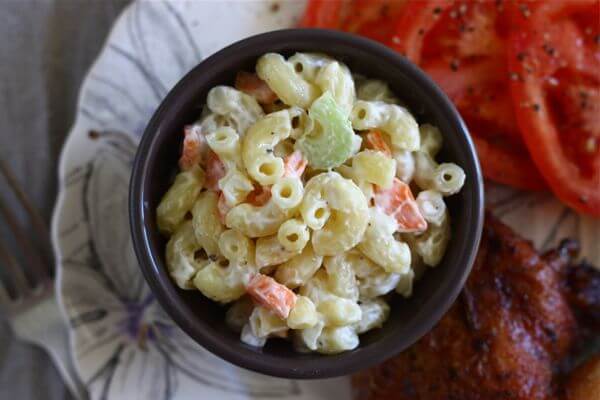 If I had one wish right now, I'd grant all of us a summer vacation. Not, like, a college version of summer vacation, though I think all of us would take that too, but a real, kid-like summer vacation.
I'm talking water balloon fights, playing tag for hours with the neighborhood kids, watching TV until 3pm and maybe even a lil' summer camp thrown into the mix, 'cuz sometimes you need a break from your parents (and then you learn that summer camp is really just them needing a break from you).
Honestly, my favorite part about summer was watching Wimbledon in my pajamas until the mid-afternoon, all whilst eating ice cream straight from the carton. And sure, some could argue that I could do that now…but the guilt! Wasting days away doing nothing are never guilt-less. Not worth it.
So yeah, I wish all of us could have a guilt-less, do nothing, have fun kind of summer.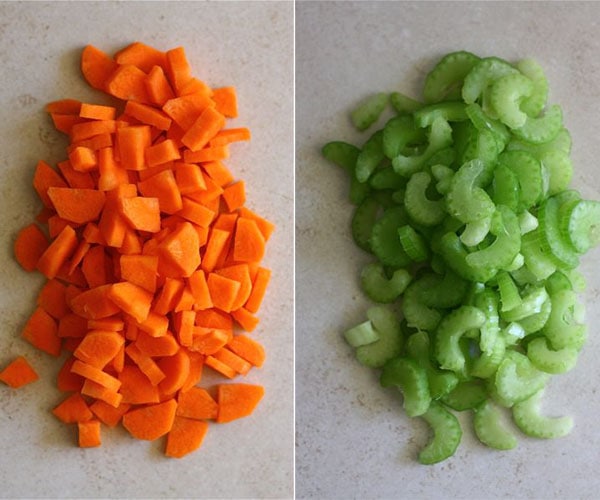 In the summer, my parents would always get take-out from a nearby Hawaiian restaurant. Don't ask me why it was only reserved for summer, maybe it was the whole thing where my mom didn't want to be near a stove, or they wanted to enjoy the few hours of sunshine, post work. Who knows.
Regardless, it was one of my favorite things to eat. There was always some sort of pork or chicken hawaiian bbq, really good rice and macaroni salad.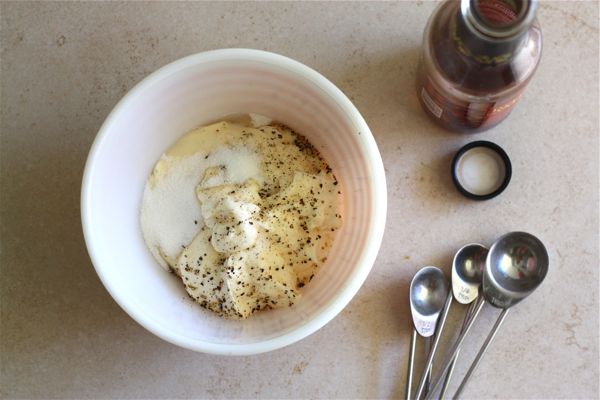 The macaroni salad I remember was dredged in mayonnaise. I'm talking more mayonnaise than pasta. I loved it though.
This salad is a little bit more refined; not by much, just a little. The pasta is cooked al dente, which is not traditional. Typically it's overcooked on purpose, but my body won't allow that, so it's not.
The carrot from my memory was shaved. I personally enjoy more of a crunch so I diced mine. And there's definitely less mayonnaise than my memory. Despite these little tweaks, this macaroni is simple and delicious. AND EASY.
Not that macaroni salad is ever difficult. It shouldn't be.
The salad has a dash of sugar, loads of pepper, a few splashes of red wine vinegar, and of course a hefty amount of mayonnaise. After the pasta chilled out in the fridge, the pasta soaked up a good amount of the mayonnaise.
Right before you serve the pasta salad, you have the choice to add more mayonnaise, if you like. I personally did not. But you know, you do you!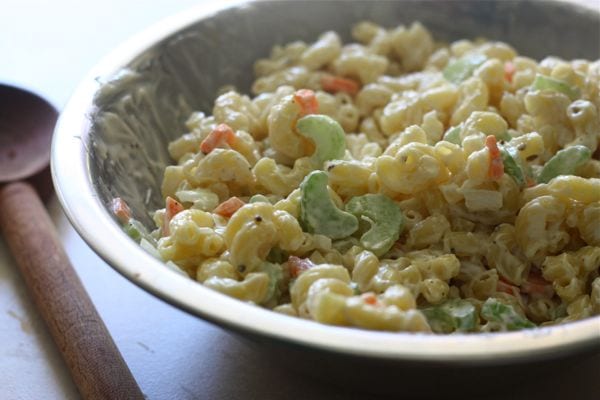 This macaroni salad is perfect alongside some bbq chicken or steak. It's good to bring to a pot-luck bbq, if that's the sort of thing you'll be attending in the next week or so. It's simple and good.
The plan: you'll make this and it will go quickly…very, very quickly.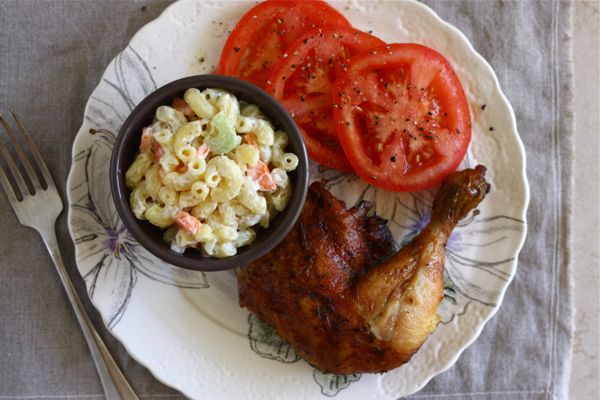 Hawaiian Macaroni Salad
1 pound elbow macaroni
1 1/2 cup Best Foods mayonnaise
2 teaspoon sugar
2 1/2 teaspoons red wine vinegar
1 teaspoon salt
2 teaspoons freshly ground pepper
3/4 cup diced yellow onion (from about 1/4 onion)
3/4 cup diced carrot (from about 2 small carrots)
3/4 cup diced celery (from about 2 stalks)
1. Bring a medium pot of salted water to a rapid boil. Cook elbow macaroni according to package instructions, about 5-6 minutes. Drain and transfer to a large bowl; set aside.
2. Meanwhile, in a medium bowl, add mayonnaise, sugar, vinegar, salt and pepper; mix until combined.
3. The pasta should still be warm–this is good! Add the yellow onion, diced carrot and diced celery to the pasta and toss. Add the mayonnaise mixture and toss until pasta and vegetables are thoroughly coated. If you like more mayonnaise, by all means add one more 1/4 cup. Salt to taste just to make sure you're pleased with the salt content. Cover the bowl with plastic wrap and refrigerator for a minimum of 3 hours. The pasta will have absorbed some of the mayonnaise. If you like you can add more mayonnaise, if you like.