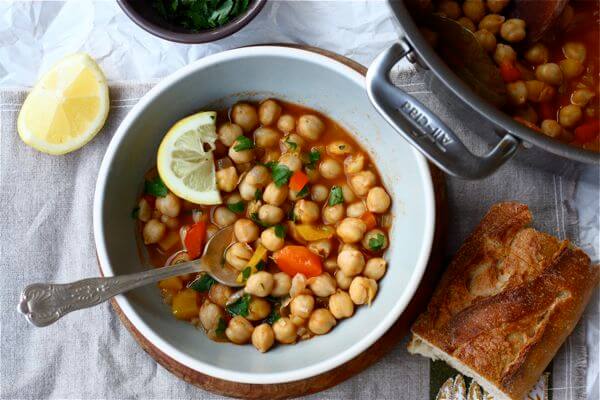 I'd like you to know something incredibly weird and personal about me.
Whenever I get sad, anxious, elated, nervous…something happens. It's really strange. Like, I dunno why it does this, but my nose does this weird twitch thing. It's like Bewitched, except totally not cute and definitely not deliberate. There's no explanation and it hasn't done this my whole life just recently actually, in the past few years. All my energy goes to my nose and tells me that it doesn't like something (or does)!
On Saturday this happened to me. It was a combination of 3/4 parts sad and 1/4 parts anxious (in re: of a project I'm working on). Also, something I learned: coffee totally doesn't help. It makes it twitch faster. Yes, coffee makes it go faster…by a lot. This is weird. And it's weirder that I'm sharing this. But really we're friends by now and you should know that when crazy emotions run through my body, my nose reacts. The end.
To calm my nose (or whatever) I decided to make something comforting…that wasn't doughnuts…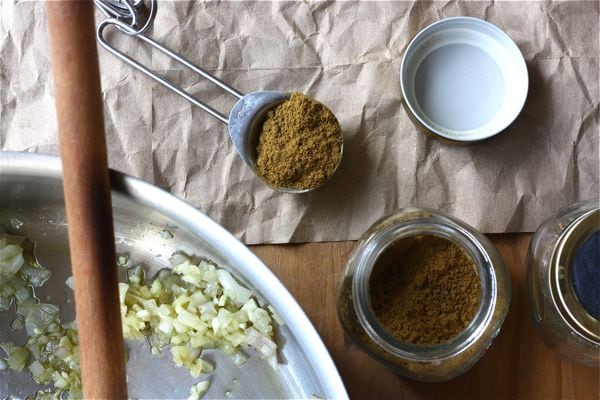 This stew is pretty perfect. Let's talk about its strengths:
1. It's vegan, though it doesn't have to be. Add chicken. The original recipe does and it looks delicious that way. I recommend cooking up a few chicken thighs before (in the same pot!) you start making the stew.
2. Thirty minutes is all you need to throw this together.
3. It's cheeeap. I dunno. Probably under $10?
4. Harissa. I put it on everything. Eggs, toast with avocado, chicken, etc. You should too. It's about $6 for the tube and lasts a good while.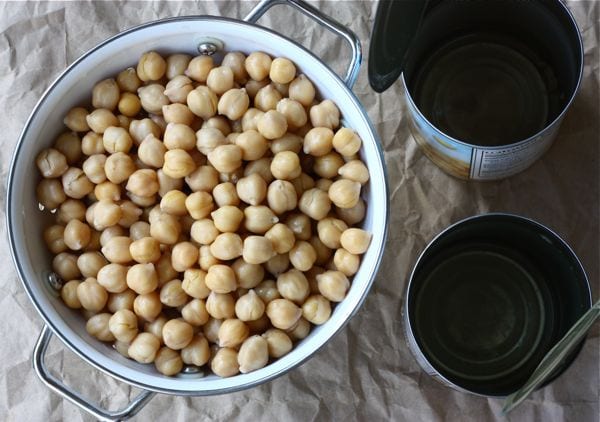 This stew was designed to cure some of that February cold that won't go away.
For me, I'm using it as a hug as I listen to some sappy music (example 1 and example 2) and muscle through this work.
Let's make this week count–we can do this!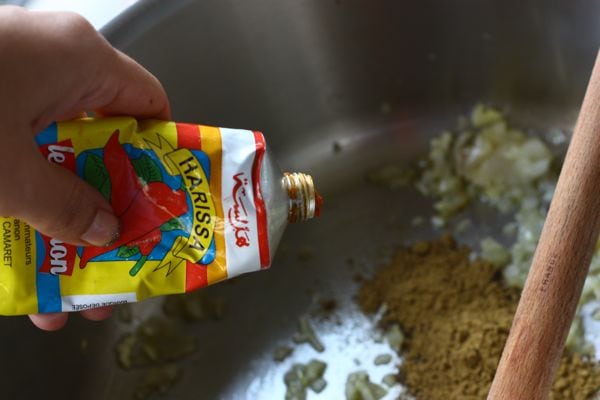 Harissa Chickpea Stew
Olive Oil
2 shallot, minced
3 garlic cloves, minced
2 tablespoons ground cumin
2 tablespoon Harissa (see note below)
2 tablespoon tomato paste
3 bay leaves
2 cups vegetable broth
1 3/4 water
Salt
2 15-ounce can chickpeas, rinsed and drained
1/2 red bell pepper, diced
1/2 yellow red bell pepper, diced
4 lemon wedges
Handful of Italian parsley, chopped
French loaf for serving
1. Heat 2 tablespoons of olive oil in a medium pot over medium-high heat. Add minced shallot and cook until translucent, about 3 minutes. Place garlic atop of shallots and cook until fragrant, about 1 minute. Next, add the cumin, harissa (note! if you're adverse to heat scale it back to 1 tablespoon) and tomato paste; stir until a smooth paste forms, about 1 minute.
2. Add vegetable broth, water and bay leaves. Bring to a boil; reduce heat to medium-low and simmer, uncovered, occasionally stirring, for about 20 minutes.
3. Transfer chickpeas to pot; bring to a simmer and cook for an additional 10 minutes. Salt to taste. I added about 1 1/2 teaspoons of kosher salt. Throw in red peppers and yellow peppers; simmer for 1 minute. Divide stew into 4 bowls, squeeze lemon on top and sprinkle with Italian parsley. Serve with bread.
Adapted from Bon Appetit, January 2012