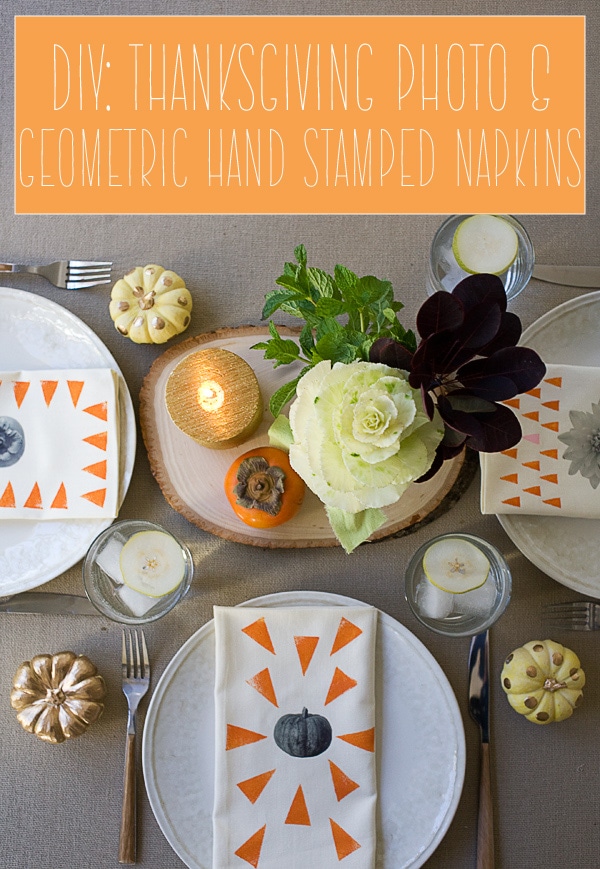 Thanksgiving is just a few weeks away and this year I'm actually prepared. I have my menu all written out, I have my recipes written, I have a proper head count. Who am I? I don't even know anymore.
Over the next few weeks I'll be sharing quite a bit of Thanksgiving recipes. For my first Thanksgiving-ish post, I teamed up with Canon and their PIXMA MG7120 printer to create some fun (and easy!) napkins for your dinner table.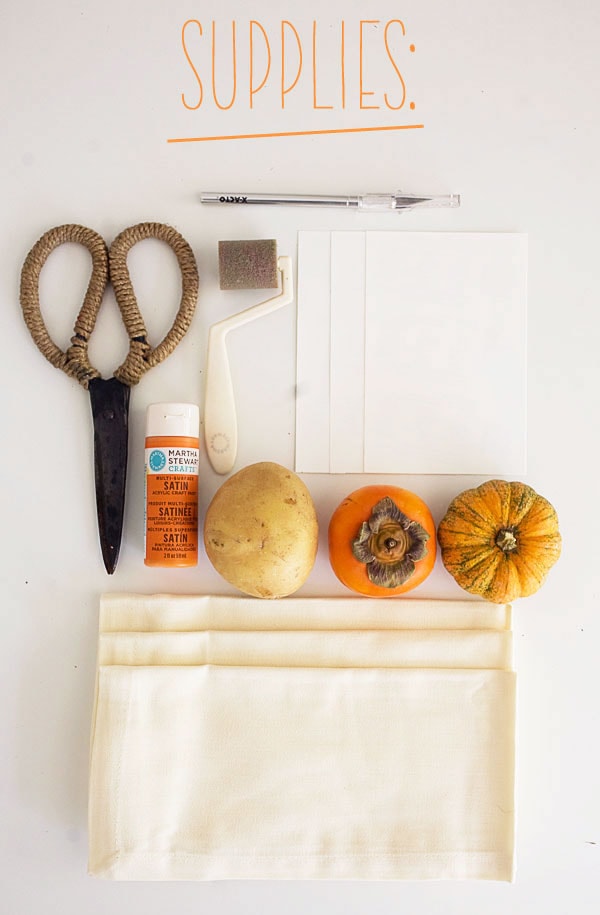 The stuff you'll need to get started:
1. Scissors
2. An exacto knife
3. A mini-paint roller
4. (4″ x 6″) Iron-on Transfer Sheets
5. Acrylic paint in the color of choice (I used Martha Stewart's multi-surface paint in the color "Mace")
6. One potato (this will be your stamp!)
7. Fall objects like persimmons, mini pumpkins, dahlias, etc.
8. Plain dinner napkins (I used these from World Market)
Start by taking photos of your cute fall objects. Since the PIXMA can print via your mobile device, I found super easy to just take the photos from my phone.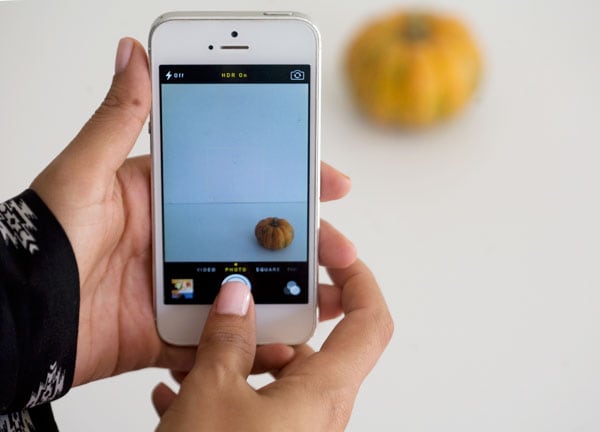 I changed the picture to black and white and then used their app PIXMA Printing Solutions to print out the picture onto 4″ x 6″ iron-on transfer sheets. The app couldn't be simpler to use and it's particularly awesome because you can print multiple pictures at once.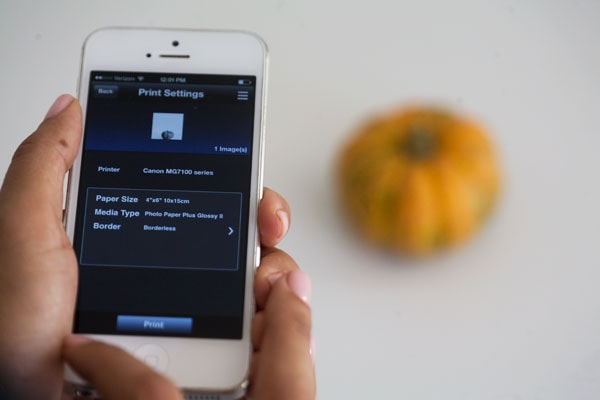 Next, the printing! The printer's sounds made Amelia's head do that tilting thing that dogs do when they're super confused. When I showed her the pretty pictures she understood, though.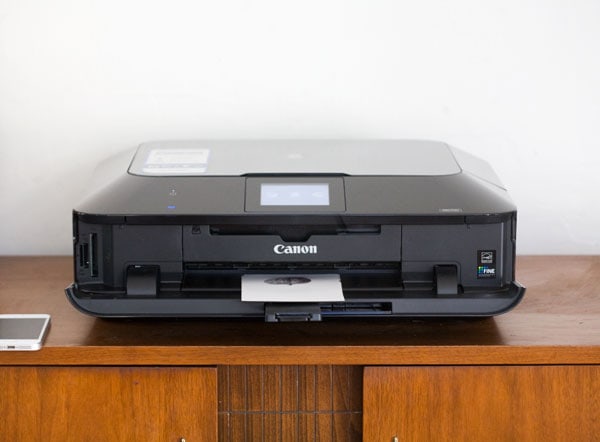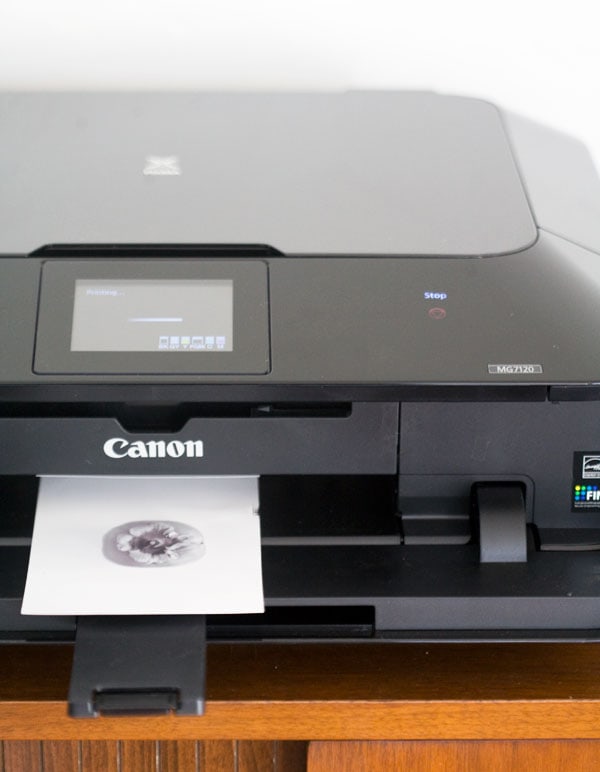 Then, using my scissors I cut out each of the photos. I placed the photo where I'd want it and then flipped it over. I took my iron and set it on the setting that reads "cotton/linen" and with the steam option OFF (very important!). I ironed over the entire photo, moving the iron from side to side for about 30-40 seconds.
I peeled the photo off revealing the cute lil' persimmon!
In my brain I wanted each photo to be surrounded by hand-stamped geometric shapes. I went to the craft store looking for a simple triangular stamp. Umm..they don't exist! I found the most intricate of stamps. I'm talking stamps of Santa conversing with his reindeers mid-sentence but no simple stamps.
So, here I am, cutting a potato with my exacto knife to make a stamp. It was actually pretty easy.
Instead of dipping the "stamp" into a puddle of paint, I rolled it on for more of an even distribution.
Next, I stamped away. I did a few different patterns of triangles. I think my favorite is the one with the dahlias.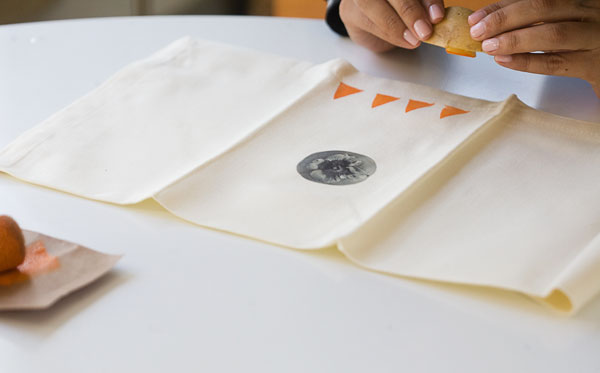 Here they are all finished…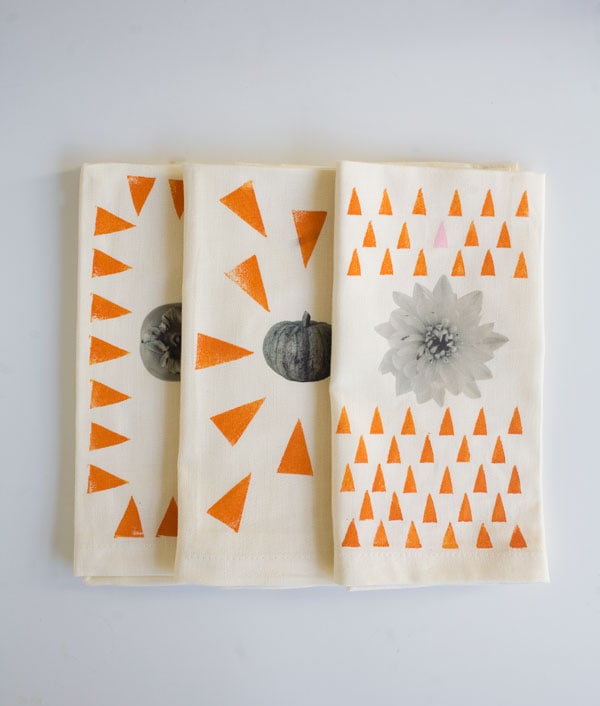 And that's it! Super simple.
Can I be honest? Before this I didn't have a printer. If someone emailed me and said I needed to print something out, sign it, scan it and send it back, it felt like they were asking me to climb Mount Everest.
I'm psyched because this printer does it ALL. It prints high-quality photos from your computer or phone, acts as a scanner and even makes copies. I mean, you need nothing else. It's made my life SO much easier. And I can make cute napkins and print out actual pictures, which I feel like we never do anymore. Total bonus.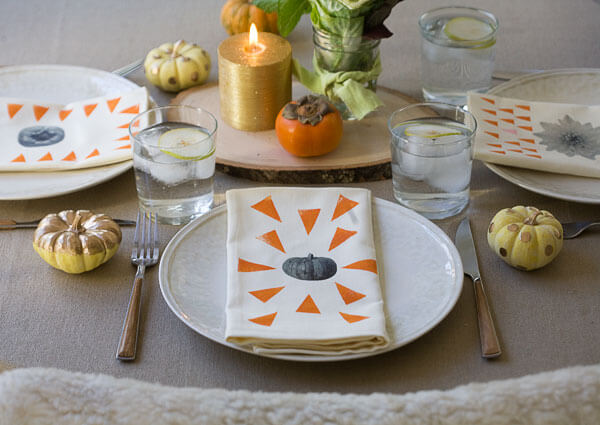 [This post is brought to you by Canon. Discover more about PIXMA Printing Solutions here.]