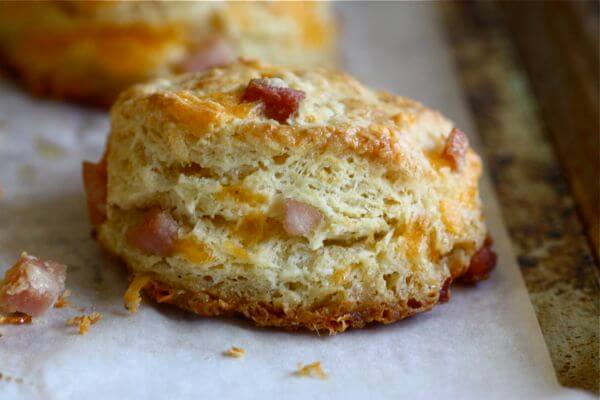 Sup! Hai! Heeeello! I know I've been gone. I have a good excuse. I do. I just can't tell you about it quite yet. Ahhh! That's so annoying!
But I'm making it up to you through the way of sharp cheddar, salty ham...incased in carbohydrates.
Think of it like almost like a ham and cheese sandwich but in biscuit form!
I'm thinking that this flaky biscuit is perfect for your weekend. Perfect for right now, even.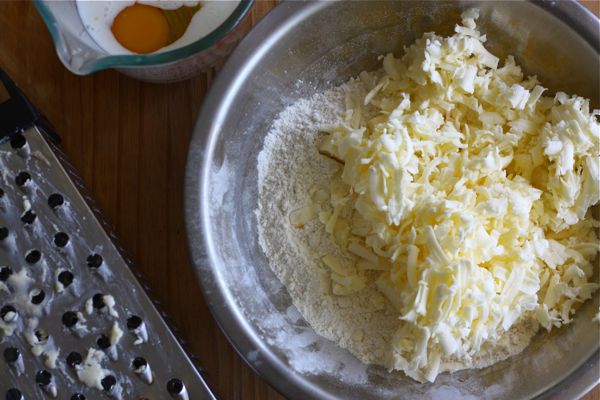 I haven't posted a new biscuit recipe in a looong time (these Brown Butter Biscuits were the last ones!), which is surprising because they're kind of my favorite thing to bake.
I love everything about biscuits.
And I get kind of nerdy about them sometimes. I've been known to stay up reading awesome articles about them, watching videos on biscuit making and wishing one existed with her...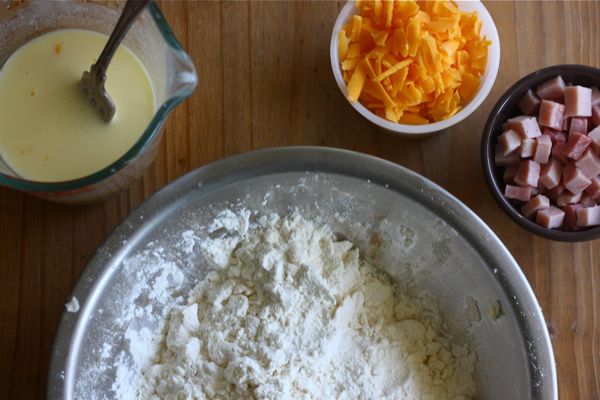 The grating of the butter thing is my favorite. I actually grate the butter onto the flour mixture AND then stick it all in the freezer for 10 minutes. It gets everything super cold and makes it a whole lot easier to incorporate the butter into the flour.
I added the buttermilk and egg, mixed until barely combined and then added the grated cheddar and finely diced ham.
The trick to super flaky biscuits is to not overhandle the dough. I'm talking, dump it onto your counter and just press gently, using your hands, into a flat disc. Cut out the biscuits.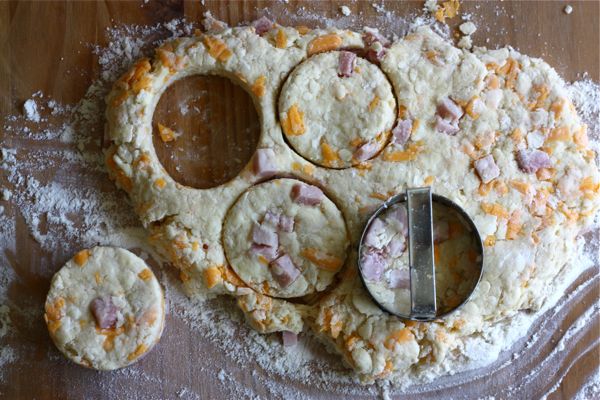 In the oven. And done! Enjoy them with some coffee. Maybe some tea, if that's your thing. Might I suggest making some scrambled eggs and making a lil' sandwich?
Monday! You and me have a date with cake. Don't be late.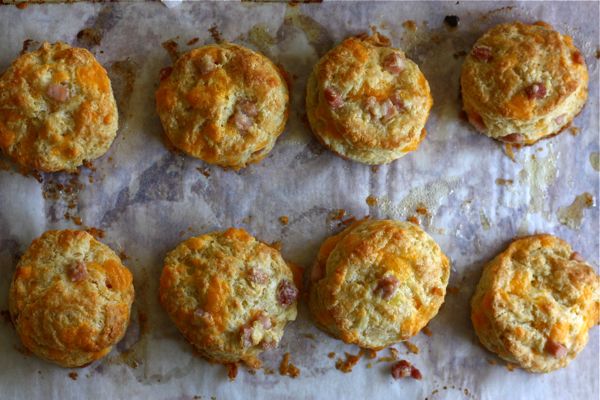 Ham and Cheese Buttermilk Biscuit
2 cups all-purpose flour
1 tablespoon baking powder
½ teaspoon baking soda
1 teaspoon fine sea salt
1 ½ stick (6 ounces) unsalted butter, cold, grated or cubed
½ cup buttermilk, plus 1 tablespoon, cold and shaken
1 large egg
½ cup cheddar, shredded
¼ cup ham, finely diced
For Egg Wash:
1 large egg, beaten with a tablespoon of milk or water
1. Preheat oven to 450F.
2. In a large bowl, mix together the all-purpose flour, baking powder, baking soda and salt. Add the grated (or cubed) butter and transfer to the freezer for 10 minutes. When it's done chilling, break up the butter with your hands until it resembles small peas in the flour.
3. In a measuring cup, whisk together the buttermilk and egg. Add the buttermilk mixture all at once to the flour mixture. Mix until barely combined. Fold in the shredded cheddar and finely diced ham. Next, lightly knead the dough, until it forms one solid mass. Sprinkle your kitchen counter with flour and dump the dough onto it. Press or gently roll the dough into a 1-inch thickness. Cut out the biscuits using a 2-3 inch biscuit butter. You should get about 6 biscuits. You can recombine the scraps and get two more biscuits. Transfer them to a lined baking sheet.
6. If you think you've been moving a little slow (like I was because I was..ahem..taking pictures), stick the baking sheet in the freezer for 5 minutes. This will get the bits of butter nice and cold again. After the biscuits are cold, brush the tops of with egg wash and bake in oven or 15-20 minutes, or until tall and golden brown. Serve biscuits warm with something awesome like eggs and bacon OR gravy.
Yields 8 biscuits