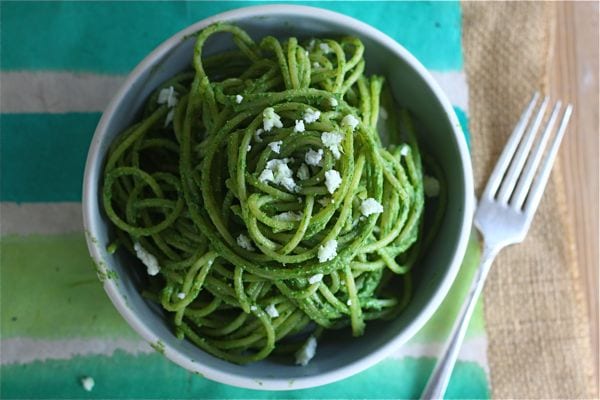 Did you ever forge your mother's signature? I did. Once. And of course I got caught. Duh. That's how it always goes.
I was 10 years old and got a detention. I'm not afraid to say that my mama scared me when I was little. I didn't mess with her. So I figured it'd be way easier and less terrifying to just forge her pretty yet complicated signature. She did (and still does) have a really beautiful signature. Think writing out of Downton Abbey (I'm obsessed!).
So, I sat in my room and practiced and practiced and practiced. After about a hundred attempts I totally nailed it. Feeling successful, I turned in the signed detention and started serving my time. I was having fun, actually. The teacher who supervised detention didn't have anything under control and I remember laughing and joking with kids in the back of the room. It got sort of quiet for some reason and I remember hearing high heels clacking down the hall. At the door was my mama, looking super sharp in a business lady suit, giving me a glare that was SO scary. OMG did I stop laughing. She was truly terrifying.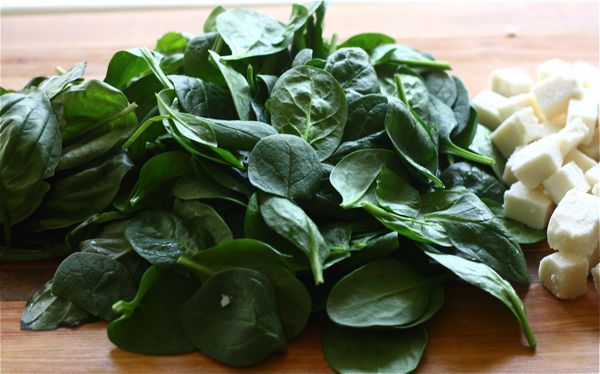 My mom left me in detention and made me walk home. I remember that loooong walk home and thinking: "I'M JUST GONNA RUN AWAY AND THEN THEY'RE GONNA BE SOOOOO SORRY."
I went home, faced the music. I was grounded. And then my mom started signing her name in a different way, more complicated, more detailed. 'Til this day she signs it all crazy-like. I'm to blame.
Nowadays my mama is the total opposite of scary. She's my bestie. I called her late one night like at 11pm asking her for this recipe. It was one of my favorites growing up. It's another green Peruvian recipe.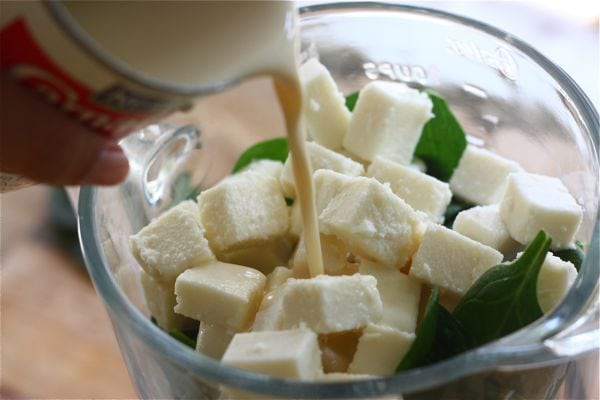 You could call it a pesto, because it sort of is, except there are major differences between this and an Italian pesto.
First, instead of Parmesan you have salty, delicious queso fresco. And to make it a tad creamier, and less oily, there's the use of evaporated milk. Rather than just basil, there's a mix of 3 cups spinach and 2 cups basil. My mom told me that in Peru they use more spinach than basil because the basil there is incredibly strong. Foreign facts, I like 'em.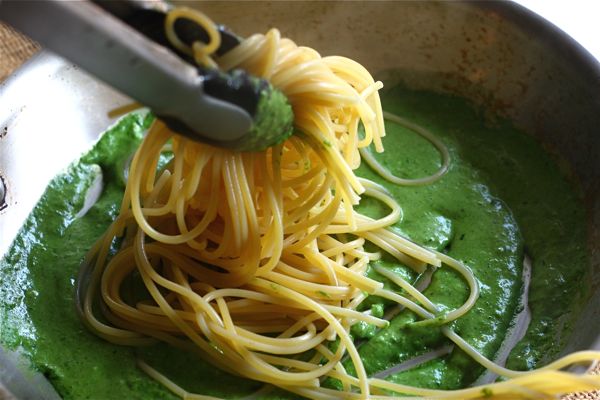 This meal is traditionally served with a few potatoes and a steak. I actually bought a little steak to serve on the side but my refrigerator is broken and has decided to freeze everything. It's weird. My eggs were frozen yesterday morning. Whatever.
With or without a steak this plate of green spaghetti is just perfect.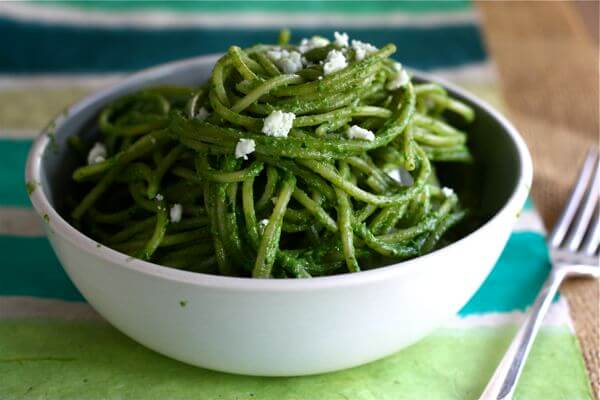 Green Spaghetti
Handful of pine nuts
3 cups spinach leaves
2 cups basil leaves
1 cup cubed queso fresco (6 ounces)
1/4 cups evaporated milk, plus 2 tablespoons
2 garlic cloves
4 tablespoons canola oil
Salt
Pasta
1. Add the pine nuts to a small skillet set over medium-heat. Toast them for 2 minutes and until lightly golden brown on each side.
2. To a blender, add the toasted pine nuts, spinach, basil, queso fresco, garlic and evaporated milk. Blend for 30 seconds and until mostly smooth. In a steady stream, with the blender on, add the canola oil until thoroughly combined. Queso fresco tends to be quite salty. Salt to taste now after everything is blended. I ended up adding about 1/2 teaspoon of kosher salt.
3. Meanwhile, cook pasta in well salted water. In a medium-skillet, heat up the pesto; transfer the cooked pasta to the pesto and toss.
Serves 4