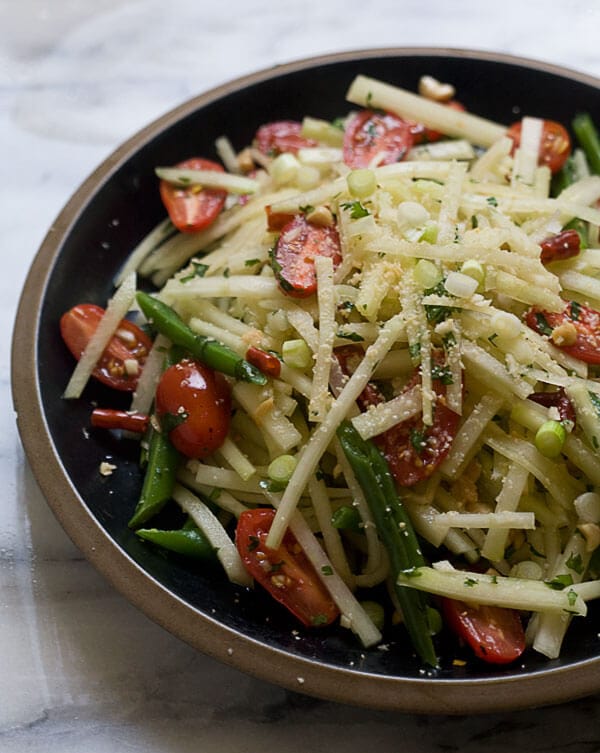 When it comes to dinner I don't often cook. I know that may seem a little crazy but it's actually not the cooking that deters me, it's the dang cleaning, man. I feel like I spend at least 75% of my life cleaning stuff. And things are still dirty! So, yeah when it comes to weeknight meals I don't always cook.
My recent obsession is this restaurant in Los Angeles' Thai Town called Pa Ord. It's just one of those restaurants that fits the bill when it comes to price (it's way cheap), delicious and interesting and somewhat close by (very important in LA #traffic). And every time I go it's the same: one Tom Yum Gai (it's spicy, incredible and somewhat healthy), sometimes a Fried Rice with holy basil and crispy pork and a green papaya salad. Always a green papaya salad.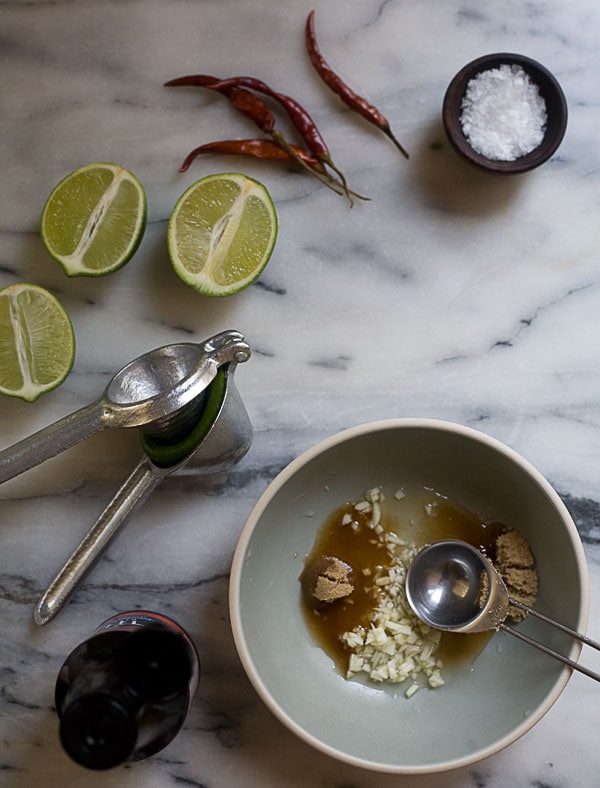 That obsession lead me to trying my own hand at it a few weeks ago for Memorial Day and omg was it amazing. So simple, too. Not every salad has the ability to be thrown together and then refrigerated for a few hours until you need it–this is really awesome for things like bbqs and summa-time gathers. Actually, letting it sit so everything can marry is preferred.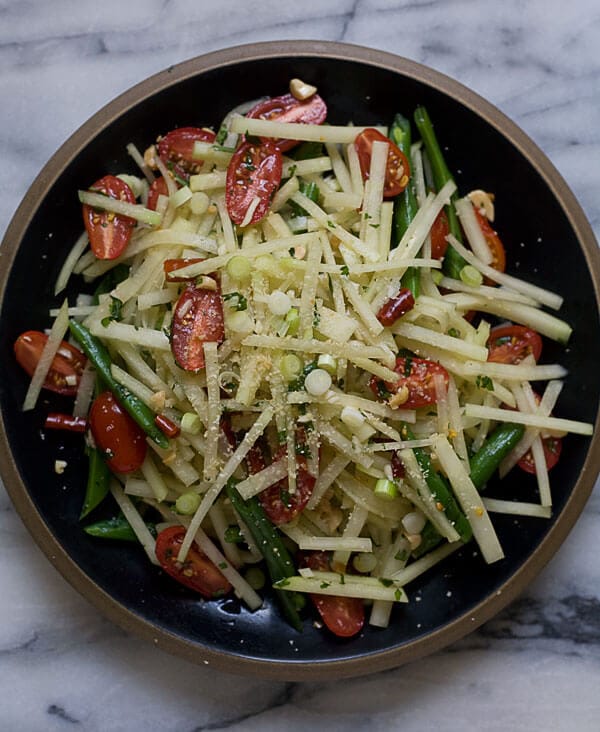 The dressing is a mix of fish sauce, lime juice, a little honey, bird's eye chili sugar and garlic. It's so amazing. The entire salad marinates for at least 3 hours. At least! Over this time it'll get spicier more flavorful and everything will just come together, so don't worry if you taste it at first and don't get it–it'll get there. After the 3 hours i do a taste test and adjust stuff according to taste. I add a dash more of fish sauce, a dash of salt, a squeeze of lime. The measurements below tell you what I was happy with but feel free to add more lime juice, more salt, more fish sauce, etc.
The tomatoes and green beans really give it a beautiful color and it's refreshing while being flavorful with a major kick to it.
Oh and a few of you have asked where one can find a green papaya. I bought mine at an Asian super market. If one is close by, I'd suggest going there for the majority of the products below–the produce is usually cheaper, as is the fish sauce.
Typically there's dried crab or dried shrimp, but for my party and for this post, I skipped it. But if you want to give it a go, doooo it!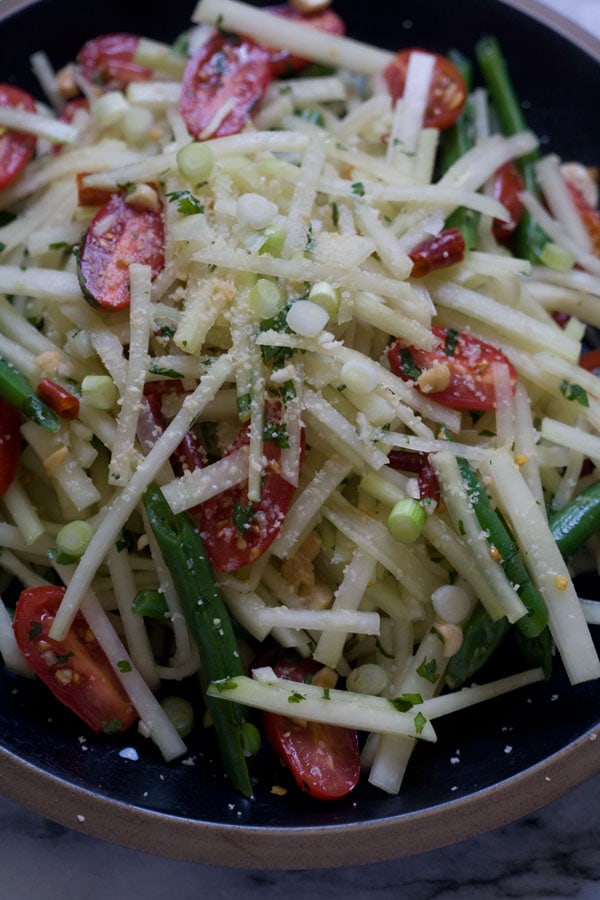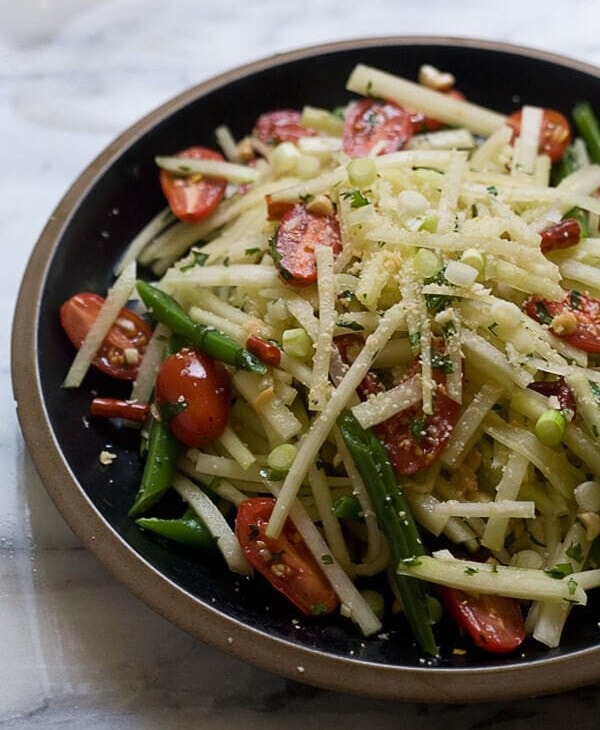 Print Recipe
Green Papaya Salad (Som Tam)
Serving Size:
(about 6 cups of salad)
Ingredients
Dressing:
1

tablespoon

honey

1

tablespoon

light or dark brown sugar

2

garlic cloves

minced

3-4

limes

3

tablespoons

fish sauce

4

bird's eye

Thai chilies, stems discarded and diced
Salad:
10

green beans

sliced in half

4

cups

julienned papaya

7

cherry tomatoes

sliced

2

tablespoons

minced cilantro

2

tablespoon

crushed peanuts

2

green onions

sliced
Instructions
To a small bowl, mix together the honey, sugar, garlic, juice from 3 limes, fish sauce and thai chilies. Mix and set aside.

Set a small pot of water over high heat. When it reaches a boil, add the green beans and cook for 5 minutes, until bright green. Remove and rinse under cold water to stop the cooking. Give them a dry with paper towels and transfer them to a medium bowl. Add the julienned papaya, tomatoes, cilantro and peanuts. Pour the dressing over the salad and toss until thoroughly coated. Wrap the bowl in plastic and transfer to the refrigerator and allow to marinate for 2 hours or so or up to one day. Note: the longer you allow it to sit, the spicier it will be so just be sure to check at the 1 hour mark to make sure it's not getting too spicy. If it's at the perfect point, feel free to remove the chilies if you're going to serve much later.

Just before serving, I adjusted the flavors a big. I added a few pinches of salt, the juice from one more lime and a dash more of fish sauce. Do the same to your liking! Top with green onions and serve.