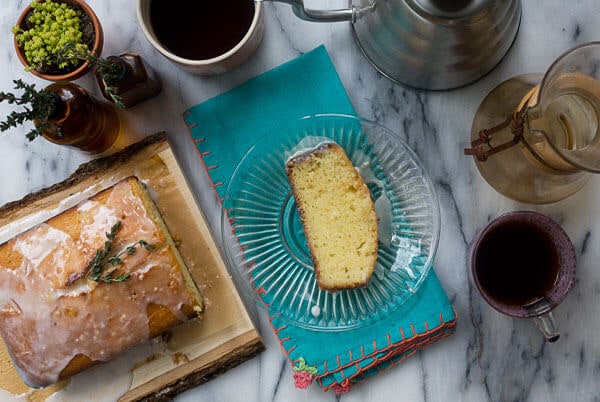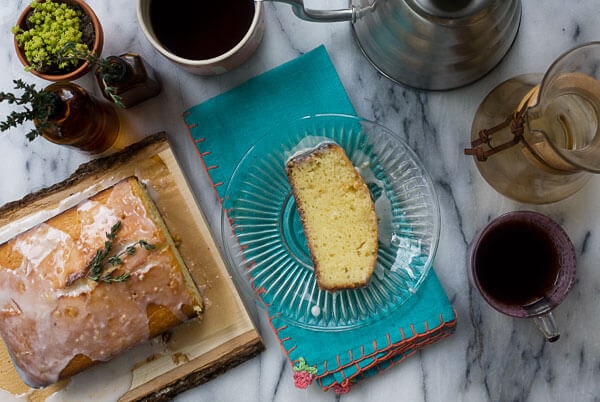 Some recipes have no real story, no history or emotional meaning. My grandmama didnt make this cake for us while we sat on the porch and listened to her hum. My mom didn't make this for us when we came home from school. And this cake doesn't compliment an upcoming holiday.
This cake came into my life because Trader Joe's always makes me buy more than I want/need. Yes.
I wanted to make this drank BADLY, so I went to the store to buy ruby red grapefruits because I was envisioning a blush colored drink. I drink in colors! So, I walk in and the yellow (less cuter) grapefruits were sold individually, while the ruby red grapefruits were sold in a big bundle. Ugh. I bought the big bag of cuter, pinker grapefruits. After I made the drink, I found myself with three pretty grapefruits that had no home.
So, I baked 'em.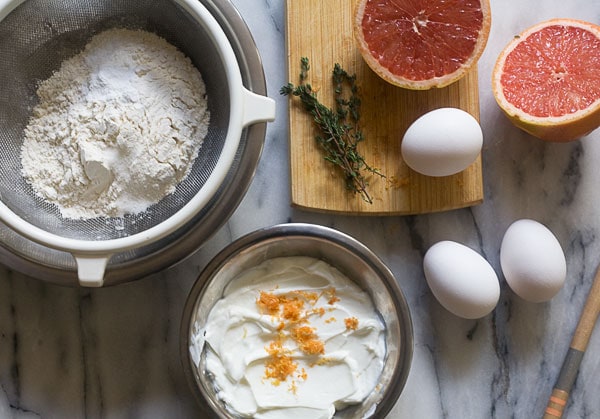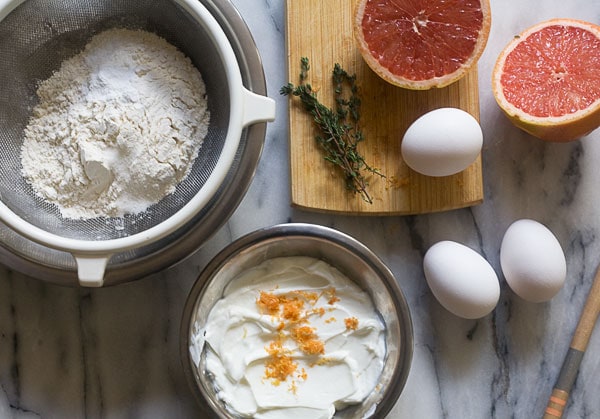 This cake is cake–it's dessert, most definitely. But it's a healthy…ish. There's less sugar than most pound cakes (I think) and instead of butter and buttermilk there's yogurt.
The grapefruit is so bright, floral and packs a refreshing punch. Into it!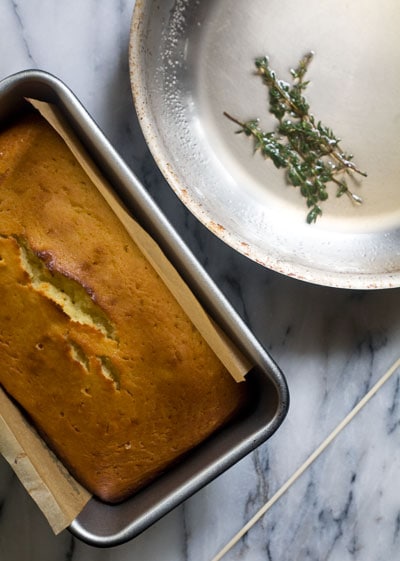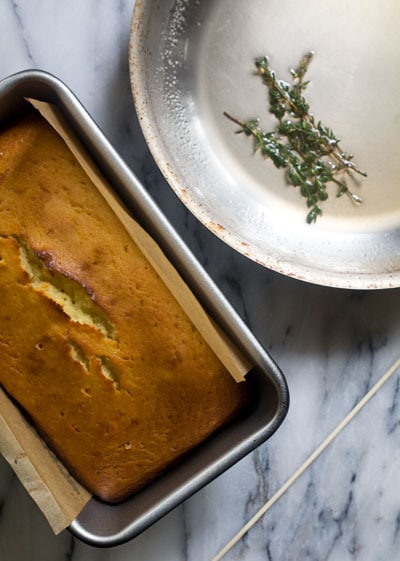 The thyme is cooked with grapefruit juice, sugar and a splash of water. The thyme steeps in the syrup while the cake bakes in the oven. This results in a syrup that's so flavorful and herbaceous.
I poked a few holes in the top of the cake a few minutes after it came out of the oven and then poured the thyme/grapefruit syrup on top. The syrup seeps into the cake and makes it SO moist and awesome. Not soggy. Just moist.
(Moist is a bad word around here but I literally didn't know what else to use. So, I'm sorry.)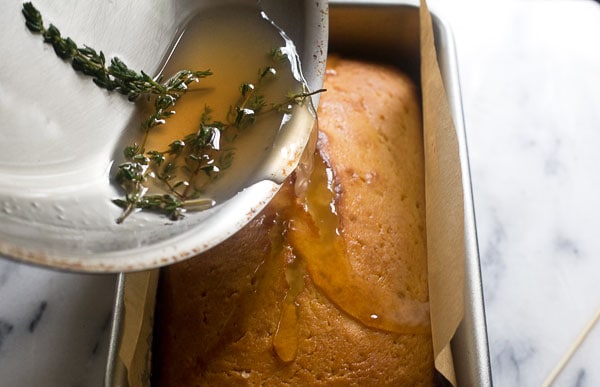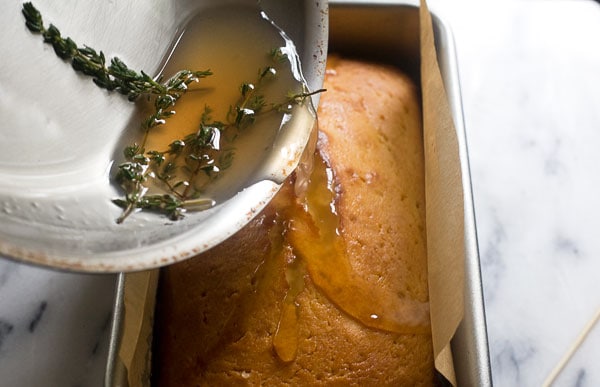 While the cake is cooling, a grapefruit and sugar glaze is made.
(I know I promised this to be healthy but that's why I added the "ish.")
And yes, if you noticed that I took a slice of the cake (on the right), pre-glaze, I'm here to confirm it. I did. It was awesome without the glaze! So, the good news is that if you wanted to skip it, you totally can.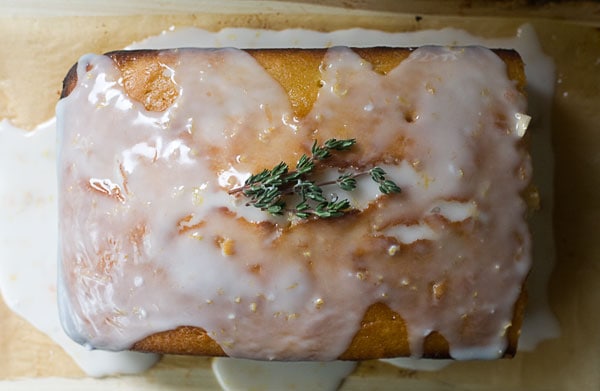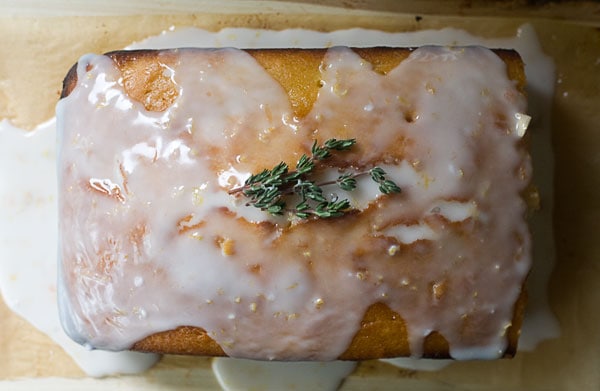 I enjoyed this cake when it was warm as the syrup was soaking in. I enjoyed it room temperature with some coffee. And I even enjoyed it the next day, after dinner while standing in my (sort of) cozy kitchen.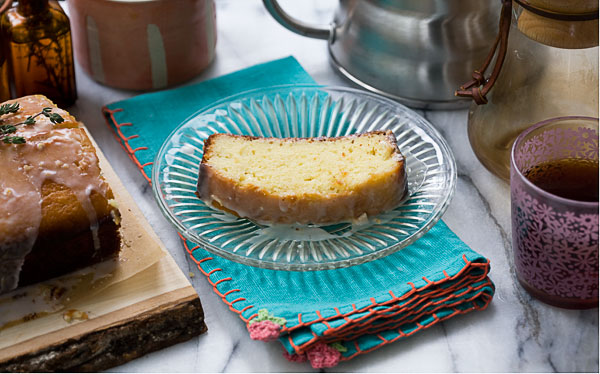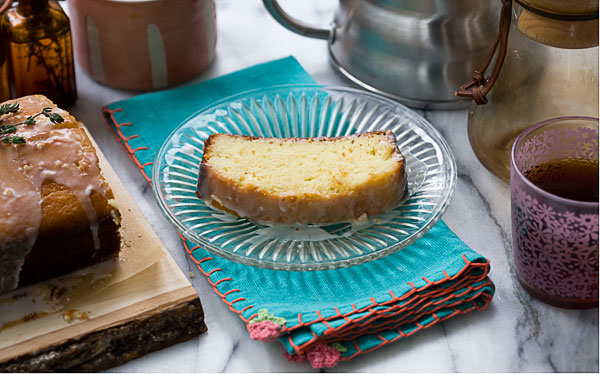 Ingredients
1 1/2 cups all-purpose flour
2 teaspoons baking powder
1/2 teaspoon kosher salt
1 cup plain whole-milk yogurt
1 cups white granulated sugar
3 large eggs
2 teaspoons grated grapefruit zest (1 grapefruit)
1/2 cup vegetable oil

Cake Syrup:

1/2 cup freshly squeezed ruby red grapefruit juice (1-2 grapefruits)1/2 cup white granulated sugar
4-5 sprigs fresh thyme

For the glaze:

1 cup confectioners' sugar
2 tablespoons reserved cake syrup
Directions
Preheat the oven to 350 degrees F. Grease an 8 x 5-inch loaf pan. Line the bottom with parchment paper. Grease and flour the pan.
Sift together the flour, baking powder, and salt into a bowl. In another bowl, whisk together the yogurt, sugar, eggs and grapefruit zest. Slowly whisk the dry ingredients into the wet ingredients. With a rubber spatula, fold the vegetable oil into the batter, making sure it's all incorporated. Pour the batter into the prepared pan and bake for about 40-45 minutes, or until a cake tester placed in the center of the loaf comes out clean.
Meanwhile, to a small saucepan, add grapefruit juice, sugar, a splash or two of water and the thyme. Cook until the sugar dissolves and the mixture is clear. Set aside so the thyme can steep, about 30 minutes. Strain and set aside.
To make the glaze, add two tablespoons of the grapefruit/thyme syrup to a bowl. Sift in the confectioners' sugar and mix until smooth.
When the cake is done, allow it to cool in the pan for 10 minutes. Using a skewer, pierce a few holes into the cake's top. Pour the grapefruit/thyme syrup on the cake and allow it soak in. Let the cake cool to room temperature.
Pour the glaze over the cake and garnish with a few sprigs of thyme.

Adapted from Ina Garten
https://www.acozykitchen.com/grapefruit-yogurt-pound-cake/