This Grapefruit Shandy consists of simple syrup, fresh grapefruit juice and topped with beer. It's deliciously refreshing, perfect for the summer. Feel free to substitute other citrus juices for the grapefruit.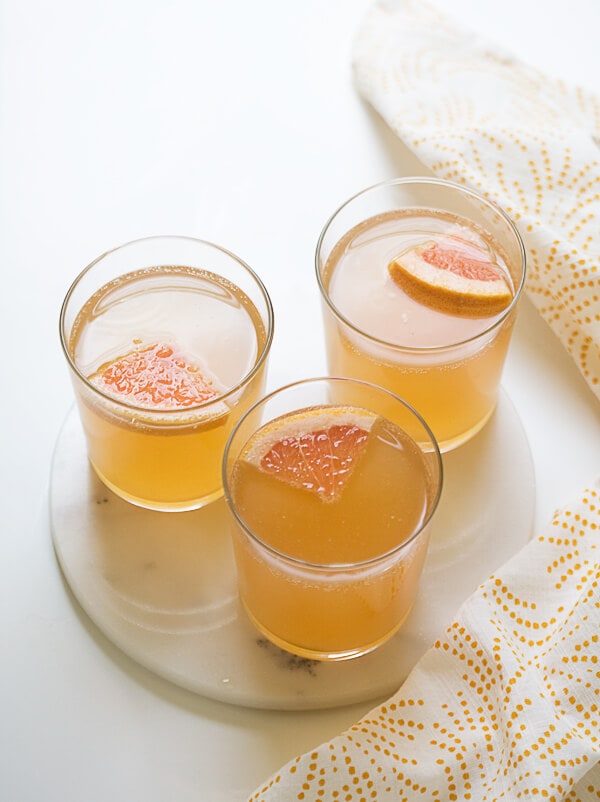 I first had a shandy when I had just moved to LA and went to the opening night of this beer bar called El Prado. They were serving shandies and I had, like, five. Definitely too many, but I absolutely looooved them.
Flash to years later, I went to my favorite beer store and found this Stiegel Grapefruit Shandy (they did all the work for you!) and thought it was the most delicious thing in the entire world.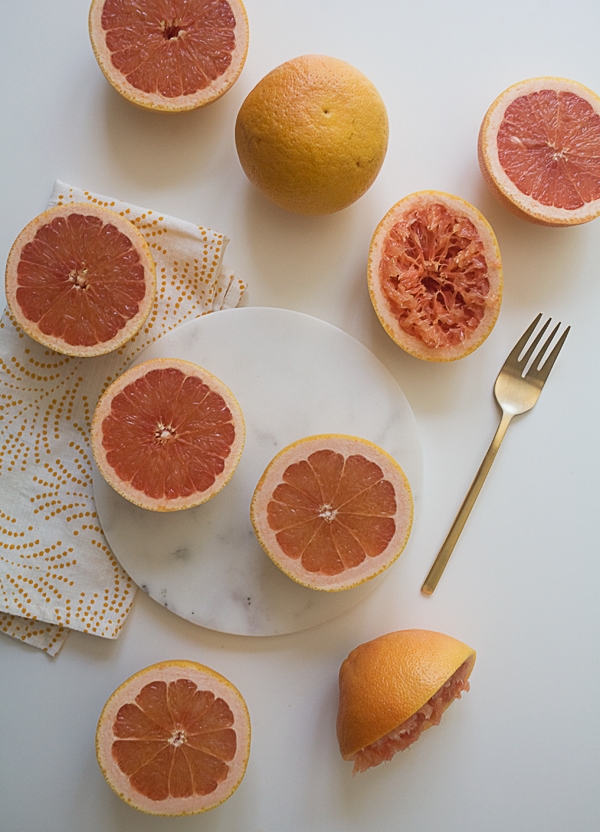 What is a Shandy?
A shandy is a beer drink mixed with citrus juice, most commonly sweet lemon juice. The ratio between the beer and citrus juice often fluctuates depending on what people's tastes are. I for one, LOVE using a sweet grapefruit juice because of the delicious sweet and bitter notes.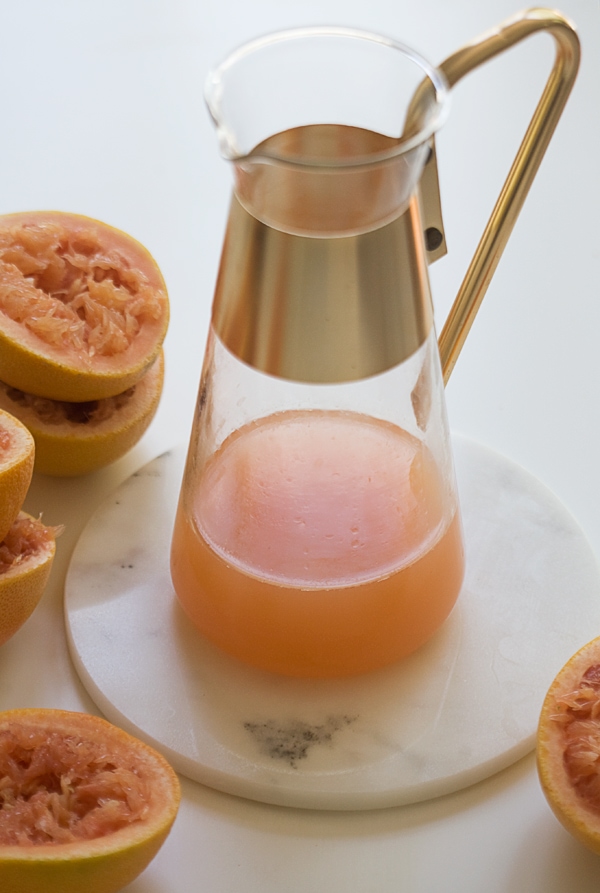 How to Make a Grapefruit Shandy
It's the simplest most delicious thing ever. They're kinda similar to the dude-ly mimosas I like to make: beer and orange juice vs. champagne. Champagne has always been a bit too girly for me. It all tastes the same and it tends to make my nose itch. So, I love shandies because beer and grapefruit juice are just delicious to me.
Make the simple syrup. You know how to do this! It's water and sugar, cooked until the sugar dissolves.
Juice the grapefruits. I like to use a citrus machine to do this, but you can also use a hand squeezer.
Strain the juice through a sieve to catch any pulp. Place the pulp into the compost!
Pour the grapefruit juice into a pitcher and add the simple syrup and give it a mix. As a result, it'll offset the bitter notes just a tad bit more.
Chill it in the fridge. You want this super cold. It'll make for a delicious shandy.
Divide the grapefruit mixture amongst the glasses. And then top it with beer!
YUM!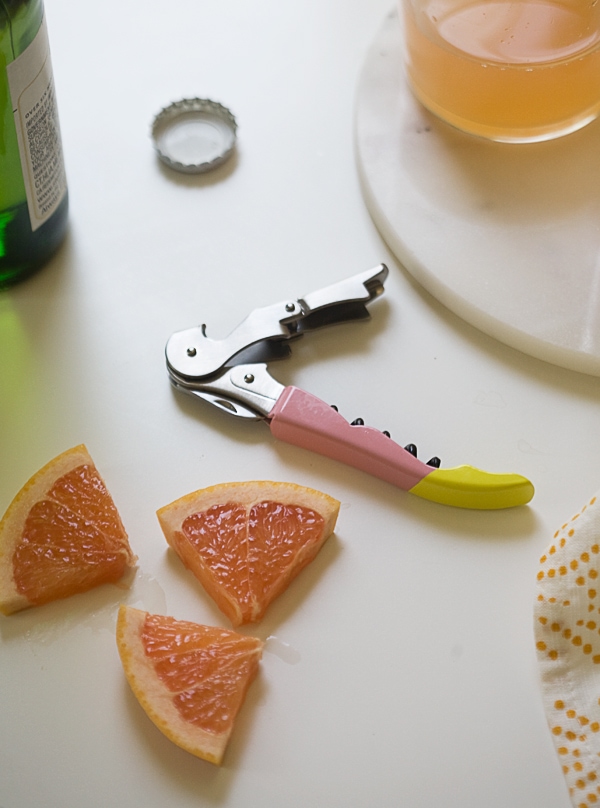 Grapefruits are my spirit fruit. Does this make sense? They're mostly sweet…but also a teeny bit bitter. It's a welcomed bitterness, actually. I embrace it.
What's your spirit fruit? After grapefruits, I'd say apples. A good Honey Crisp.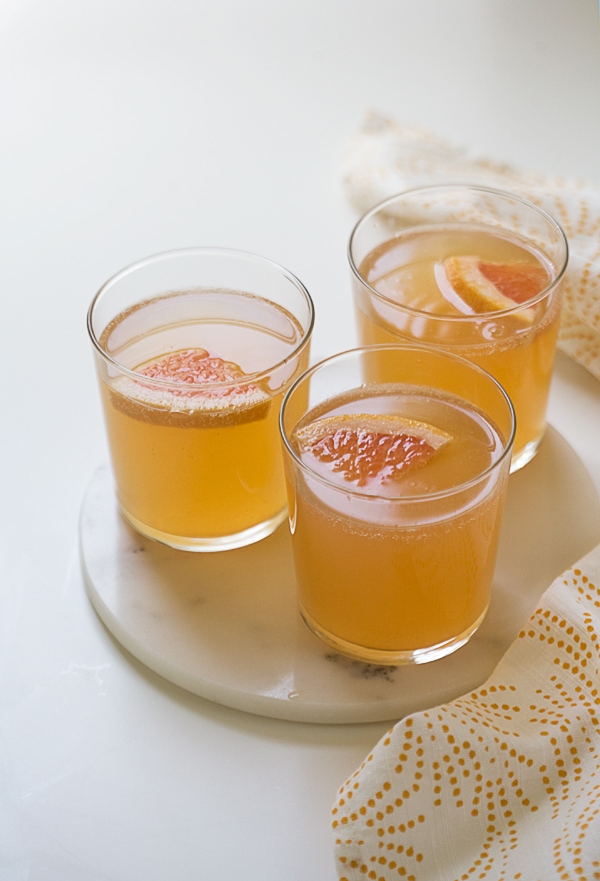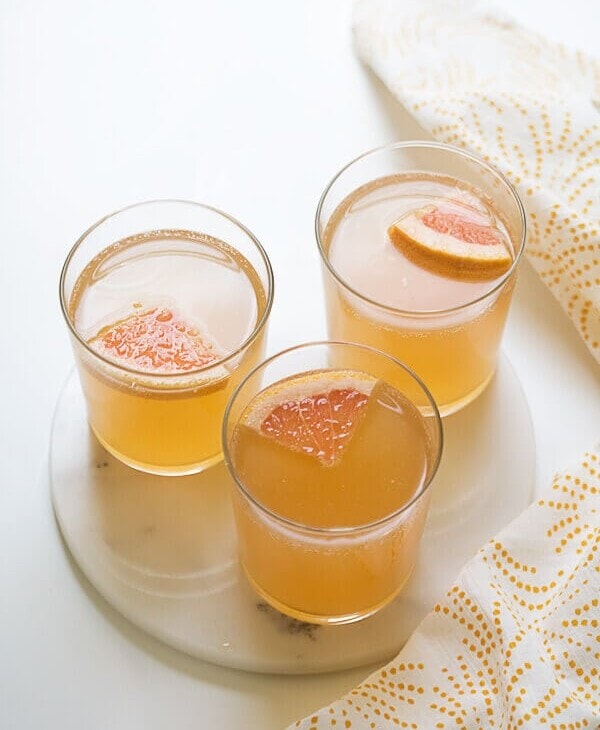 Print Recipe
Grapefruit Shandy Recipe
This grapefruit shandy consists of simple syrup, fresh grapefruit juice and topped with beer. It's deliciously refreshing, perfect for the summer.
Ingredients
1/2

cup

water

1/4

cup

sugar

5

large ruby red grapefruits

about 4 pounds

2

bottles of beer

you could use a lager or wheat beer
Instructions
To Make the Simple Syrup:
In a small saucepan, set over low heat, mix the water and sugar together until the sugar dissolves. Set aside to cool.
To Make the Concentrate:
Next, juice the grapefruits and run the juice through a strainer to catch any pulp. If you're one of those weirdos who likes pulp, then by all means skip this step!

Transfer the grapefruit juice to a pitcher and pour in the simple syrup. You should have about 2 cups. Transfer to the fridge to chill for 1 hour. You want this drank cold!
To Assemble the Shandies:
After the grapefruit mixture has chilled, divide between four glasses (about 1/2 cup per glass). Top with cold beer and garnish with a slice of grapefruit.
Nutrition
Serving:
4
g
|
Calories:
48
kcal
(2%)
|
Carbohydrates:
12
g
(4%)
|
Sodium:
2
mg
|
Sugar:
12
g
(13%)