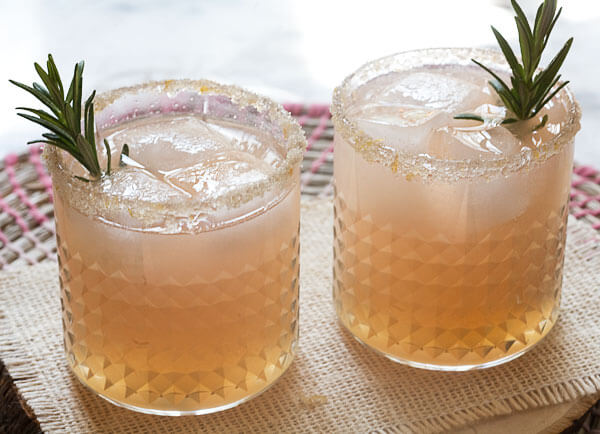 When I think of spritzers, I picture a group of old ladies tanning on the beaches of South Beach in their 1970s sunglasses and floral dress bathing suits (I not-so-secretly want one). I imagine them gossiping about the neighbors and telling one or two inappropriate jokes that all of them juuust love, especially since they've all had one too many white wine spritzers. And you can bet ice cubes are in those white wine spritzers. Definitely.
This picture I painted has inspired me to make my own spritzer (sans white wine). I feel like we're all just dangling on the cusp of Winter, waiting for it to transform into Spring. It hasn't yet. Winter is still here.
I'm not going to complain about the weather because that's lame, but dude am I so ready for strawberries, peas and some asparagus. It's almost time. Until then…let's make spritzers with grapefruit and rosemary and dream about big sunglasses and coconut smelling suntan lotion.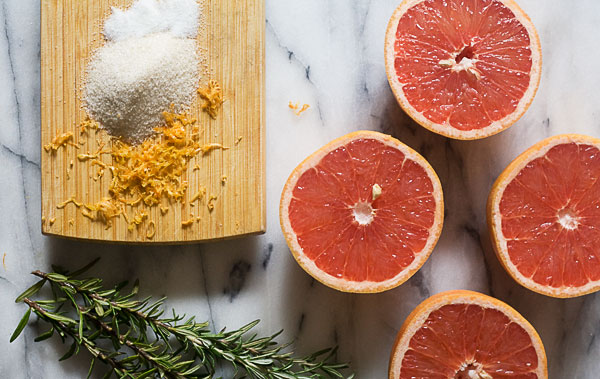 This recipe starts with making a rosemary simple syrup. Sugar, water and rosemary.
I allowed it to steep while I made and assembled everything else.
Next, I made a sugar, salt and grapefruit zest rim situation. I don't know the technical term for this so I'm calling it a situation. A delicious situation.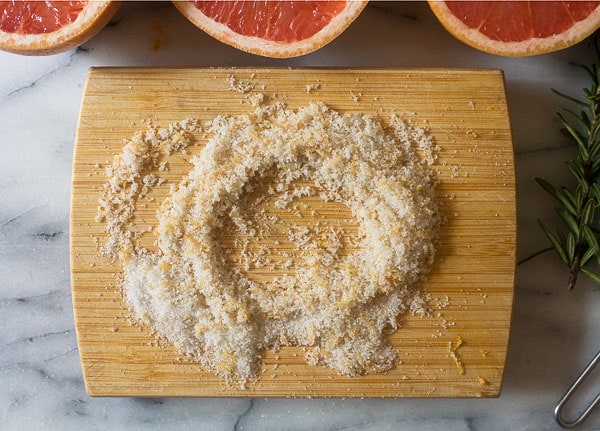 It satisfies that salty/sugary combination that we just never get sick of.
I mixed together sugar, less salt and grapefruit zest. I used my hands to mix it all together and to agitate the grapefruit zest. It became more grapefruit-ey and more aromatic. Success.
The ruby red grapefruits are juiced.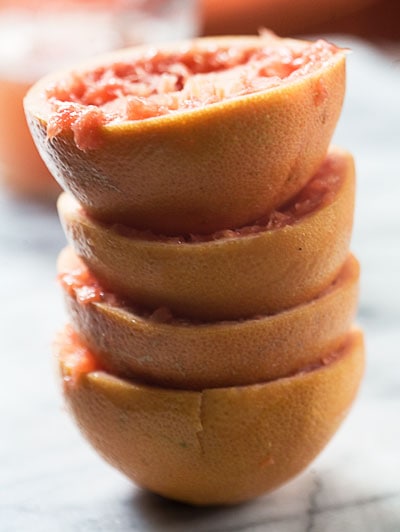 The glasses' rims are coated in the salty/sugary/zesty stuff.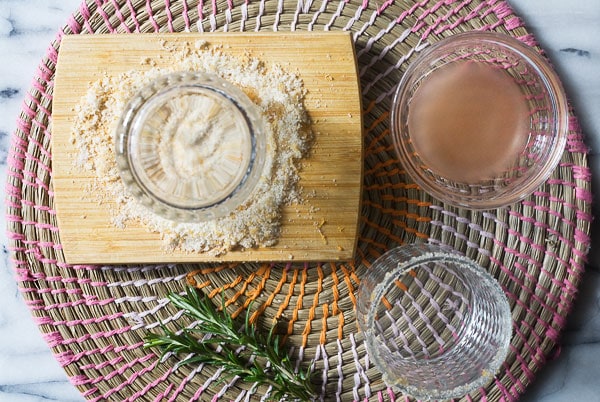 Grapefruit juice is divided, rosemary syrup is added and sparkling water tops it all off.
Can I tell you a not-so-fun Adrianna fact? I'm kind of allergic to alcohol. Like, I'm not allergic, allergic, but if I have more than one drink I start to sneeze. Most people find it charming and cute, but it's actually just seriously annoying and makes me not want to drink, I guess because I associate drinking with sneezing? I think that.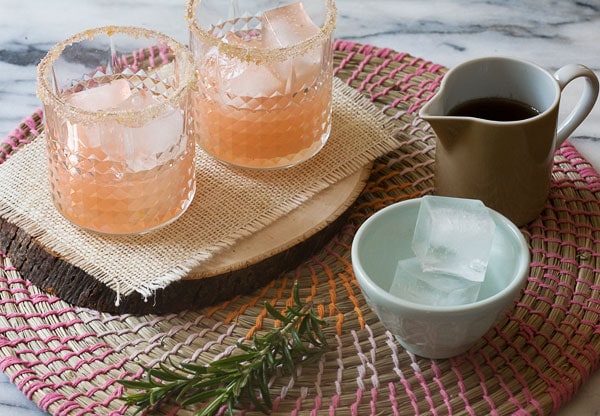 This drink doesn't have white wine or alcohol but it should! Oh should it.
Might I suggest a few glugs of tequila, gin (oh that'd be amazing) or even vodka.
Rosemary and grapefruit work wonders with one another. There's this sweet tartness which is so lovely with the super aromatic and warm rosemary.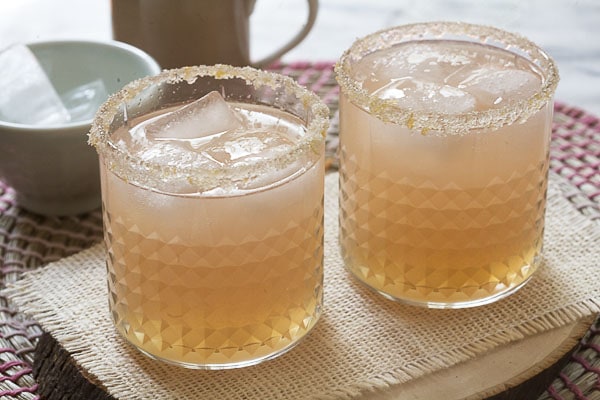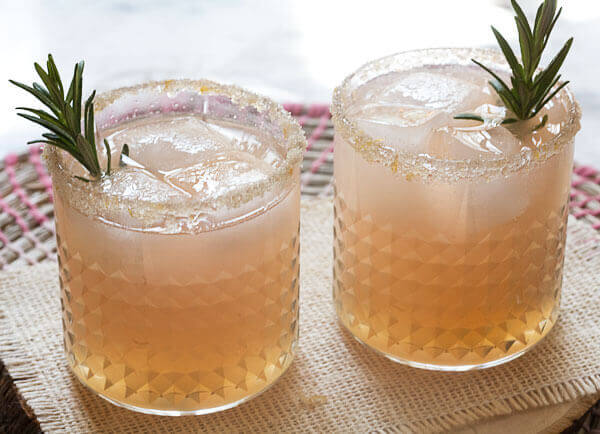 Print Recipe
Grapefruit and Rosemary Spritzer
Ingredients
Rosemary Syrup:
1/2

cup

water

1/2

cup

sugar

3-4

sprigs rosemary

and a few more for garnish
Rim and Drink:
2-3

ruby red grapefruits

zest and juice

2

tablespoons

cane sugar

1/2

teaspoon

sea salt

Sparkling water
Instructions
Place a saucepan over medium heat and add the water and sugar; and then mix until the sugar dissolves. Add the sprigs of rosemary and bring the mixture to a simmer, cooking for 5 minutes. Take the pan off the heat and allow the syrup to steep while you make the rest of the drink, about 10 minutes. After it's done steeping, remove the sprigs of rosemary and discard. Note: You could also make this rosemary syrup ahead of time and keep it in the fridge until you're ready to use it.

Next, make the mixture that'll rim the glasses. Combine the sugar, salt and grapefruit zest, rubbing the mixture with your fingers--this will release all of the zest's fragrance. Set aside. Juice the grapefruits, which will result in approximately 1 1/4 cup of juice. Run the juice through a strainer and discard the pulp.

To assemble the drinks, add 1/4 cup of grapefruit juice to a shallow bowl. Dip the rim of the glasses into the grapefruit juice and then immediately dip them into the sugar/salt mixture. Fill the glasses with ice. Divide the grapefruit juice between the two glasses. Pour in two or three teaspoons of rosemary syrup, top with sparkling water and mix the drink with a spoon. Adjust syrup content accordingly. Garnish with a few sprigs of fresh rosemary and drink!

If you're feeling crazy and adventurous, I recommend torching the rosemary leaves with a kitchen torch or over a gas range. Garnish and experience a smokier, more aromatic drink.
Oh and if you're feeling a little crazy and experimental, I urge you to try this: torch the rosemary and then garnish with it--it'll be a completely different experience.
Before you take your first sip, all smell are aromas of smoke, strong rosemary; it'll totally overload your nose, but when you take a sip, it'll be nothing but sweet citrus. It's a fun little experiment. I recommend doing it both ways and comparing to see which one you like more.
And you don't need a kitchen torch, you can totally just do this over a gas range!
(This addition of geniusness is brought to you by my dude, Joshua.)