It's the last day of 2013, my friends. You deserve a cocktail.
Pull up a chair, let's talk about the highlights of 2013 and the goals for 2014. Was 2013 kind of a crummy year for you? Was it the best ever? Tell me...I have drinks for us!
I feel like I've waxed poetic about my love of bourbon and old fashioneds before, but this entire blog doesn't have a single recipe for an old fashioned, which is kinda sad.
In my experience, there are a lot of people who know how to make terrible old fashioneds, so I usually steer clear of them if I know I'm not at a fancy mixology kinda bar. The last time I went to a dive bar and ordered an old fashioned, the bartender pulled out a packet of Sweet 'n Low and mixed it into the bourbon. I 'bout freaked out.
I'll need to do a classic recipe for a good old fashioned soon, but in the interim, I bring you a fun new twist: Grapefruit Old Fashioned.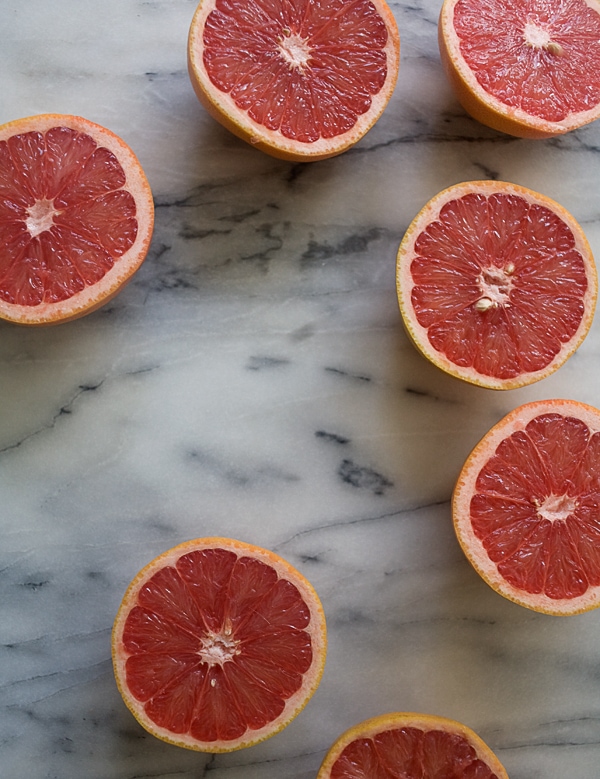 I first made this drink last summer and then remade it for Christmas.
I had fresh sage on hand so I added it to the simple syrup for just a hint of herbaceousness. It's definitely not necessary and feel free to leave it out or swap it for different mild herbs.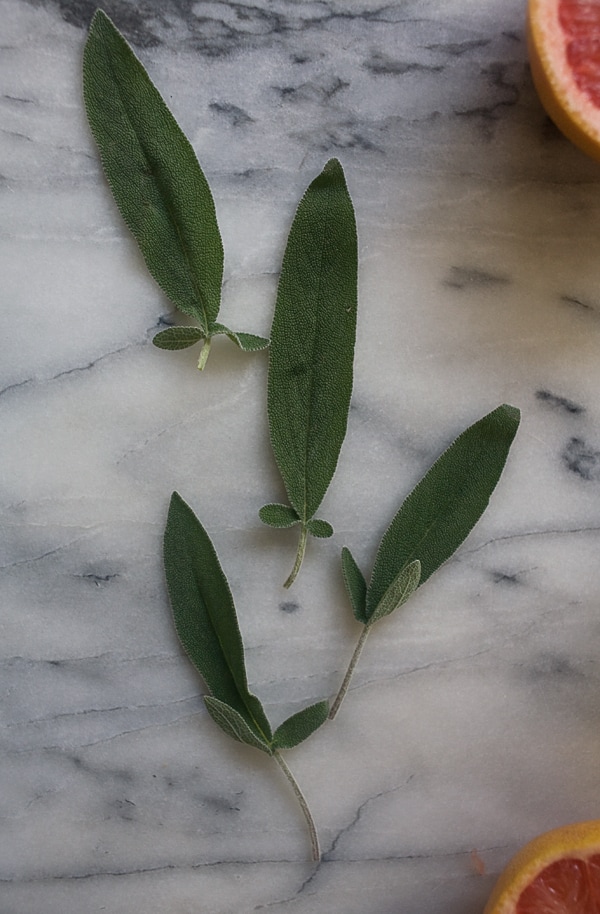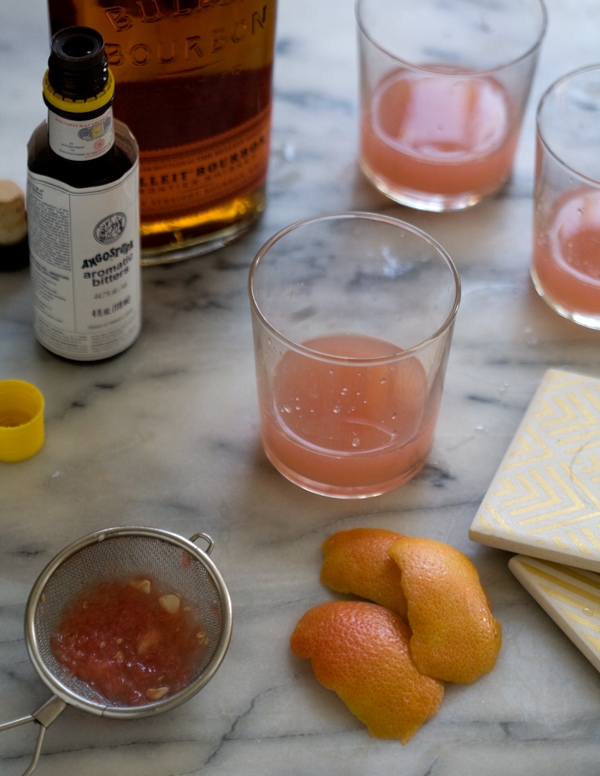 I'd say 2013 was filled with some pretty fantastic moments. First, there was Amelia. Having a corgi all to myself was a dream come true. And then there was my lil' cookbook! which was also pretty dreamy. There were some challenges along the way, too; not everything is pancakes, glitter and corgi butts, but nothing that I didn't learn from. I'm feeling pretty good about 2014. I'm ready to ring in the New Year.
Thank you all so much for you support this year. I'm so glad you're here. Wishing you a happy and healthy 2014. See you next year.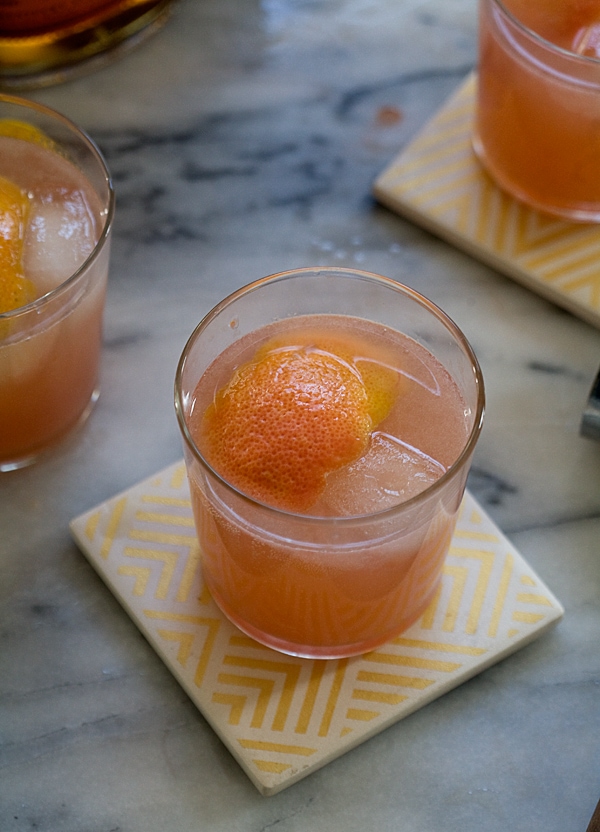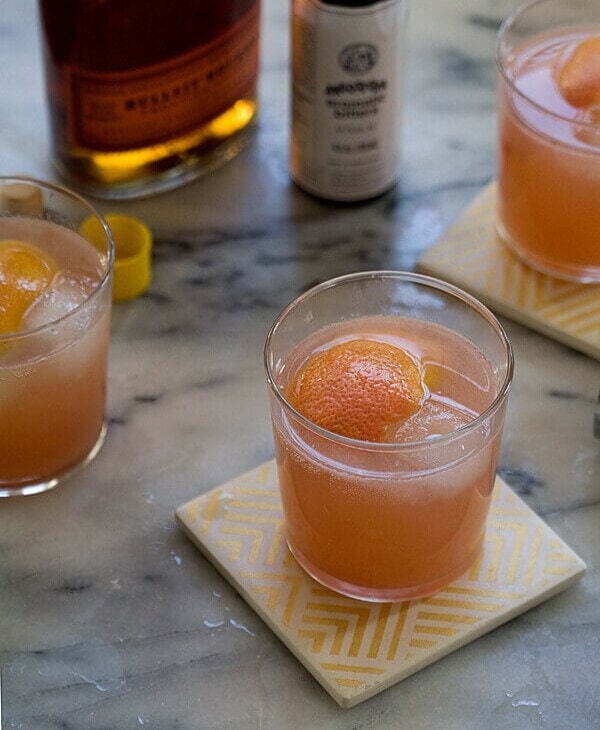 Print Recipe
Grapefruit Old Fashioned
Ingredients
Sage Syrup:
½

cup

water

½

cup

sugar

3-4

sprig fresh sage
Drink:
4

ruby red grapefruits

Angostura bitters

Bourbon of choice

I used Bulleit

Sparkling water

Ice
Instructions
Place a saucepan over medium heat and add the water and sugar; mix until the sugar dissolves. Add the sprigs of sage and bring the mixture to a simmer, cooking for 5 minutes. Take the pan off the heat and allow the syrup to steep while you make the rest of the drink, about 10 minutes. After it's done steeping, remove the sprigs of sage and discard.

Before you juice the grapefruits, slice off four grapefruit rings for garnish. Juice the grapefruit juice into a measuring cup. If you happen to despise pulp (that would be me!), feel free to strain the grapefruit juice.

To make the cocktail, add about 3 to 4 liquid ounces of grapefruit juice and two tablespoons of simple syrup to a glass. Add two dashes of bitters, 2 liquid ounces bourbon, a splash of sparkling water and ice. Stir until combined, and garnish with the grapefruit peel. Repeat the process until all the other cocktails are assembled.