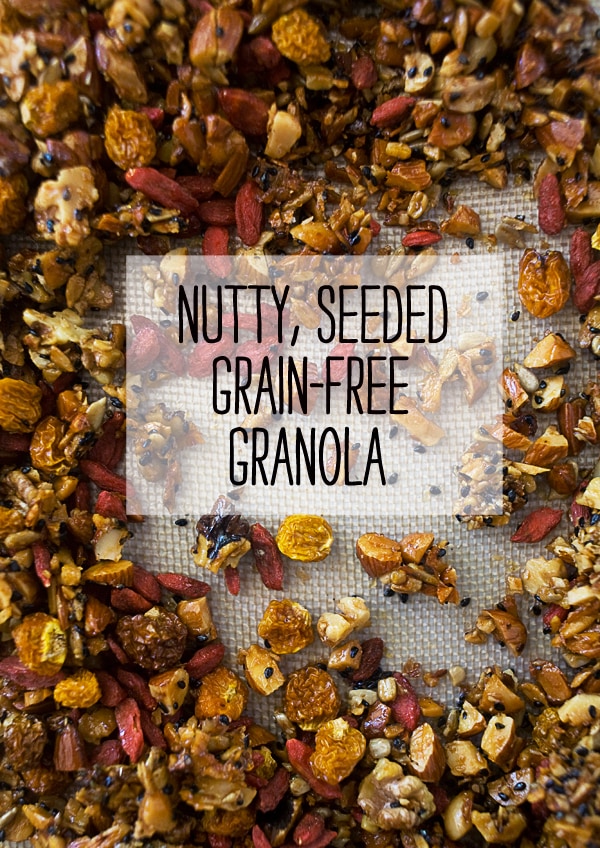 Lots of hippie-dippie things are going on in the world right now and I figured we should talk about them.
To start, birkenstocks are back in style. I bought a white pair last week and I'm currently expecting their arrival. Pretty excited about 'em, you guys. I might even live on the edge and wear them with a cute pair of socks. Sue me.
And Tevas!! Also back in style. Not sure how I feel about this return. They kinda bring back some terrible 90s nightmares.
Speaking of Colorado-type things…granola! Grain-free granola is totally a thing. No grains. No gluten. And while we're at it, no refined sugar. You would think I'd be leading you down a depressing healthy hole of complete nonsense but seriously this is my favorite granola in the entire world. Yes, I'm absolutely serious. There's a good chance that after this I won't ever return to oat-based granola. Why would I? I don't need them. I have nuts like almonds, walnuts and macadamia, and seeds like sunflower and black sesame. And a bunch of delicious fruit like golden berries and goji berries.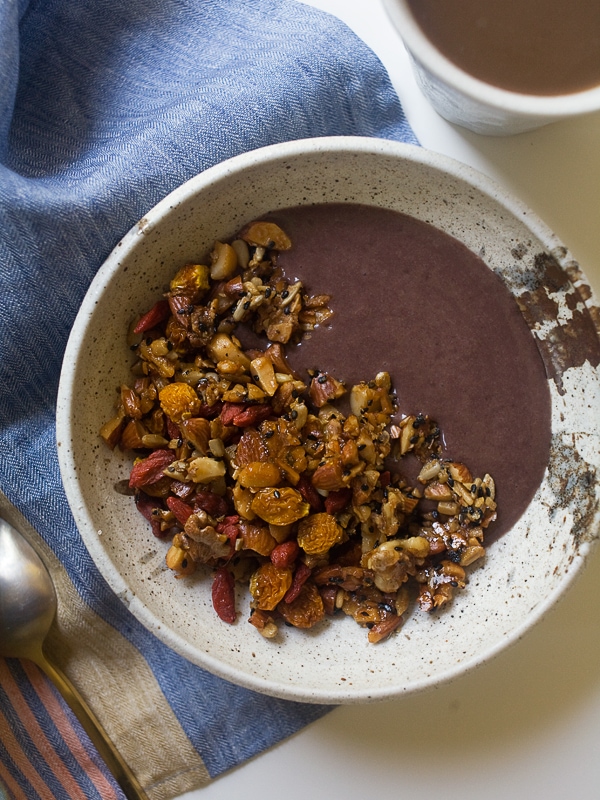 I'm in love. Today's post is my ode to granola-y-type things.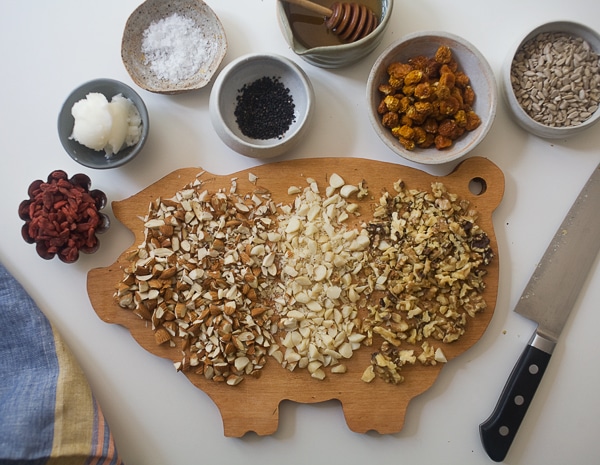 Good granola is all about ratios. How many nuts to seeds to fruit do you got going on. Of course, it's majorly flexible. I say swap out what you might have in the back of your pantry. Use those lingering bags of half used up nuts for this recipe. I'm personally a fan of softer nuts (this is a weird sentence I know, I'm sorry). Walnuts and macadamia–super soft. Almonds give it a bit of structure and more crunch while the seeds add nice texture, too.
I love the combination of coconut oil and honey. Surprisingly it doesn't taste too coconut-y. Honestly I could barely taste it. And this granola is on the saltier side because I looove the sweet and salty combo.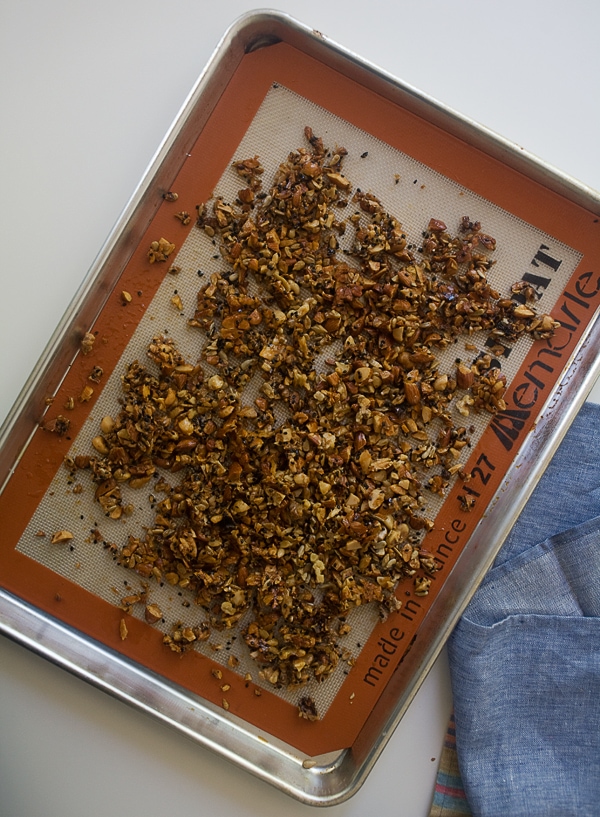 The dried fruit is also flexible. I went with tart golden berries and super good-for-you goji berries.
If I bought every single one of these ingredients in big ol' bags, I probably would've spent like $50 on ingredients. I do not recommend this. I recommend heading to a health food store, or in my case, Whole Foods, and pulling straight from the bulk bin. This way you not only save a lot of money, you also buy exactly what you need.
Photo of my new birkenstocks to follow soon.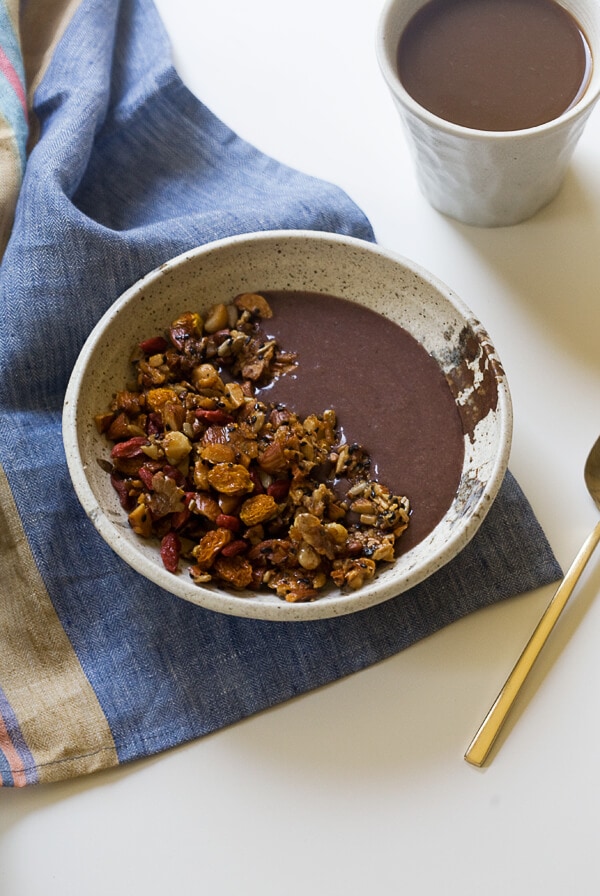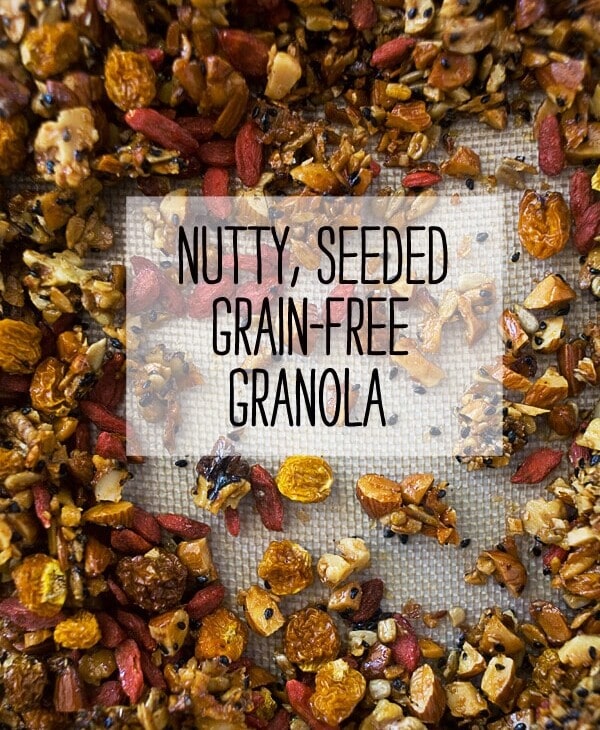 Print Recipe
Nutty, Seeded, Grain-Free Granola
Ingredients
1

cup

almonds

chopped

1/2

cup

walnuts

chopped

1/4

cup

macadamia nuts

chopped

1/4

cup

sunflower seeds

1

tablespoon

plus 1 teaspoon, black sesame seeds

1/4

cup

coconut oil

1/4

cup

honey

3/4

teaspoon

salt

1/2

cup

goldenberries

1/4

cup

goji berries
Instructions
Preheat oven to 300 degrees F. In a large bowl mix together the almonds, walnuts, macadamia nuts, sunflower seeds and black sesame seeds.

In a small saucepan, placed over medium heat, add the coconut oil, honey and salt. Mix until the coconut oil is melted and mixture has married together (there may be some separation between the honey and coconut oil--that's ok!). Pour the mixture over the nuts and toss everything together until completely coated.

Transfer the granola to a parchment-lined baking sheet and bake in the oven for 10 minutes. At the 10 minute-mark toss the granola and return to the oven to bake for an additional 10 to 15 minutes, until lightly golden brown. Remove the granola from the oven and using the back of a wooden spoon, press the granola onto the baking sheet into one even layer. Allow to cool for 10 to 15 minutes. After the cooling period, break the granola up into bite-sized pieces. Mix in the dried fruit.