A couple things on this lovely day:
1. Wrapping cylinder objects is super annoying. Like, how am I supposed to wrap the bottoms and the tops, and it still be somewhat presentable?!
2. Yesterday, as I was standing in line at the post office, I realized no one really understands the whole priority, express, confirmation slip, tracking number deal--it's confusing. Too many options, man. And I have to say, the women at the post office are incredibly patient with people. They just sit there and explain the rules OVER and OVER and OVER. And people are still confused. I feel like this needs to be taught to us in schools.
3. Last night, as I was getting ready to head out, I went to go flat iron my bangs, didn't realize the setting was on 450˙ and burned a good piece of my bangs. Just straight fried a chunk of hair off. Yeah. That happened. So, if you see me in the next few weeks, I might be doing a little bang pinning to the side action.
4. When it's freezing out all I want is soup. I want to ingest heat. I think I particularly like drinking heat. That's where this soup comes in...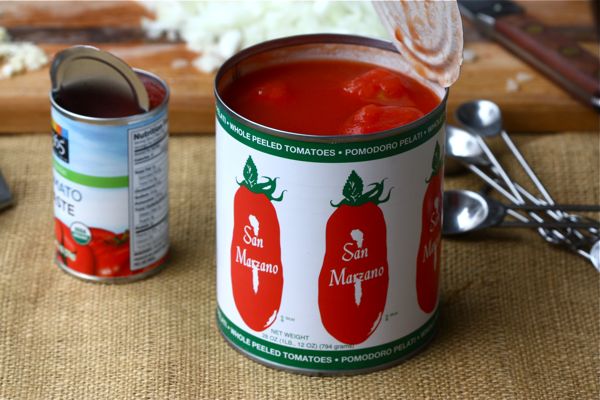 The infamous tomato soup and grilled cheese combo never gets old, does it? Another combo that I'm not sick of?
The whole Great Dane and chihuahua interaction. I can watch their confusion over the other one's size for HOURS. HOURS!!! Classic combo #2.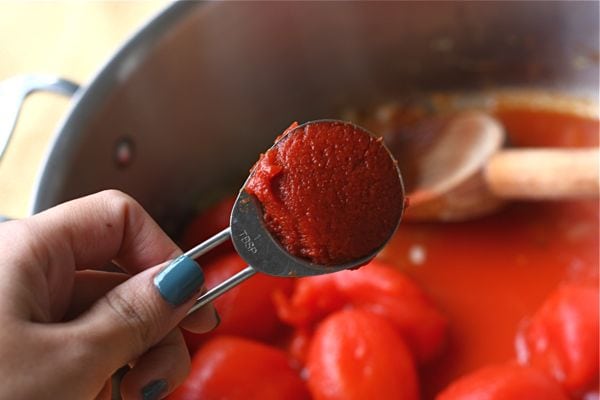 I love a good roasted tomato soup. That's sort of what I planned on when I went to make this, but a quick stroll through the produce aisle made me realize it wasn't really an option. The tomatoes were pale, depressed, and expensive.
Why would we pay, like, $10 for sad tomatoes when we can buy a single ($5) can of San Marzanos.
(If you wanna know crazy details on why they're awesome, here's their Wiki page.)
This soup comes together in about 30 minutes. There's onion sauteeing, garlic getting fragrant, tomatoes being poured in, a little blender action...and that's really it. A good amount of goat cheese makes this a tangy twist on an awesome classic.
And serve it with a grilled cheese. It's important.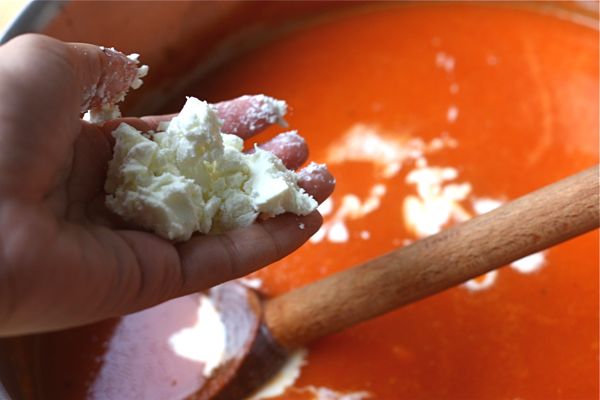 Goat Cheese Tomato Soup
2 tablespoons olive oil
1 cup yellow onion, diced (about 1 onion)
2 garlic cloves, minced
1 (28 ounce) can of whole San Marzano tomatoes (in juice)
1 tablespoon tomato paste
½ teaspoon sugar
3 cups chicken stock (or veggie stock)
½ teaspoon kosher salt
½ teaspoon freshly ground pepper
¼ cup heavy cream
3 ounces goat cheese, softened
1. Heat the olive oil in a large, heavy-bottomed pot over medium-low heat. Add the onions and saute for about 5-7 minutes, or until translucent and tender. Add the garlic to the top of the diced onions and cook for about 1 minute, or until fragrant.
2. Add the tomatoes, tomato paste, sugar, chicken stock, salt, pepper, and stir. Cook the soup for 15 to 20 minutes.
3. In batches, carefully transfer the tomato mixture to the blender. Blend on low, being sure to let steam escape. Blending hot soup is a little dangerous so be careful! When you're done blending it all, transfer it back to the soup pot. (Note: This soup has a little texture that I personally dig. If you don't want that, simply place a sieve onto the pot and pour the mixture through--it'll be much smoother with no tomato pulp.)
4. Reheat the soup just until hot. Mix in the heavy cream and goat cheese.
Yields 4 servings