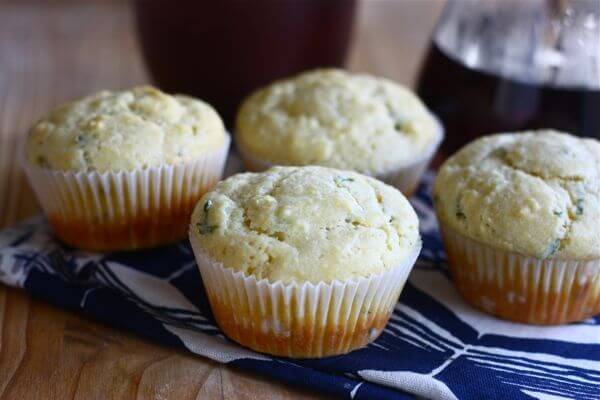 Muffin or cupcake? So many muffins skate that fine line between breakfast and dessert, am I right? Not mad at it. Not complaining…though some mornings I don't want sweet. I don't want dessert. I want something savory, delicious, cheesy and warm.
Enter: Goat Cheese Chive Corn Muffins.
Also!–don't mean to be a debbie-downer on breakfast muffins–but sometimes I'm all psyched about making muffins, and so I do, and then I eat, like, two for breakfast and end up with a bunch leftover. Lame.
These muffins are pretty cool because they can dual as a breakfast snack or a dinner snack. Double-action muffins!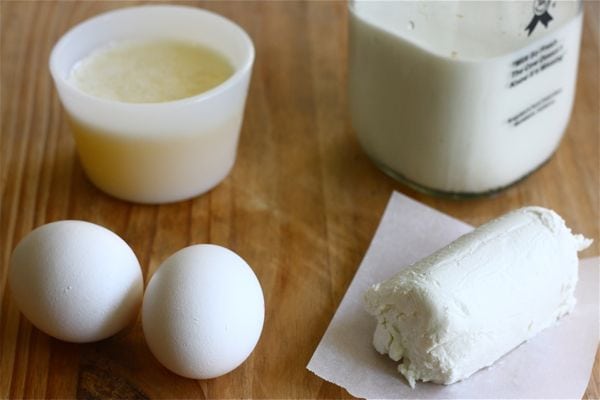 Like a uni-sex shirt or a camisole that can be worn to bed or out into public. Versatility is cool.
That's what these muffins are like.
They come together in speed quickness. Two bowls: dry and wet ingredients. Throw those together and done. Boom. Muffin oven time.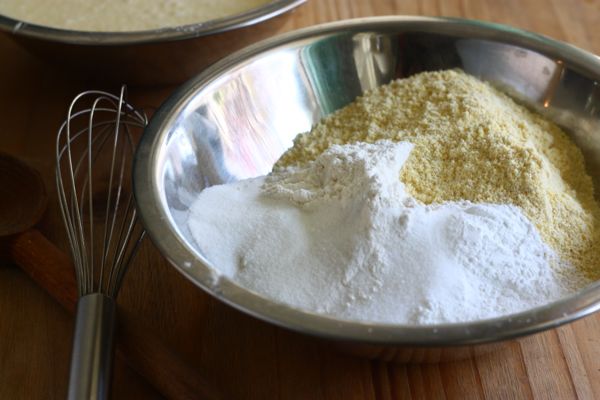 There's a few awesome things going on in these muffins. First, the goat cheese; it adds an awesome tangy, creaminess to the muffins, while the chives add a nice little freshness. The cornmeal isn't, like, the star in these, but rather adds a nice texture.
In other non-related muffin news, I gave up my French press and swapped it for this nifty Chemex. I'd been meaning to do this for months but finally pulled the trigger, and I can confidently say that I'm never going back. I'm totally over the whole thick cup of coffee thing that a French press yields. I'm digging the clean, crisp cup of coffee from the Chemex. I'm growing up, guys! How do you make your coffee at home? What's your tool?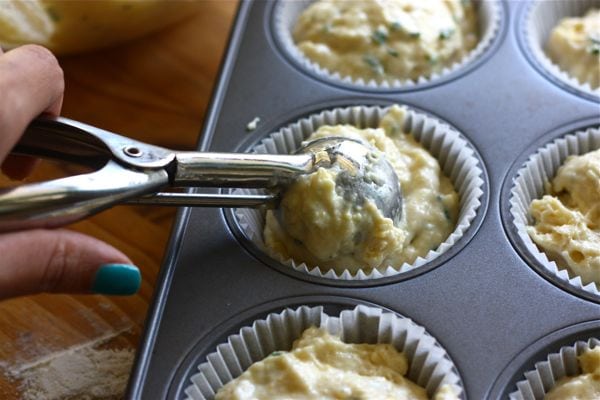 Goat Cheese Chive Corn Muffins
3 cups all-purpose flour
2 tablespoons white granulated sugar
1 cup cornmeal
2 tablespoons baking powder
1 1/2 teaspoons sea-salt
2 cups whole milk
1/2 cup unsalted butter, melted and cooled
4 ounces goat cheese, softened
2 large eggs
4 tablespoons fresh chives, minced
1. Preheat the oven to 350 degrees F. Line 12 muffin cups with paper liners and spray insides with non-stick spray.
2. In the bowl of an electric mixer fitted with a paddle attachment, mix the flour, sugar, cornmeal, baking powder, and salt.
3. In a separate bowl, combine the milk, melted butter, goat cheese and eggs. With the mixer on the lowest speed, pour the wet ingredients into the dry ones and stir until they are just blended. Gently fold the chives into the batter until thoroughly combined. Spoon the batter into the paper liners, filling each one to the top. Bake for 30 minutes, until the tops are crisp and a toothpick comes out clean. Cool slightly and remove from the pan.
Recipe yields 12-14 muffins
Adapted from Ina Garten