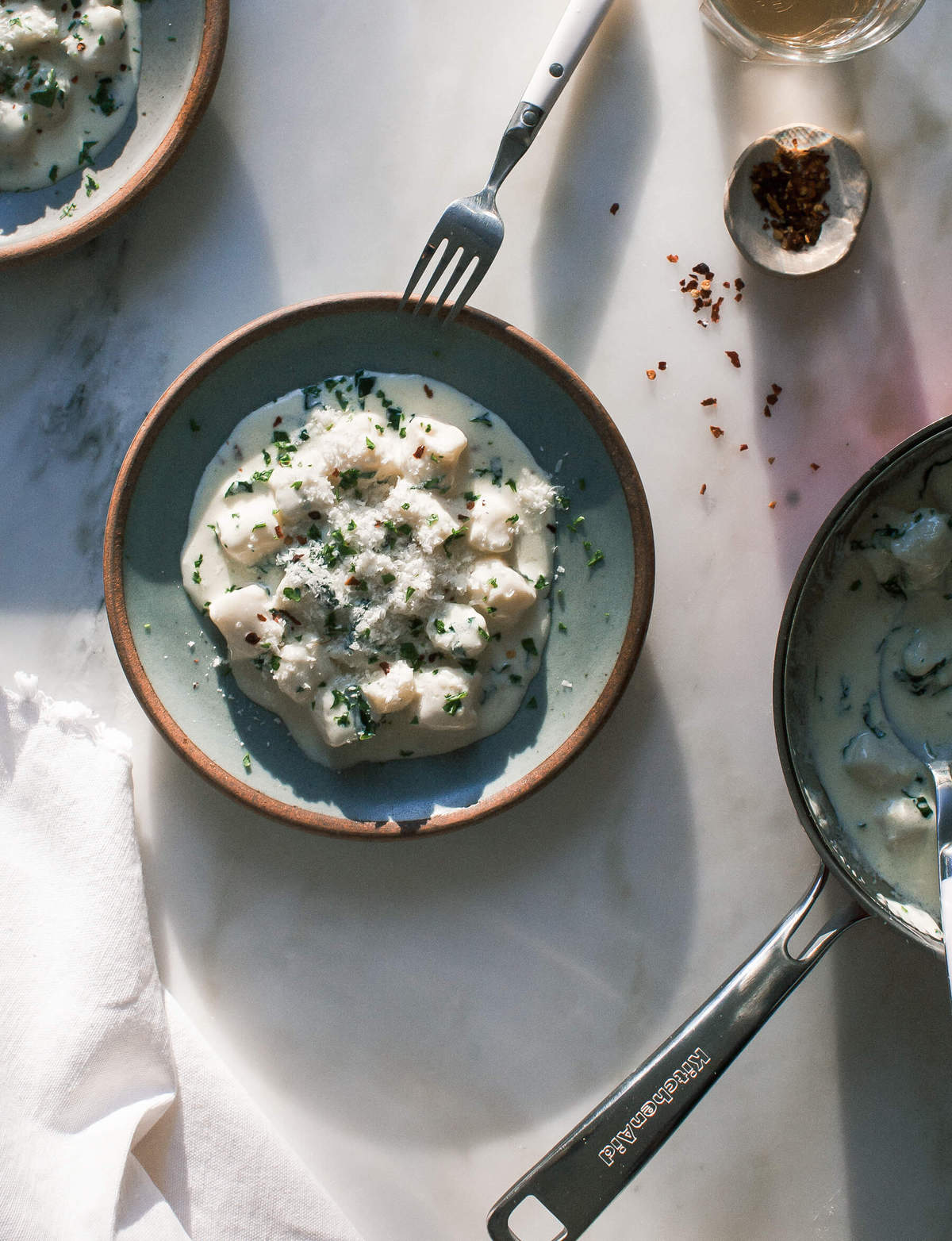 I am the most last-minute holiday person in the entire world. A gigantic part of me actually really loves the adrenaline rush of shopping the week-of. My dad and I would always get our holiday shopping like two days before Christmas and it was always way more fun than being planned and perfect.
This year I somehow have it together. I even bought a few hostess gifts to hand out at parties. (And yes, that is a link to cat and dog bingo.)
Luckily one of the main people on my shopping list (my brother) is already taken care of. I'm going to gift him a KitchenAid® Stainless Steel Cookware Set
because he is just got his first adult job (hello first engineering job!) and is moving into a brand new apartment in a brand new city!!
For this post, I teamed up with KitchenAid® to show you how I put their set to good use by making these very fluffy and cloud-like balls of gnocchi.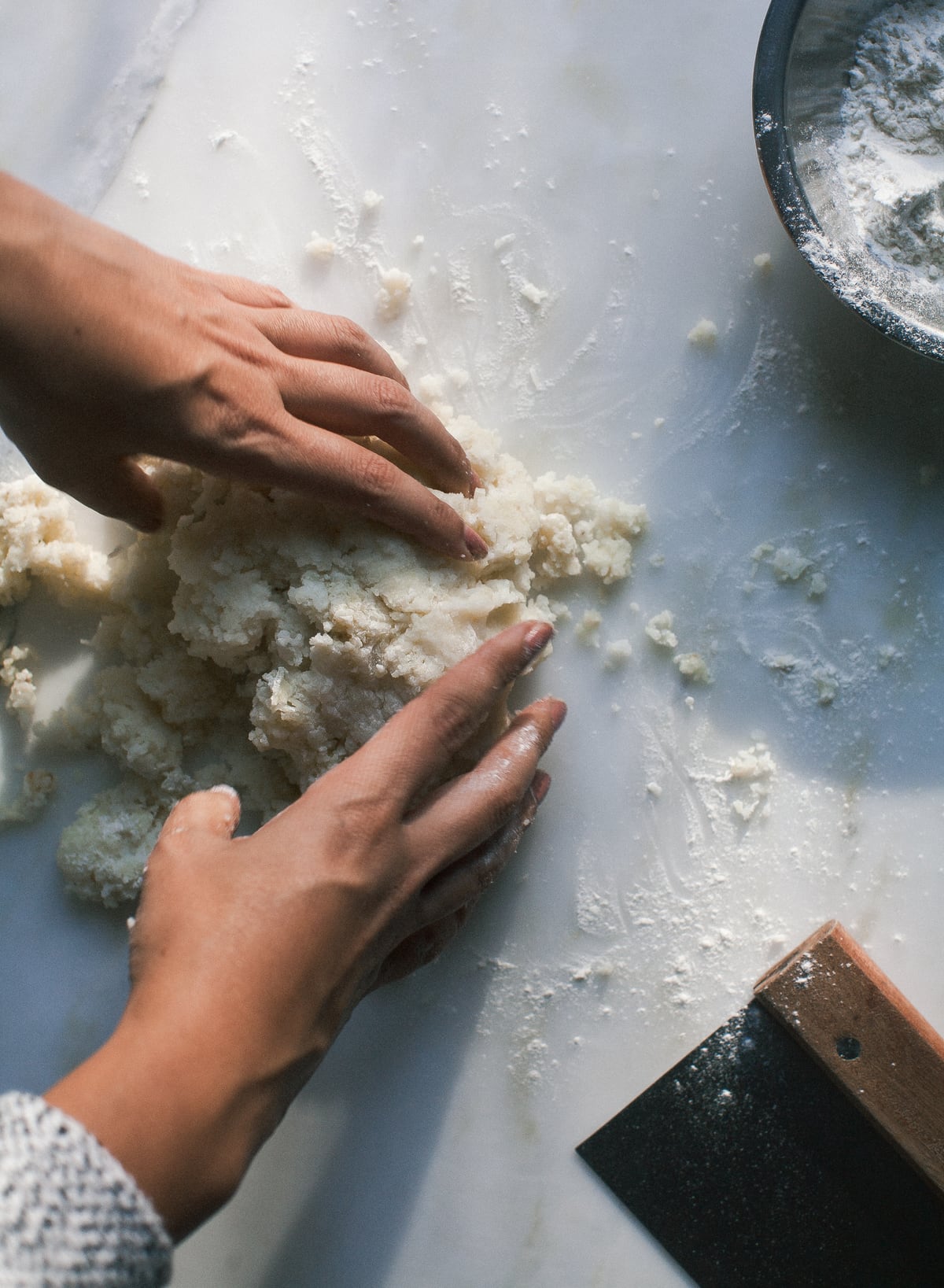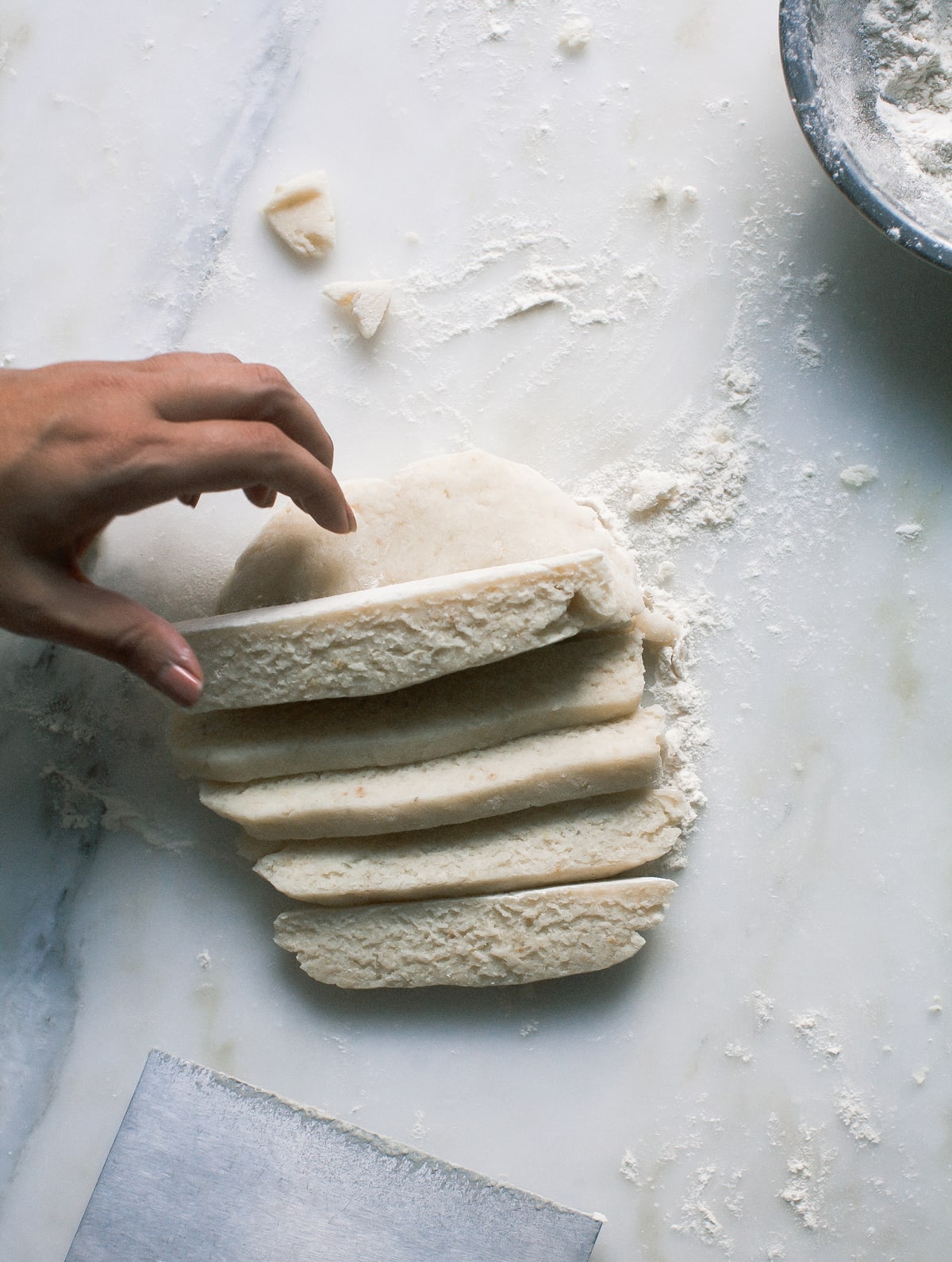 Making gnocchi always seemed sorta difficult. I always put it in the same category of making pasta, which is not THAT difficult, but I will confidentially say that gnocchi is a million times easier.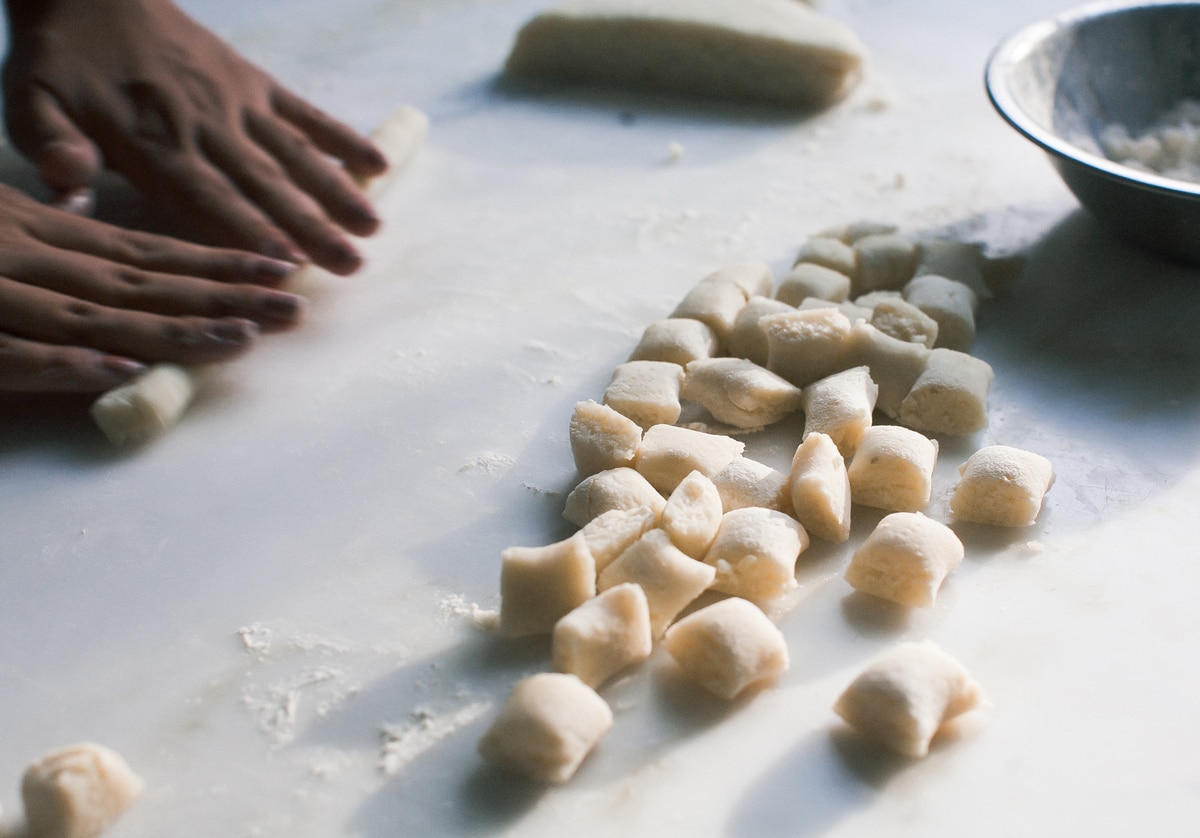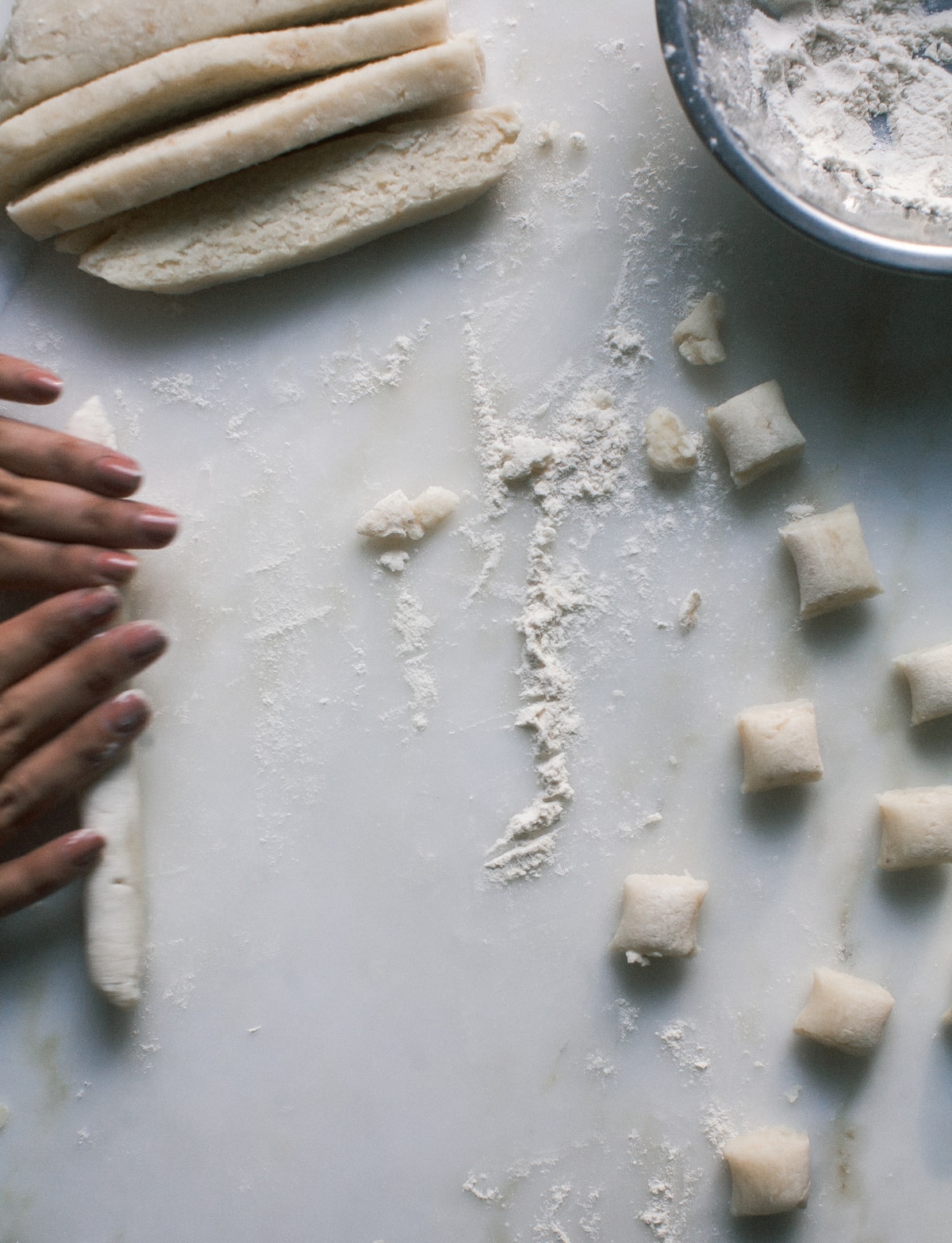 I was craving something creamy and delicious like an alfredo sauce but I needed a bit of acidity so I added some minced preserved lemon. You can make preserved lemons or you can buy them at a grocery store. They're such a good kitchen staple to have around when something needs a bit of brightness.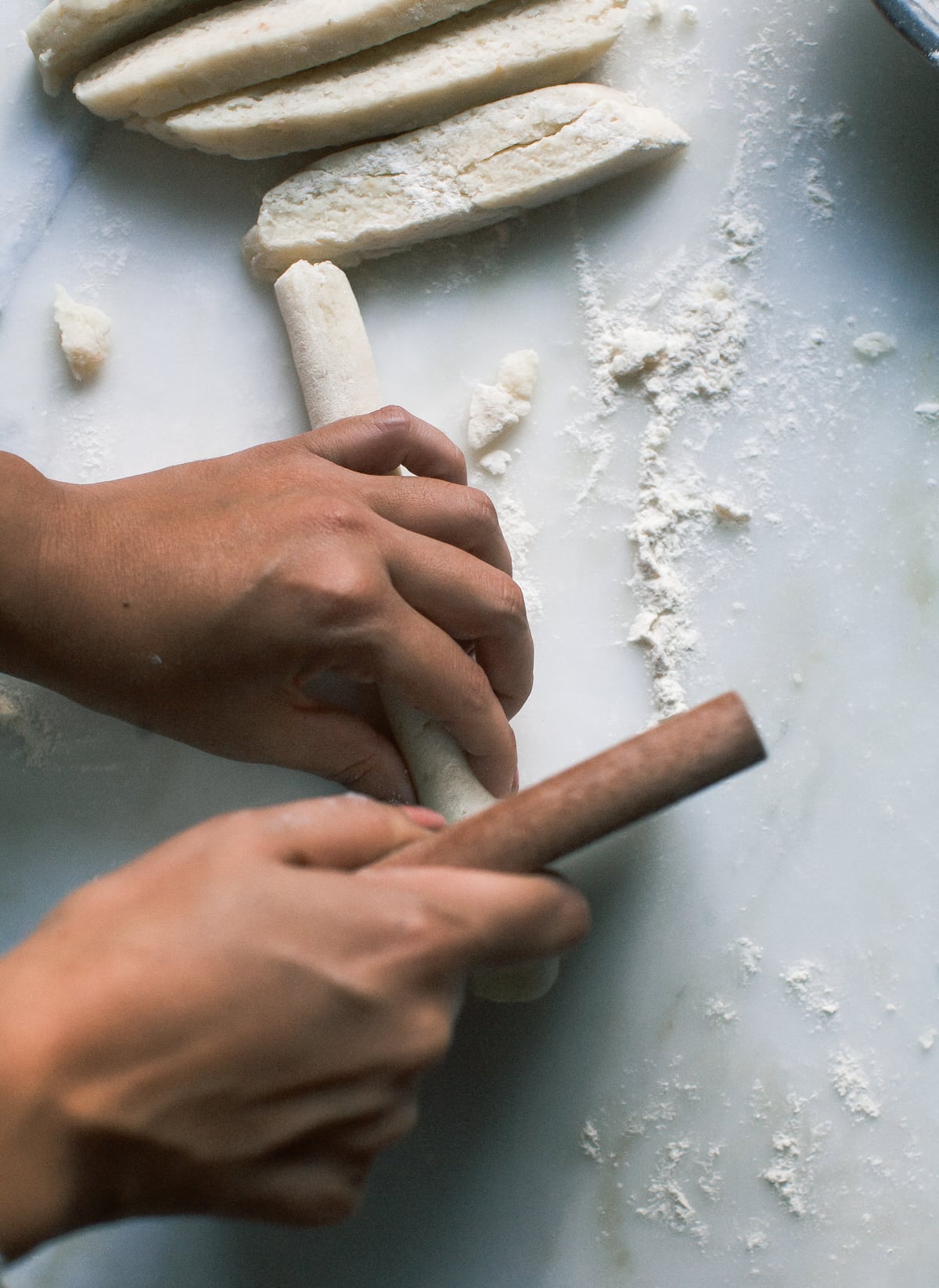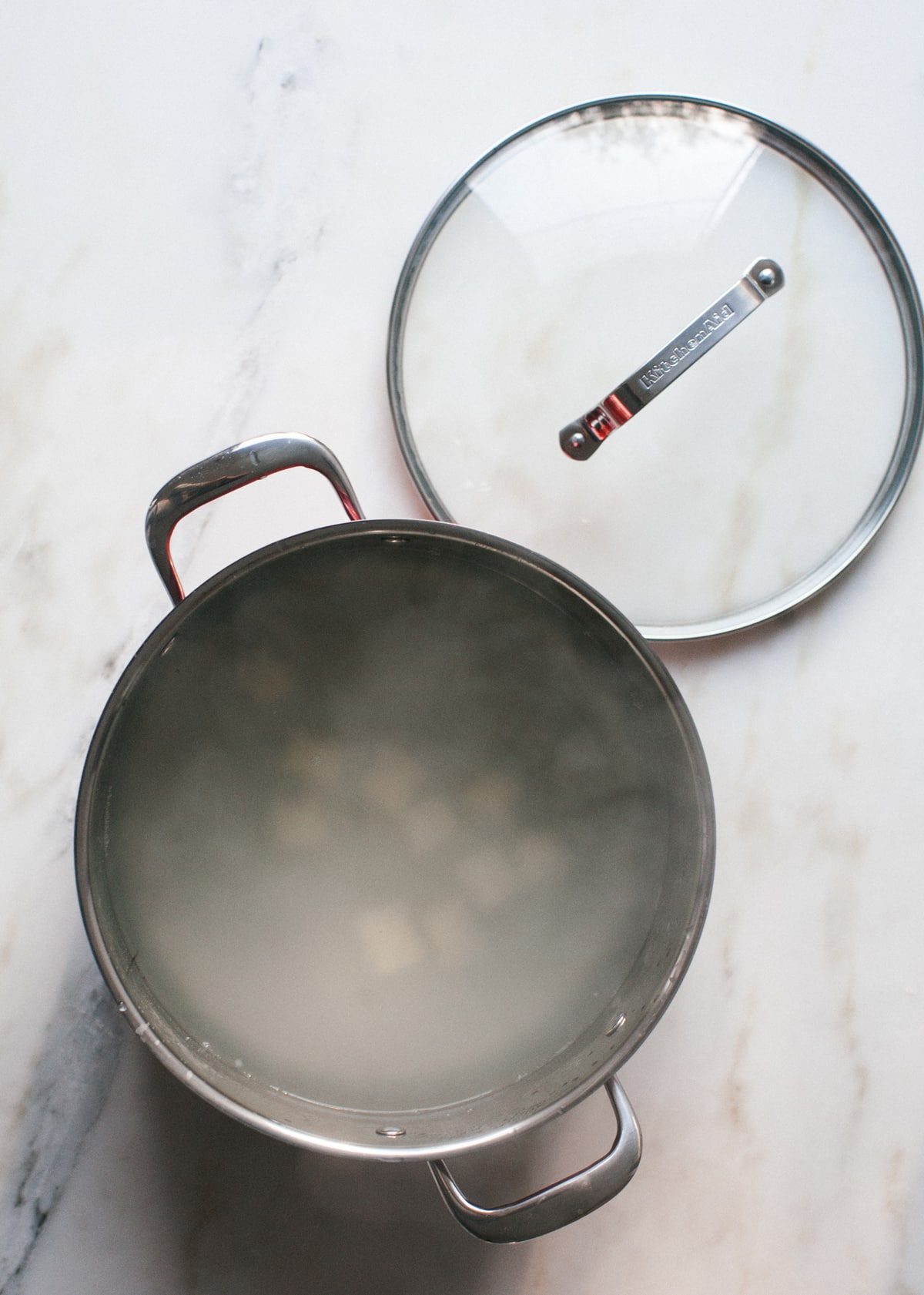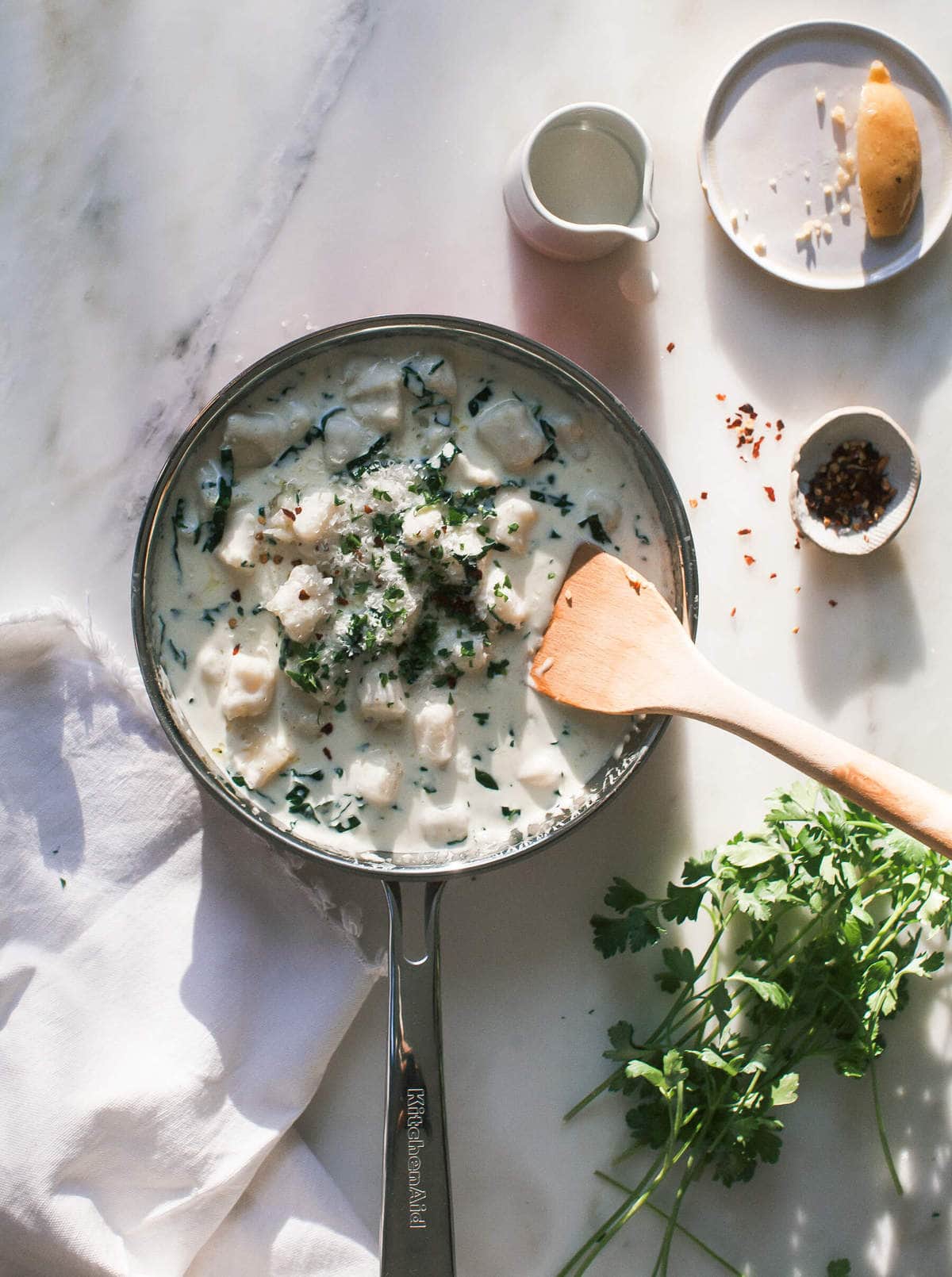 I also added some minced kale because I'm not a monster. I believe in a bit of balance too.
The whole sauce couldn't be easier and you can actually prep it way before hand, too. Make the gnocchi the night before and then boil it off right before dinner.
It's the coziest of December meals!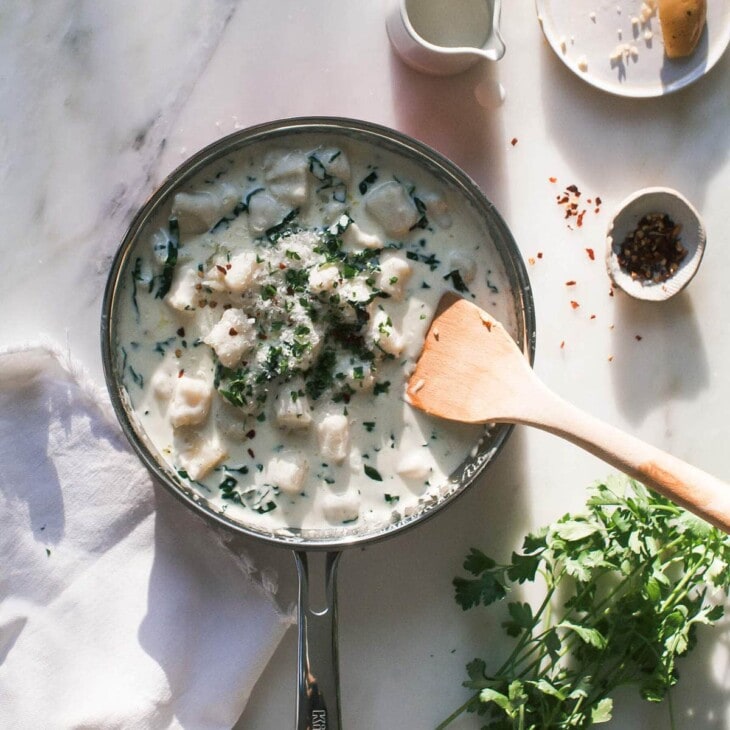 Print Recipe
Gnocchi with Preserved Lemon Alfredo Sauce 
Ingredients
Gnocchi: 
1

pound

russet potatoes

about 2

Salt

¼ to ½

cup

all-purpose flour + more if needed

Olive oil 
Preserved Lemon Alfredo Sauce: 
½

cup

unsalted butter

1

cup

heavy cream

1

garlic clove

minced 

3

leaves

of kale, rib removed and thinly sliced 

1 ½

cups

finely grated Parmesan cheese + more for serving 

½

preserved lemon

minced

Crushed red pepper

Salt

1

tablespoon

minced Italian parsley

for garnish
Instructions
To make the gnocchi: Preheat the oven to 400 degrees F. Place the potatoes on a baking sheet and bake until they're tender when poked with a fork, about 1 hour. When the potatoes are done, immediately slice them open to let the steam out. 

Scoop the potato flesh into a potato ricer. Push all of the potato through the ricer into a bowl. (The riced potato should equal about 2 cups.) Sprinkle with ¼ teaspoon of salt or more, according to taste. Meanwhile, bring a large pot of water to a boil. Add a few pinches of salt. 

Sprinkle ¼ cup of the flour onto your clean counter or cutting board. Knead the potatoes with it, sprinkling in another ¼ cup flour, until the dough just comes together. If it's still pretty shaggy, add more flour, 1 tablespoon at a time. 

Now for the test! Pinch off a piece of dough and roll it out into a tube. Cut it into a few pieces and drop them into the boiling water to make sure they hold their shape. If they fall apart in the water, knead the dough a bit more. When kneaded just right, the gnocchi will float to the top and look a little ragged, but they should hold together. 

Line a baking sheet with parchment. Roll the rest of the dough into ropes that are about ½-inch thick, then cut the ropes into ½-inch pieces. Transfer the gnocchi to the baking sheet, being sure the gnocchi don't touch each other. You should have about 40 gnocchi. 

Add the gnocchi to the large pot of boiling water in batches of about 10. Adjust the heat so the water doesn't reach a rolling boil—it should be more like an aggressive simmer. When the gnocchi rise to the surface of the water, they're done. Remove them with a slotted spoon or mesh strainer and transfer them to a paper towel. drizzle the gnocchi with teeny bit of olive oil (this will prevent them from sticking to one another as they sit). 

To make the alfredo sauce: In a medium skillet. set over medium heat, add the butter. When melted, pour in the heavy cream and add the garlic; whisk until emulsified, about 2 minutes. Next, add the diced kale and cook for about 2 to 3 minutes. This will soften the kale and make it nice and tender. Add the Parmesan, diced preserved lemon, crushed red pepper and a few pinches of salt. Mix until the Parmesan has melted. Give it a taste and adjust the salt to taste. 

Lastly, add the gnocchi and cook until warmed, about 1 to 2 minutes. Ladle onto plates or bowls and top with a bit more Parmesan and minced Italian parsley.
(This post is sponsored by KitchenAid® Cookware and their line of stainless steel pots and pans. Thanks for supporting the sponsors that keep A Cozy Kitchen cozy!)