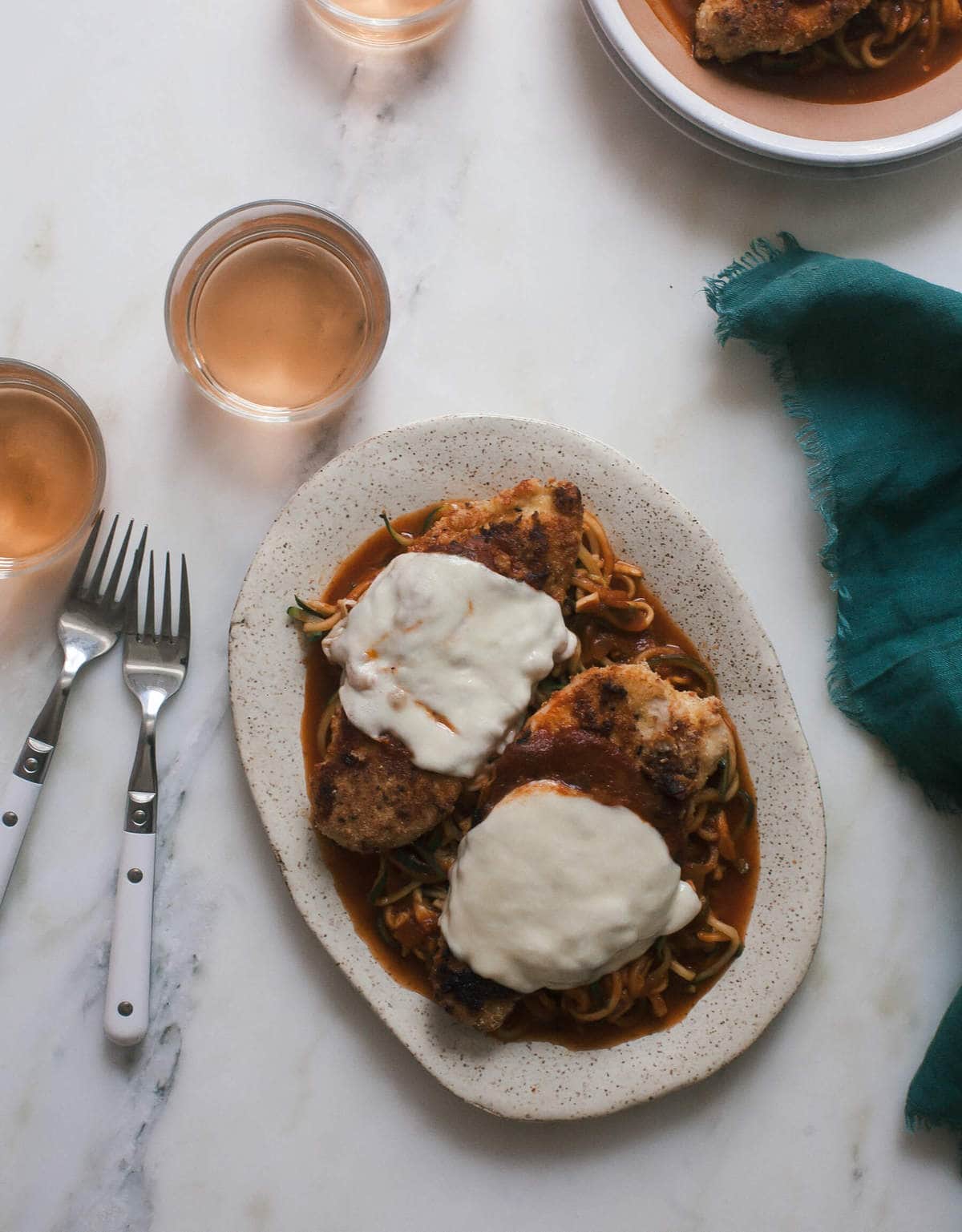 I'm finally back in The United States. I'm finally back in California. I'm finally back hanging with my crew (Joshua and Amelia). It's glorious.
There was a bit of a hiccup, tho. Amelia hurt her foot and we spent the good amount in the morning yesterday trying to figure out what was wrong with it. The expensive x-rays at the vet told the vet she's mostly fine. But she's still walking with a pimp walk. We have no idea what this girl did so for now she's on some anti-inflammation meds; we're hoping if she has a little ligament tear, it'll just heal up all by itself.
NO CHILL!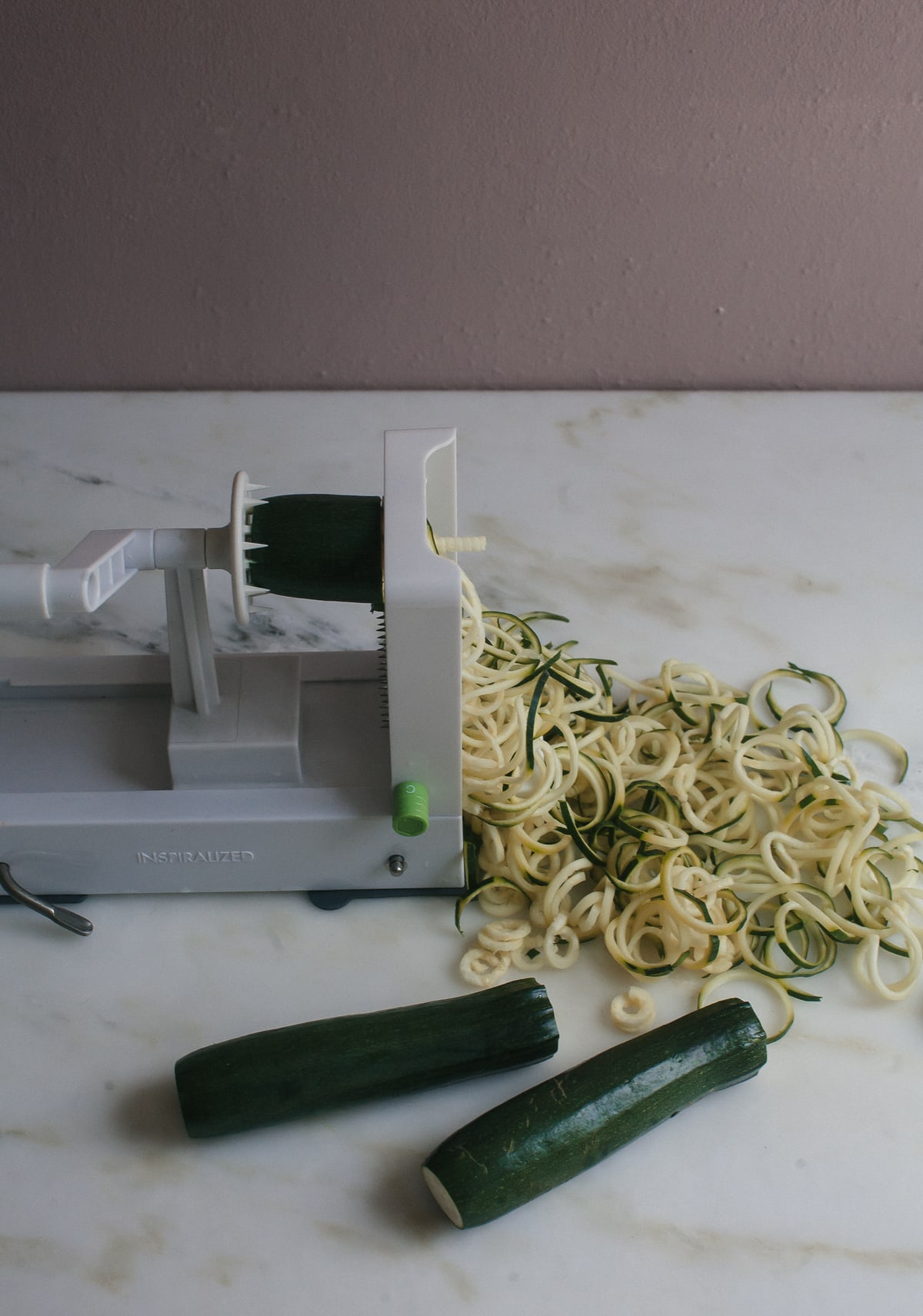 Now that I'm back, I'm trying to eat a wee-bit healthier because I went a little cray on my trip (as you saw on Monday's post). There was so much food! I'm actually really craving vegetables and lighter meals.
I usually give a gigantic side-eye at recipes that make something gluten-free that usually shouldn't absolutely typically have gluten in it but this chicken parmesan was soooooo good. The almond meal give it such a delicious nutty flavor and it crisps up so nicely that it totally works in my book. I didn't even miss the bread crumbs one bit.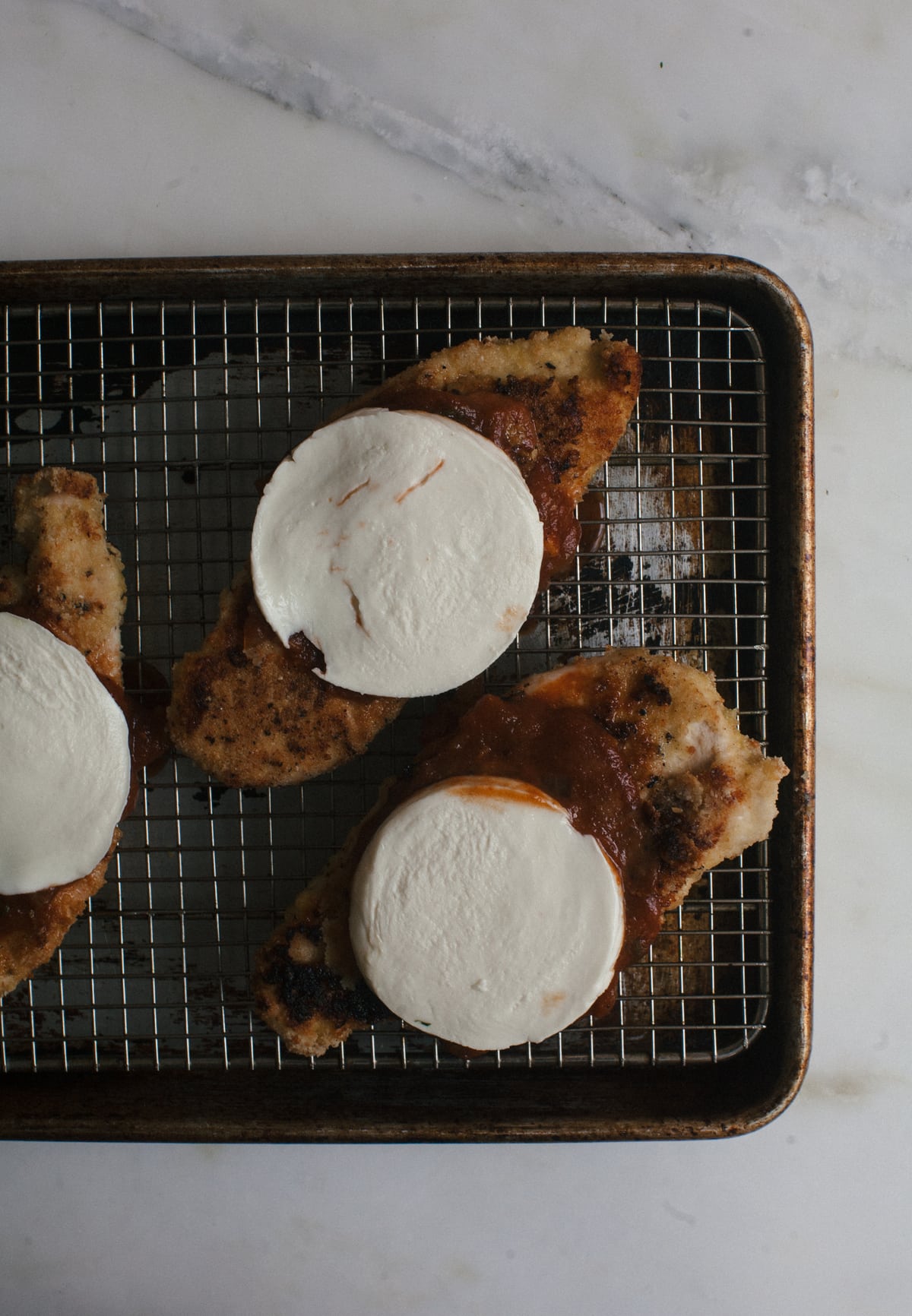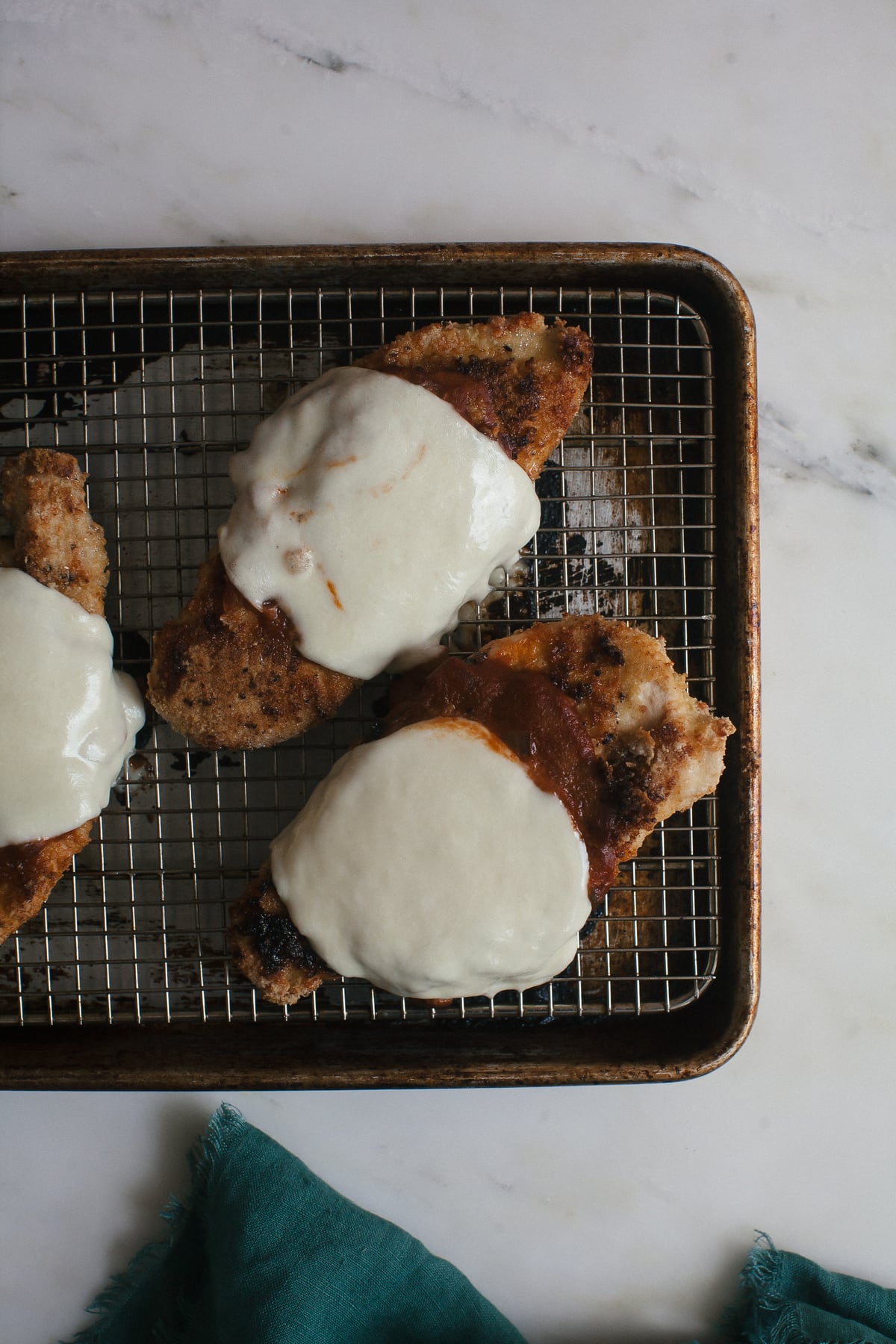 I'm a lover of zucchini noodles so that part just made complete sense to me. This recipe comes from the Beyonce of spiraled noodles: Ali from Inspiralized. Whenever I'm trying to eat lighter, fresher, more decent, I turn to her site for inspiration. It always makes me realize that I really need to get my shit together.
This comes from her new book, Inspiralize Everything, which I'm considering on doing because for the next month I'm actually trying really hard to eat healthier because it's almost holiday season and I know I'll be eating my fair share of cookies.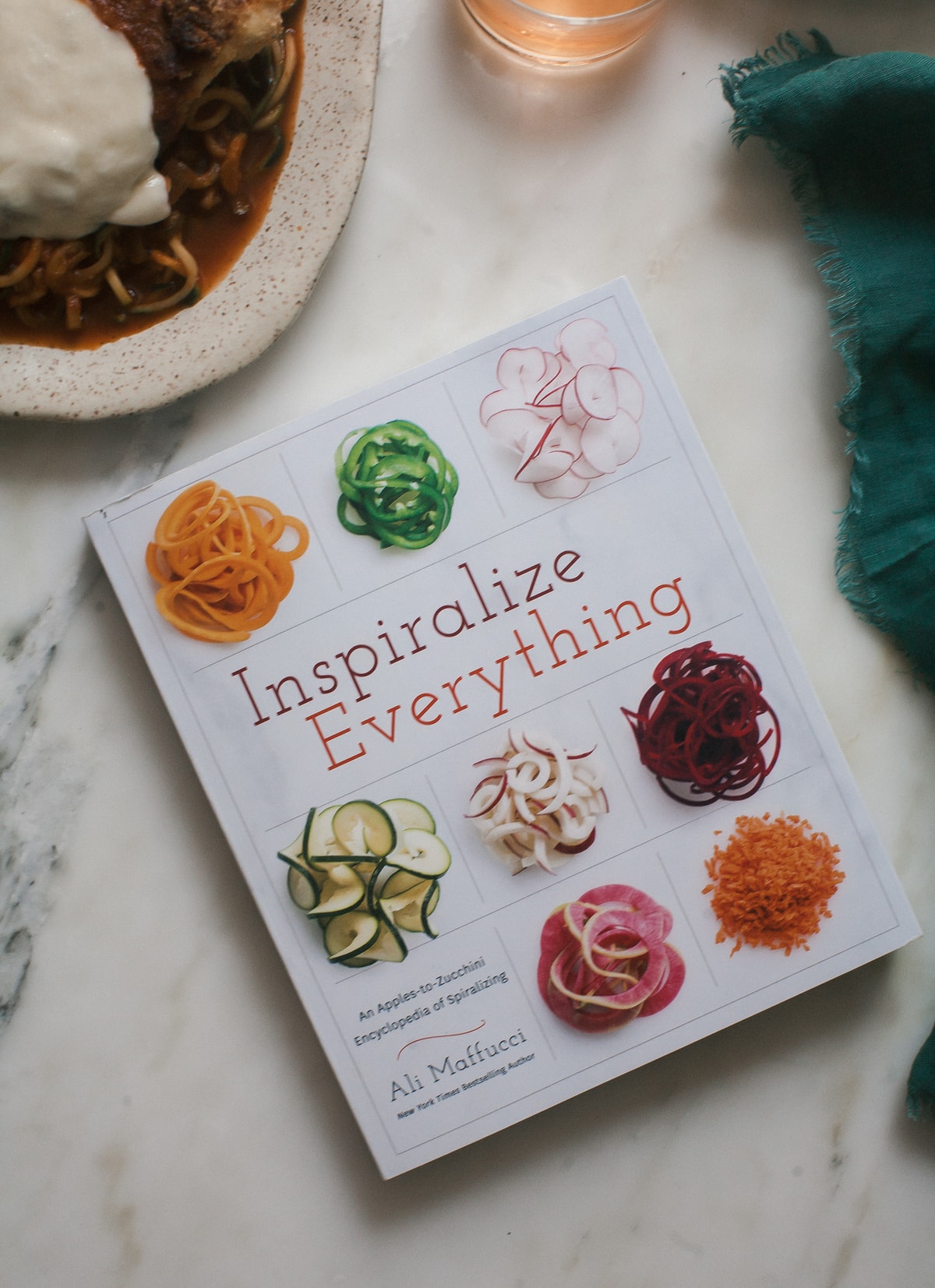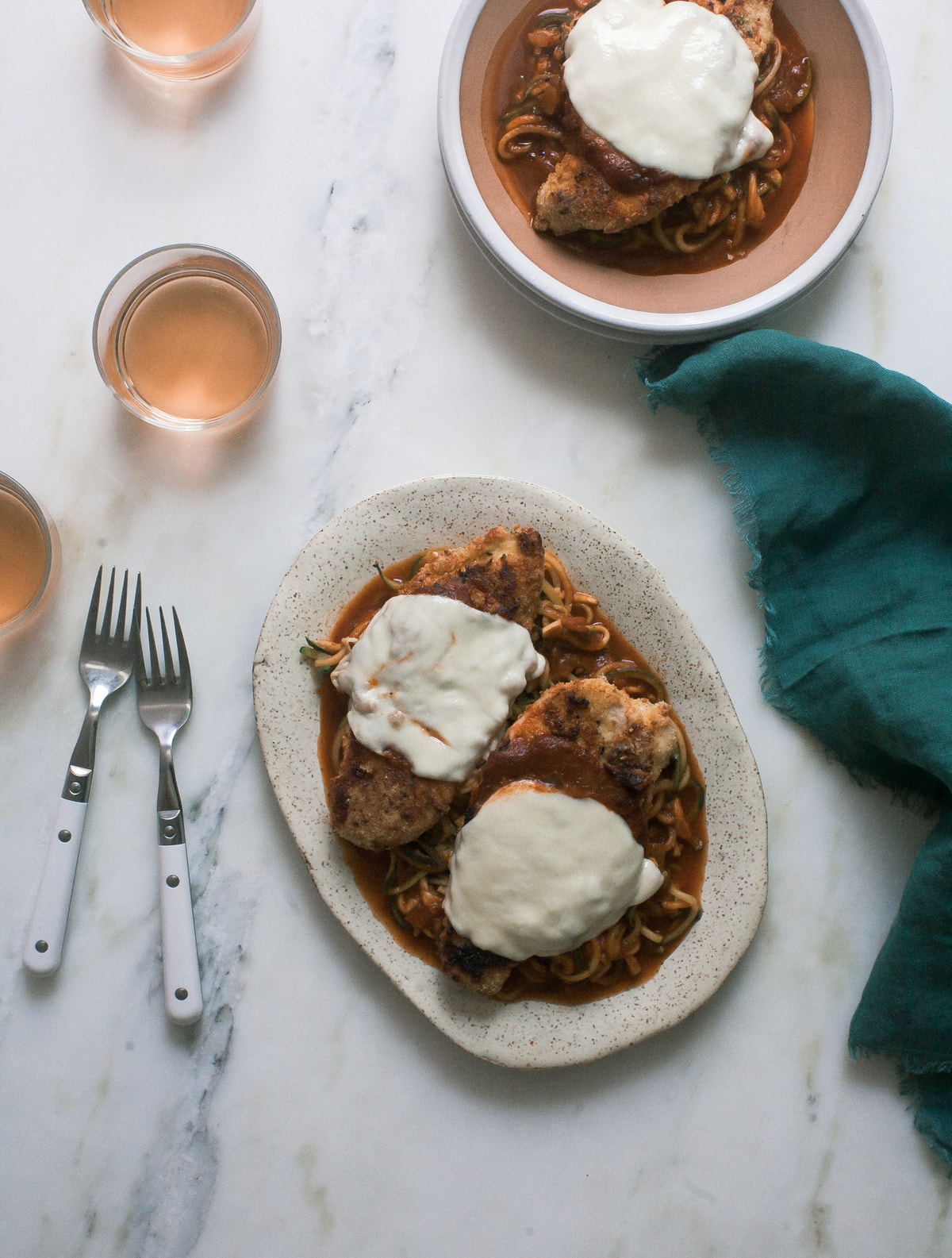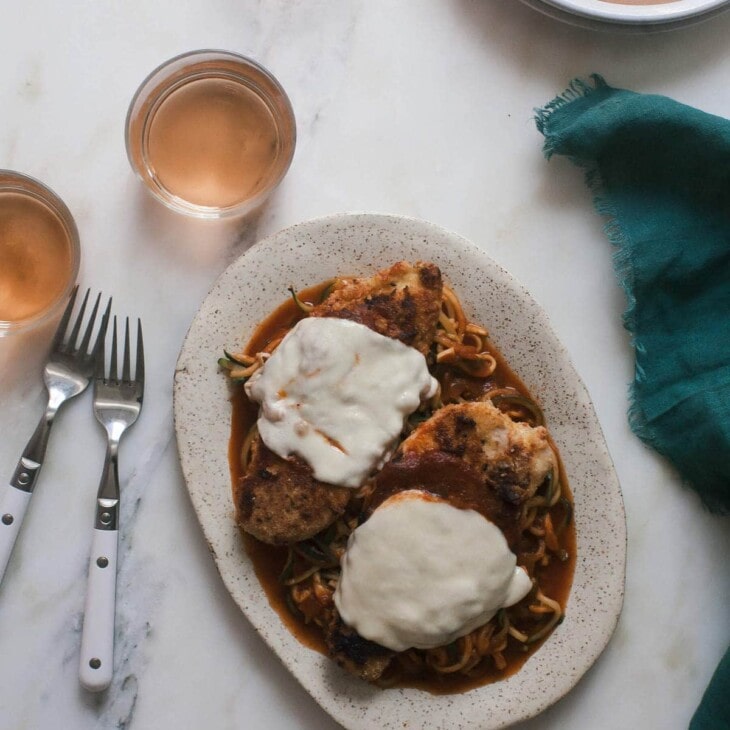 Print Recipe
Gluten-Free Chicken Parmesan with Zucchini Noodles
Ingredients
For the bread crumbs + chicken:
3/4

cup

almond meal

1/2

teaspoon

garlic powder

Salt and pepper

1/2

teaspoon

dried parsley

1/2

teaspoon

dried oregano

1/4

teaspoon

onion powder

3

tablespoons

grated Parmesan cheese

1

large egg

4

1/4-inch thick skinless, boneless chicken breasts
The sauce + noodles:
1

tablespoon

extra-virgin olive oil

1/2

cup

diced onion

2

garlic cloves

minced

1/2

teaspoon

red pepper flakes

1

28-ounce canned diced tomatoes

1

teaspoon

dried oregano

Salt and Pepper

1/4

cup

chopped fresh basil

4

1/4-inch-thick slices mozzarella cheese

4

zucchini

spiralized with BLADE B, noodles trimmed
Instructions
Preheat the oven to 300 degrees F. Line a baking sheet with parchment and set aside.

Set up your dredging station. On a large plate, combine all the ingredients for the bread crumbs and stir to combine. Beat the egg in a shallow medium bowl. Set the dishes side by side. Working on piece at a time, dip the chicken first in the egg and allow the excess to drip back into the bowl. Then dip it in the bread crumbs, turning to coat and pressing to adhere.

In a large sauté pan, set over medium heat, add a few tablespoons of olive oil. When shimmering, add the first two piece of dredged chicken and cook on each side for about 3 to 4 minutes. Flip and cook on the opposite sides for about the same time, until lightly golden brown. When done, transfer to the baking sheet. Repeat with the remaining two chicken breasts.

Meanwhile, let's make the sauce. Heat a few tablespoons of oil in a large skillet over medium heat. When the oil is shimmering, add the onion, garlic, and red pepper flakes and cook for 2 minutes or until the onion begins to soften. Add the tomatoes with their juices and the oregano, and season with salt and pepper. Crush the tomatoes with the back of a wooden spoon. Reduce the heat to low and simmer for 10 minutes or until the sauce thickens. Stir in the basil. Transfer half the sauce to a medium bowl and set aside, reserving the remainder in the skillet over low heat.

Spoon a few tablespoons of sauce over the chicken breasts and then top each with a slice of mozzarella. Transfer to the oven until the cheese is all melty, about 5 minutes.

Return the skillet with the remaining sauce to medium-high heat. Add the zucchini noodles and cook for about 5 minutes or until al dente. Divide the noodles among four plates. Top with the chicken.
Recipe from Ali's book, Inspiralize Everything.
Also, here's a link to the Inspiralizer, which I totally love above all other sprializers!