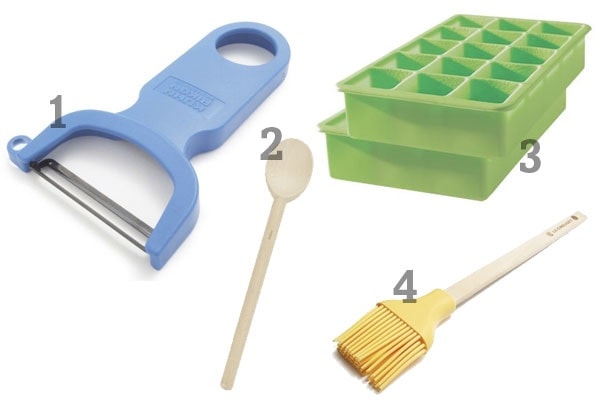 Sooooo I made some Coconut Bon-Bons…and they were a total failure. Kitchen flops happen from time to time. No biggie.
Since I have no new recipe for you, I figure I'd give away a few of my favorite kitchen tools. I'm not big on having gadget for every kitchen need…I try to keep it simple. These things I find myself using over and over.
1. Just a vegetable peeler. That's all. BUT the handle is a perfect size for gripping, and the color ain't bad, too.
2. The ubiquitous wooden spoon! This one, in this particular size is my fav, and it's a beautiful pale wooden hue…Made in France. Kinda fancy. You're worth it.
3. And then there's the Perfect Ice Cube tray. Man, I love these. The ice cubes are perfect squares. This makes your drinks super pretty. And the trays are made from silicon so it makes easy to push the ice cubes out. They come in a pack of two. Genius design.
4. I've recently switched from a bristle pastry brush to this silicon one. I just seems more sanitary to me for some reason. This one is a pretty Le Crueset yellow one.
All for you!! Because I like you. And because I had a kitchen failure.

To enter all you have to do is leave a comment. I want to hear what you're looking forward to eating for fall. I need new ideas. I got kitchen goods…need some inspiration!
Giveaway ends on Saturday at noon (EST). I'll pick a winner using one of those random calculators.
xo
Adrianna
Winner Update: Samantha Swope…come on dooooowwwwwn!!! Thanks everyone for commenting. So many fall ideas! Thank you!