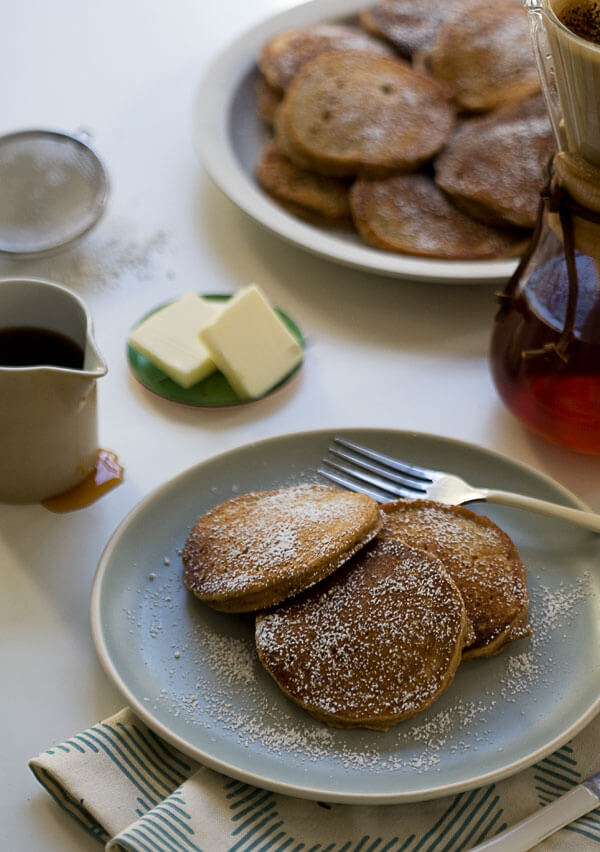 My favorite holiday activity growing up was with my papa. We'd go to a restaurants — usually when we were doing some crazy last-minute holiday shopping — and we'd always grab lunch somewhere. My dad would ask me if I thought the server was nice (he or she usually was), I'd nod excitedly and my dad would jot down a tip that equated to double the amount of the bill. And then we'd leave immediately because imagining what her reaction was when she or he opened the bill fold was much more fun than getting a big ol' thank you. I always hoped she or he would buy something nice for themselves. Or maybe if they were having a bad day from waiting on impatient people, that it'd reaffirm that not all people are bad. Til' this day it might be one of my favorite memories with my dad.
Besides tipping generously just 'cuz, another thing I have to have during the holiday season is gingerbread anything. I'd like to just put it out there that I'm super picky about gingerbread baked goods. It can't be too spicy or else my nose itches and I get a brattitude. The amount of spices needs to be just right. These pancakes are one of my favorite recipes from PANCAKES (da cookbook!).
I'd be a bad blogger if I didn't say that, "PANCAKES (da cookbook) IS A GREAT COOKBOOK TO GIVE AS A GIFT." (Gotta pimp out your work sometimes, you know?)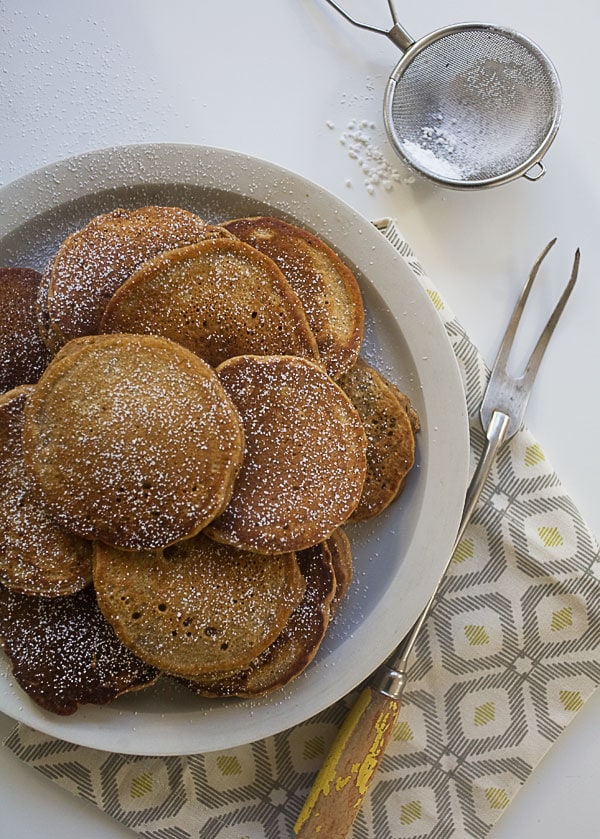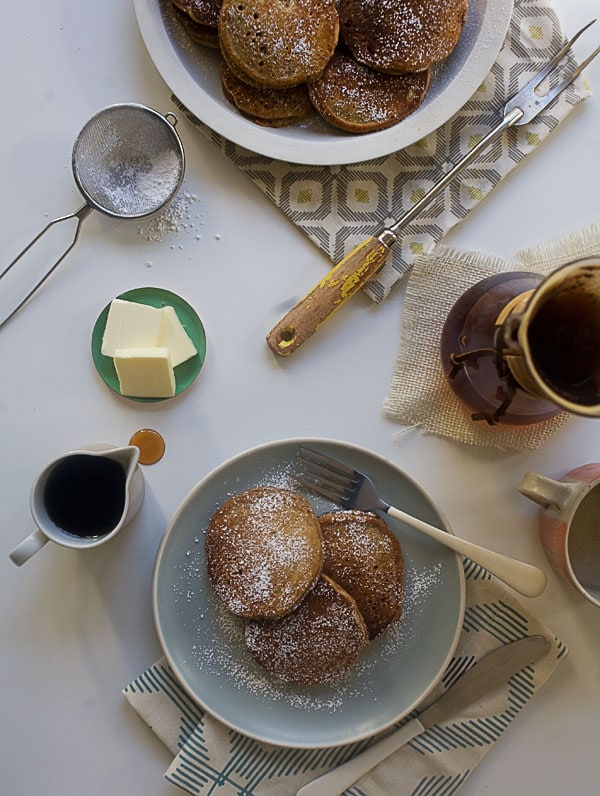 This recipe fits perfectly into the Christmas morning breakfast equation.
The recipe in the book uses buttermilk, but the one below uses milk. I basically forgot to buy buttermilk at the grocery store so I subbed in milk with tweaking the leavening a bit. Also, the recipe in the book makes about half as these–I figured we're all cooking for a crowd around this time. If it's just you and a few other people, feel free to half this recipe–it doesn't it very easily.
This weekend I plan on setting up my Christmas tree, blasting the Vince Guaraldi's A Charlie Brown Christmas album while simultaneously yelling at Amelia who I can guarantee will be focused on stealing the ornaments. She loves being chased. These fluffy pancakes will be a solid addition.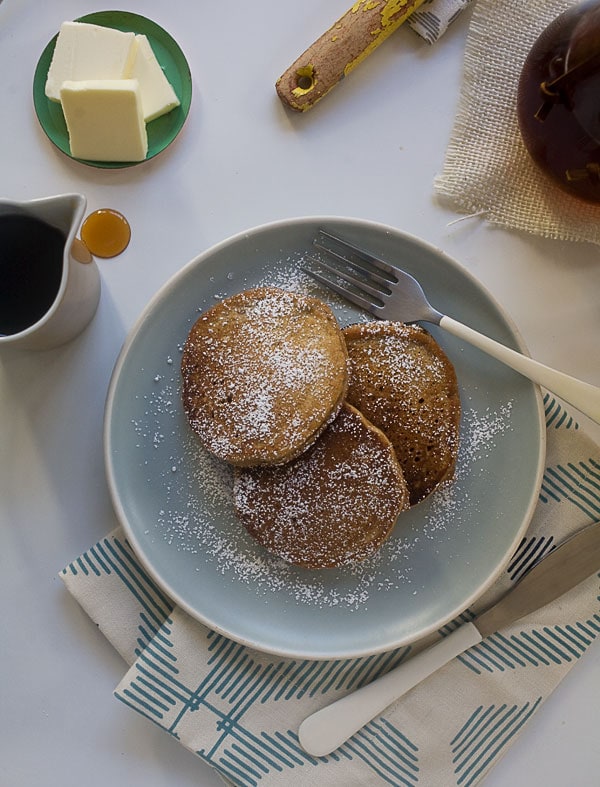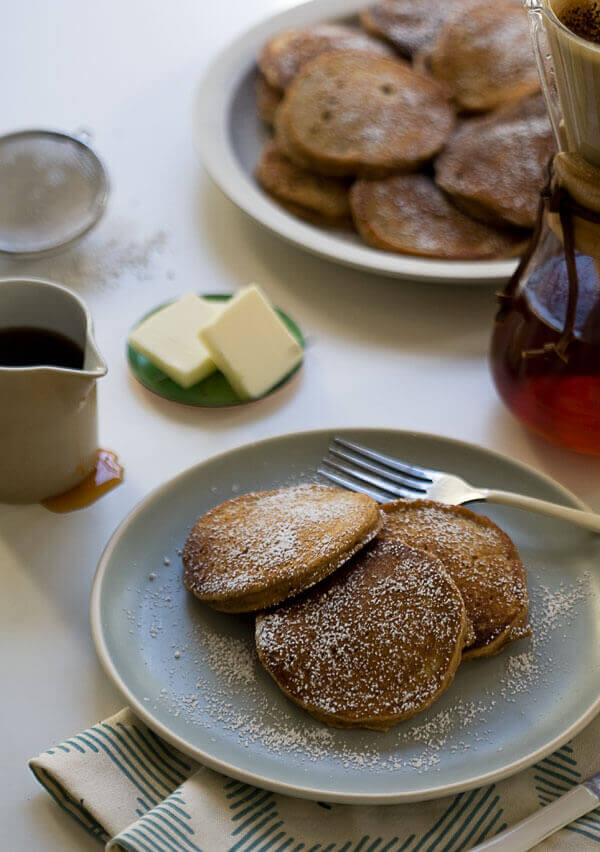 Gingerbread Pancakes
Print
Serving Size:
18
pancakes
Ingredients
Dry mix:
1 1/2

cups

all-purpose flour

1/2

cup

whole wheat flour

1/3

cup

light or dark brown sugar

1

tablespoon

baking powder

1/2

teaspoon

salt

2

teaspoon

ground cinnamon

1

teaspoon

ground ginger

1/4

teaspoon

freshly grated nutmeg

1/4

teaspoon

ground cloves
Wet mix:
1 1/2

cup

whole milk

2

large eggs

2

tablespoons

unsulfured molasses

1

tablespoon

unsalted butter

,

melted and cooled

Butter for griddle
Directions
In a medium bowl, mix together flours, dark brown sugar, baking powder, salt and spices: cinnamon, ginger, nutmeg and cloves.

In a measuring cup (or small bowl), measure out the milk. Add the eggs, molasses and melted butter; beat until combined.

Add the wet ingredients to the dry ingredients and mix until just combined. The batter should have some small to medium lumps.

Heat up your griddle (or cast iron skillet), over medium heat, and brush with 1/2 tablespoon of butter. Scoop the batter, using a 1/4 cup measure (or tablespoon measure), onto the warm skillet. Cook for 1-2 minutes, until small bubbles form on the surface of the pancake, and then flip. Turn heat down to medium-low and cook on opposite side for about 1 minute, or until golden brown.

Transfer cooked pancakes to a baking sheet and place in 200 degree preheated oven to keep warm. Proceed with the rest of the batter until you're done. Serve with a dusting of powdered sugar and warm maple syrup.
Adapted from PANCAKES: 72 Sweet and Savory Recipes for the Perfect Stack