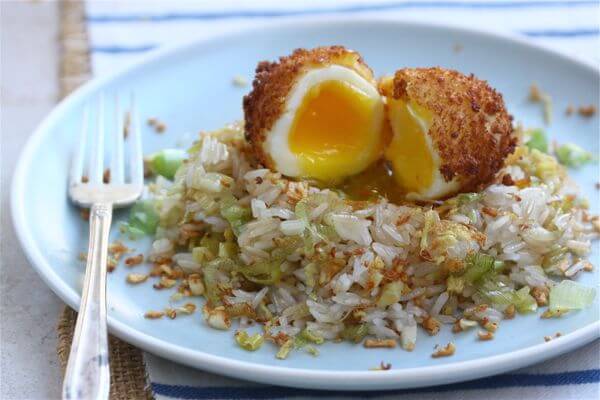 I know on this blog (and Twitter/Instagram) I come off as "SUPER HAPPY AND CHEERFUL AND EATING/COOKING ALL OF THE TIME." And yes, most of the time I am actually pretty stoked on life, and I do, in fact, cook a lot. But something you probably don't know about me is that I have anxiety like whoa. It's not like "nervous-nancy, annoying to be around" type anxiety. Nah. And I do feel like I'm nervous about the right things, if that makes sense.
Like, for instance, if a waiter spilled ketchup on my super expensive jeans (this has happened), I wouldn't stress out and think it's not going to come out. I trust the Tide commercials, you know. Those before and after shots with the grass stains are super convincing. So my honest reaction would be like, Oh no biggie, waiter guy who feels bad, can I have some soda water, please? No biggie! Free as a bird!
BUT, I do stress about life things. Big picture stuff. Mostly I have anxiety about not getting what I want. I'm anxious about disappointing people. I'm anxious about disappointing myself. And I'm scared that my dreams won't come true and things won't work out. (And I mean ALL of this in the least emo way possible. Promise!) So yeah, I worry. A lot, sometimes.
If you worry too, you've come to the right place today because I have two things that I think will help us!
1st – A plate of rice that is not only delicious but super easy. And that egg…good gracious. That egg is special! I'm a little obsessed
And 2nd – A lil' knowledge from the LAST person you'd ever think would be capable to give life advice: Sarah Silverman.
(This post is in collaboration with Bravo for their show, Around the World in 80 Plates. This week they're in Beijing, China. Check it out on Wednesday at 10pm/9pmc on Bravo!!)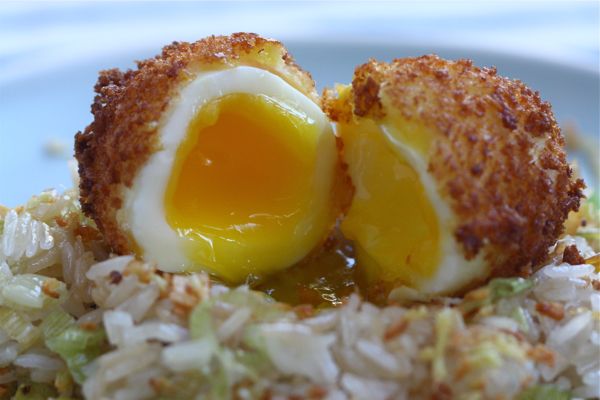 I was listening to the Sarah Silverman segment on Marc Maron's WTF Podcast when she said something so interesting. This is something she learned in therapy, so I consider this a huge freebie, guys! I love free stuff.
She said (I'm paraphrasing, obvi):
We're all just looking through a pinhole and we don't know what is coming up next. So instead of worrying like a crazy person, just stop trying to predict what's going to happen–it's going to happen whether you try to predict it or not. And realize that everything that has happened so far has been unpredictable. So chill out. Stay open to opportunities. And chill!
So yeah, breathe. We should all just breathe and eat some rice!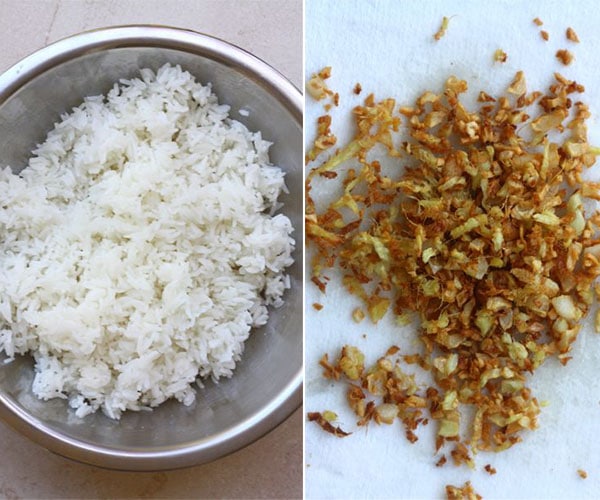 This situation that sits atop this fried ginger rice is so good. It's a 5-minute egg that's been dipped in a little flour, buttermilk and panko bread crumbs. And then fried.
And remember the whole saying: "Fresh eggs for frying, old eggs for boiling."
It rings very true with a soft 5-minute egg. I've tried this with fresh farm eggs (from the farmer's market) and they were super tough to peel. But Trader Joe's eggs? PERFECT!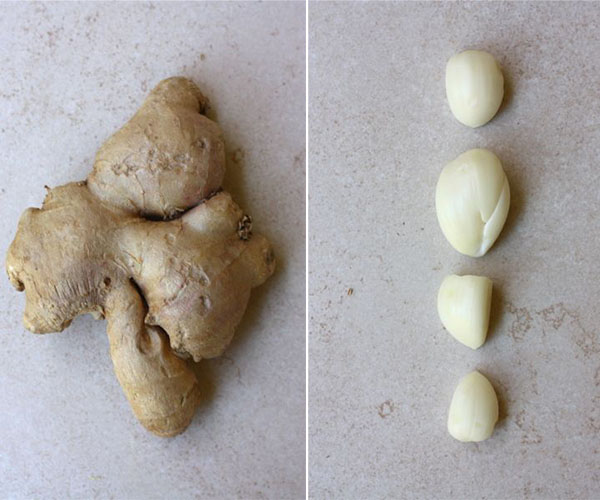 This rice is a perfect way to use up day-old rice from take-out. I didn't use take-out rice, instead I made my own jasmine rice and dried it out in the fridge for a couple of hours.
It worked like a charm.
The ginger and garlic are almost like crispy chips, giving this rice the most amazing texture. The egg's crunchy exterior and soft, runny yolk is perfection. This is a dream meal. Perfect for eating and enjoying and not worrying.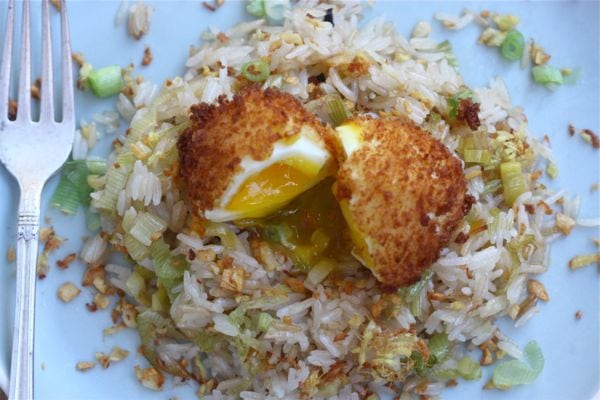 Fried Ginger Rice with 5-minute Fried Egg
Rice:
1/2 cup vegetable oil
2 tablespoons minced garlic
2 tablespoons minced ginger
Salt
2 cups thinly sliced leeks, white and light green parts only, rinsed and dried
4 cups day-old cooked rice, preferably jasmine, at room temperature
3 teaspoons soy sauce.
5-Minute Fried Egg:
5 large eggs, divided
1/4 cup buttermilk, shaken
1 teaspoon Sriracha
1/4 cup all-purpose flour
1 cup panko bread crumbs
Salt
1. In a large skillet, heat 1/4 cup oil over medium heat. Add garlic and ginger and cook, stirring occasionally, until crisp and brown. With a slotted spoon, transfer to paper towels and salt lightly.
2. Reduce heat under skillet to medium-low and add 2 tablespoons oil and leeks. Cook about 10 minutes, stirring occasionally, until very tender but not browned. Season lightly with salt.
3. Raise heat to medium and add rice. Add soy sauce, stirring well and cooking, until heated through and lightly crispy. Season to taste with salt. Set aside.
4. In a medium saucepan, bring water to a boil. Using a spoon, gently lower 4 eggs into the water and then bring the heat down to medium, so the water reaches a simmer. Start the timer and set it to 5 minutes. When the timer goes off, transfer the eggs to cold water and gently peel.
5. Add 3 inches of oil to a cast iron skillet and heat oil to 400F. Meanwhile, in a small bowl, beat together the remaining egg, buttermilk and Sriracha. Add the flour to a shallow dish. On a medium plate, toss together the panko and teaspoon of salt.
6. Start with rolling the egg gently in the flour, dusting off any excess. Next, transfer the egg to the egg/buttermilk mixture and then place it atop the panko mixture, sprinkling the mixture on top of the egg, being sure it's evenly coated. Gently drop the into the hot oil and cook on each side, about 30 seconds and until lightly browned. Transfer to a paper towel to drain. Repeat process with the remaining eggs.
7. Divide rice among four dishes. Top each with an egg and sprinkle crisped garlic and ginger over everything and serve.
Fried Rice recipe adapted slightly from Mark Bittman's interpretation of Jean-Georges Vongerichten's recipe
Yields: 4 servings