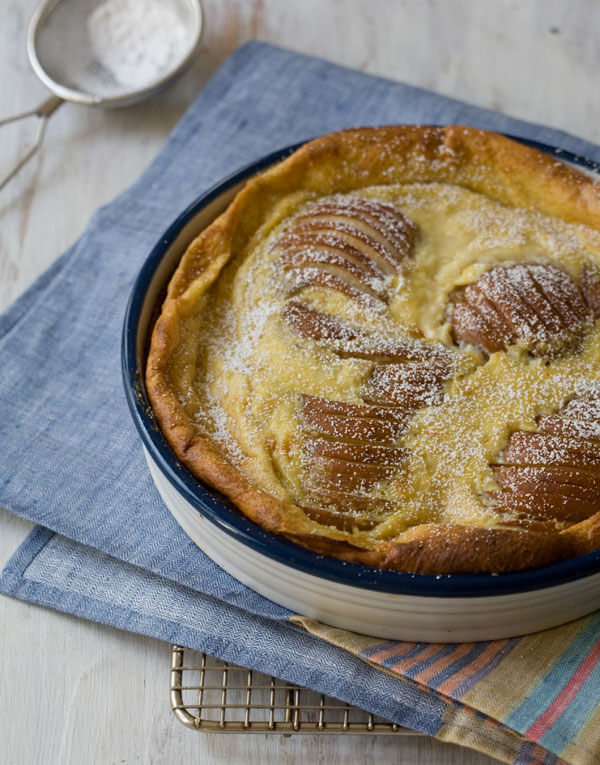 I jump the gun on fall EVERY YEAR! Every year. It just happens. I'm like an overzealous high-schooler who's giddy over a crush. We're one week away from the first day of fall and Los Angeles has just now started to cool down. I'm pumped. I celebrated the cooler weather this week by making pancakes and all other sorts of fall kinda things. You guys, I'm excited for the next few months. I have some fun stuff in store.
We're a week early, but I wanted to share this clafoutis with you. Pears are all up in the grocery store right now. They're on point. Delicious. Actually this recipe is great for super firm, not-quite-ripe pears; they'll keep their shape and the oven will transform them into having the perfect texture. Sure, pears and ginger are in this clafoutis, but there's so much more going on.
First let me get it out there that I think the word "clafoutis" is gross. I dunno. It kinda sounds like a disease you get when you're not on your best behavior, you know. Ok, I'm done. This is a food blog.
Clafoutis are most commonly made with cherries; actually, before a few days ago, this was the only way I had made them. But cherries are long gone and we're all about fall right now, so byyyyye cherries, hello pears!
Ginger and pears are a super common combination. Actually, one of my favorite recipes in PANCAKES is the Pear and Ginger Pancakes. Ugh! They're so good with a little oat crumble. They're great.
This recipe has a good dose of freshly grated ginger, along with a nice zest of lemon and a few splashes of bourbon. The alcohol is totally optional. Like, if you don't have a bottle of bourbon in your pantry, don't go buy one just for this, but if you're looking for a good excuse, then do it!
This recipe is like if pancakes were dessert. This is on the sweeter side, so if you wanted to serve this as more of a breakfast kind of thing, I'd scale the sugar back by 1/4 of a cup.
Serve it with whipped cream, serve it with ice cream! Really just scoop it onto a plate and eat it.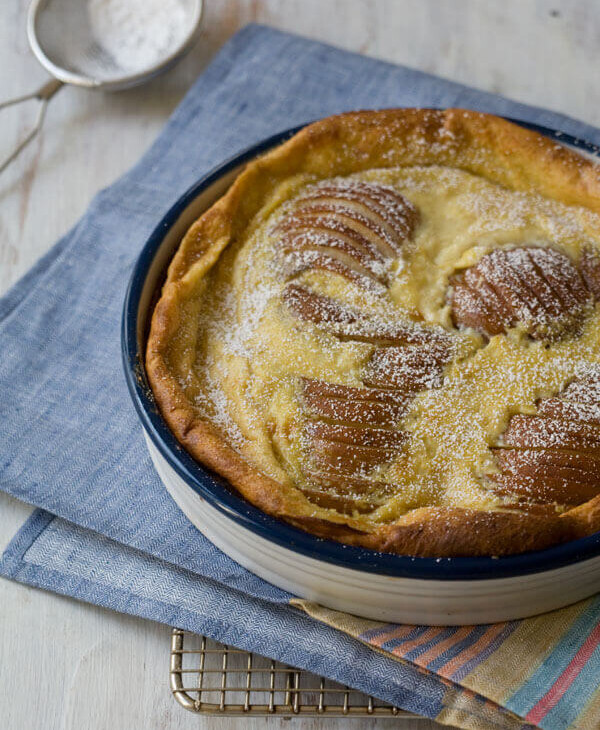 Print Recipe
Ginger Pear Clafoutis
Ingredients
1/2

tablespoon

unsalted butter

room temperature

1/2

cup

all-purpose flour

1/2

cup

white granulated sugar

2

tablespoons

brown sugar

1/4

teaspoon

salt

1 1/2

teaspoon

freshly grated ginger

1/4

teaspoon

lemon zest

3

large eggs

1

cup

whole milk

2

tablespoons

bourbon

optional

1

teaspoon

vanilla extract

2

bosc

or any other firm pear pears, sliced in half
Instructions
Preheat the oven to 350F. Butter a round 9-inch baking dish (you could also use a casserole dish as well). Set aside.

In a large bowl, mix together the flour, white sugar, brown sugar and salt. Add the ginger and lemon zest. Make sure the ginger and lemon zest are evenly distributed throughout the dry ingredients; they both tend to clump together so use your hands, if needed. Add the eggs, whole milk, bourbon and vanilla extract. Whisk until completely combined. The batter will have a few small lumps and be very thin. Allow to rest on the counter while you slice up the pears.

Using a melon baller, core the pears and remove the vein that runs from the core to the stem. Slice the pear halves thinly, into 1/4-inch slivers, fan them out slightly and transfer them to the baking dish, arranging them how you see fit. Pour the batter over the pears and carefully transfer the baking dish to the oven. Bake for 30-40 minutes or until the edges are golden brown and the center is set and firm. The clafoutis will puff up slightly in the oven, but will deflate as it sits--not a big deal. Dust with powdered sugar and serve with whipped cream or ice cream.