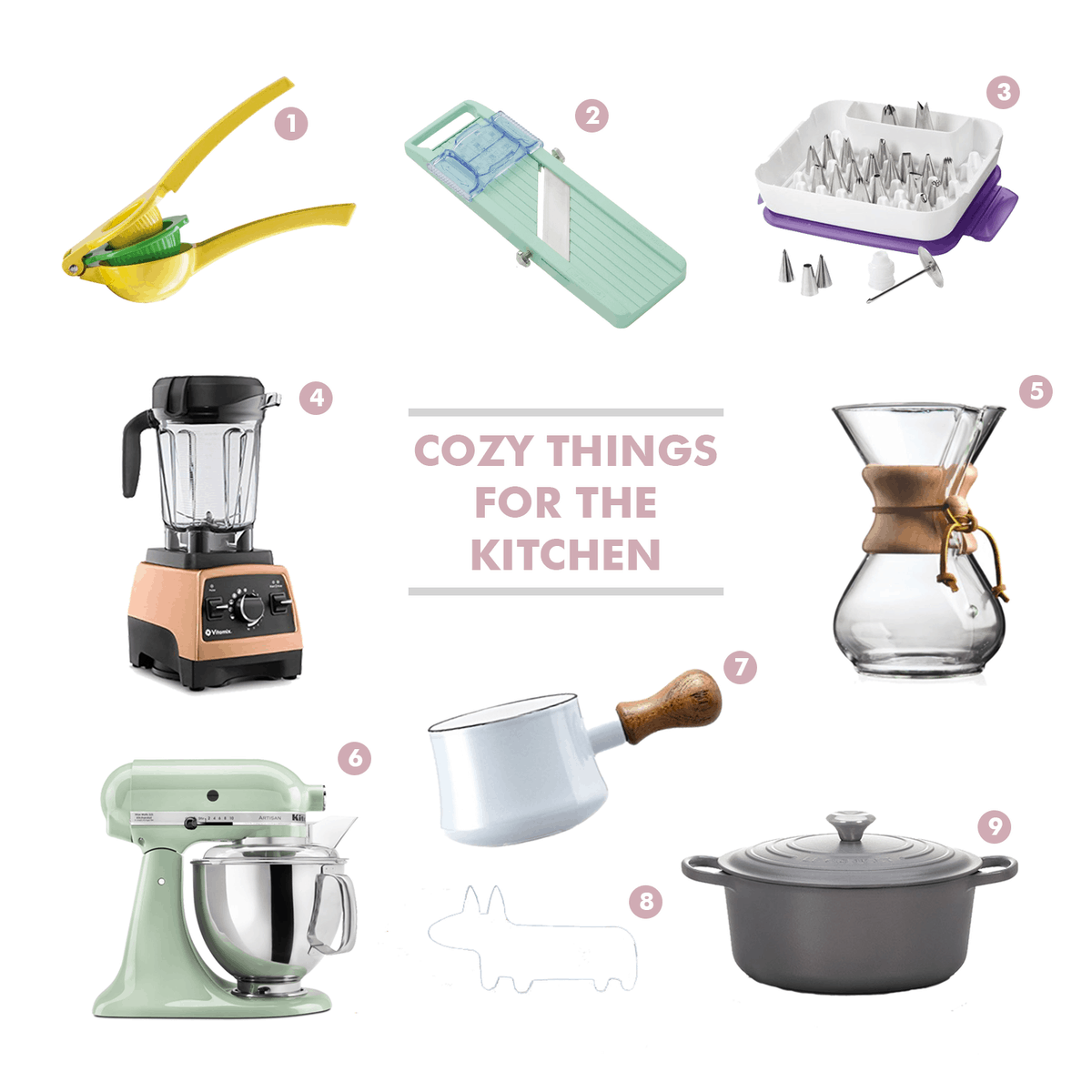 1. Lime and Lemon Squeezer — All in one!
2. Benrier Mandoline — I love mandolines because I like things to all be the same size.
3. Wilton Piping Decorating Set — For your best friend who's a baker!
4. Vitamix 750 Copper Blender — This is totally on my to-splurge list for myself. It's so beautiful.
5. Chemex — How I make my coffee every morning.
6. Kitchenaid Mixer — What would I do without my mixer?!? I use it multiple times a day. And I love it in this color.
7. Dansk Butter Warmer — For me this is half prop/half useful butter melter.
8. Corgi Cookie Cutter — Need I say more.
9. Le Creuset Oval French Oven — I loooove this color. I use this size in the color PALM daily. It's the most versatile pot I own. I would buy it for everyone I know if I could.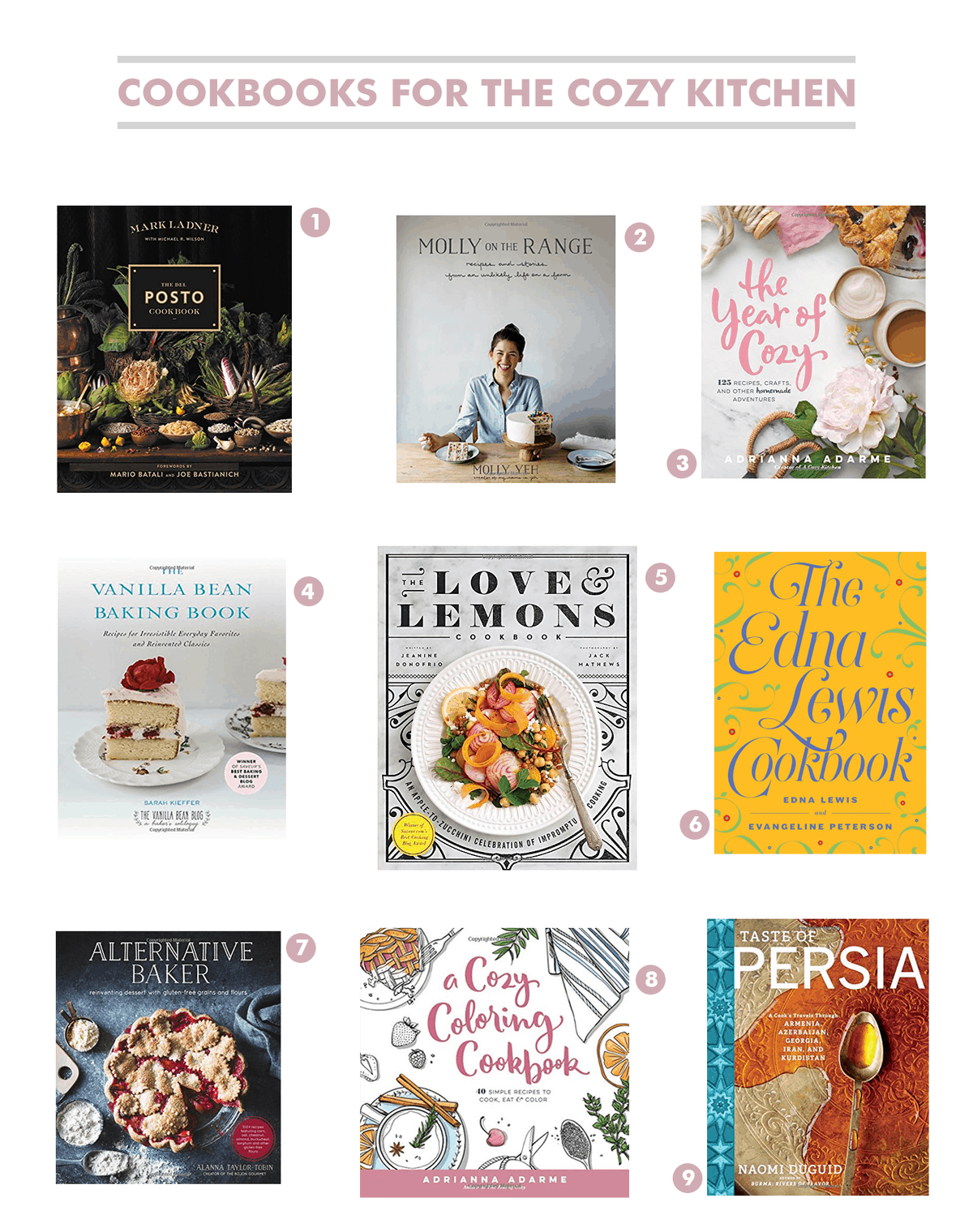 1. The Del Posto Cookbook — The photos are stunning and the tiramisu is maybe the best I've ever tried. Definitely a splurge of a cookbook but worth it!
2. Molly on the Range — So fun and cute and will make anyone happy.
3. The Year of Cozy — Cozy season is here!
4. The Vanilla Bean Baking Book — I'm baking from this book in a few days and am super excited!
5. The Love & Lemons Cookbook — The most beautiful cookbook. And all the recipes I've tried are healthy and delicious.
6. The Edna Lewis Cookbook — The first biscuits I ever made were from her.
7. Alternative Baker — I'm trying my hardest to dip my toe into gluten-free baking. I'm starting here because look at that pie on the cover!
8. colored pencils.
9. Taste of Persia — Everything in this book looks SO good.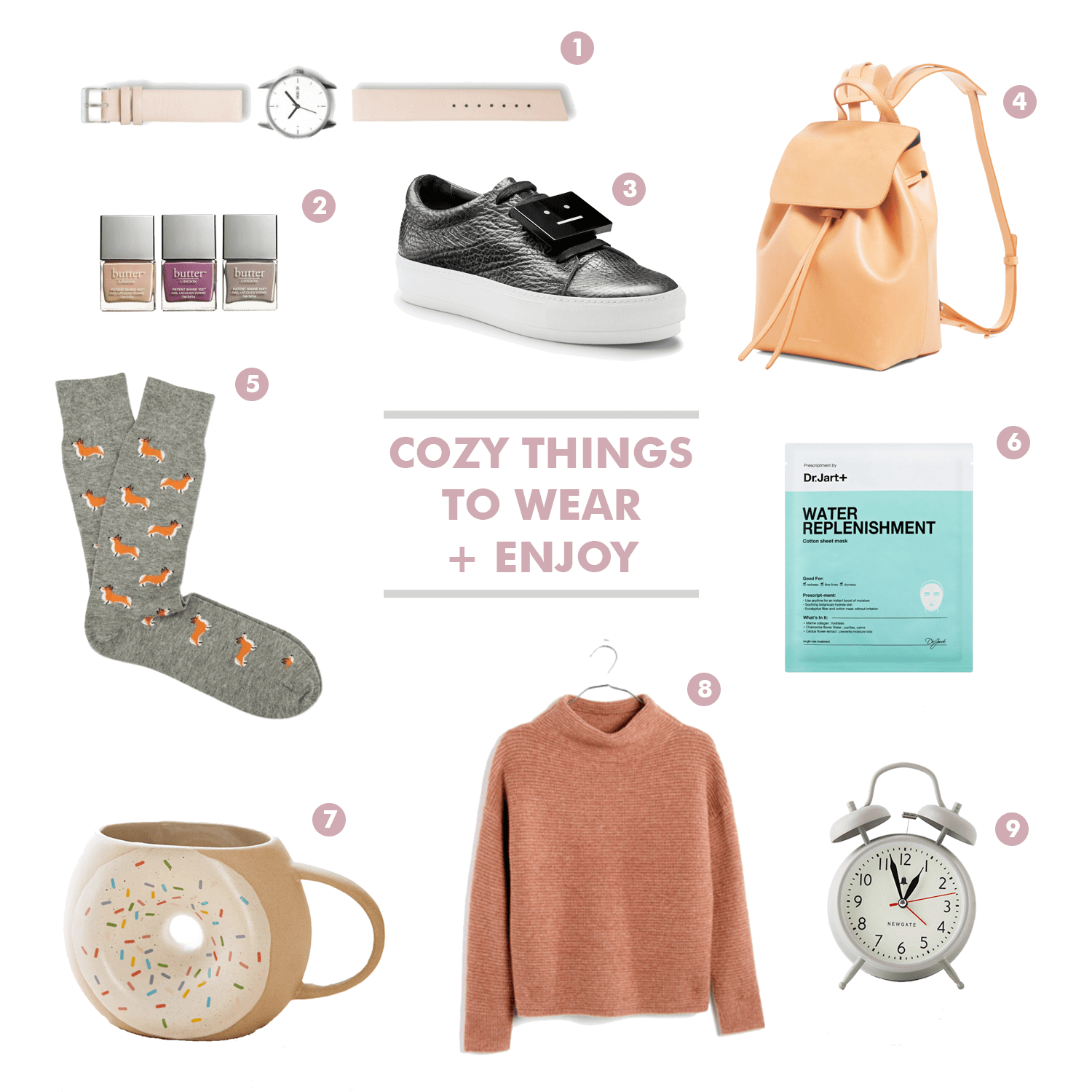 1. Tinker Watch (in pink) — Mix and match to build a beautiful watch.
2. Butter in London "Fall in Line" — I've worn the third color on the right every single day for a month–I love it!
3. Acne Emoji 'Adriana' Shoes — I wear these almost every day. They're my absolute favorite and the emoji plaques are the best conversation starter.
4. Mansur Gavriel Backpack — Another thing on my to-splurge list for myself. Basically I look at Gift Guides for myself. :/
5. Corgi socks — I currently own three pairs of corgi socks but frankly I could use a few more pair.
6. Dr. Jart Water Replenishment Mask — The best stocking stuffer. I love wearing them on flights and scaring everyone around me.
7. Donut mug — Basically the only thing I want for Christmas this year.
8. one.
9. Prettiest Alarm Clock in Grey — I probably would still use my iPhone but it's super cute to go on a side table.