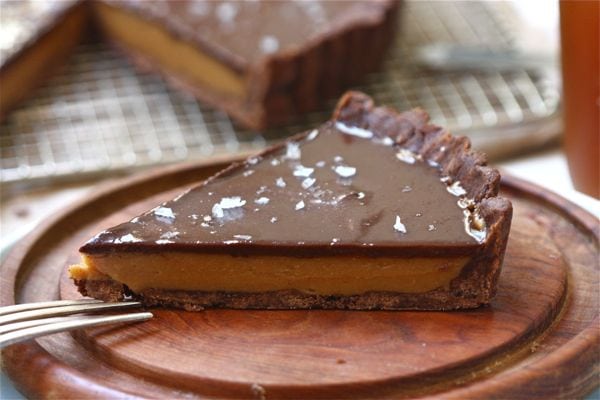 Holy wow! You lovely people read from all around the globe. I had no idea. How special. How awesome. Thank you thank you! I made you something kind of ridiculous. Think of it sort of like a thank you in form of chocolate and peanut butter. Best kind of thank you!
I've had this idea to make a gigantic Reese's Peanut Butter Cup for a long time. I don't eat a lot of candy. I don't, but OMG do I love peanut butter cups. They're my weakness when I go to the movies, but I never buy them because it makes me mad that they're like $4 at the movie theater and $1 at the drug store. WHY? Movie theater prices are like mini-bar prices but less exciting. No turn down service. No housekeeping. LAME.
So, sometimes I sneak them in my purse. Sometimes I might even go to Chipotle before and sneak in a burrito. So what, who cares?!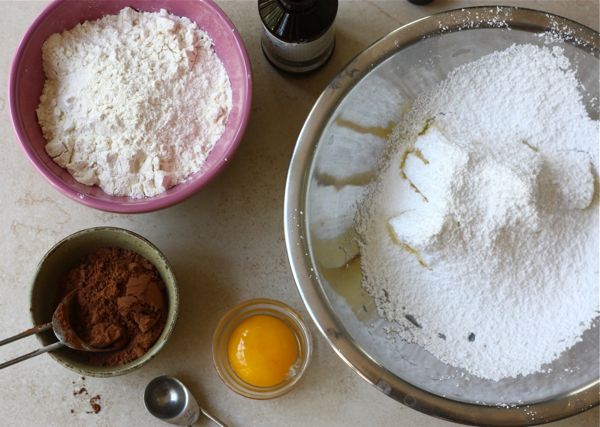 This giant peanut butter cup isn't exactly like a normal, small-sized peanut butter cup. The bottom isn't hardened chocolate, but instead more of a chocolate pastry crust.
It's only slightly more dense, yet still flakey and delicious.
After the chocolate tart crust takes a trip to the oven, baking stuff is over. Minimal baking, lots of downtime.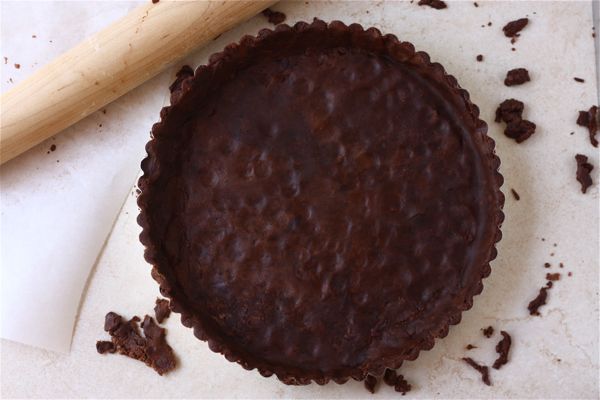 The filling isn't just pure peanut butter. Oh no. That'd be too thick. Instead it's mixed with butter, powdered sugar and a little bit of heavy whipping cream.
I used natural creamy peanut butter. The natural part is optional, the creamy part is not.
After the peanut butter filling is added, I transferred it to the fridge to set a bit. While the tart is chilling out, the ganache can be made.
Hot heavy cream over semi-sweet chocolate chips.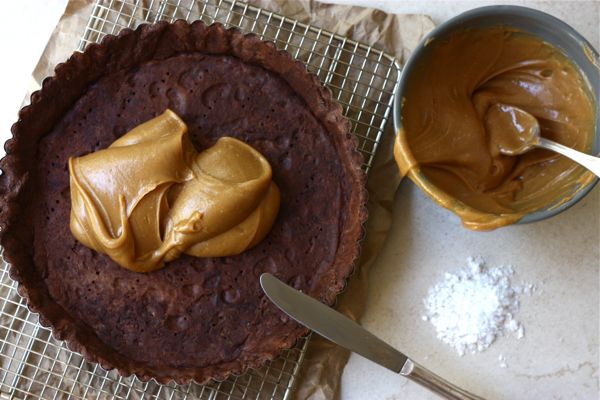 Pour it on top of the cold peanut butter and smooth it out. One more trip to the fridge and it's done!
I sprinkled a little Maldon sea salt on top, post fridge.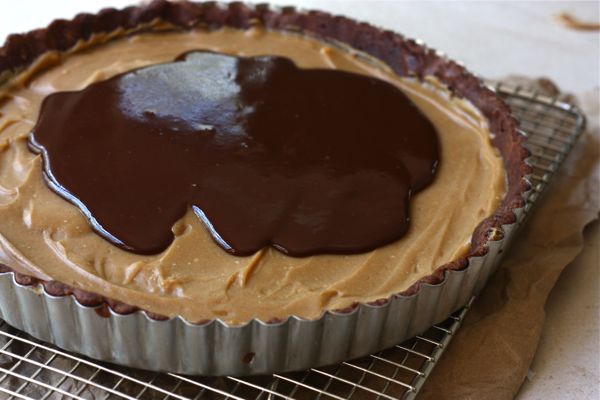 And then I did what every other normal person does and made some iced coffee for the imaginary second person and took pictures of it all.
This is all very normal.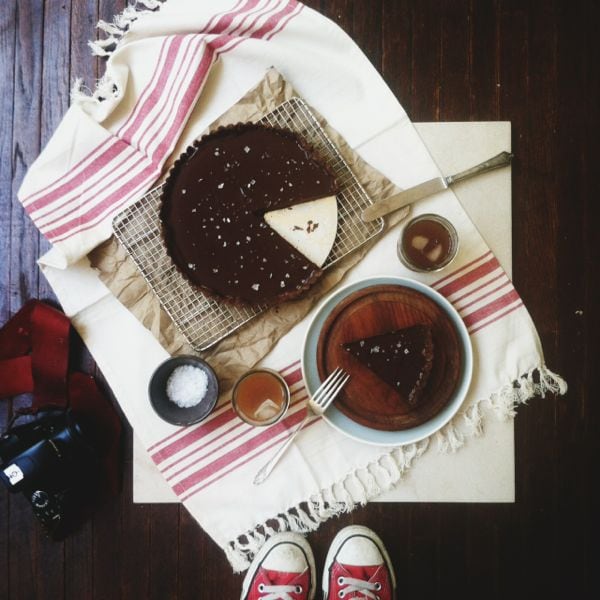 A Very Giant Reese's Peanut Butter Cup
Crust:
8 tablespoons (1 stick) unsalted butter, room temperature
1/2 cup plus 1 tablespoon confectioner's sugar
1 large egg yolk
3/4 teaspoon pure vanilla extract
1 1/4 cups all-purpose flour, plus more for rolling
1/4 cup unsweetened Dutch-processed cocoa powder
Peanut Butter Filling:
6 tablespoons unsalted butter, room temperature
3/4 cups creamy peanut butter
1/2 cup confectioner's sugar, sifted
2 tablespoons heavy cream
Chocolate Ganache:
1/2 cup heavy cream
3 1/2 ounces semi-sweet chocolate chips
Topping:
Maldon Sea Salt
1. Make the tart dough: In the bowl, using a hand mixer or stand-up mixer with the paddle attachment on, cream butter and confectioners' sugar until combined, about 1 minute. Add egg yolk and vanilla, and beat until smooth. Sift in flour and cocoa powder, and beat on low speed until just combined. Scrape the dough onto a sheet of plastic wrap, and form it into a disk; wrap well in plastic wrap. Chill until firm, at least 1 hour and up to 3 days.
2. Preheat oven to 325 degrees F. Between two sheets of lightly floured parchment paper, roll the tart dough into a 14-inch circle. Gently transfer dough to a 9 1/2-inch tart pan. Press the dough into the tart pan, trimming away any excess dough. Chill the tart shell in the refrigerator for 20 minutes.
3. Line the tart shell with a piece of parchment paper, and fill with pie weights (or raw rice or dried lentils). Bake for 15 minutes. Remove the parchment paper and its contents, and bake until the pastry looks dry and set, 5 to 10 minutes. Transfer pan to a wire rack to cool. (The tart shell can be made up to 8 hours ahead.)
4. Make the filling: In a bowl, add the room temperature butter, peanut butter, confectioner's sugar and two tablespoons of heavy whipping cream and mix until smooth.
5. To the chilled tart shell, add the peanut butter mixture and, using a butter knife, smooth out the top. Transfer the filled tart shell to the fridge for 30 minutes to set.
6. Meanwhile, make the ganache glaze: Place the chocolate chips in a heatproof bowl. In a small saucepan, bring cream to a boil. Pour the hot cream over the chocolate, and let stand for 2 minutes, then stir with a rubber spatula until smooth. Pour some of the glaze over the tart while still warm. You can let the glaze set at room temperature for at least 2 hours OR (since I was experiencing a heat wave) transfer the tart to the fridge and allow to set for 30 minutes. Top with a few sprinkles of sea salt and serve.
Adapted from Martha Stewart