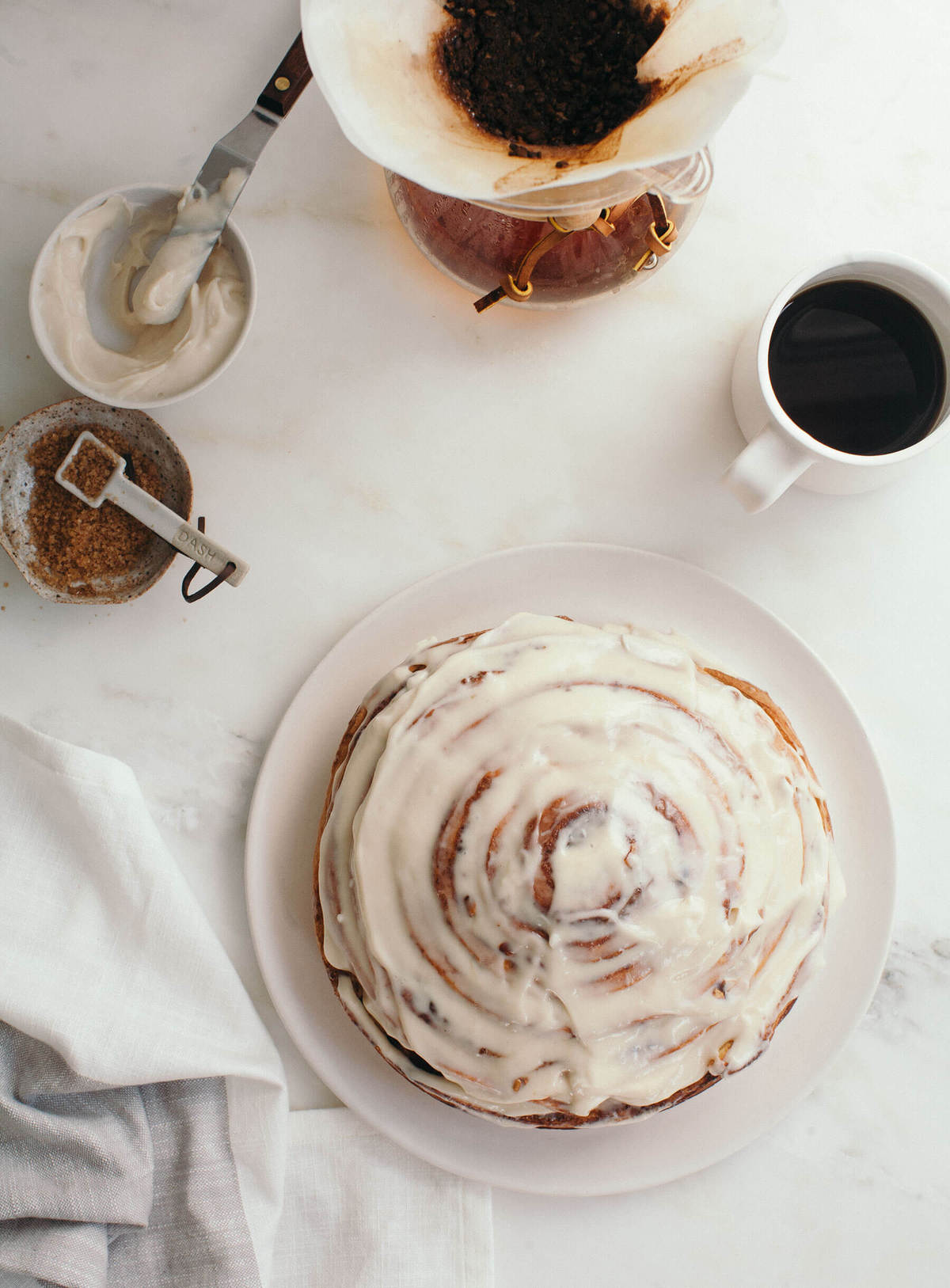 Now that Labor Day has passed and school has started and the bustling of the impending holiday season is here, I feel like we're all over summer and rosé and watermelon. We're over it. BYE, GIRL! Until next year!
It's time to get our ovens in gear for baking season, my favorite season, autumn. I decided to start it out with a big ol' bang with this Giant Cinnamon Roll from Sarah's new book, The Sugar Hit. It's a punch of cuteness meets color meets funny. It's loaded with fun-sounding recipes and cute anecdotes that make you wish she was your friend IRL.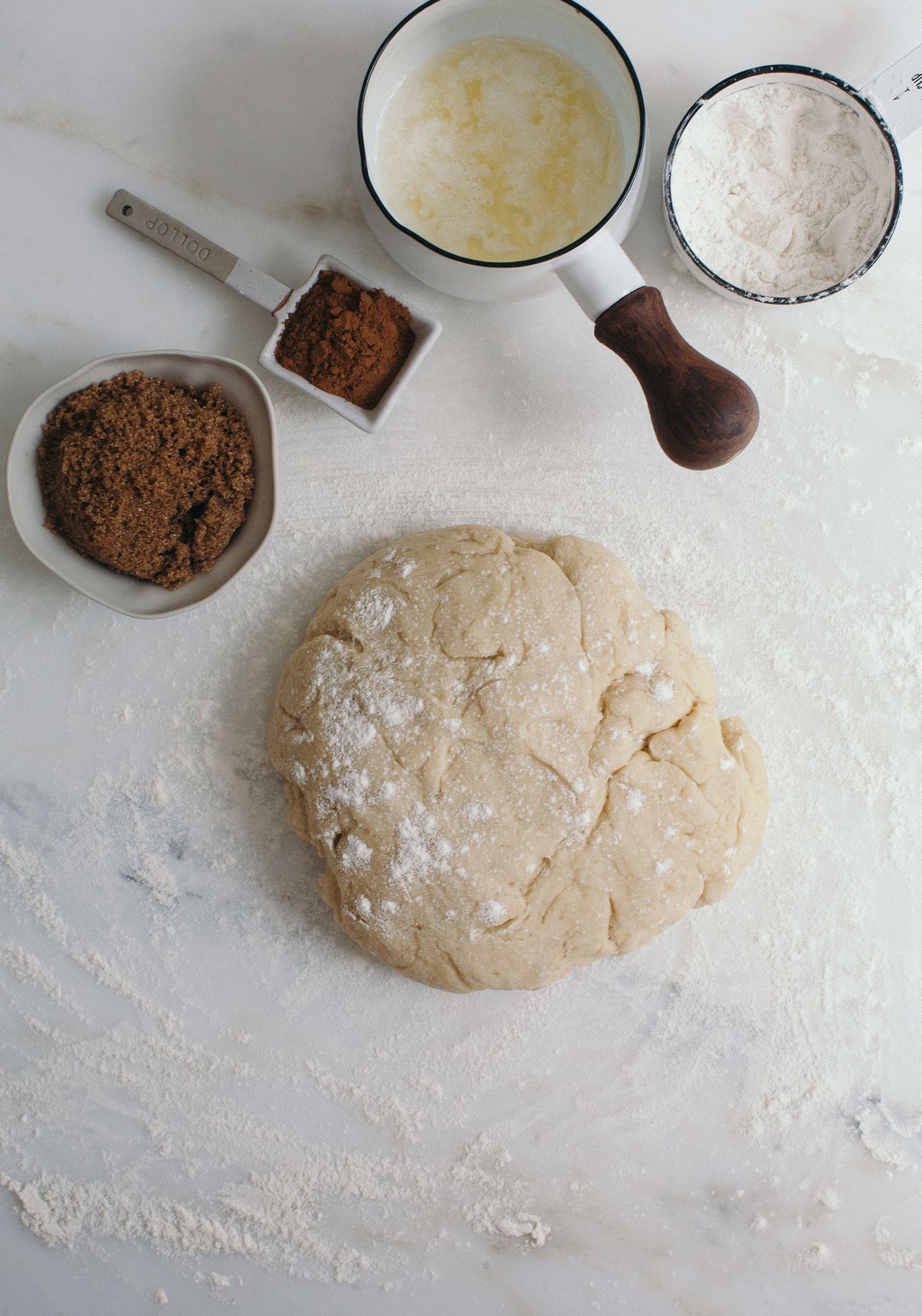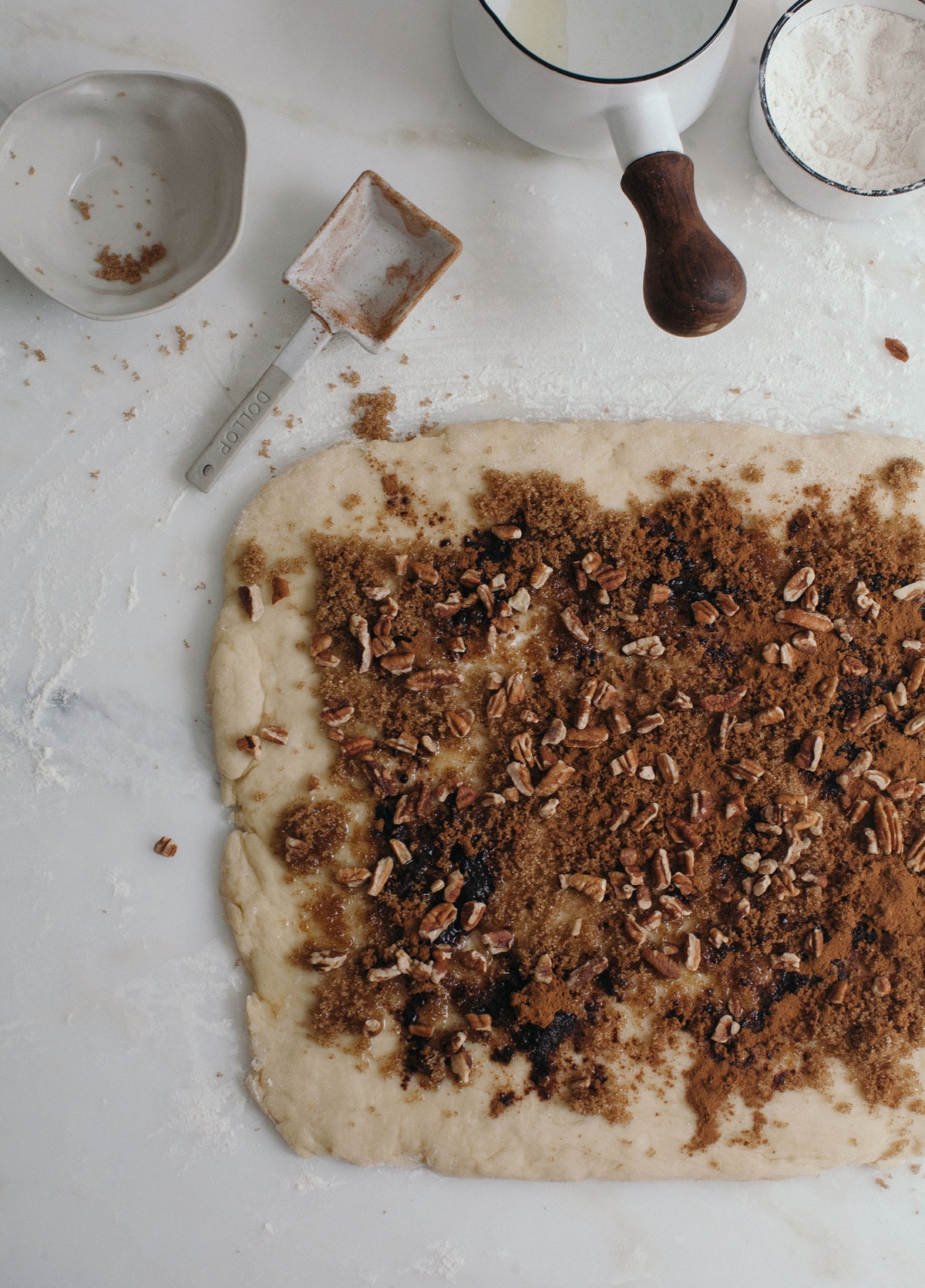 Here are some recipe titles: Like a Fat Kid Loves Cake Milkshake; Homemade Tim Tams (!!!); Filthy Cheat's Jam Doughnut; Cola Float Ice Cream Cake.
Don't those sound fun!
I was most attracted to this recipe because who wouldn't want a big ass cinnamon roll in their house at all times.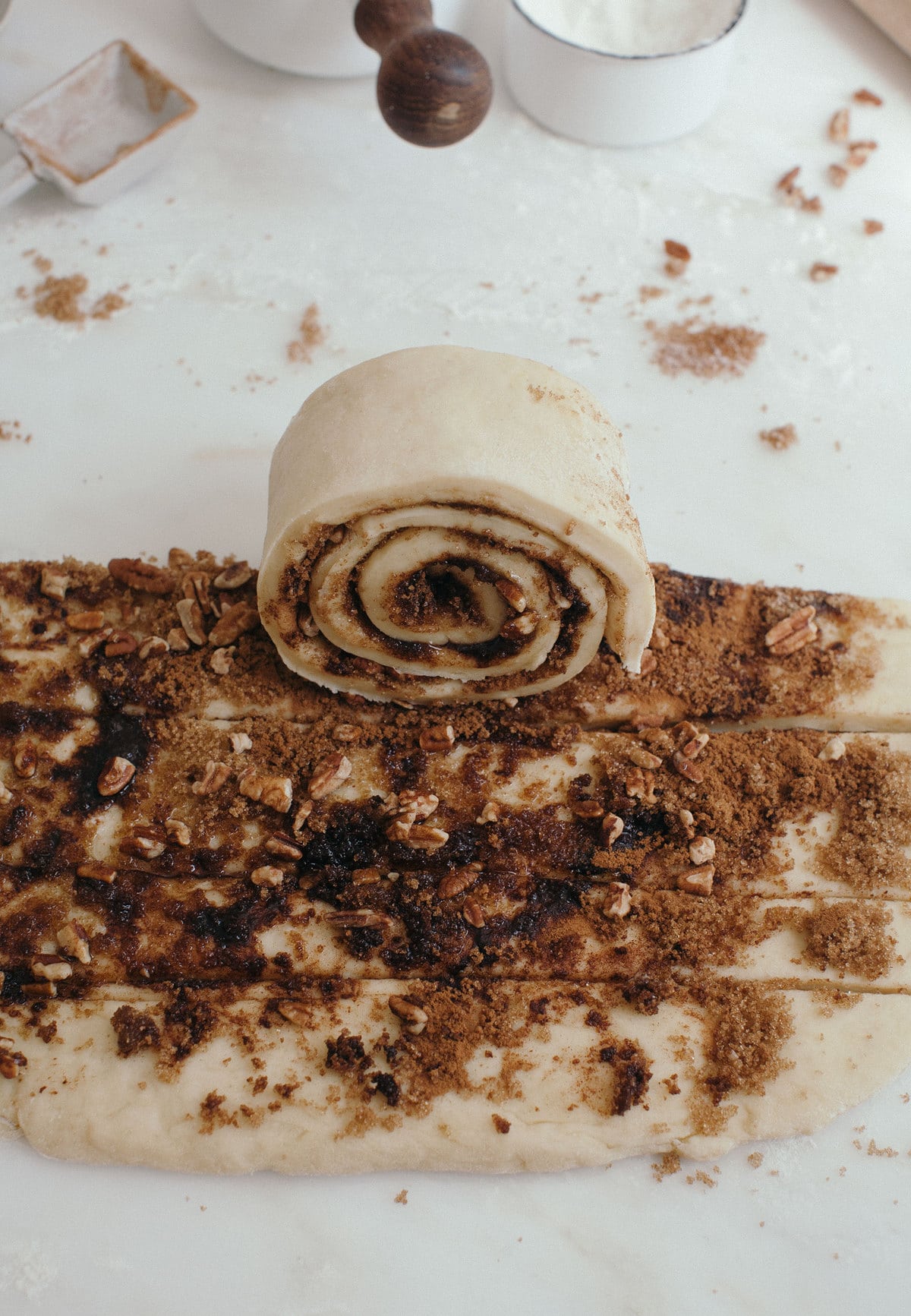 Maybe the Whole 30 people would not want this but we're not them (I might be some day) right now so big cinnamon roll is how we do.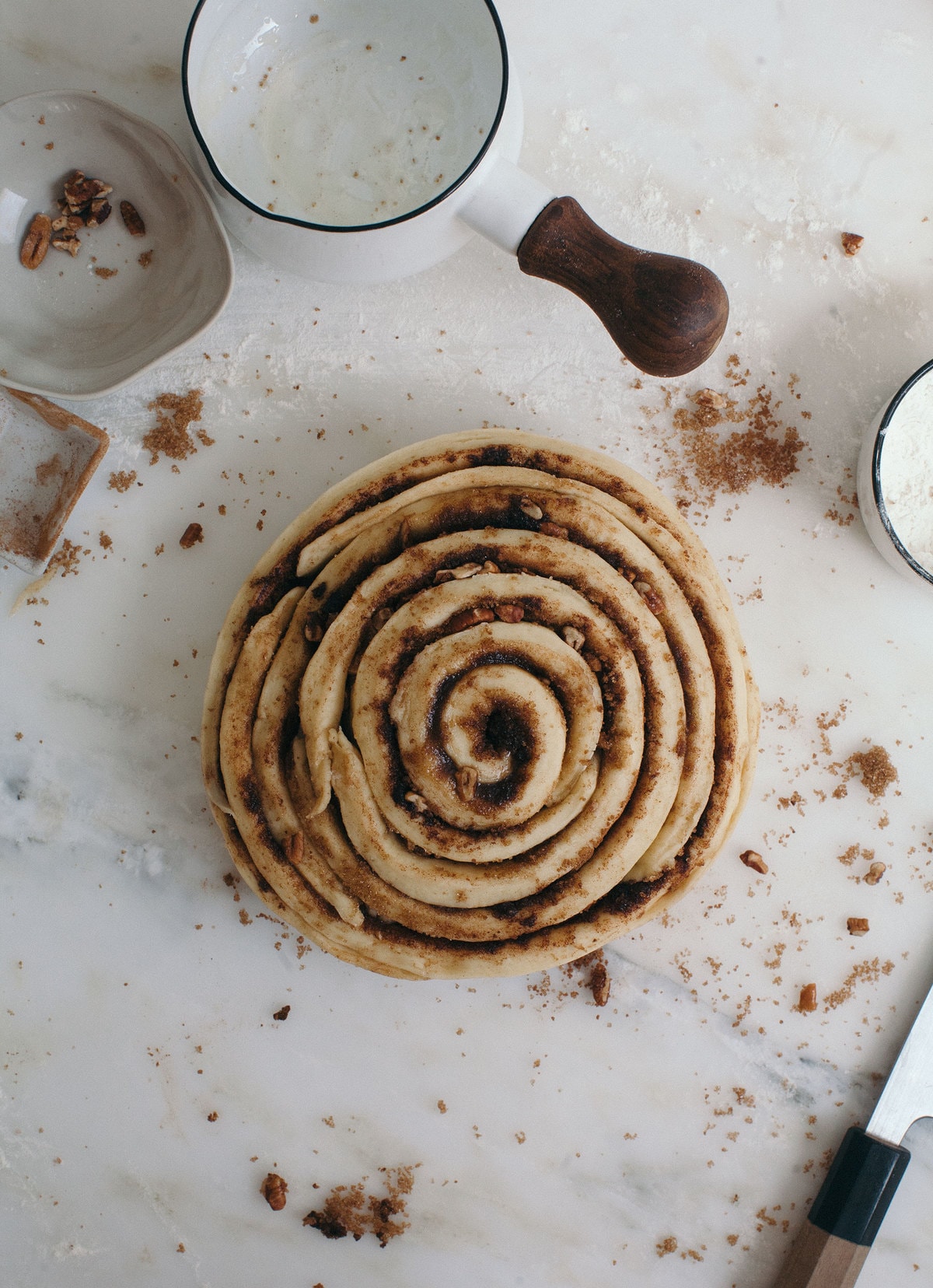 It's soft and fluffy on the very inside with a crispy exterior and a cream cheese frosting. My favorite.
To visit Sarah's blog, go here; to check out/buy her book, go here.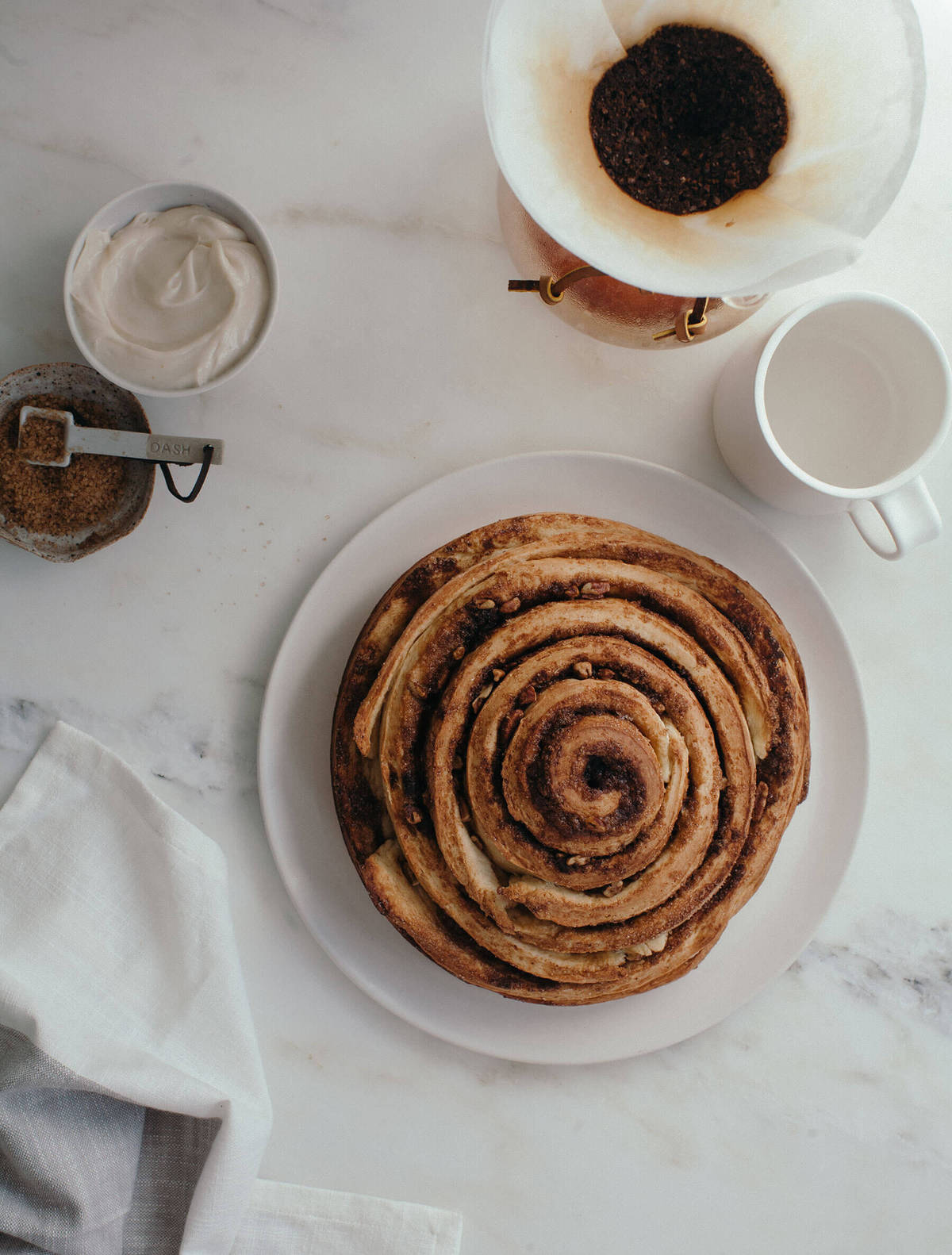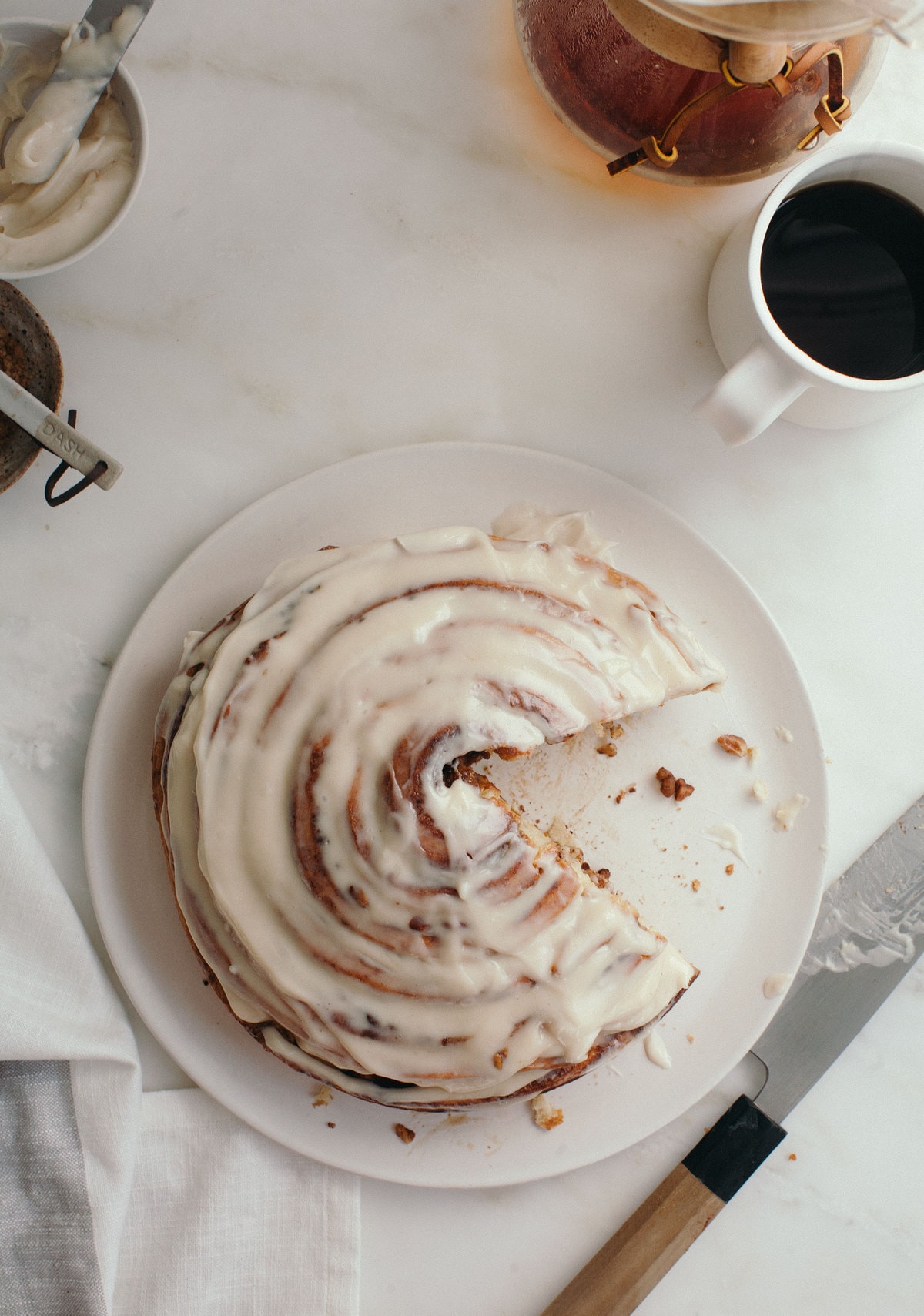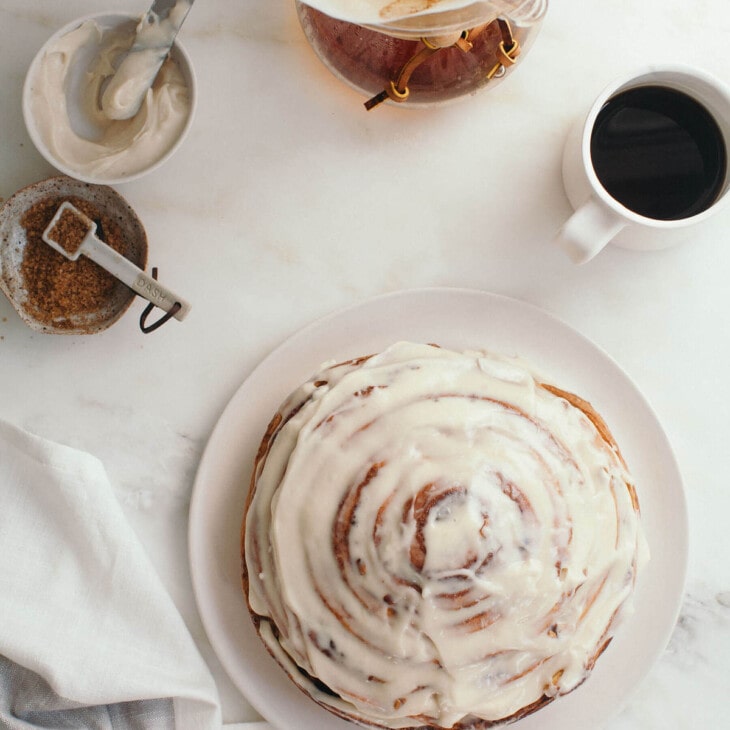 Print Recipe
Giant Cinnamon Roll
Serving Size:
(9-inch) gigantic cinnamon roll
Ingredients
Dough:
¼

cup

plus 1 tablespoon

75g unsalted butter

¾

cup

190 ML whole milk

3

cups

450g bread flour

¼

cup

55g granulated sugar

1 ½

teaspoons

dry active yeast

Pinch

of salt

1

large egg

beaten
Filling:
1

ounce

unsalted butter

melted

½

cup

115g firmly packed light or dark brown sugar

1

tablespoon

ground cinnamon

¼

cup

30g chopped pecans, plus extra, to serve
Icing:
⅔

cup

5 ½ ounces cream cheese, at room temperature

⅔

cups

85g confectioners' sugar

1

teaspoon

vanilla bean paste or pure vanilla extract
Instructions
To make the dough, melt the butter in a small saucepan over low heat, add the milk, then remove from the heat and set aside to cool slightly. Put the remaining dough ingredients and the slightly cooled milk and butter mixture in a large bowl (or the bowl of your stand-up mixer) and stir to bring the mixture together. On a floured work surface (or using a stand-up mixer with the dough hook), knead until a smooth, elastic and ever-so-slightly tacky dough forms, about 5 minutes. Put the dough back in the bowl (or keep it in the bowl of the stand-up mixer) and cover with plastic wrap. Leave in a warm place to rise for 30 to 45 minutes, or until doubled in size.

While the dough is rising, grease and line a 9-inch round springform pan. When the dough has risen, punch it down and turn it out onto a lightly floured work surface again. Roll the dough out into a 12-inch square. Spread the melted butter over the dough and sprinkle over the brown sugar, cinnamon and pecans.

Slice the dough lengthwise into 6 equal strips. Don't be shy to break out your ruler. The strips need to be even in order for the structure of the cinnamon roll to be ok.

Roll the first strip up in a spiral, just like a regular cinnamon roll. Place the rolled cinnamon roll on the edge of the next strip and roll that strip around the cinnamon roll. (See photo above for assistance.) Continue this until you've reached the second to last strip. When you get the end, it might be easier to take the strip and wrap it around the cinnamon roll.

Now plonk this giant bun in your greased tin. You should end up with a very ramshackle giant cinnamon roll. Cover the tin with plastic wrap and set aside for about 45 minutes to rise.

Preheat the oven to 350 degrees F. When the bun has risen, remove the plastic wrap and bake for 35 to 45 minutes, or until golden, risen and cooked through. Remove the bun from the tin and leave to cool just until warm.

For the icing, beat together all of the ingredients, slather the mixture over the top of the bun, scatter over the extra pecans and tear into it.