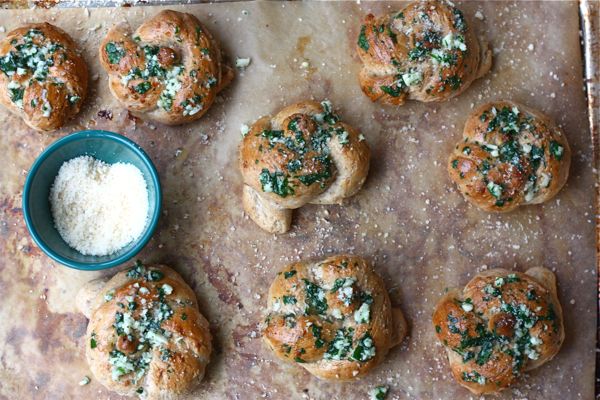 How high-maintenance of a lady/dude are you?
I want us to talk make-up. Blush and eyeliner. Hairz routines. Eyelash curling situations (they'll forever scare me). I want us to share!!! And be real life friends. And boyz (all two of you that read this blog), you too! What's your haircut life like? How does it feel to just never have to worry about makeup? Freeing...?
Me, over here, I'm kind of easy breezy. I wear make-up pretty much everyday. But I only use, like, three things. And these few things have my loyalty probably for life. I'm gonna be 60 years old with this same routine, I have a feeling. If I'm going about my business during the day, I'll throw on some concealer; mainly for under my eye balls. I have sleeping issues. I dunno. I hear lavender helps.
I rub some blush on for good measure. A little color makes people look like they aren't dead. That's a plus.
And a few swipes of the greatest mascara to have ever been created is a total must. I don't leave the house without it. It'll sometimes take me 10 minutes to put it on. I'm technical with it.
Every now and then I'll put a swipe of liquid eyeliner on. It's usually reserved when I wanna look cute. Like solidify the cuteness, you know?
Lipstick? Not for me...I don't do it. I'm always drinking something, eating something, etc. Too high-maintenance for me. And plus, one of my greatest fears in life is to be the girl with lipstick on her teeth. Not cute. Eyeshadow? Nah...not really.
Now my nails...OMG...that's a whole other post in of itself. Nail game has to be tight. Nail polish has a special place in my heart. You know this.
My hairz? Bangs. Straight...with a dab of this and a few sprays of this.
If I'm feeling really lazy, but want to fake like I tried, I totally do a top knot. Hair WAY up. And it being a little messy makes it cuter. It's the 5 minute trick of tricks. I recommend it.
This recipe is inspired by my fake "I tried but didn't" hair situation. These rolls are a hellavah lot more interesting than my hair...mainly because butter and carbs are involved.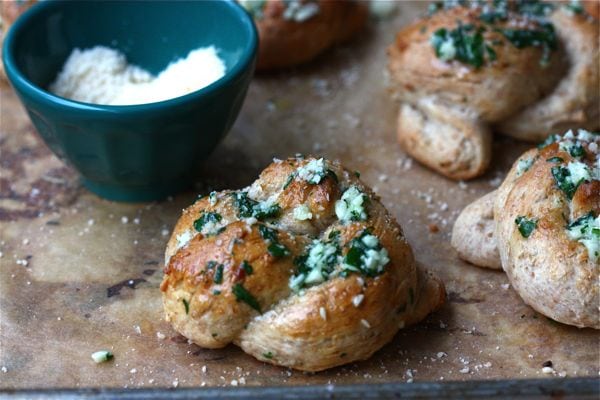 Let's talk bulgar!! Also known as cracked wheat. It's nutty, loaded with fiber and protein. It gives these rolls amazing texture.
Pro tip alert!!!: A box of bulgar isn't expensive, by any means, BUT if you live by a Whole Foods, head to the bulk bins. You can get the exact ½ cup (buy a little extra in case you spill) you'll need for this recipe. It'll totally cost you, like, 75¢.
The bulgar soaks for about 40 minutes with some warm water.
These rolls take a bit. But most of it is downtime, so you can totally go about your daily business and just have it doing its thing in the background.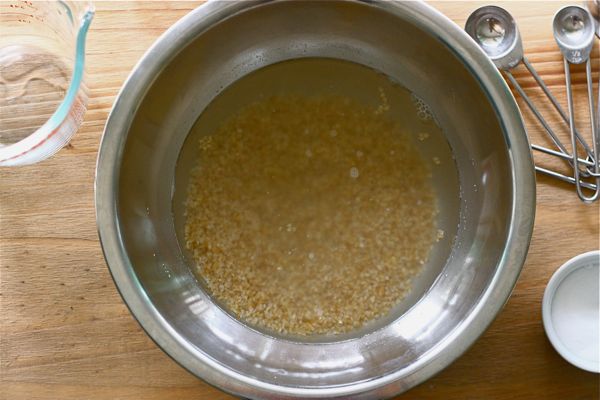 Then there's the yeast part. Nothing too crazy. Just a little warm water, honey and yeast. It should get foamy like this. That's how you know it's "active" and "alive!"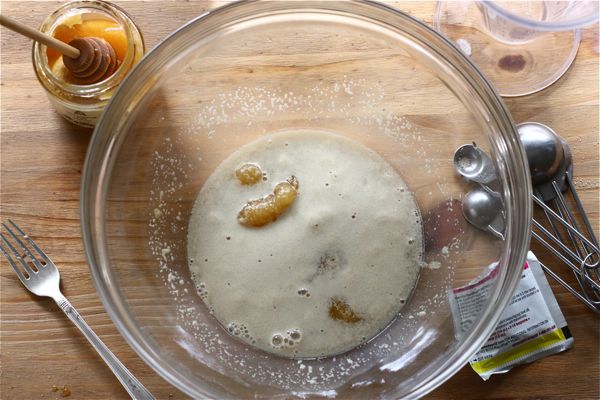 Throw in the all-purpose flour, whole wheat flour, bulgar and the butter and milk mixture.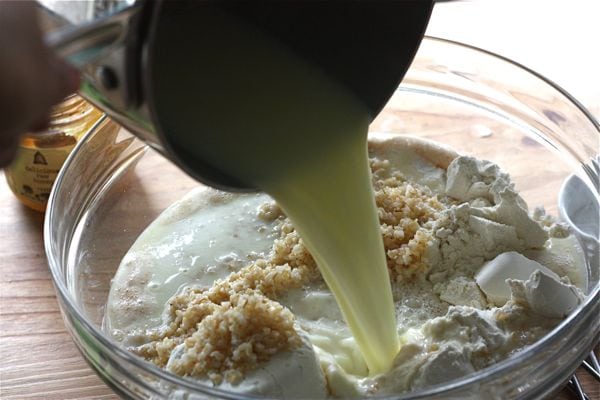 When you mix it up, you'll have a sticky dough. It'll smell amazing. Feel amazing. And have little specks of the bulgar.
HI DELICIOUSNESS!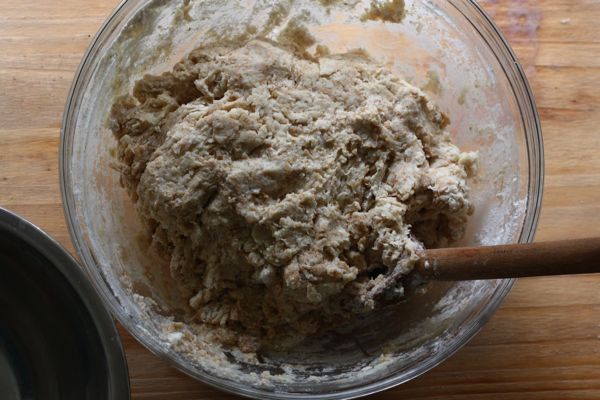 Fun Fact: I'm a small person. Five-foot two to be exact so when I have to knead doughs on my counters that are WAY too tall, I put on high heels.
Weird? Yes. It totally is. Especially when I'm in sweats.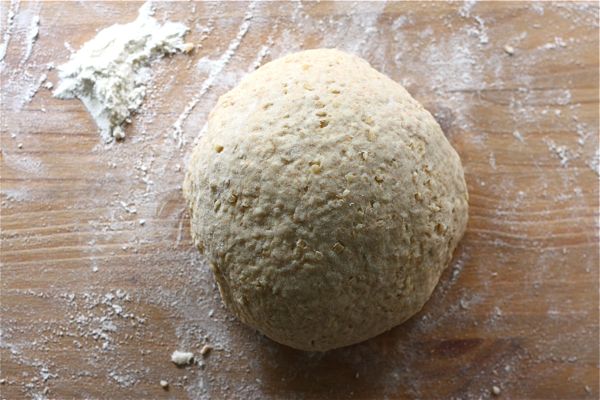 It'll then have its first rise.
After it's done doing its thing, you're going to slice it in half. And then slice each half into nine equal-ish pieces.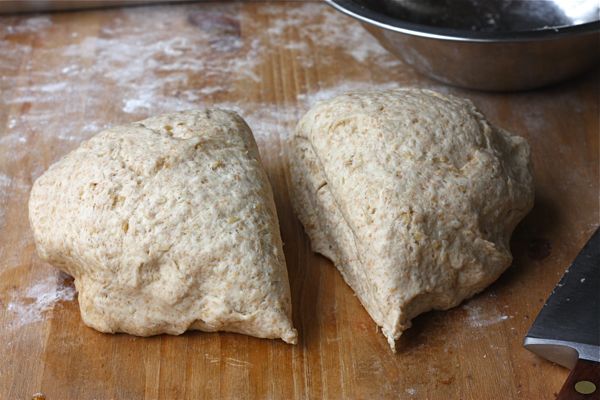 Roll those pieces into 12-inch logs. Use a ruler. It helps. No guessing needed.
This is when the knotting comes in...this seems a lot harder and trickier than it actually is.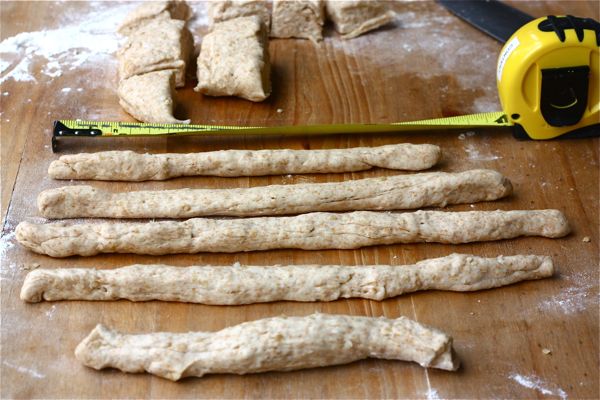 Tie it in a knot, like so: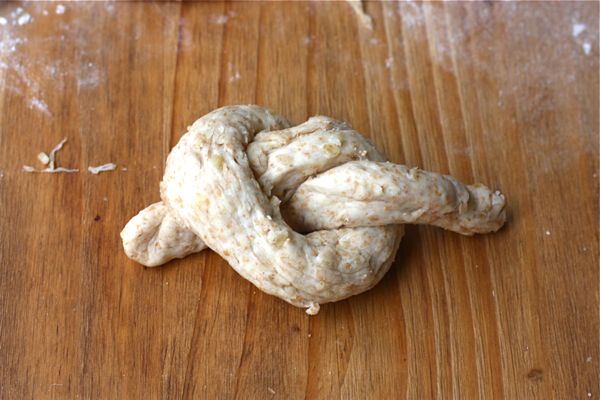 And then take the dude on the right, and thread it over, under and through the center.
Got it?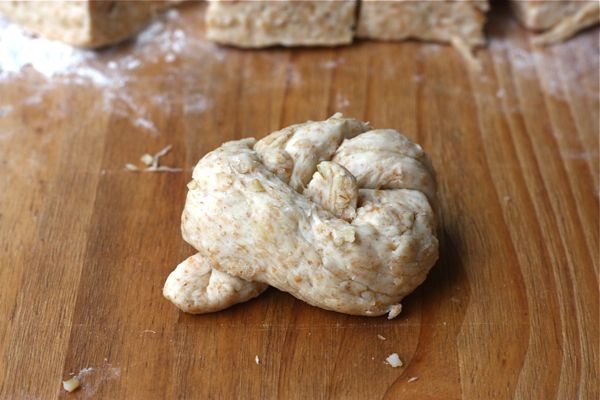 They'll have one more short rise.
And then egg wash and in the oven!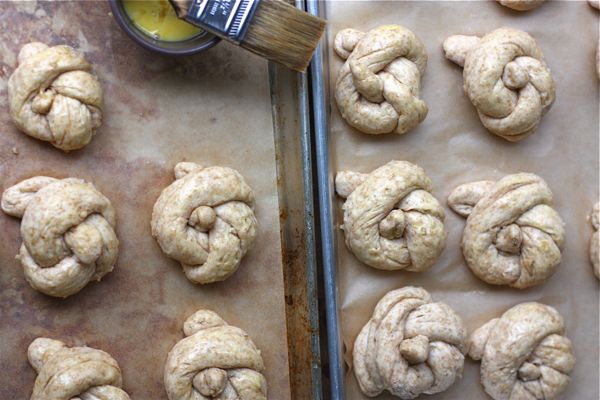 Smash up some garlic, mince it, chop up some refreshing parsley, melt some butter...mix it all together. And smother the tops of the rolls in them when they come out. Lastly, sprinkle (liberally!!!) with Parmesan cheese.
They have the slightest crunch on the outside--the perfect amount, and yet the inside is majorly fluffy. They're dream rolls.
The best part is that these can be made tomorrow, wrapped, put in the freezer and warmed up on Thanksgiving day!
Okay, now that we're past rolls can you tell me what your hair/make-up routines?! I want know how you get cute.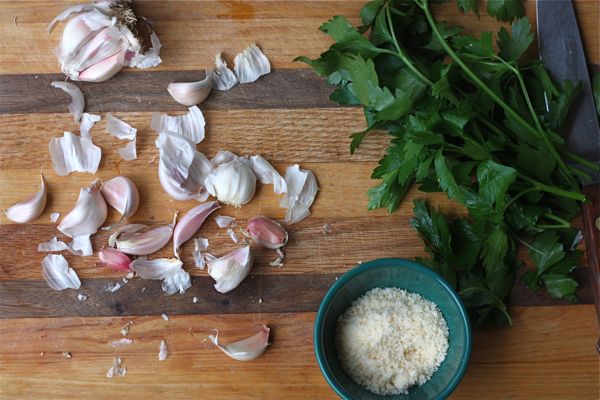 Garlic Parmesan Top Knots

Print this recipe!
1 ½ cups boiling-hot water
½ cup medium bulgur (also called cracked wheat)
1 tablespoon table salt, divided
1 ½ cups whole milk
1 stick unsalted butter, cut into pieces
2 ¼ teaspoon active dry yeast (a ¼-ounce package)
¼ cup warm water (105–115°F)
1 tablespoon mild honey or sugar
1 ½ cups whole-wheat flour
3 cups all-purpose flour plus more for kneading and dusting
1 large egg beaten with 1 tablespoon milk for egg wash
8-9 garlic cloves, minced
Handful of Italian Parsley, minced
3 tablespoons unsalted butter, melted and cooled slightly
½ teaspoon salt
¼ cup Parmesan, finely grated
Stir together boiling-hot water, bulgur, and ½ teaspoon table salt in a small bowl and let stand until bulgur is tender, about 40 minutes.
While bulgur soaks, heat milk with butter in a small saucepan over low heat just until butter is melted.
Stir together yeast, warm water, and honey in a large bowl and let stand until foamy, about 5 minutes. (If mixture doesn't foam, start over with new yeast.) Add flours and remaining 2 ½ teaspoons table salt to yeast mixture.
Drain bulgur in a sieve, then mix bulgur and milk mixture into flour mixture with a wooden spoon or rubber spatula until a sticky dough forms.
Turn out dough onto a well-floured surface and knead, dusting surface and your hands with just enough flour to keep dough from sticking, until dough is elastic and almost smooth, 6 to 8 minutes. Form dough into a ball.
Put dough in an oiled large bowl and turn to coat. Cover bowl with plastic wrap and a kitchen towel and let dough rise in a draft-free place at warm room temperature until doubled, 2 to 2 ½ hours.
Line 2 large baking sheets with parchment paper.
Punch down dough (do not knead), then halve. Cut half of dough into 12 equal pieces (keep remaining half covered with plastic wrap). Roll each piece into a 12-inch-long rope with floured hands (flour surface only if dough is sticky). Make a loop with each rope, wrapping it around fingers of one hand, then knot dough twice through loop, leaving 1 end in center on top and tucking bottom end under. Transfer to a baking sheet, arranging rolls 2 inches apart.
Make more rolls with remaining dough, transferring to second sheet. Cover rolls with a kitchen towel (not terry cloth) and let rise in a draft-free place at warm room temperature until doubled, 1 to 1 ½ hours.
Preheat oven to 375°F with racks in upper and lower thirds.
Brush rolls with egg wash. Bake rolls, switching position of sheets halfway through, until golden brown, 20 to 25 minutes total. Transfer rolls to a rack to cool at least 20 minutes. While rolls are in the oven, mix together minced garlic, parsley, melted butter and salt. Brush tops of rolls with butter/garlic mixture. Sprinkle tops with Parmesan liberally.
Recipe tweaked from Gourmet Magazine