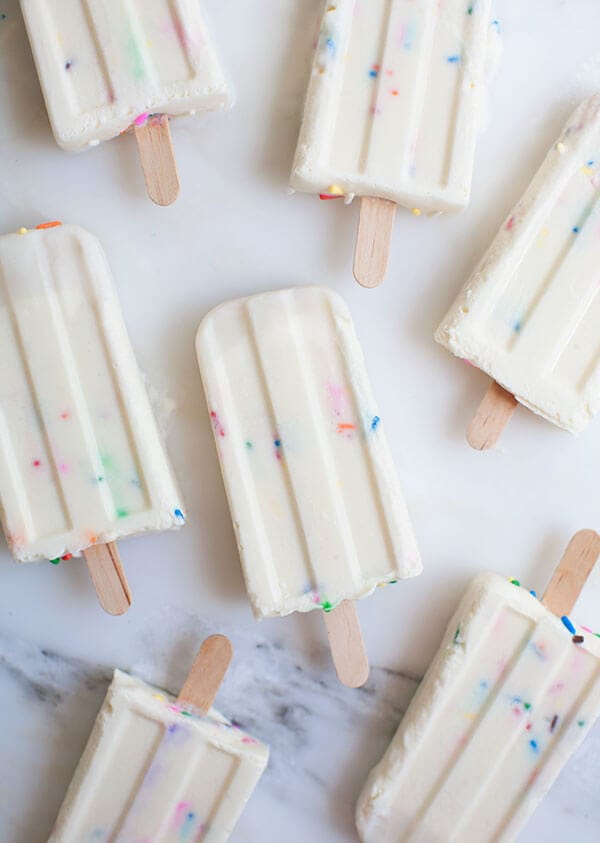 Funfetti all up in your Monday.
It's Monday. There's probably some a-hole in Positano, Italy in your Instagram feed posting photos while you're doing your Monday to-do list on a post it note with a pen that barely works. Yes, this happens during the summer and it's sort of rude. How dare they. Don't they know that you can't find a real pen and all you want to be doing is frolicking in the sand and making out with someone kewt, too. They do know but they don't care so this is why you need sprinkles, today and every day.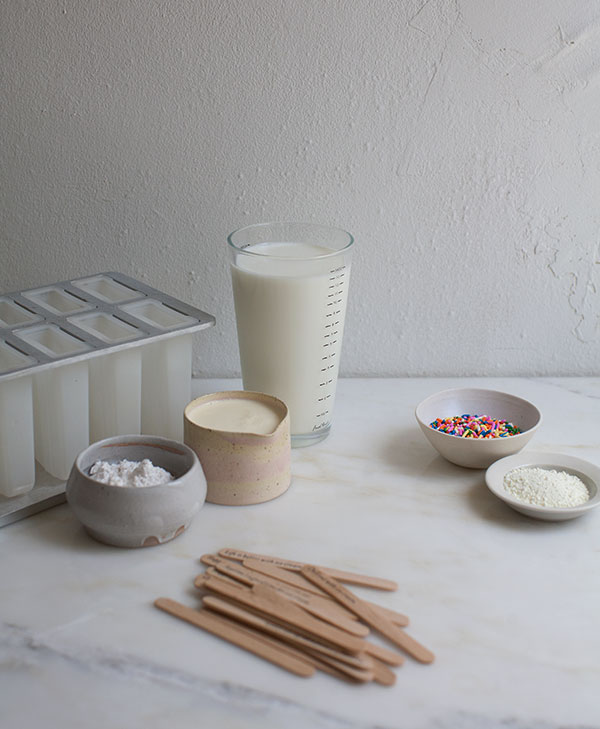 Did you know it's POPSICLE WEEK?! Billy throws this frozen internet party every year and it's fu-un.
Before we get too deep into these thangs, this is the popsicle mold I used. (Last week someone asked me to post it! As for the popsicle sticks with the cute sayings, they belonged to my boyfriend's mama. They're from Williams-Sonoma and the box says 2003 so I'm guessing they don't sell them anymore. Aren't they the cutest?!)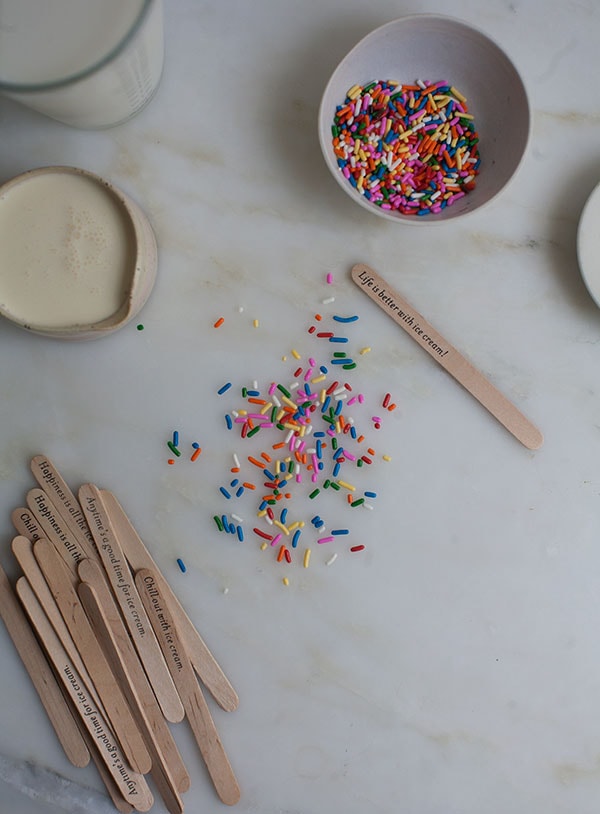 This year I'm getting VERY into it by posting two recipes this year: one sweet and one savory.
Welcome to sweet candyland.
These popsicles taste like cake batter meets ice cream meets FUN!
The sprinkles are layered in the popsicles throughout. The popsicles are very semifreddo-like, but without the egg yolks because when I eat funfetti cake, I want a WHITE cake not a yellow one. So, here you are: white popsicles.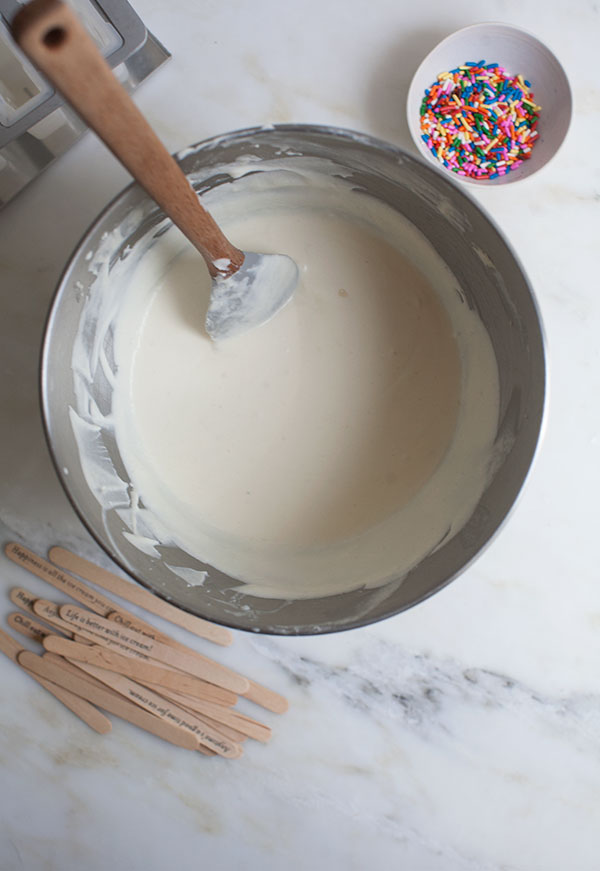 These are like a more solid version of ice cream that tastes a bit like cake, thanks to the milk powder. Of course, if you can't find it, you can skip it but it really does help in the flavor department.
Enjoy Popsicle Week!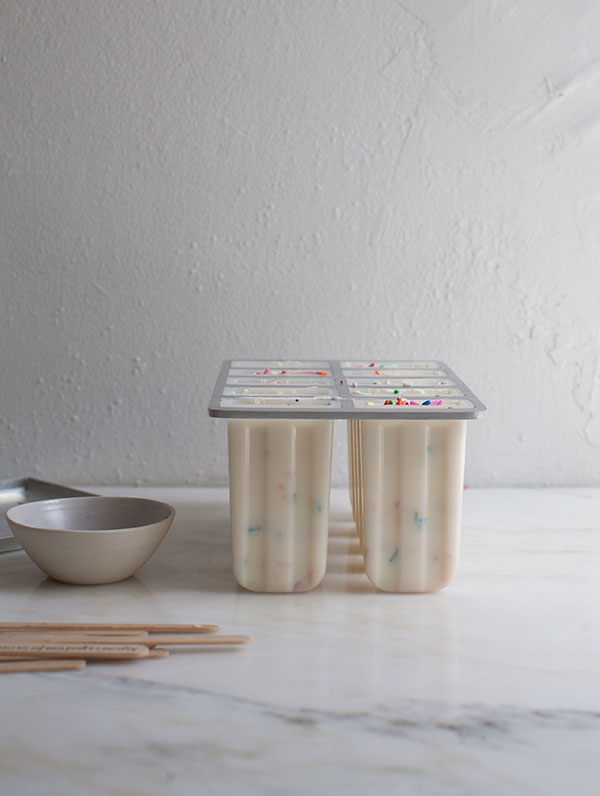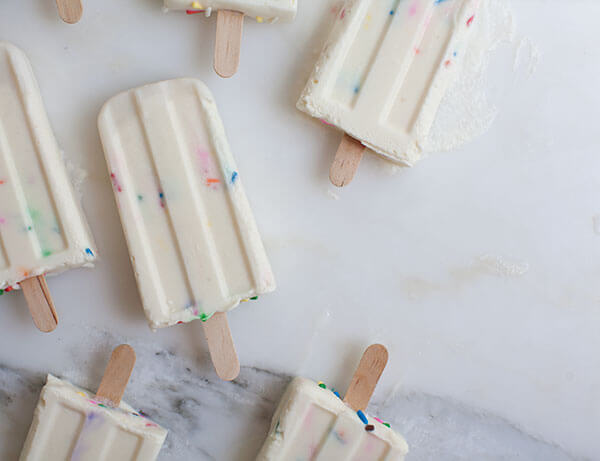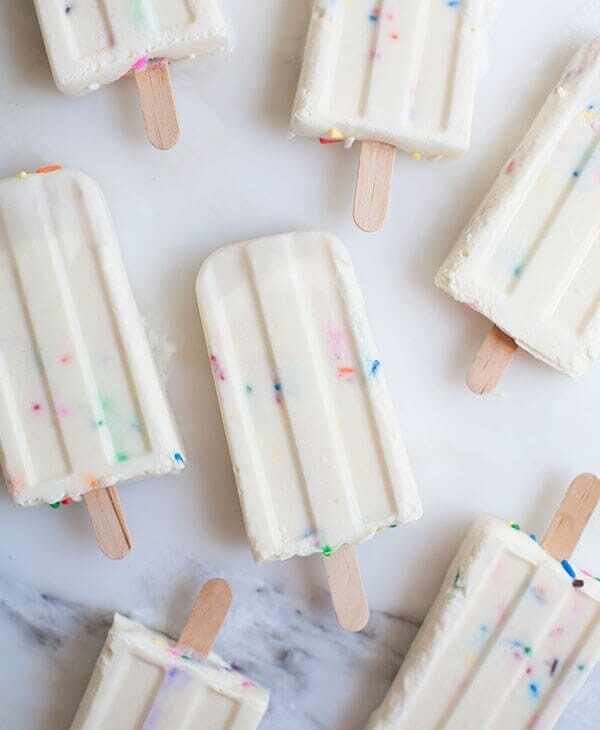 Print Recipe
Funfetti Cake Batter Popsicles | A Cozy Kitchen
Serving Size:
(I ATE 2 AND DIDN'T REGRET IT)
Ingredients
1

cup

heavy cream

½

cup

plus 2 tablespoons powdered/confectioners' sugar

3

tablespoons

milk powder

½

teaspoon

pure vanilla extract

1 ¼

cups

whole milk

¼

cup

sprinkles
Instructions
In the bowl of a stand-up mixer, add the heavy cream and powdered sugar. Alternatively, you could pour the heavy cream and powdered sugar into a large bowl and use an electric hand-mixer. Whip until light and fluffy, about 2 minutes. Next, add the milk powder and vanilla extract; beat once more until medium peaks, an additional minute.

Pour in the whole milk and mix until thoroughly combined. At first it'll seem like it won't want to merry with the whipped cream but continue stirring or beating until combined.

Fill up your popsicle molds about ¼ of the way; add a few pinches of sprinkles to each mold. Fill up the molds about ½ way; again, add a few pinches of sprinkles to each mold. Repeat this process until all of the molds are full and layered with sprinkles. Insert popsicles into the center of each of the molds. Transfer to the freezer until frozen solid, at least 6 hours, ideally overnight. Run the molds under hot running water for a few seconds; remove the popsicles from their molds and enjoy.