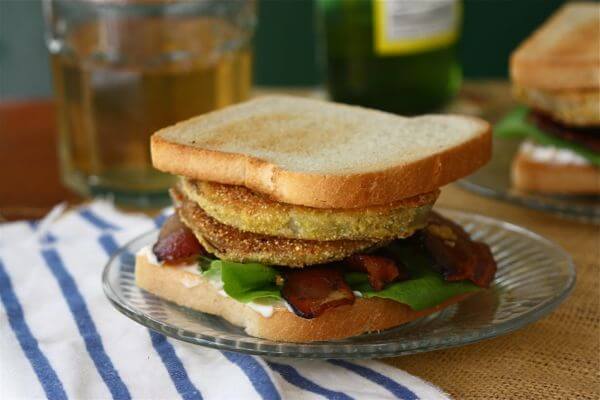 NOWWW, DIS IS A SANDWICH!
No but really, this sandwich is pretty awesome.
We're in a season transition right now. Kind of always a little awkward, right? I'm dreaming of pumpkin things and apple pies and acorn squash roasting, but I'm still sweating, wearing shorts and eating ice cream. And zucchini are still in abundance and tomatoes are just everywhere. Tomatoes are in seasons almost all summer long, this is true, but these next few weeks are really when we should be consuming and canning them. They're just perfect.
Even the imperfect, not-really-ripe green tomatoes are perfect. Fry them in cornmeal. Even better. Add lettuce, tomato and bacon. Game changer.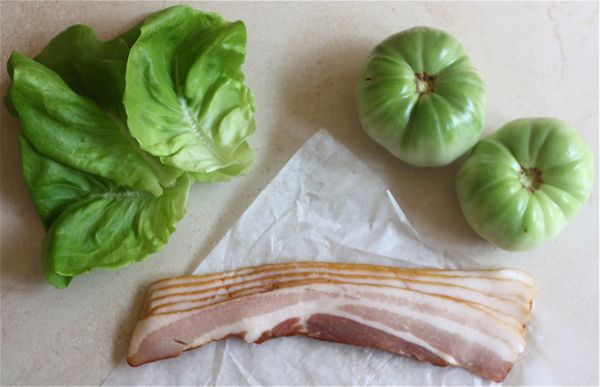 I don't think any of us can fry a green tomato and not be reminded of the movie, Fried Green Tomatoes, which reminds me of my favorite scene, when Kathy Bates gets all cray-cray and smashes into the "younger, faster girls' car." This scene is SO money.
We all fantasize about going off the deep end from time to time.
ANYWAY, this sandwich...it starts with frying up some bacon. A very Southern beginning.
I'm usually a baker of bacon; rather than a fryer. I'm only frying, in this instance, as to avoid cleaning a baking sheet.
Here's a picture of bacon frying: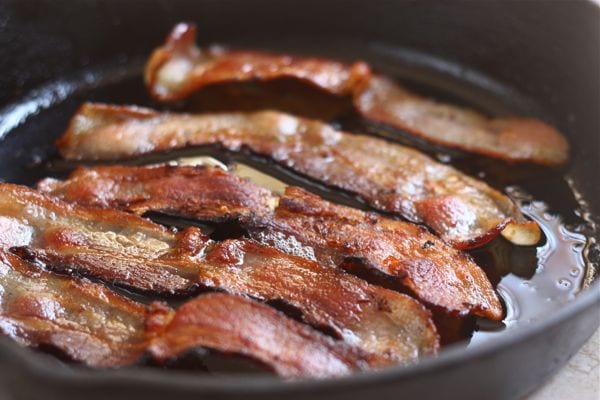 Not all that stunning, but it sort of is because we know what it tastes like and imagining what bacon tastes like is stunning.
After the bacon is fried, it gets a little paper towel action.
I dipped the sliced fried green tomatoes into (seasoned) milk, (seasoned) flour, (seasoned) egg, and lastly, (seasoned) cornmeal.
I think it's important to season every single item you dip the green tomato in. Flavor the whoooole way. And then in the same pan where you fry the bacon, you fry the tomatoes.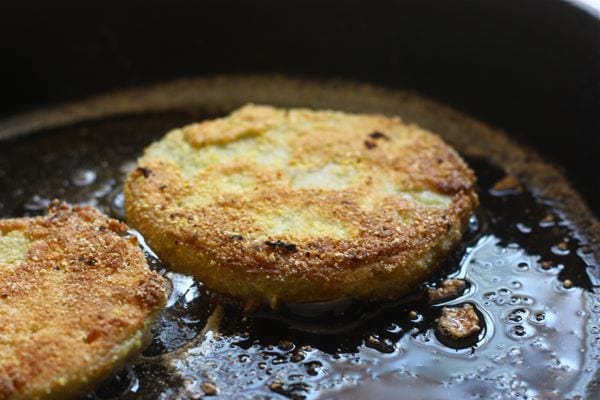 After your bacon and tomatoes are fried, you assemble.
Good mayonnaise is important. I personally like Hellman's or Duke's. If you're not a mayonnaise person, skip it.
A good fried green tomato will be crunchy, salty on the outside with a tangy, warm interior. So good! Add bacon, lettuce and tomato and bread. WHOA! Best sandwich ever.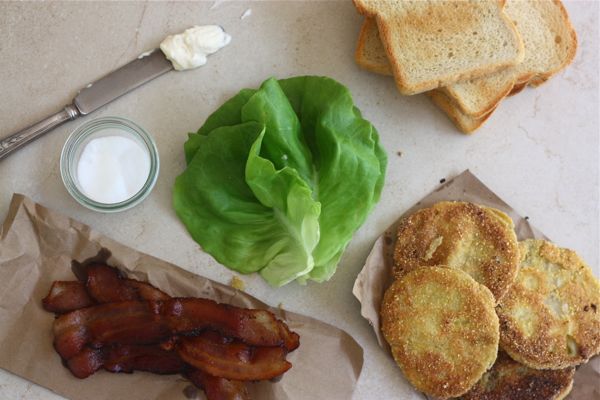 Fried Green Tomato BLT
5 slices of bacon
¼ cup whole milk
Salt
½ cup all-purpose flour
1 large egg
¼ cup cornmeal
3 tablespoons polenta (optional)
2 teaspoons cayenne pepper
2 medium, firm green tomatoes, cut into ¼-inch slices
3 pieces of butter lettuce
Mayonnaise
4 slices of good white bread
1. In a cast iron skillet, cook the bacon over medium-low for 10 minutes, flipping the bacon at the 5 minute mark. Transfer the bacon to a bed of paper towels to drain. Turn the heat to low to keep the grease hot for the frying of the green tomatoes.
2. Gather four small bowls. Add the milk and a generous pinch of salt to one bowl. In another bowl, mix together the flour and 2 teaspoons of salt. In the third bowl, beat the egg. In the final bowl, mix together the cornmeal, polenta, cayenne pepper and 2 teaspoons of salt.
3. Take one tomato slice and start with dipping it into the milk. Transfer it to the flour bowl, being sure to coat it on both sides. Lightly dust any excess flour off and move it to the next bowl with the beaten egg. Drain any extra egg and transfer the tomato to the cornmeal mixture, being sure it's thoroughly coated. Place the breaded tomato in the skillet and turn the heat to medium. Fry for 2-4 minutes on each side, or until golden brown. Transfer to a bed of paper towels to drain. Repeat the dipping and frying process until you've
4. To assemble the BLTS, toast up your bread (or not! I kind of love soft bread with crispy bacon and crispy fried tomatoes). Give the bread slices a heavy swipe of mayonnaise, arrange a little bed of butter lettuce, add some pieces of bacon and finally, top it all off with a few fried green tomatoes.
Yields 2 sandwiches