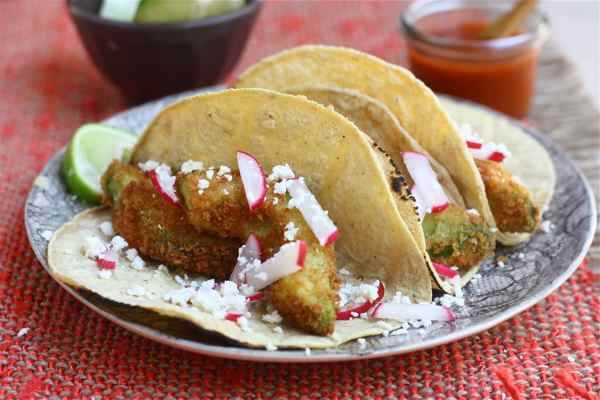 Today is a really good day. It's beautiful out, the birds are chirping, dogs are everywhere looking adorable and you look particularly cute. You always look cute, but today you look extra cute. New jeans?
Thought so…
I'm in a really good mood. I mean, it is Friday. Heeeeyyyy Friday, HEY! But mainly it's because avocados are so incredibly perfect that they make me giddy.
Have we met people that hate avocados? Not sure I've ever come across a person. Hope they don't exist, honestly. (That's kind of harsh of me, isn't it?!)
Avocados are perfect all on their own. We know this. Avocados are also awesome fried, placed in between a tortillas and sprinkled with radishes and cotija cheese.
Let's talk about it!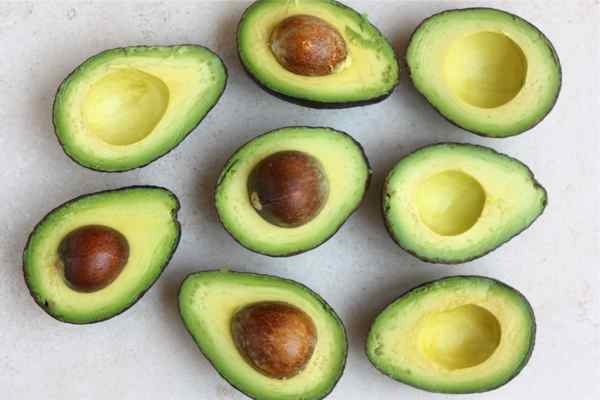 A few days ago my neighbor told me he was going to Europe and asked me if I'd take a bunch of avocados and freshly picked peaches. DUH. So I thanked him kindly and told him, though, living next to a musician isn't ideal, I'm so grateful he's a good pianist and not a bad one. He was happy.
(I didn't actually say that.)
But have you ever lived next to a bad musician? Nothing adorable about that. Nothing.
Avocados…
I started with ripe avocados that were firm.
I dunked them in flour, egg and then panko bread crumbs.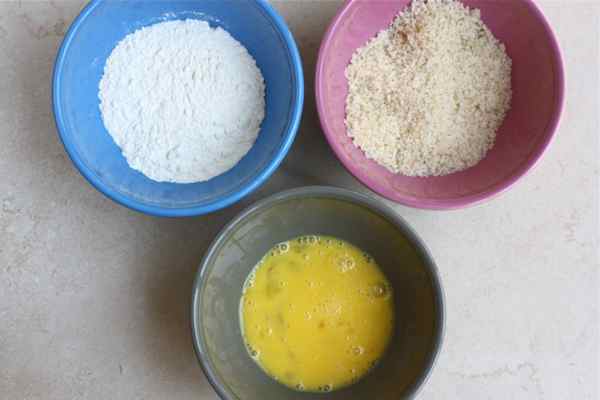 Now, I know the entire world hates frying, but these don't require a deep-fry. Just take a skillet and pour enough oil until 1-inch of it reaches the sides.
Think of it like a casual chill fry.
Super chill, bro.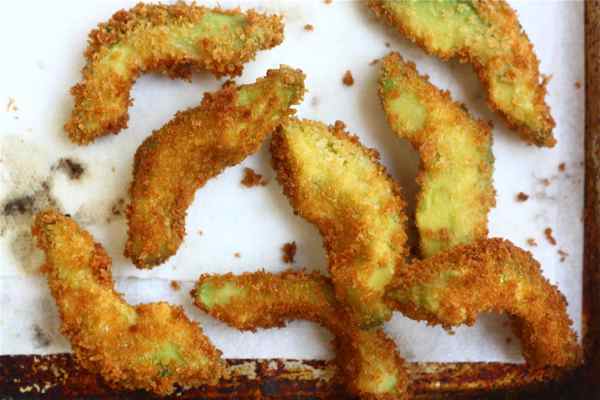 It wasn't much effort at all. I charred some tortillas, cut up some radishes and crumbled some cotija I had leftover from the Eloté Soup.
I like most of the recipes on this site, obvi, but these tacos might be one of my new favorites.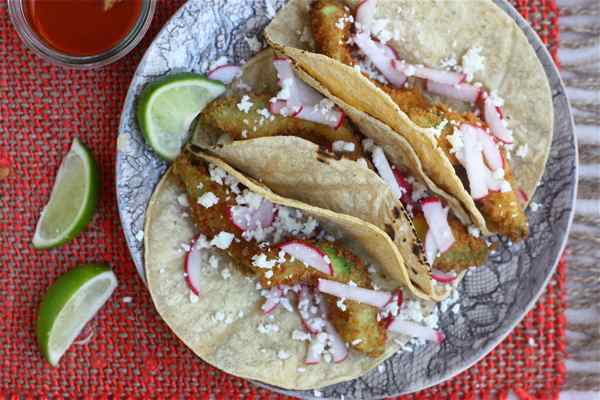 Fried Avocado Tacos
Avocado:
Vegetable Oil
1/2 cup all-purpose flour
2 large eggs, beaten
1 1/2 cup Panko (Japanese) bread crumbs (Japanese bread crumbs)
1 teaspoon salt
4 firm-ripe avocados, pitted, peeled, and sliced into 1/2-inch wedges
Tacos:
Corn or flour tortillas
Radishes, sliced and diced
Cotija cheese, crumbled
Lime
1. In a medium skillet, add enough oil until it reaches about an inch up the sides. Heat the oil until it reads 375 degrees F on a deep-fry thermometer. Line a baking sheet with a bed of paper towels and set aside.
2. While the oil is heating up, place the flour, egg and panko in separate bowls. Add the salt to the panko and mix. Dip the avocado slices in the flour, shaking off any excess. Transfer them to the egg, then the panko and coat thoroughly. Repeat process until you've coated all of the avocado slices.
3. Gently place the avocado slices in the hot oil, being sure not overcrowd the skillet, and fry until golden brown, about 30 to 60 seconds on each side. Transfer them to the bed of paper towels.
4. To assemble tacos, place a few pieces of fried avocado in the center of a tortilla. Top with cotija cheese, radishes…or cilantro, white onion, hot sauce, etc. Do as you please! Just make sure to include a squeeze of fresh lime juice. That's a must!
Serves 8 (Makes about 30 (1-inch) fried avocado pieces)