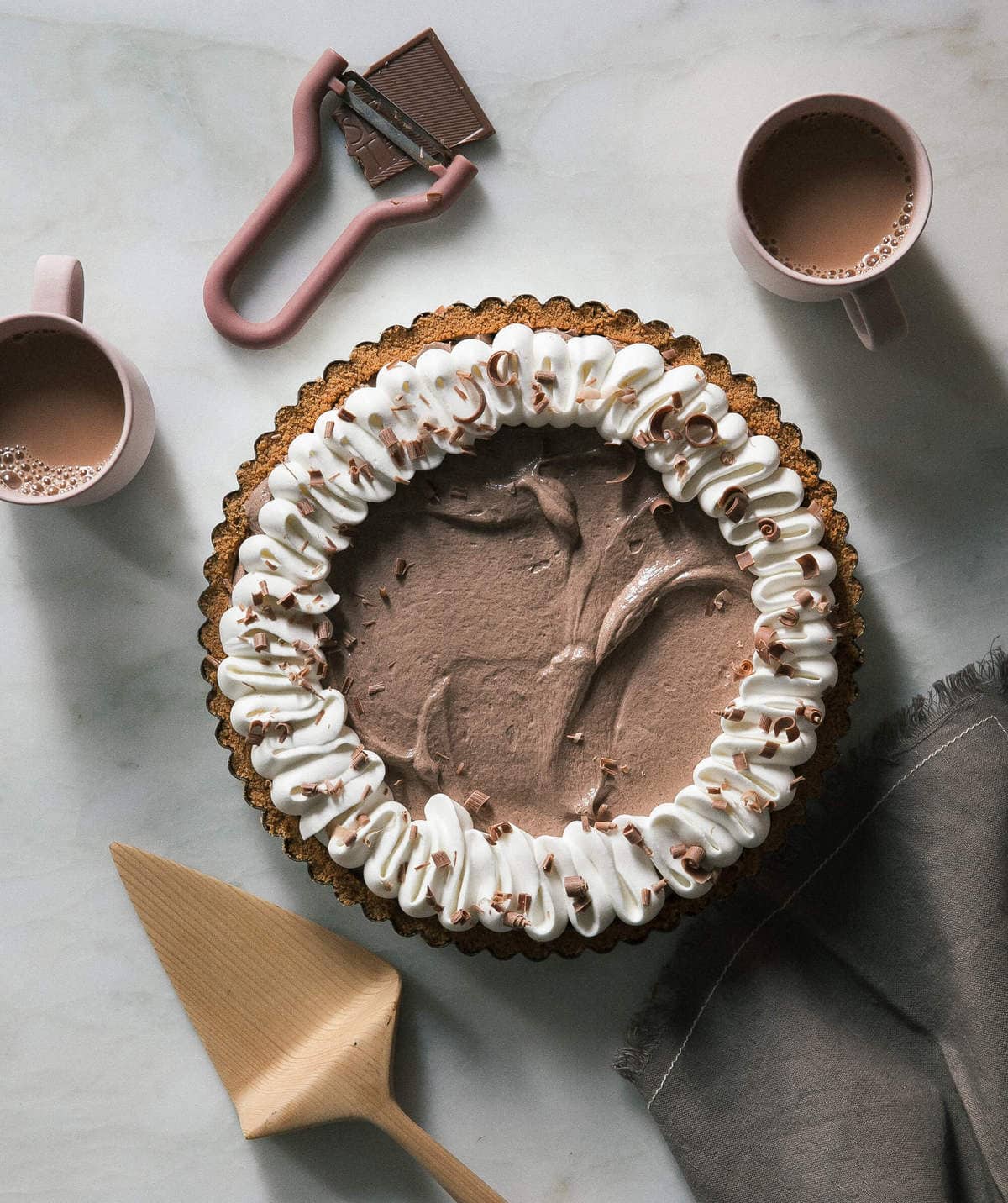 August is (as they like to say) the dog days of summer. Thick, slow and steamy. It's usually when we're all starting to think/hope warm temperatures are going to come to an end soon but in places like Los Angeles, they're just getting started (unfortunately).
I posted this recipe for this French Silk Pie on The Instagram last Thanksgiving and realized I never properly posted the recipe here; you know, in real printable, easily-readable form. I like things to live here, too, especially given how Instagram captions can't be rich-pinned and easily searchable. So here we are.
Also, this pie is perfect for this time of year when it is H-O-T. It's something that can easily be made ahead AND transportable. Basically, a great formula for a summer dessert.
The only big heads up you need to know about this pie is there is indeed raw egg in this dessert. When using raw eggs of any kind I always recommend opting for organic eggs or the best quality and freshest you can get your hands on. You know, for safety.
I don't always bake with organic eggs but for something like this, it's definitely my move.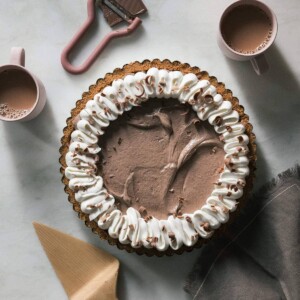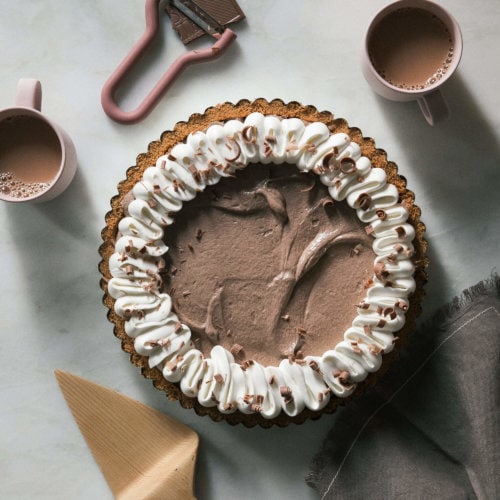 Classic French Silk Pie that is so very chocolatey and smooth. This pie is a perfect make-ahead pie for summer or Thanksgiving. Topped with fluffy whipped cream and shavings of chocolate.
Ingredients
Cookie Crust:
2

cups

graham cracker crumbs

Pinch of kosher salt

1/2

cup

unsalted butter

,

melted
Filling:
3

ounces

milk or dark chocolate

12

tablespoons

unsalted butter

,

room temperature

3/4

cup

white granulated sugar

1

teaspoon

pure vanilla extract

1/4

teaspoon

kosher salt

3

large

eggs

1

cup

heavy cream

1

ounces

milk chocolate

,

for topping
Directions
To Make the Crust:
Preheat oven to 350 degrees F. Place the crumbs and salt in a medium bowl. Pour in the butter and mix until the gingersnap crumbs are moist. Transfer to 14-inch x 5-inch tart pan, 9-inch tart pan or 9-inch pie dish. Press the crumbs firmly and evenly until they line the bottom and sides of the pan or dish. Bake until slightly darker in color and mostly firm to the touch, about 5 minutes. Allow the crust to cool completely before adding the filling.
To Make the Filling:
In a double boiler (or a stainless steel bowl placed over a saucepan filled with a few inches of water), add the Moser Roth Dark Chocolate. When mostly melted, remove from the heat and stir until smooth. Allow to cool slightly, about 5 minutes. Meanwhile, in the bowl of a stand-up mixer with the paddle attachment on, add the butter, sugar, vanilla extract and salt. Beat until smooth, about 2 to 3 minutes.

Pour in the mostly cooled melted chocolate and beat until combined. And then add one egg, allowing it to beat for a full 5 minutes. And then add another egg and beat for an additional 5 minutes. Set a timer! During this time, the eggs will help the mixture double in volume and make it nice and fluffy. Add the last egg and beat for one last time for 5 minutes. Remove from the mixer and give it a mix manually just to make sure there aren't any chocolate bits not combined.

Transfer to the crust and spread into an even layer. Place in the fridge to chill for about 5 hours, until very chilled.

When you're ready to serve, add the heavy whipping cream and powdered sugar to a bowl of a stand-up mixer with the whisk attachment. Beat until light and fluffy, about 2 to 3 minutes. Add the top of the pie and garnish with shavings of Moser Roth Milk Chocolate.