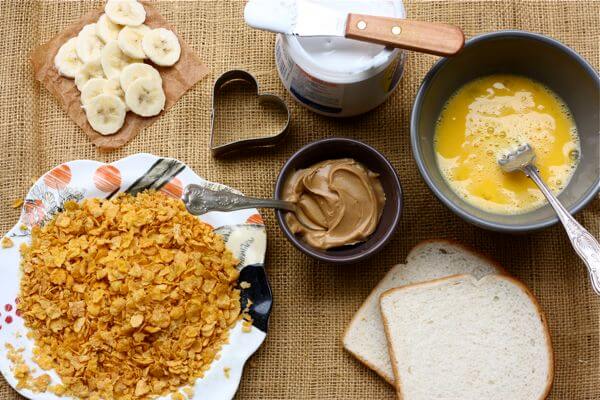 This is kind of an insane recipe title. I understand. I do.
You're really supposed to be gawking at a fried fluffernutter sandwich, BUT when I posted the picture (above) on Instagram/Twitter, people started asking me if it was French toast. I was conflicted.
Do I fry these cute little heart shaped marshmallow things? Or do I just put it in a pan with a little butter? Sort of a no-brainer, right? Yes, total no-brainer.
French toast sounds healthier. We like this…even if it's a total lie, we still like it. Also, if you want to be a total psycho, you can even have this for breakfast, rather than for dessert. I have no objections. Lastly, no hot oil.
Hot oil isn't romantic; French toast is (I think?)…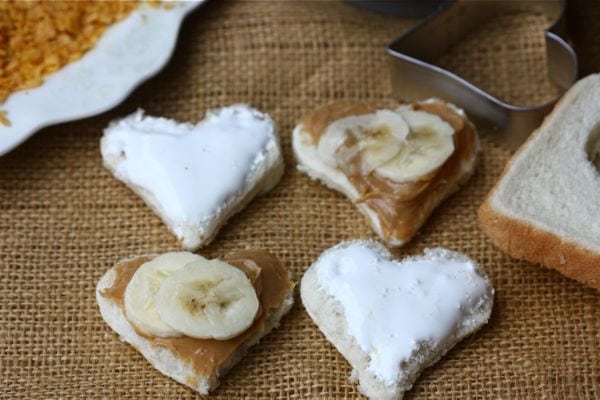 There's some good stuff in this fluffernutter sandwich.
There's some really fluffy marshmallow fluff. Duh.
Peanut butter. And no, not the organic, real stuff. There's no place for authenticity and/or nutrition in this sandwich. You need creamy Jiff. Do it right!
I put a few slices of banana in there. I so appreciate the classic pairing of banana and peanut butter. So underrated (or maybe it's not?).
Then a little dip in egg, a roll around in some crushed up corn flakes…and it's ready for some cook time.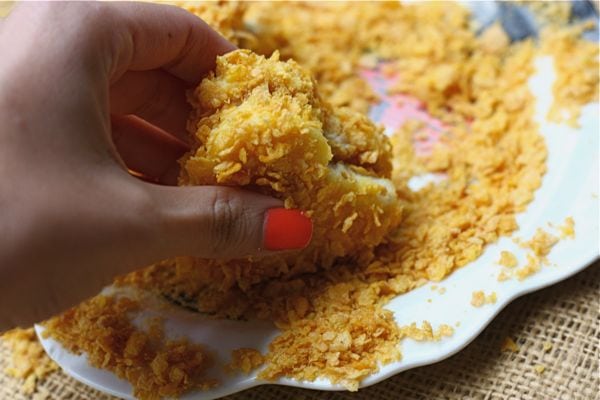 This is kind of the easiest dessert in the world. And yes, like I said earlier, if you want to be a psycho and make it for breakfast and put maple syrup on it, then you're my hero. Seriously.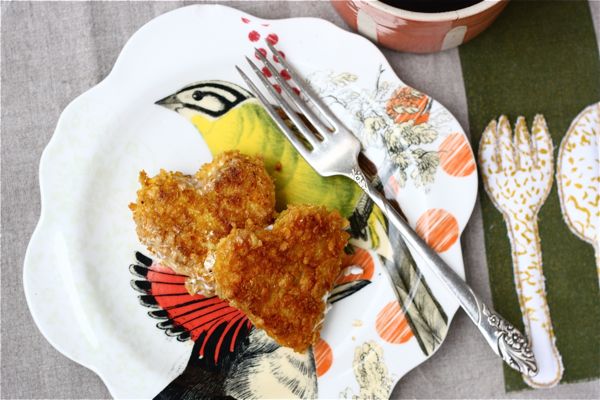 Flutternutter Corn Flake Stuffed French Toast
4 slices of white bread
2 teaspoons marshmallow fluff
2 teaspoons creamy peanut butter
1/4 banana, thinly sliced
1 large egg, beaten
1 cup corn flakes, crushed
2 tablespoon unsalted butter
1. Lay the bread side-by-side. Using a heart cookie cutter (or not!), cut out four heart shapes in the bread.
2. Spread the marshmallow fluff on two of the heart-shaped pieces of bread. Do the same with the peanut butter. Top with a few slices of banana. Combine the opposing slices, creating a heart-shaped sandwich. This is when it starts to get cute, guys.
3. Dip the sandwich into the beaten egg and then transfer to the crushed corn flakes, being sure to cover the sandwich's sides. Repeat with the second sandwich.
4. Heat the butter, in a medium skillet, over medium-heat. When melted add the French toast and cook for 2-3 minutes, or until golden brown. Flip and cook on opposite side for a minute or two more.
Yields 2 heart sandwiches