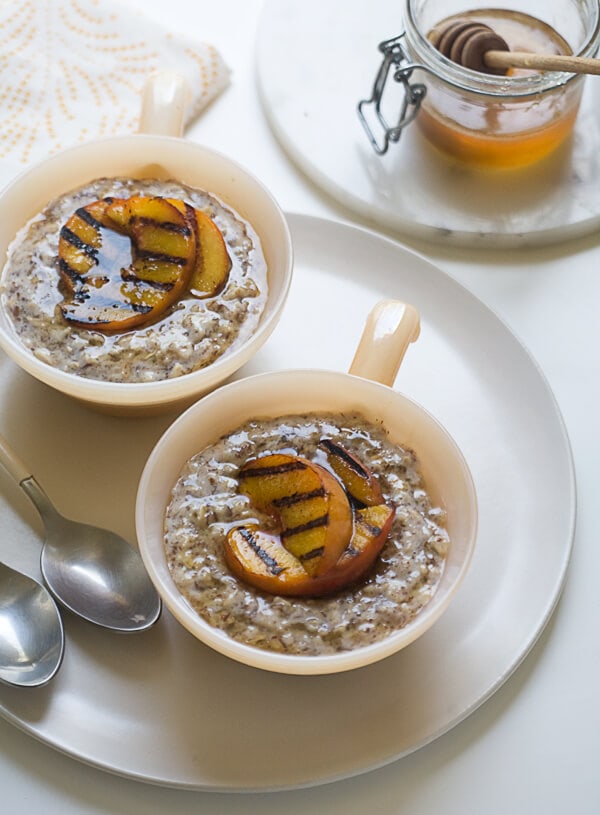 Last night my clutch was stolen—and to makes things worse, it was my favorite Claire Vivier—straight out of my very unlocked car. It was a big ol' gigantic bonehead move on my part. I blame my dad. He never locked the front door because he was raised in The South in the 70s where no one locked their doors and people actually borrowed sugar from their neighbors. I tend to shrug off the idea that people will steal from me because, well, I wouldn't steal from me!
Luckily no real damage was done. I actually didn't even realize it was stolen until I went to grab my wallet when I went to pick-up my takeout Chinese food at Pine & Crane. The restaurant took pity on my moneyless-self and gave me my dinner on the house. I thought that was so nice; it made me believe in good people all over again. I got all these fuzzy feelings in my tummy at how nice they were about it.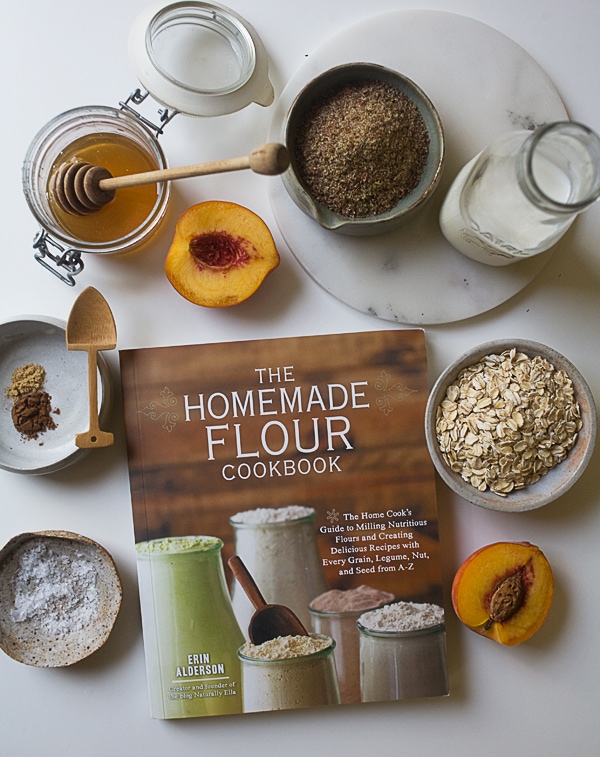 In moments like these, I need comfort. And in my world that comfort comes in form of breakfast. This is what I like to think of as a summer porridge. Something you'd eat during the warmer months.
This recipe comes from the book, The Homemade Flour Cookbook, by Erin over at Naturally Ella. In this book, Erin explores the variety of ways you can grind your own flours at home. And, it includes a ton of recipes that focuses on those flours, seeds and even beans. I think it's a really interesting book. I thumbed through most of the recipes and fell in love with this flax porridge with peaches. I love a good porridge but had yet to try one with flax in it.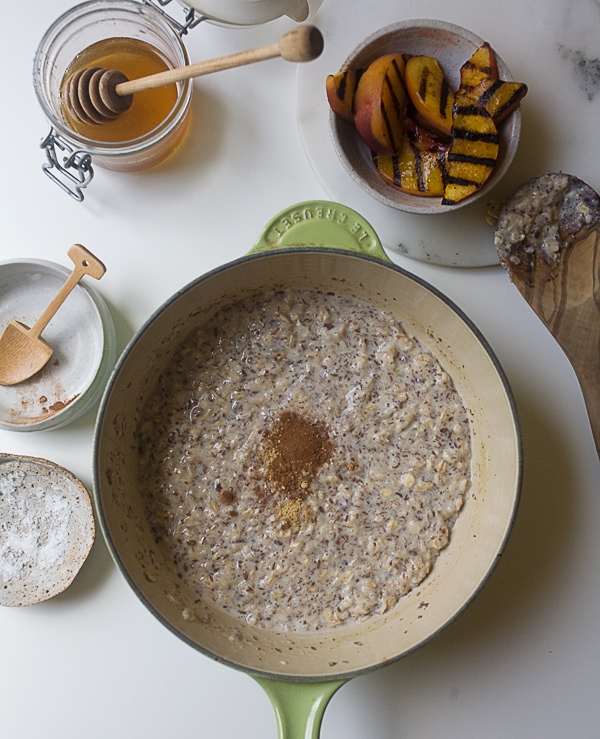 Of course, I can't seem to just follow a simple recipe so I added a few things to my liking, which I think is the point!
I grilled the peaches, added a bit of oats to the flax and threw in a few spices like ground ginger (because I love ginger and peaches together!), cinnamon and a bit of brown sugar. Fall flavors meet summer fruit is always my favorite mashup EVER!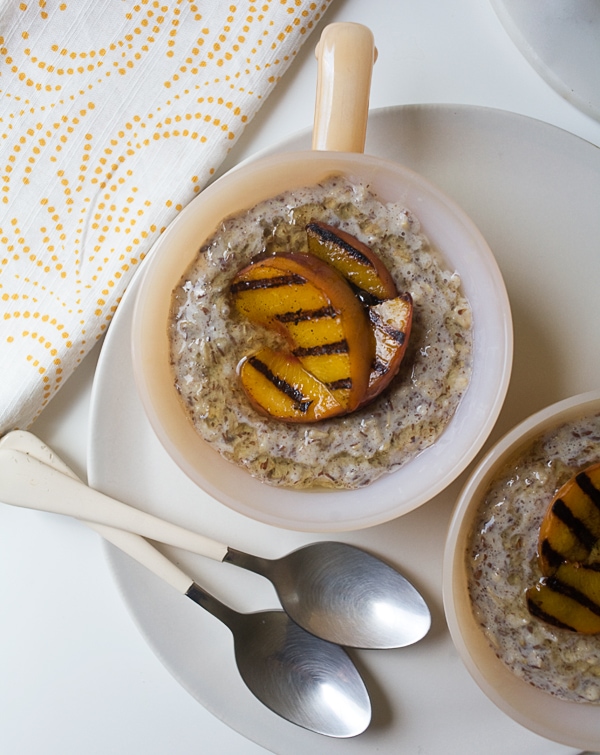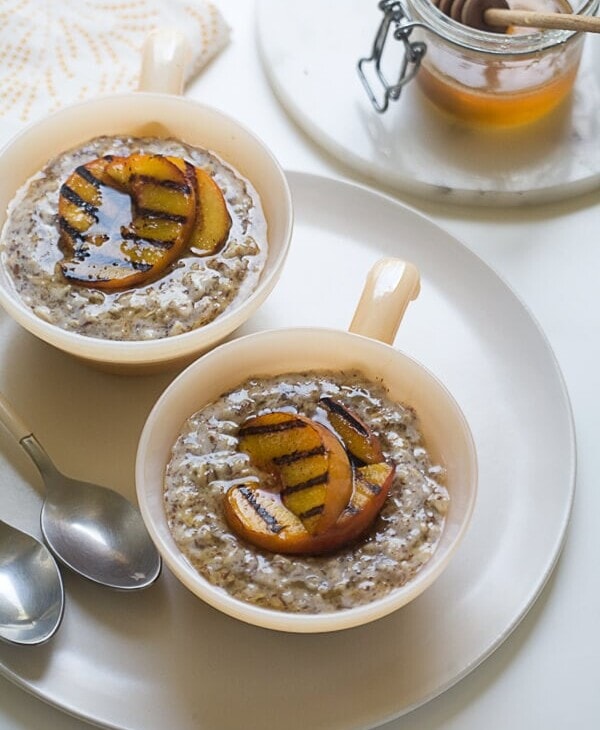 Print Recipe
Flax and Oat Porridge with Grilled Peaches
Ingredients
1/2

cup

natural creamy peanut butter

no chunky peanut butter, stirred

3

tablespoon

powdered sugar

1 1/2

cups

Original

Unsweetened Almond Breeze Almond Milk

3

tablespoons

Concord grape jelly
Instructions
In a blender, add the creamy peanut butter, powdered sugar (if the sugar it clumpy, don't be afraid to sift it into the blender) and

almond milk

. Pulse until pureed, about 30 seconds. Fill each of the popsicle molds 1/4 of the way. Transfer to the freezer for 1 hour.

At the 1-hour mark, scoop the jelly into a small saucepan and set it over medium-low heat and whisk it with a fork until it's very smooth and no longer clumpy and jelly-like. Remove the molds from the freezer and add about half of a teaspoon to each mold. Top with about another inch of peanut almond milk mixture and insert popsicle sticks into each mold. Return to the freezer to freeze for an additional hour. At the 2-hour mark, repeat this same process: adding a 1/2 teaspoon of jelly and then topping it off with the remaining peanut almond milk mixture. Freeze for at least 4 hours, ideally overnight. To un-mold the popsicles, run the molds under warm water and gently tug until the popsicles release.