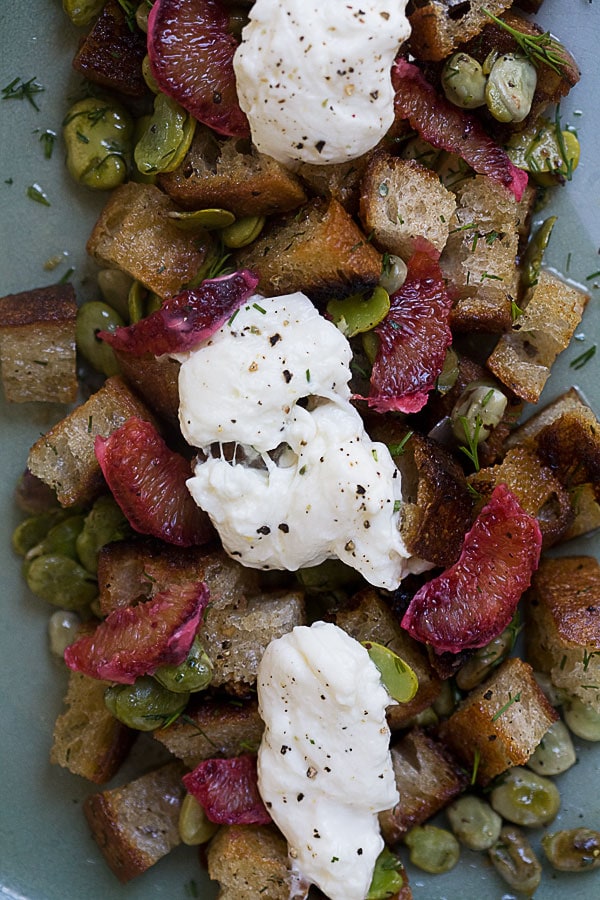 Sometimes I just get the urge for crazy and drastic change. Like, maybe chopping my hair all off and having a pixie cut like Michelle Williams or marching into Barney's and buying a dream bag or moving to a new city where I know no one.
Dreaming about moving to a new city has been doing it for me lately. I've been thinking about how awesome it would be to eat in new-to-me restaurants, visit new parks, museums and just create a whole new routine for life. And even the prospect of making new friends in this very new town makes me really excited. Of course Amelia and my dude would come along, too. I have a feeling that Amelia would aide greatly in the whole making new friends department.
This is probably a pipe-dream. I mean, I love Los Angeles, but I've been a-dreamin' lately, hard. And it's fun.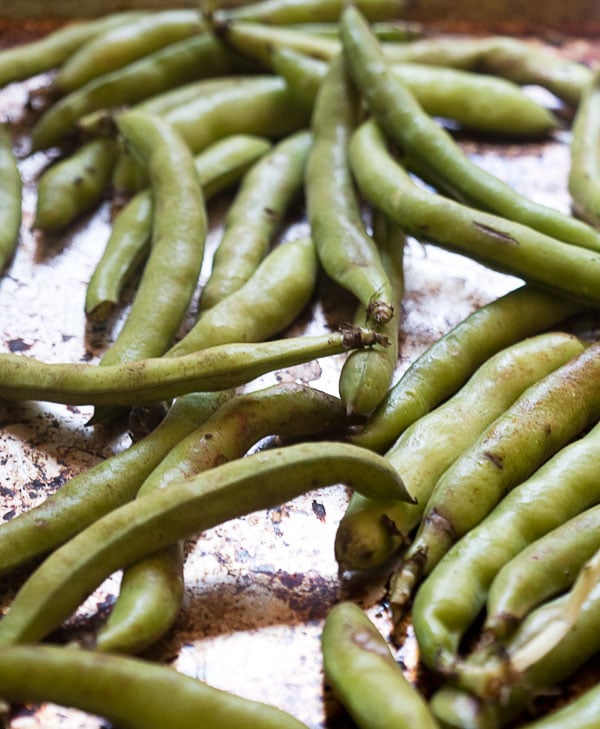 A few cities I have on my brain? In no particular order:
1. Portland, Oregon. I've never been but I all I want to do is eat at Beast, visit all the food carts and check out Weiden-Kennedy.
2. Seattle, Washington. It might be the eternal thirteen-year-old Nirvana fan but I love that city. It makes me wanna sit in a cafe wearing 90s, burgundy lipstick, listen to angsty music and drink coffee, which is basically my dream.
3. Atlanta, Georgia. I was born in Atlanta. And my parents grew up there, met, fell in love and had yours truly in this city. But so much has changed. It's not the same city I once knew, so it'd be nice to revisit it and explore all its new restaurants, new shops, new life. Also, Nene is my favorite housewife ever.
What city do you daydream about visiting/living? I know you must have at least one.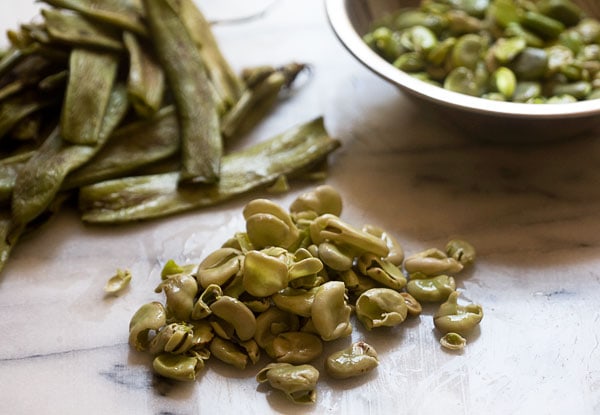 This salad is a take on a panzanella salad, but with fava beans, blood orange segments and the greatest cheese known to man (this might be a stretch): burrata.
Burrata is like the marshmallow of the cheese world. It's light and fluffy and omgsogood.
This salad is as easy as salads should be except there is the whole fava bean thing.
Fava beans are kind of a thing. I roasted them first, steaming them in their own pods, pushed them out of their pods and then shucked them again.
Oh! Oh! If you find yourself at the farmer's market or the grocery store and are picking fava beans, go for the small ones with the smooth skin. Avoid the super big favas with beans that are bulging--those are generally more bitter. Also, the smaller ones usually don't need to be shucked twice which means a tad bit less work. Win.
Oh and since I'm me, this salad has butter in it. Please don't be offended.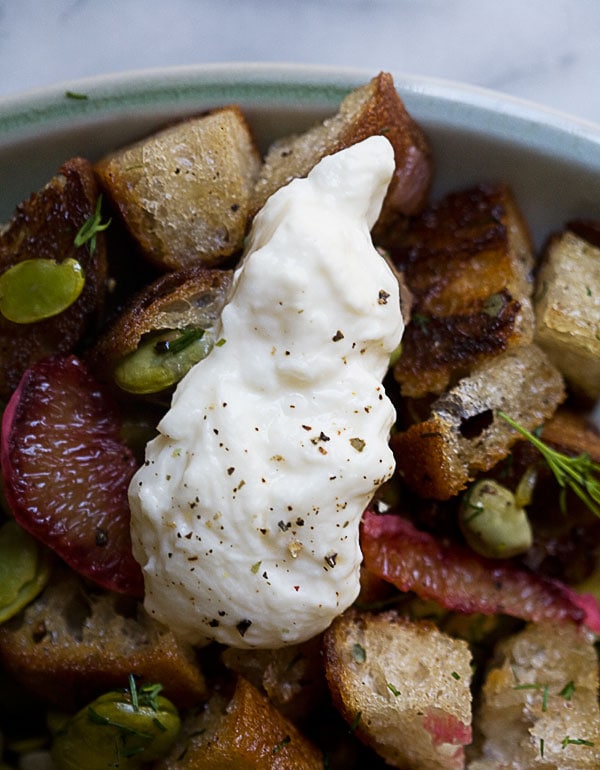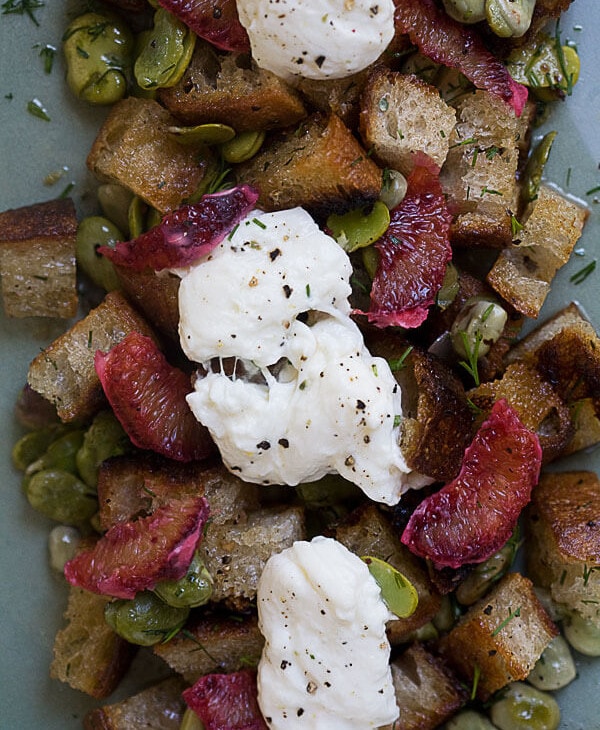 Print Recipe
Fava Bean Panzanella Salad with Burrata
Ingredients
1 ½

pounds

fava beans

1

shallot

2

tablespoons

unsalted butter

divided

Olive Oil

½

loaf french bread

cubed (about 1 ½ cups)

Salt

Pepper

2

teaspoons

red wine vinegar

1

tablespoons

minced fresh dill

1

blood orange

segmented

4

ounces

burrata

removed from casing and torn into a few pieces
Instructions
Preheat the oven to 350 degrees F. Spread the fava beans and shallot out onto a baking sheet. Transfer the baking sheet to the oven and bake for 20-25 minutes. You'll know the fava beans are done when their shells appear weathered and a little wrinkly. Allow the fava beans to cool slightly, about 5 minutes, before handling.

To a large skillet, melt 1 tablespoon of butter with a two teaspoons of olive oil. Add the bread, along with a pinch of salt and pepper. Cook until the bread is lightly golden brown on all sides. Transfer the bread to a bowl and set aside.

To shell the fava beans, snip off their tops with a knife; squeeze from the bottom of the pod, pushing out all of the beans. The small ones don't need to be shucked twice, but the bigger ones do. Take your nail, and gently rip off the tops, peeling away the outer shell. Inside will be a bright green bean. Repeat until you've gone through all of the beans. Next, remove the outer shell of the shallot and mince.

To the same skillet you cooked the bread in, add the minced shallot, the remaining 1 tablespoon unsalted butter, 1 tablespoon olive oil, red wine vinegar and fava beans. Cook over medium-low, mixing the entire time, adding a pinch of two of salt and pepper, for about 2-3 minutes. Add the dill and bread, tossing everything together. Transfer the salad to a plate. Top with the segments of blood orange and the burrata. Serve warm.